Taco Muffin Cups Recipe – These little muffins made with pizza dough and filled with ground beef and taco fixings make a perfect easy weeknight dinner idea!
Well folks, I've got a great change up for your next Taco Tuesday! And if you are anything like me, then you don't need it to be Tuesday to crave Mexican food like tacos. Like I always say, I could eat Mexican food 8 days a week! Growing up, eating it was a special treat because my dad wasn't a big fan of the cuisine. So we got to have tacos on nights when he had a meeting. And we pretty much never went to a Mexican restaurant as a family. My mom would take my sister and I to one when we went to town to go shopping. That was a special treat for sure! I always got the child's plate, which was a taco, rice, and beans. I still love that to this day.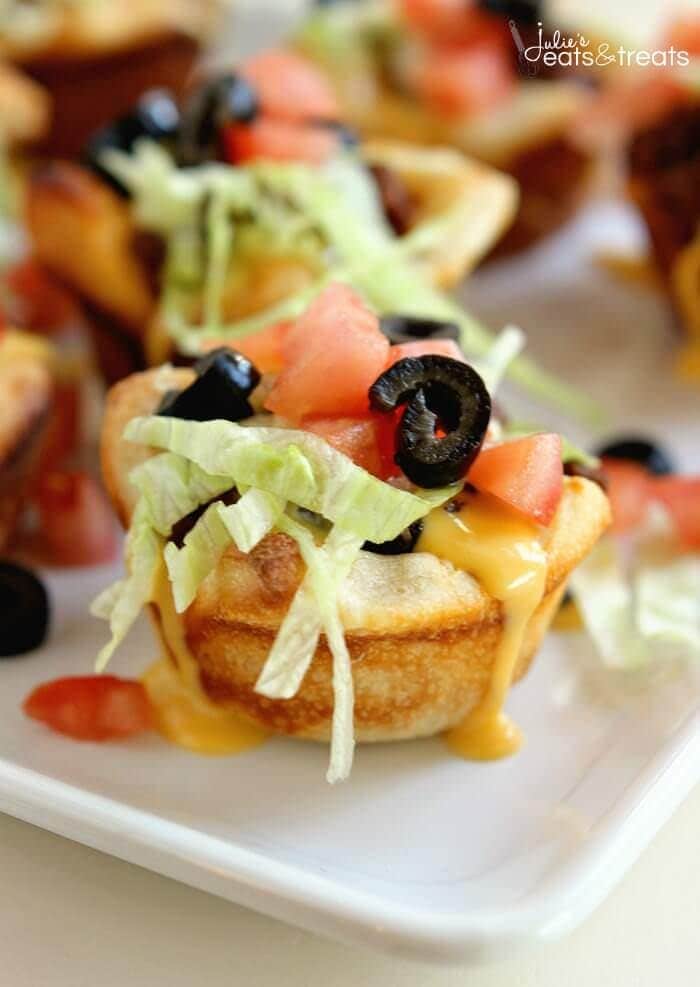 And the number one food I craved with all of my pregnancies was Mexican food. So I just knew that my kiddos would be like me and love that kind of food  as well. Umm…not so much at first. They are getting better as they get older and now like tacos with meat and cheese only. But I had to tell them that a taco was like a great excuse to eat a big chip. Then they were happy to dig in and chow down. I'm still working on them ordering Mexican food at Mexican restaurants. They tend to still want the mac and cheese or the chicken nuggets.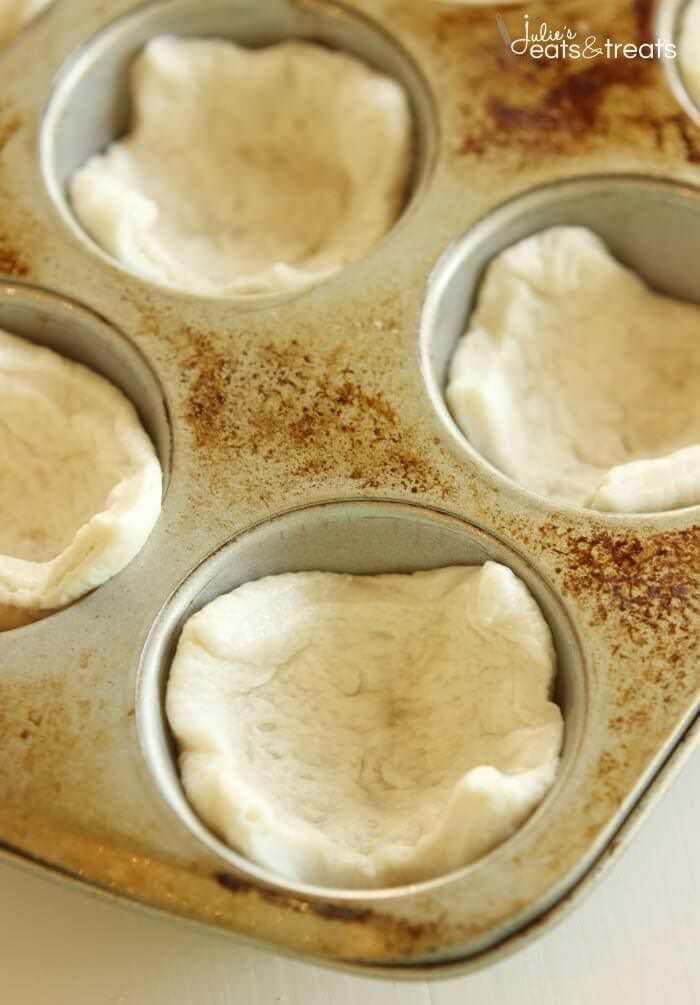 But I am so happy to say that they loved this one! I think the whole idea of the muffin cup for supper was what won them over. Now of course they left off the fixings and just went with meat and cheese. But I learned that my oldest now LOVES black beans. And my oldest son did try one strip of lettuce on his. We are getting there people! It's a process. My hope is that one day really soon, I'll have them all ordering the taco, rice, and beans at our favorite Mexican restaurant! In the mean time, my husband and I will continue to model a love of all things Mexican cuisine!
These muffin cups are super easy with the help of store-bought, refrigerated pizza dough found with the biscuits. I went with pizza dough rather than biscuits because I wanted a thinner crust. It worked perfectly in this recipe. I also went with using a taco seasoning packet, but you could definitely use your own pre-made taco seasoning if you prefer.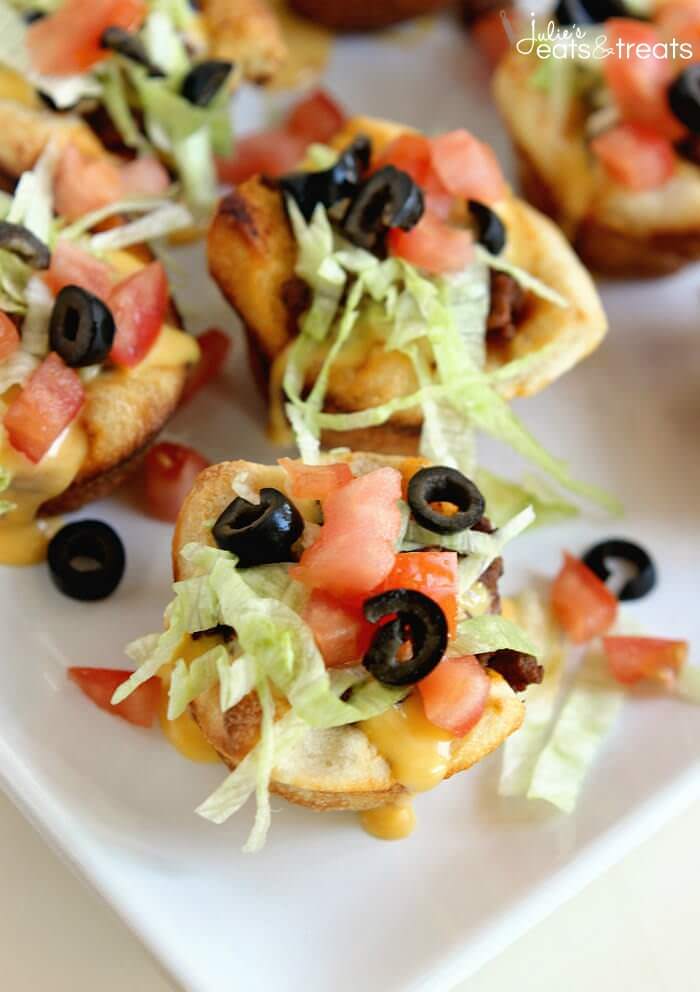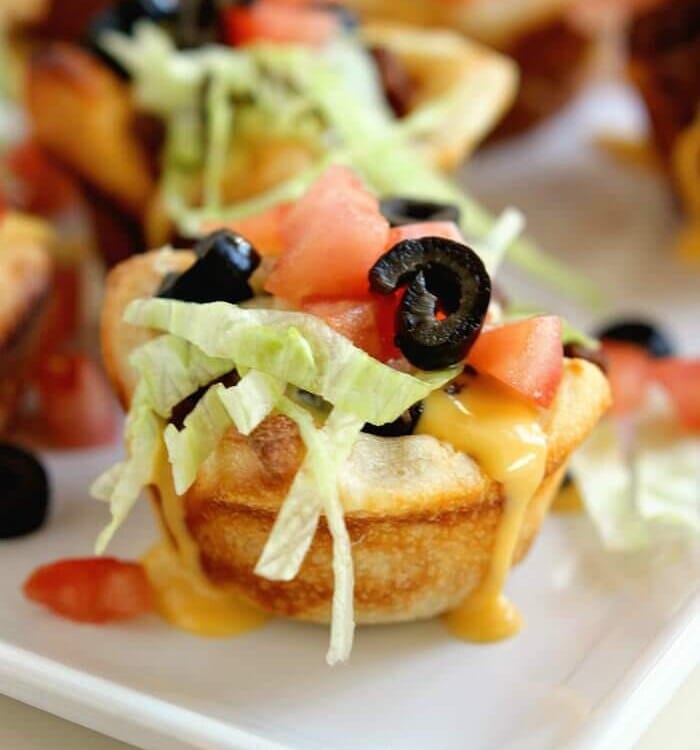 Taco Muffin Cups
Taco Muffin Cups Recipe - These little muffins made with pizza dough and filled with ground beef and taco fixings make a perfect easy weeknight dinner idea!
Ingredients
1

lb.

ground beef

1

taco seasoning packet

2/3

cup

water

1

cup

black beans

canned

1

can refrigerated pizza dough

1/3

of a 16 oz. block of velveeta

Mexican

1/4

cup

milk

Toppings: 1 chopped tomato

shredded lettuce, sliced black olives, sour cream
Instructions
In a skillet, brown ground beef. Drain.

Add taco seasoning packet and water. Bring to a simmer. Let cook for about 5 minutes.

Remove dough from can and unroll. Cut dough into 12 squares.

Spray a muffin tin with cooking oil spray.

Place a square of dough into each muffin cup and press down on bottom and up sides lightly.

Fill each cup with ground beef to the top of cup (about a 1/4 cup).

Bake at 425 for 10 to 12 minutes or until dough turns golden brown. Remove from oven.

While muffin cups bake, melt cheese over medium heat with milk. Stir frequently.

To serve: Remove muffin cup from muffin tin. Top with cheese, lettuce, tomatoes, and olives. Serve with sour cream.
Tips
-Black beans are optional. They can also be added to muffin cups after filling if you have some that would prefer no beans. Just add about a teaspoon of beans to the muffin cups once you add the meat.
-You can use regular Velveeta if you prefer less spice.
Nutrition Information
Serving:
12
,
Calories:
551
kcal
(28%)
,
Carbohydrates:
57
g
(19%)
,
Protein:
32
g
(64%)
,
Fat:
20
g
(31%)
,
Saturated Fat:
7
g
(44%)
,
Cholesterol:
78
mg
(26%)
,
Sodium:
812
mg
(35%)
,
Potassium:
507
mg
(14%)
,
Fiber:
5
g
(21%)
,
Sugar:
6
g
(7%)
,
Vitamin A:
50
IU
(1%)
,
Calcium:
46
mg
(5%)
,
Iron:
5.9
mg
(33%)