Teriyaki Salmon & Broccoli Bowls
Teriyaki Salmon & Broccoli Bowls ~ Delicious, Healthy Dinner That's Quick and Easy to Prepare! Only Four Ingredients and Ready in 30 Minutes!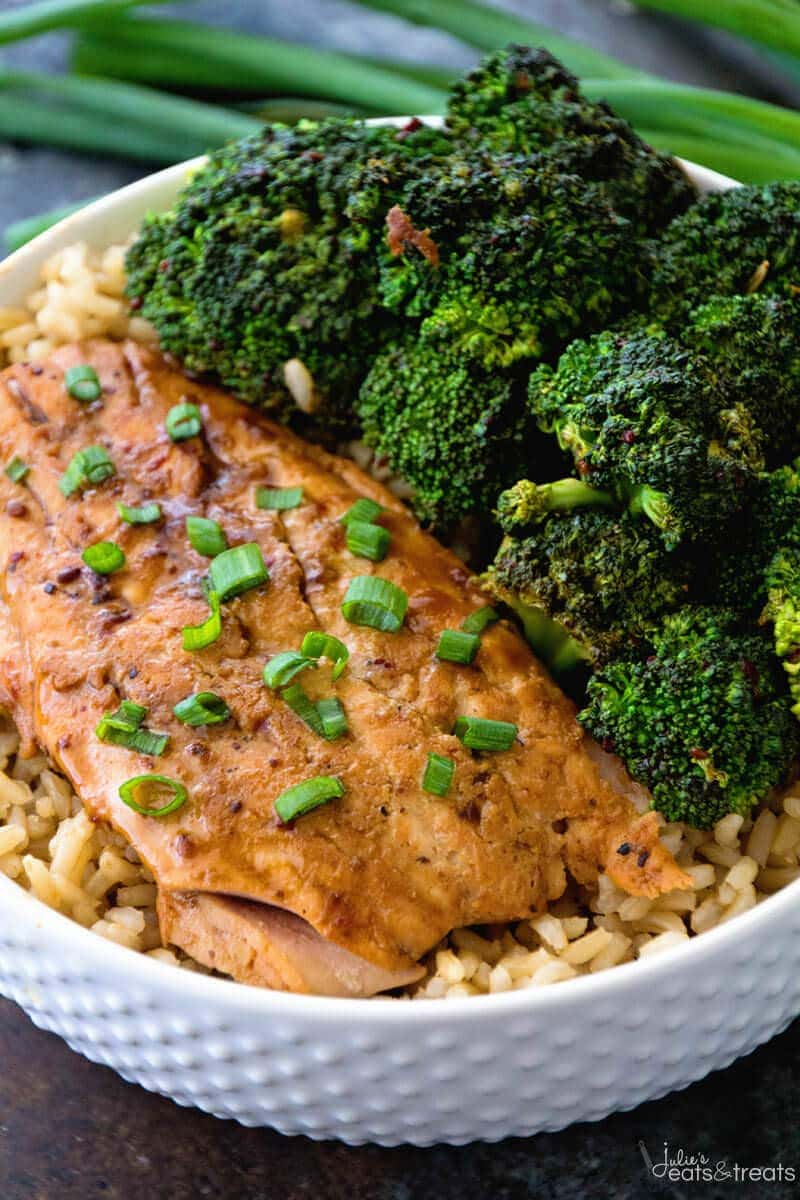 I'm so happy to be partnering with the National Salmon Council and McCormick to bring you this amazing dinner!
It's my BIRTHDAY tomorrow. Except, I'm getting old you guys. I'll be 31 tomorrow. Sigh. I know many of you may be laughing at me because you don't see this as old at all, but I'm still grasping that I'm in my thirties. Last year I was in strong denial when I hit the big 3-0. It came with fanfare and fun. My friends threw me a surprise party, that may have been slightly ruined by Jason's friend coming into the restaurant early!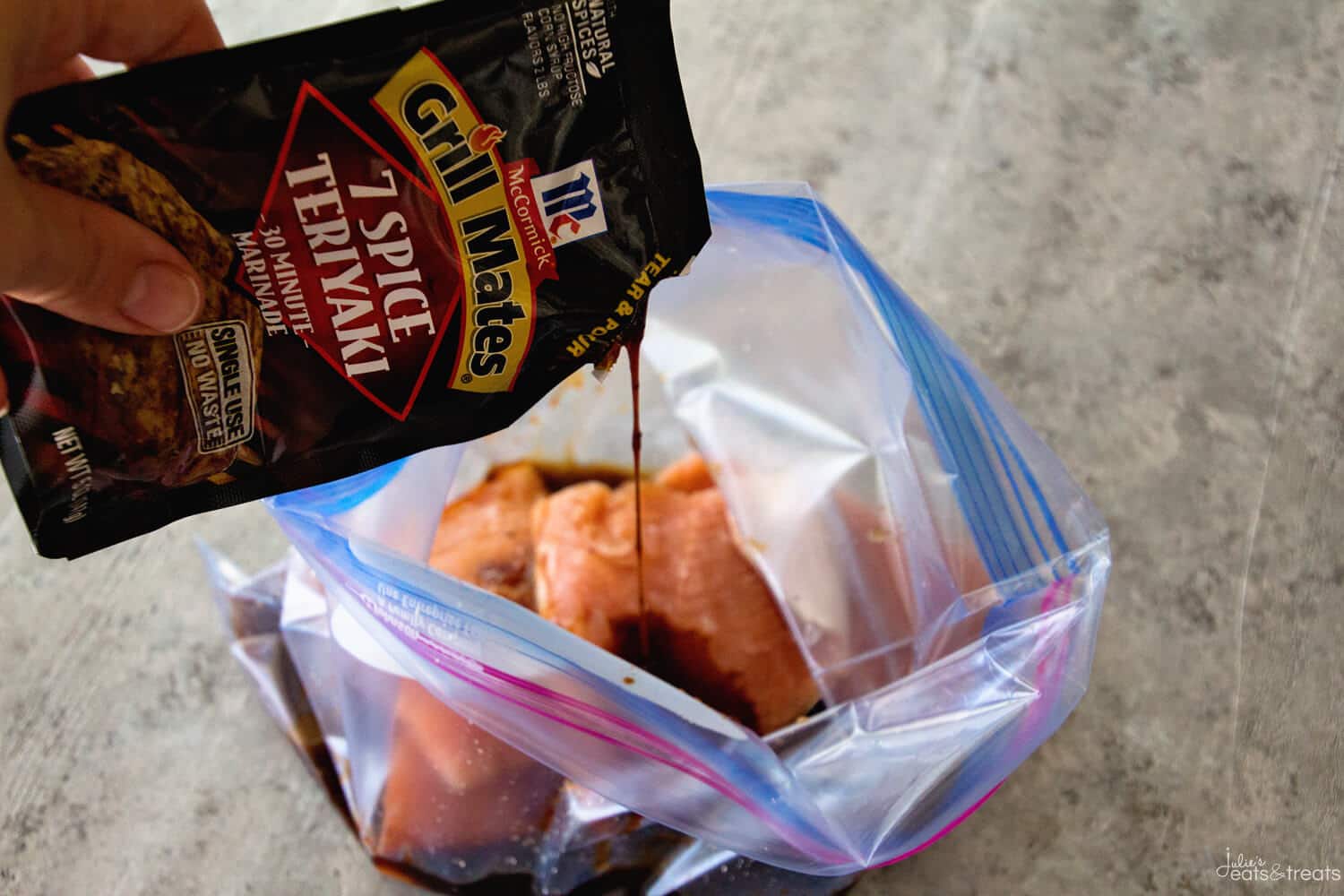 Don't worry we still had a blast, but now it's 3-1. Say, what?! How can that be? I feel like I'm still young, fun and in my prime. If I'm not, don't tell me ok? They say 30 is the new 20 right? Or something like that. Maybe I'm just telling myself that to keep from feeling old. I've found out as you age you feel as if you haven't gotten any older, but then the kids you babysat graduate, get married, or gasp, have children! I'm still reeling from that latest development.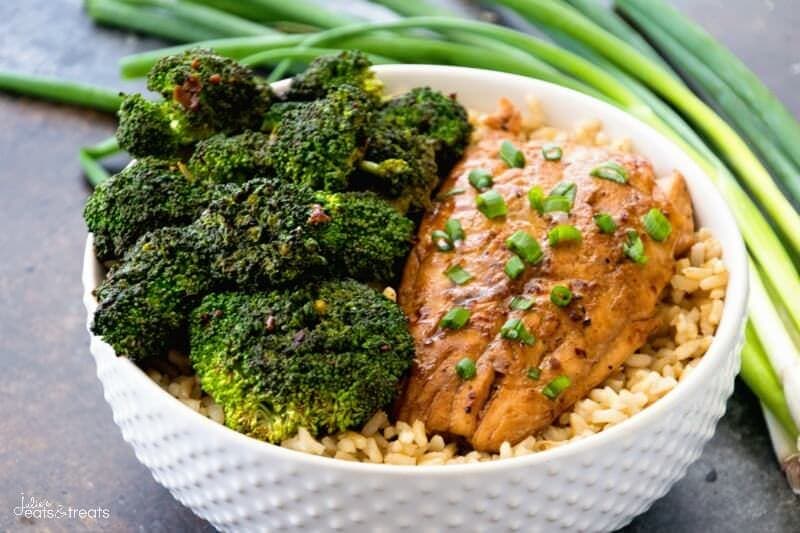 I can't say I make a huge deal out of my birthday or expect it to be a national holiday, but I'd like someone to notice that it's my birthday. Of course, if you want to make it a big deal then I'm not going to stop you because that's always fun! My hubs had been bugging me about what I wanted for my birthday for a week or so and I honestly couldn't come up with anything, so he was left to his own devices. Last Wednesday night he said he was off to get my present a hour away. Of course, I'm giddy and waiting at home, but he got home so late that I was in bed so I couldn't bug him to let me see it early.
The next morning was a whole different story. I promptly marched out the living room after taking a shower and gave him my best puppy dog eyes and asked for my present. It must have worked because he didn't say no! Off we went to the shed, of course now I know it's big! He got me a new kayak for the lake! Wahoo! I can't wait to test that puppy out!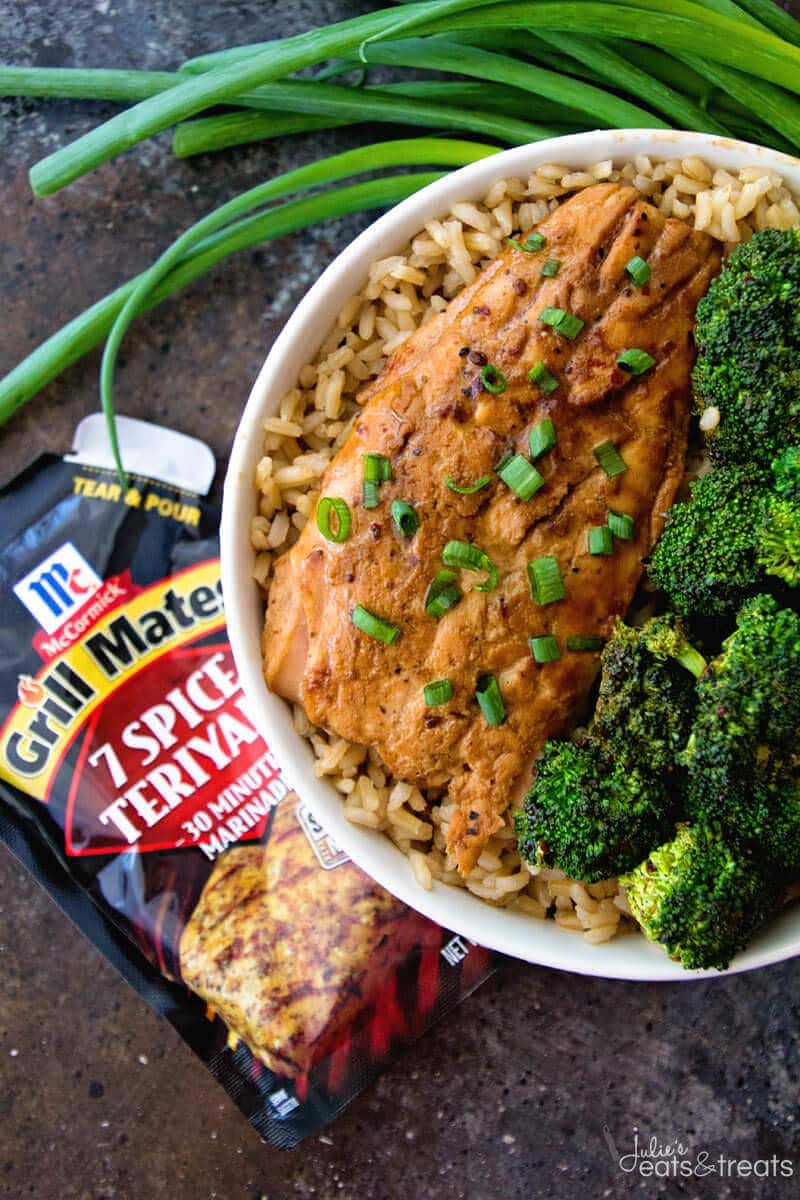 You know what else happens as you get older? All that birthday cake that you could once eat tends to settle on your hips more easily. Sigh. Depressing huh? I hope you know that calories do not count on your birthday though! As aging happens I try to make a few smarter decision when it comes to food.
I adore summertime because it comes a little more easy and natural to make those better for me choices because I'm a fan of the grill! I love trying new things too. In fact, I've even started grilling things in the last few years on my own. Before I was a big fan of the husband doing it but I found out how easy it was and there was no stopping me!
I'm a huge fan of McCormick Grill Mates because it's so simple to put a new, fun twist on your favorite things! These Teriyaki Salmon & Broccoli Bowls use their Grill Mates 7 Spice Teriyaki Single Use Marinades for a fast and delicious meal. These bowls are delicious and easy to whip up after work, which I'm always a big fan of!
Make sure to follow the Hooked on Salmon on and Pinterest for more Delicious Salmon Recipe!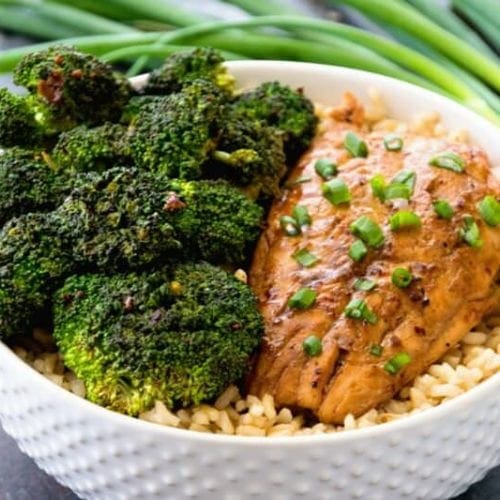 Teriyaki Salmon & Broccoli Bowls
Delicious, Healthy Dinner That's Quick and Easy to Prepare! Only Four Ingredients and Ready in 30 Minutes!
Print
Pin
Rate
Ingredients
1

lb

salmon fillets

1

5 oz pouch 7 McCormick Grill Mates 7 Spice Teriyaki Marinade

3

c.

broccoli florets

1

8.8 oz bag brown Ready Rice
Instructions
Place salmon fillets in resealable plastic bag. Pour half of marinade over them. Place in fridge to marinate 10 minutes.

Meanwhile chop broccoli into florets. Place in a bowl and pour the rest of the marinade over broccoli florets.

Heat grill to medium heat. Place salmon on a piece of tinfoil. Cook 8-10 minutes, or until no longer spongy.

In a skillet cook broccoli 3-4 minutes or until cooked crisp.

While broccoli is cooking prepare rice in microwave.

Serve everything arrange in bowls.
Notes
*You can also prepare the Salmon in a skillet over medium high heat for 3-4 minutes, flipping and cooking an additional 3-4 minutes.
Nutrition
Calories:
506
kcal
|
Carbohydrates:
71
g
|
Protein:
34
g
|
Fat:
9
g
|
Saturated Fat:
1
g
|
Cholesterol:
62
mg
|
Sodium:
780
mg
|
Potassium:
1303
mg
|
Fiber:
6
g
|
Sugar:
12
g
|
Vitamin A:
1150
IU
|
Vitamin C:
158.3
mg
|
Calcium:
118
mg
|
Iron:
3.3
mg
LEAVE A COMMENT
Craving More Salmon?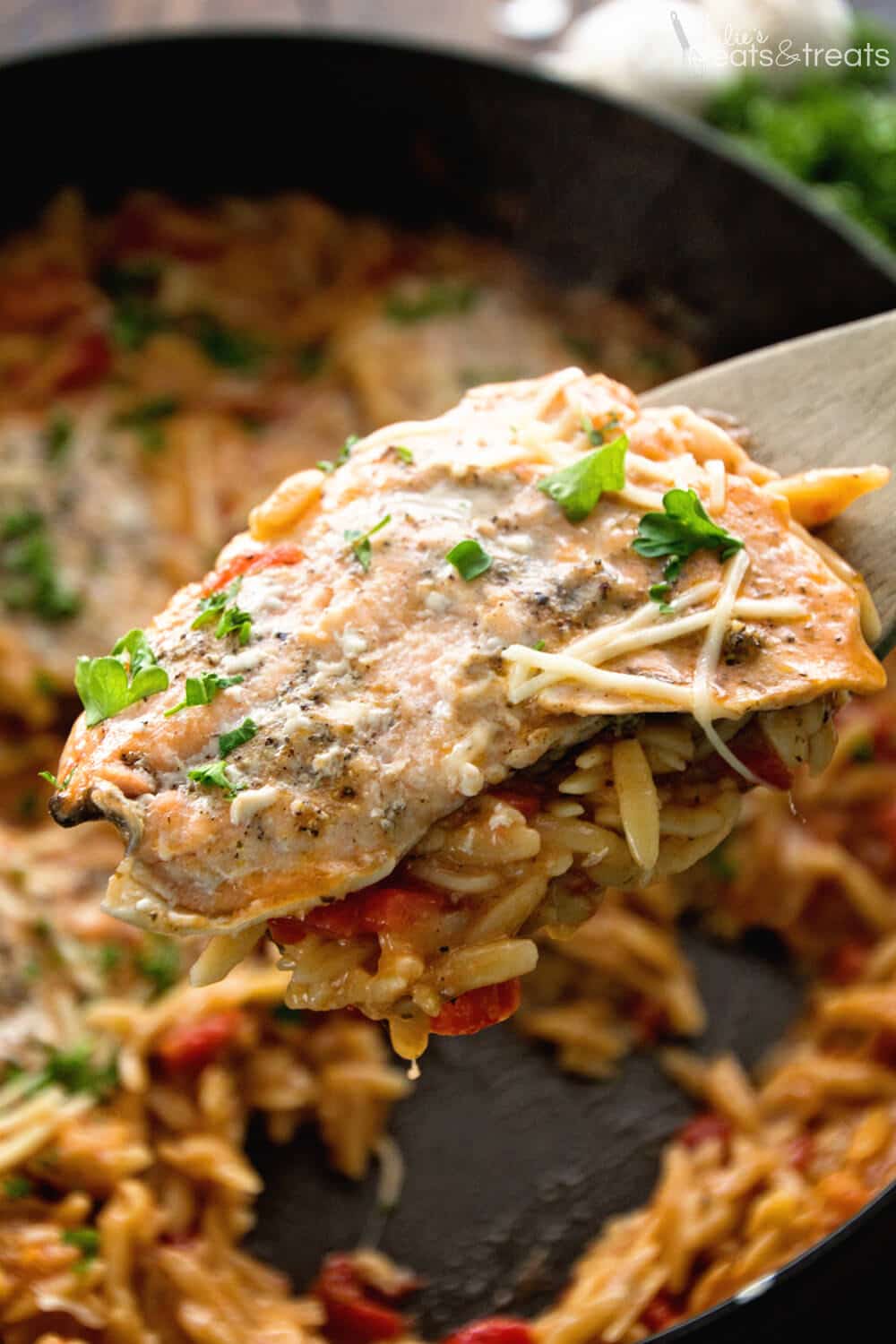 Light Italian One Pot Salmon & Orzo Recipe ~ Quick & Easy One Pot Pasta Dish That is Full of Flavor! Delicious Orzo Pasta, Flavorful Salmon Perfect for an Easy Dinner Recipe!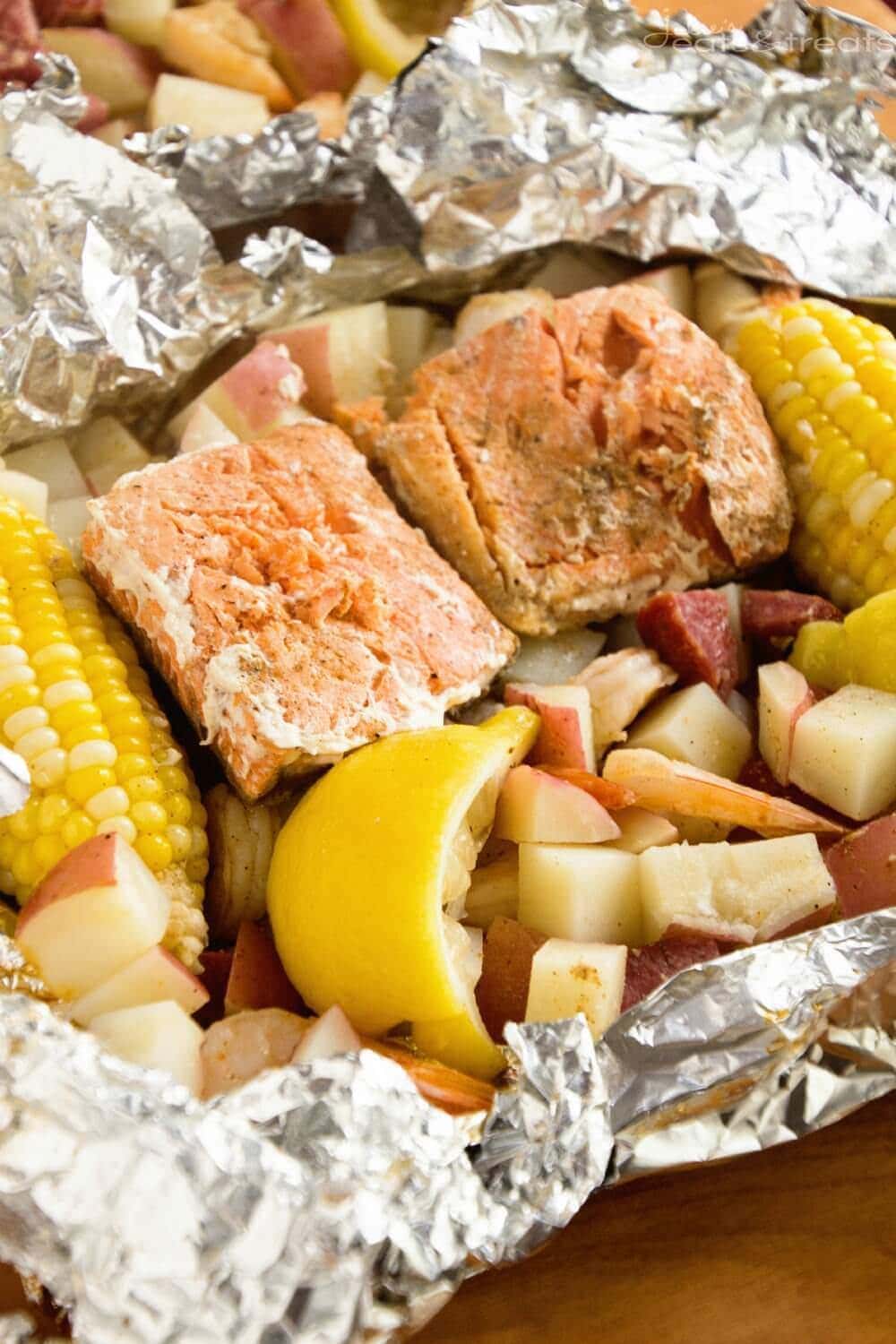 Cajun Shrimp Boil Foil Packets ~ Foil Packets Stuffed with Potatoes, Salmon, Shrimp, Summer Sausage, Corn and Seasoned with Cajun Seasoning! The Perfect Grilling Recipe!