This Chex Mix recipe has been handed down from my Grandma to my Mom and now I'm making it for my kids! It's our favorite snack to munch on during the holidays or to bring to parties throughout the year. It's loaded with Chex cereal, peanuts and pretzels. Once you start munching on it you won't be able to stop!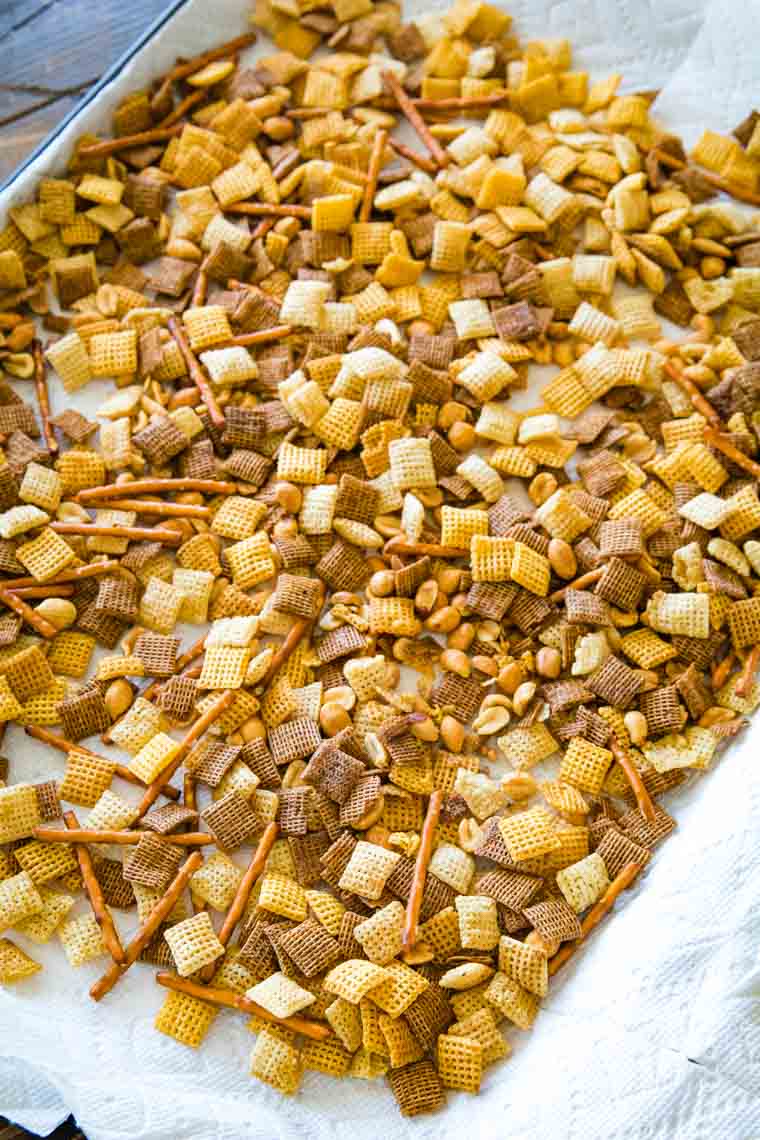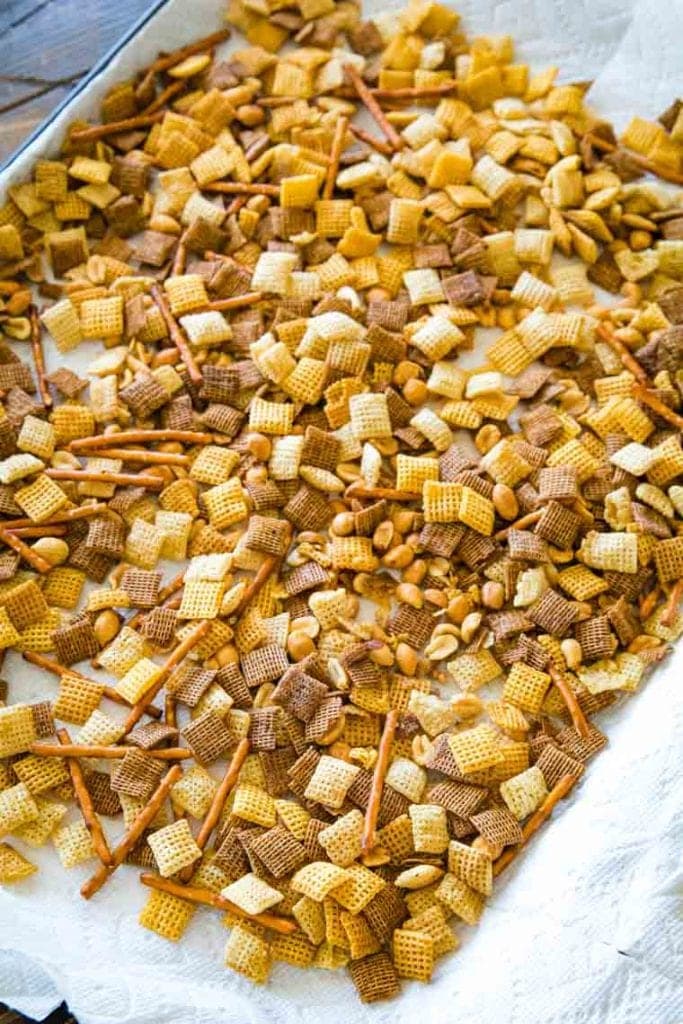 Chex Mix Recipe
Do you ever walk into a party or holiday gathering when there ISN'T a great snack mix? Of course not, right? Party mix is perfect for a light snack. It's great for parties, for the kids and adults and there are a ton of terrific recipes out there!
Well today, I'm serving up my BEST Chex Mix recipe! And I know you're going to love it! It has everything you love in a great snack – salty and crunchy. It's an easy recipe and everyone loves it! If you're hungry and looking for the best and easiest, this is the recipe for you!!!
How do you bake a Snack Mix?
Chex mix ix baked low and slow in the oven at 250 degrees for one hour.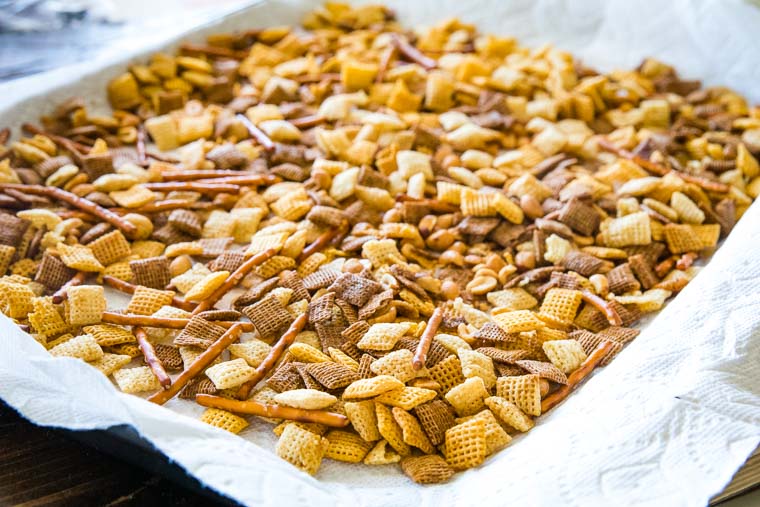 Chex Mix
This is the recipe I grew up with. My grandma would make it every holiday season. I remember years and years of snacking on this on Christmas Eve at her house.
Now, my Mom has taken over the roll of making it for Christmas Day when we all go to her house.
She knows anytime she wants to butter me up for some reason all she has to do is bring me a batch of this and I'm a puddle for whatever she wants!
I love that salty mixture so much. In fact this Chex Mix recipe is often times picked over the cookies because there are only so many cookies you can eat around the holidays, am I right?
What is the brown stuff in Chex Mix?
That's easy! The brown stuff in Chex is pretzels the other dark ingredients are Wheat Chex and peanuts.
What spices are in Chex Mix?
The spices are very simple, Worcestershire Sauce and seasoning salt!
What are the ingredients for Chex Mix Recipe?
Butter
Worcestershire Sauce
Seasoned salt
Corn chex cereal
Rice chex cereal
Wheat chex cereal
Peanuts
Pretzels
How do you make Snack Mix?
Preheat the oven.
Combine the butter, Worcestershire sauce and seasoning salt. Mix until combined.

 

Add the remaining ingredients and toss to coat.
Spread evenly on the baking pan.
Bake for an hour, stirring every 15 minutes.
Spread out on paper towels to cool. Store in an airtight container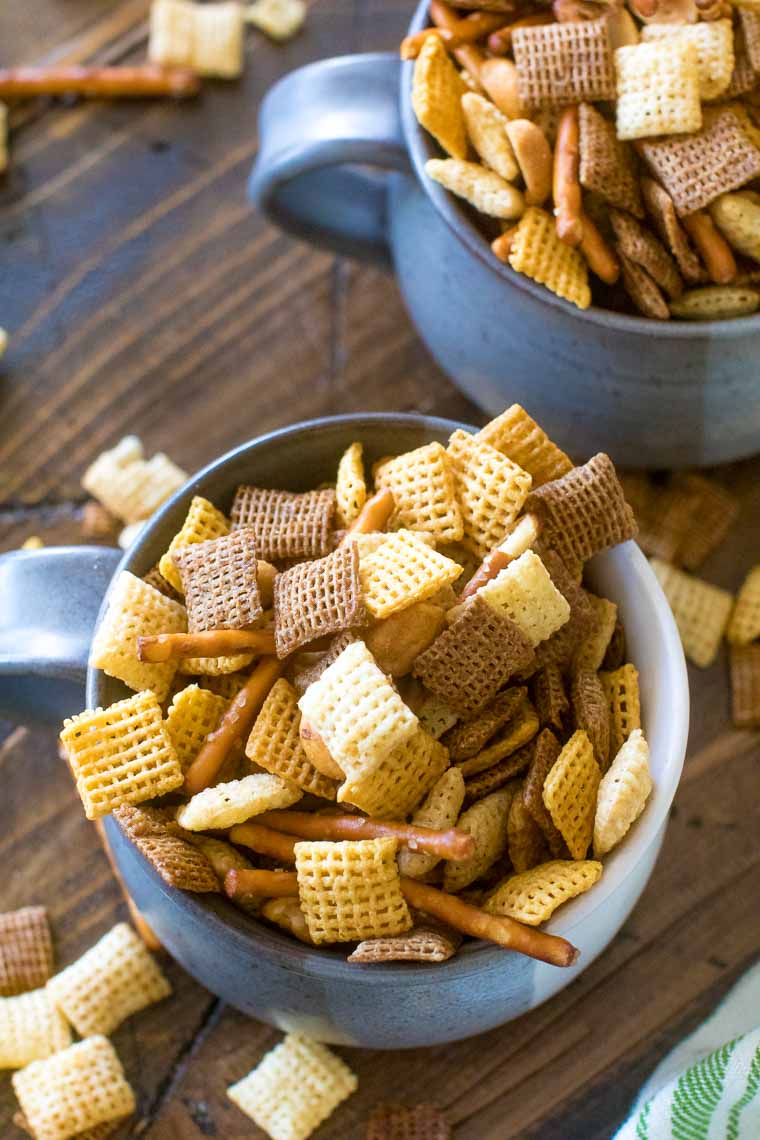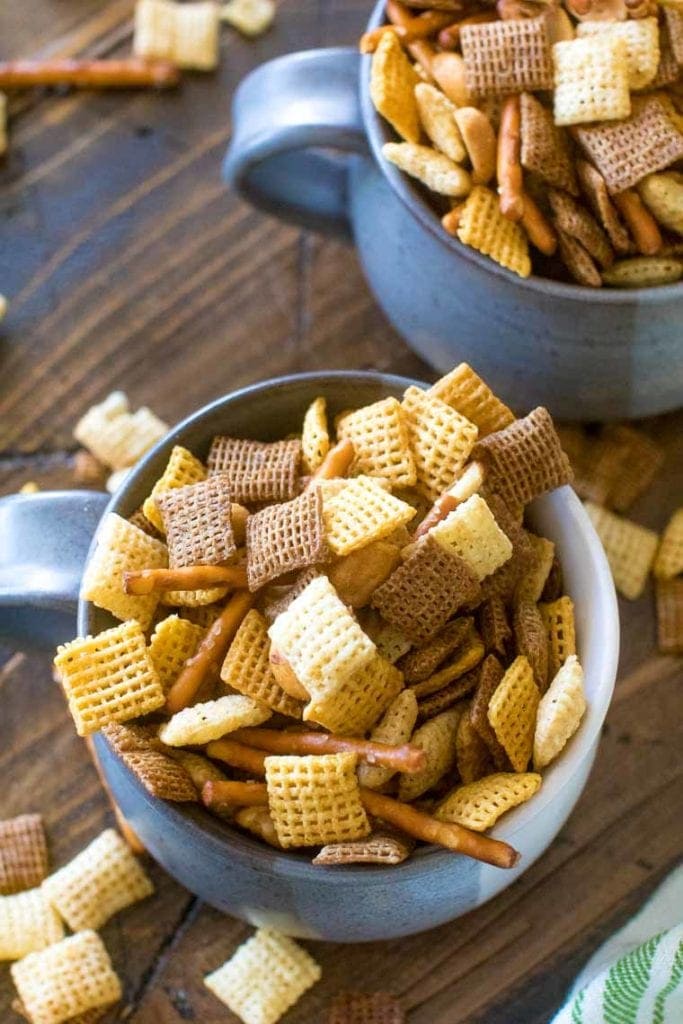 Baked Chex Mix in Oven
If you are looking for a great treat to bring to any holiday part this is next. Plus, it's perfect for any party any time of the year.
The kids love it too.
I have a kid that picks out the pretzels and refuses to eat the peanuts, which I love because I would rather avoid the pretzels and eat the peanuts!
I think we are a match made in heaven.
If you don't like one ingredient you can totally leave it out and just add a little bit more of your favorite ingredient.
More great Snack Mix Recipes perfect for your next party!
What are you serving up for your next party? Be sure to snap a photo and tag me on Instagram at @julieseatsandtreats or #julieseatsandtreats – I want to see photos of your great party food!!
I'd love it also if you could take a moment and comment below and with a five-star rating! I know you'll love this treat!!
WATCH THE STEP BY STEP VIDEO FOR THIS CHEX MIX RECIPE BELOW:
If you enjoy watching these videos make sure you subscribe to my YouTube Channel to be notified each time a post a new video!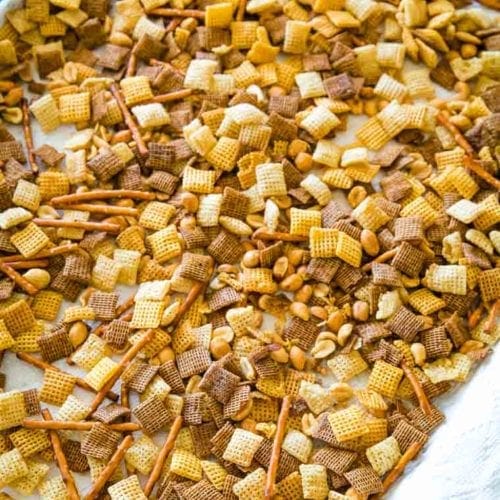 Chex Mix
Oven baked snack mix full of three different chex cereals, peanuts, pretzels that is tossed is a savory butter sauce and baked in the oven.
Ingredients
1/2

c.

butter

melted

1 1/2

Tbsp

Worcestershire Sauce

1 1/4

tsp

seasoned salt

2 2/3

c.

corn chex cereal

2 2/3

c.

rice chex cereal

2 2/3

c.

wheat chex cereal

1

c.

peanuts

1

c.

pretzels
Instructions
Preheat oven to 250 degrees F.

In a large mixing bowl combine butter, Worcestershire sauce and seasoned salt. Mix until combined. Add the rest of the ingredients and toss to coat.

Spread evenly on 15'' x 10'' x 2'' baking pan.

Bake in preheated oven for 1 hour, stirring every 15 minutes.

Spread out on paper towel to cool. Stir in airtight container.
Notes
OPTIONAL ADD INS
M&Ms – Make sure to stir them in after it cools a bit at the end so they don't melt!
Cheerios
Bagel Chips
Cheez It Crackers
Bugles
Cheetos
Popcorn
Goldfish Crackers
Garlic Powder
Tabasco
STORAGE
Once it's completely cooled store it in the a air tight container. It will last for up to two weeks, but tastes the best when enjoyed in the first 2-3 days.
It's also freezer friendly. Cool the mixture completely then store in a freezer-safe container for up to 3 months. We recommend a hard sided container instead of a bag so it doesn't get crushed in the freezer.
EXPERT TIPS
When stirring make sure to use a gently hand so you don't end up with a bunch of broken cereal.
Play around with the seasonings or even add garlic powder etc.
Make sure to stir while baking so it doesn't burn and scorch. This isn't optional!
Package it up in a festive tin and give it for gifts around the holidays.
You can mix and match the cereals and add ins as long as you have about 10 cups of them total.
Nutrition
Calories:
417
kcal
Carbohydrates:
76
g
Protein:
9
g
Fat:
10
g
Saturated Fat:
3
g
Cholesterol:
10
mg
Sodium:
645
mg
Potassium:
272
mg
Fiber:
6
g
Sugar:
6
g
Vitamin A:
1250
IU
Vitamin C:
11.1
mg
Calcium:
158
mg
Iron:
17.4
mg