The BEST Cranberry Sauce Recipe!
The delicious cranberry sauce recipe is flavored with orange and cinnamon to make it The Best Cranberry Sauce! It's not the holidays without cranberry sauce and now you can make it homemade. It's way better and super easy! Your guests will be thanking you for making this easy Thanksgiving side dish.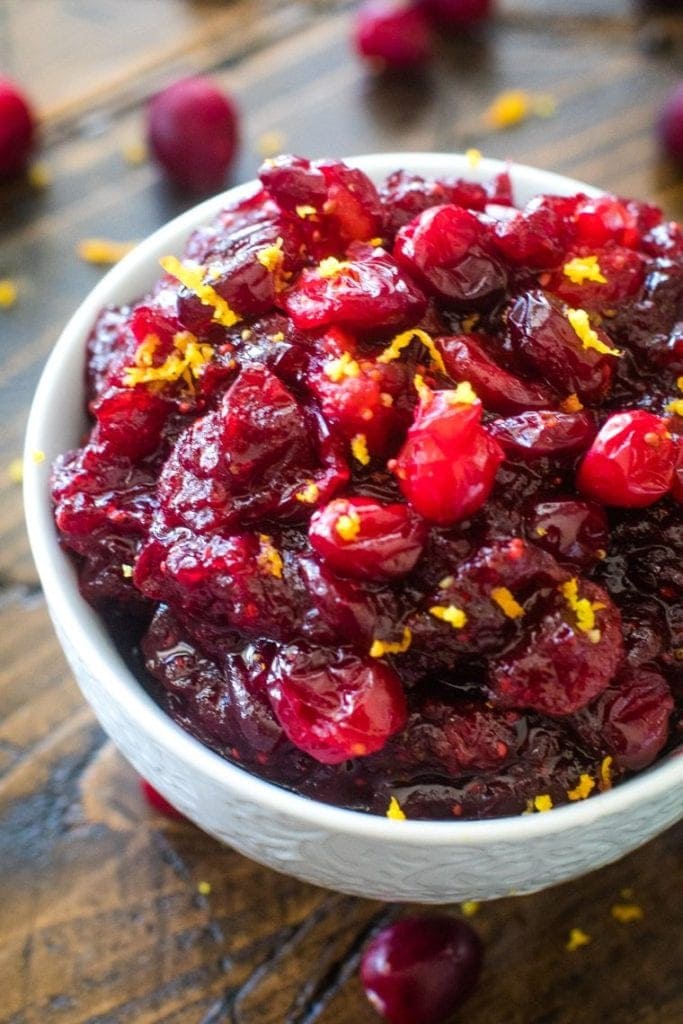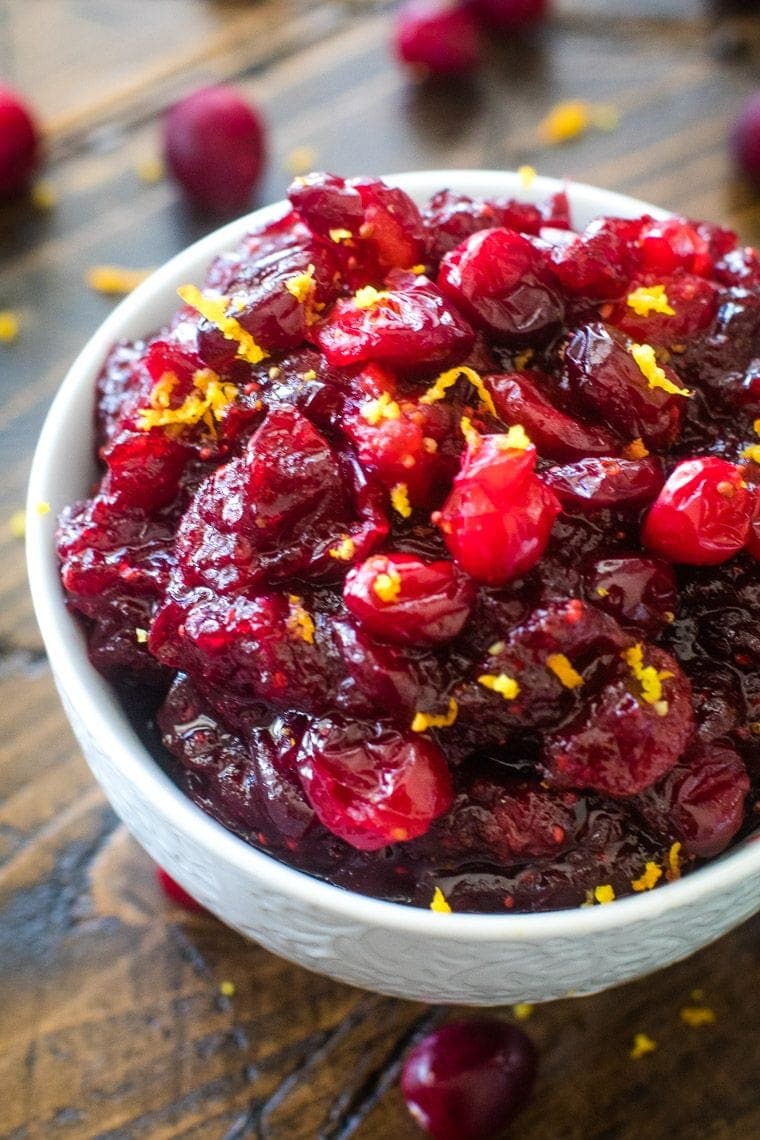 Have you ever wondered how to make cranberry sauce? It's really super easy to make and honestly, tastes so much better than the canned version. I've made my own for years, but I've never put the recipe on the blog. Not sure why not! Today, that's going to change! It's a staple in our table just like my famous Easy Stuffing, Make Ahead Mashed Potatoes, Easy Homemade Gravy and Crock Pot Make Ahead Turkey!
Just look at these bright berries, cooked in a touch of sugar with orange juice, it's sweet and tart and just plain tasty! It's simple to do also.
If you want to make your holiday even less stressful, make it a couple days ahead. Even better, make it a week, or a month ahead, seal it well and pop in it in the freezer. One of your sides will already be done and you can check it off the list!
Do you get stressed out over the holidays? I try my best not to. Here are my tips to make holidays less stressful.
Make a list and shop in advance.
If someone volunteers to bring something, say yes! I'd love you to bring _____ . You fill in the blank, whether that's Green Bean Casserole, or Scalloped Potatoes or Aunt Bee's fav dessert, it's ok to say yes and it will give you one less thing to do! Just be sure to tell your guest what you'd like so you don't end up with 3 pumpkin pies!
Clean the kitchen a couple of days in advance.
Keep it simple, T-Day isn't the time to try out new recipes it will only add stress just wondering if it will turn out right!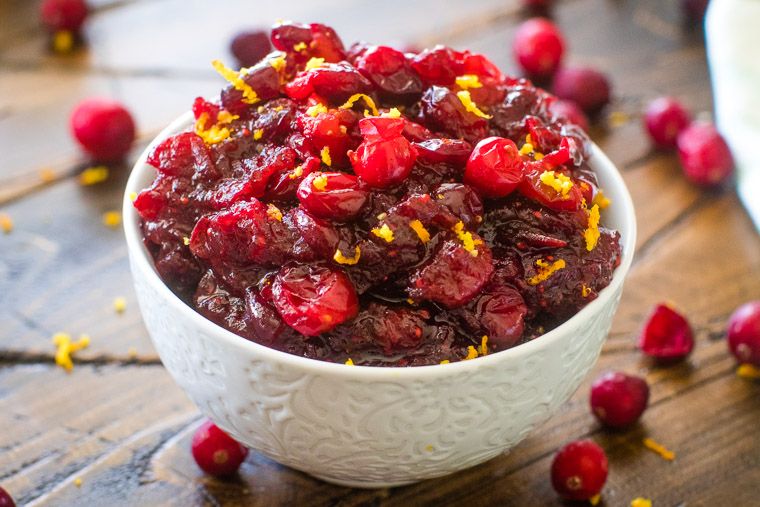 This is my Dad's ultimate weakness. I'm pretty sure he looks forward to Thanksgiving all year long just so he can get his beloved Cranberry Sauce!
You know what else is his weakness? This Pumpkin Cheesecake Pie! Two of our families favorite combined into one delicious pie!
How do I make cranberry sauce?
Place a heavy bottom saucepan on the stove over medium heat.
Pour the OJ into the pan add the sugar. Stir and dissolve the sugar.
Add the cranberries and cook until the cranberries start to pop about 10 minutes.
Remove from heat and place sauce in a heatproof bowl.
As it cools, the cranberry sauce will thicken.
Is cranberry sauce served warm or cold?
Traditionally sauce is served chilled. As the sauce cools, it will also thicken up. When it's warm though it becomes a great sauce or glaze! I have some ideas for repurposing this side below.
Is canned cranberry sauce good for you?
The canned sauce can be really high in sugar, hence high in calories. Making your own makes more sense because you can control the ingredients. But mostly, make your own because it only takes minutes and it tastes 100 times better! Making it ahead is always an option too.
How long do leftovers last?
This sauce will last ten to fourteen days when refrigerated. My best suggestion is to make a batch and simply freeze any leftovers! Well sealed, leftovers will last up to three months in the freezer.

Have you tried your cranberry sauce with orange before? If not, you need to take the jump or leap. In fact, if you don't like cranberry sauce give this version a try because it might just make you a lover of cranberry sauce!
What can I use leftover sauce for?
Though I can't imagine you'll have much leftover, if you do here are some great ideas!
Spread on your turkey sandwich
Glaze chicken breast or thighs
Are you cooking for the holiday or will you be a guest at someone's house? Either way, I hope it's super fun with loads of good food and a great time with family! Comment below and tell me what your holiday plans are, I'd love to hear!
WATCH THE STEP BY STEP VIDEO FOR THIS RECIPE BELOW:
If you enjoy watching these videos make sure you subscribe to my YouTube Channel to be notified each time a post a new video!
Don't forget, comment below and let me know how much you love this meal! Post a picture on Instagram and be sure to tag me so I can see it too! I'm loving all of your delicious foodie pics! You can find me at @julieseatsandtreats or just #julieseatsandtreats -if you hashtag me, I'll get to see it that way too!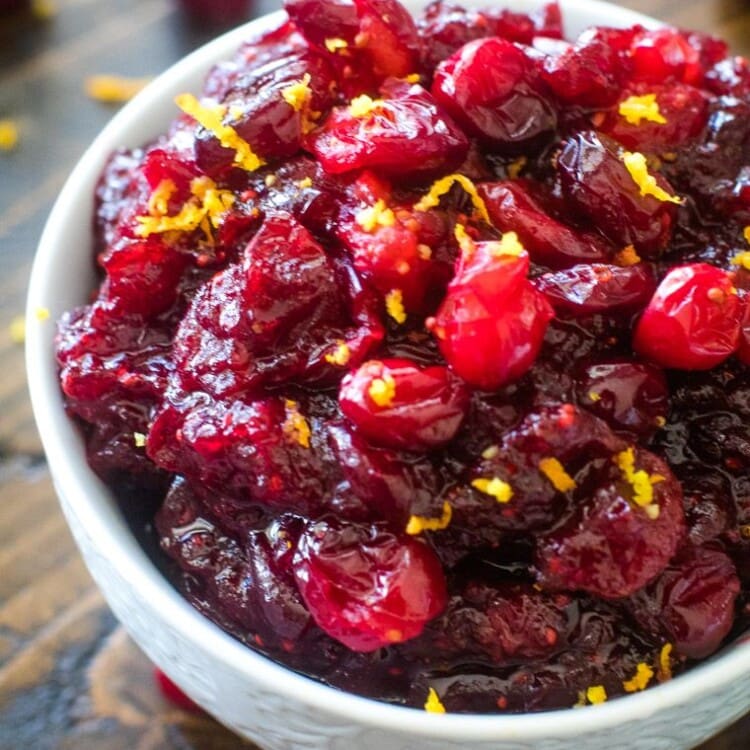 The BEST Cranberry Sauce Recipe!
A simple and easy side dish for Thanksgiving. This cranberry sauce is made with orange to give it an amazing flavor. It's going to be the hit recipe at your holiday table!
Ingredients
12

oz

fresh cranberries

1/2

c.

white sugar

1/4

c.

brown sugar

1/2

c.

orange juice

1/2

c.

water

1/4

tsp

cinnamon

1

piece orange peel
Instructions
In a medium size saucepan over medium heat, dissolve the sugar in the water, cinnamon and orange juice. Stir in cranberries and orange peel. Cook until the cranberries start to pop, about 10 minutes. Remove from heat and place sauce in a bowl. Cranberry sauce will thicken as it cools.

Garnish with zested orange peel.
Nutrition Information