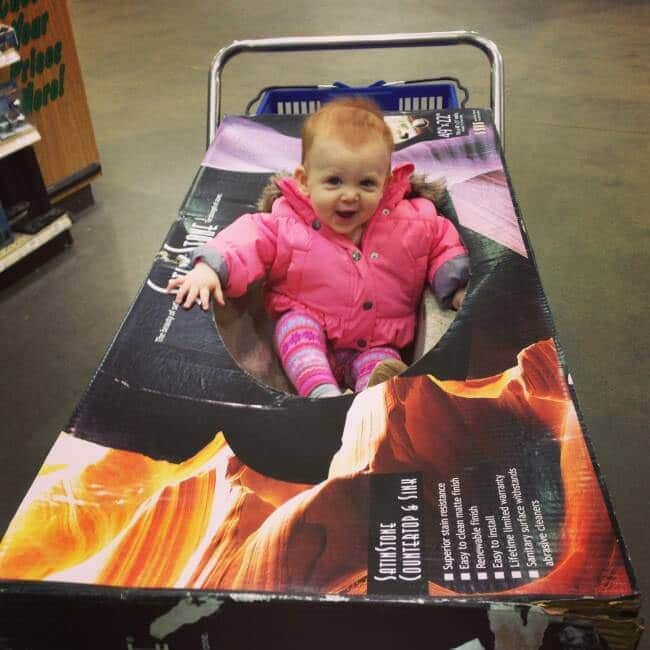 Our little supervisor at Menards. Thank the Lord we have such a good sport for a daughter!
I'm going to be honest with you. I feel like nothing got done this week. The week started out with the hubby getting a piece of wood stuck behind his eyelid, after a trip to the doctor and them removing it he was out of commission for a few days. He did get everything ready for the mudding and taping to start, which is going really slowly. Then we took off on a little vacation Friday, Saturday and Sunday. On Friday we went and ordered our kitchen cabinets and the hardwood flooring for upstairs. I'm super excited that this is done. I had a vision in my head and I finally found a cabinet company that could recreate that look. As you all know the kitchen might just be the biggest love of mine! After this was done we picked up Miss K and got on the road to visit the hubby's sister. We did a LOT of shopping and a lot of it was actually for the house. So much that we actually had a to rent a U-Haul to get everything home. Yes, true story. The hubby was convinced this was the best option opposed to going shopping again. I, on the other hand, voted for going shopping again of course!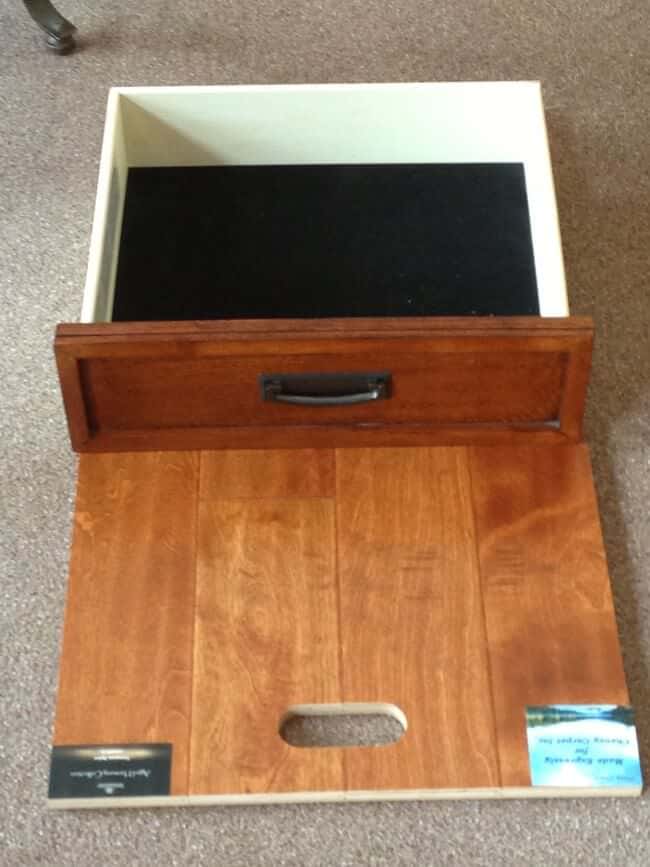 This is our hardwood flooring we have ordered. The drawer is actually a drawer for my bedroom set, but this is the stain color I'm in love with so I brought it into our cabinet place and they are going to match it for me! Happy Dance!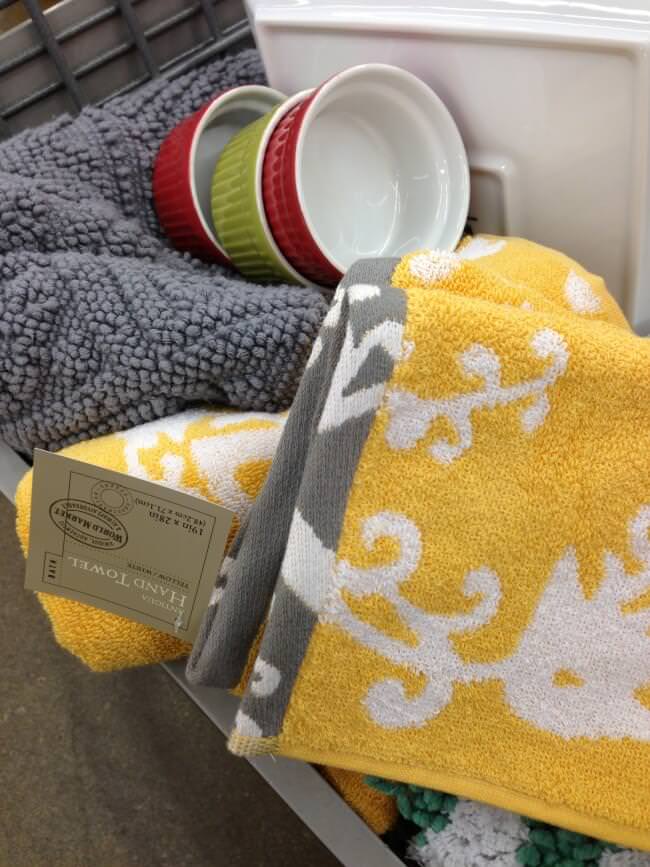 These are the colors for the Main Bathroom. I'm going to do gray walls and a white shower curtain. I'm totally in love with these towels! Don't mind the blog props in the picture…I couldn't say no!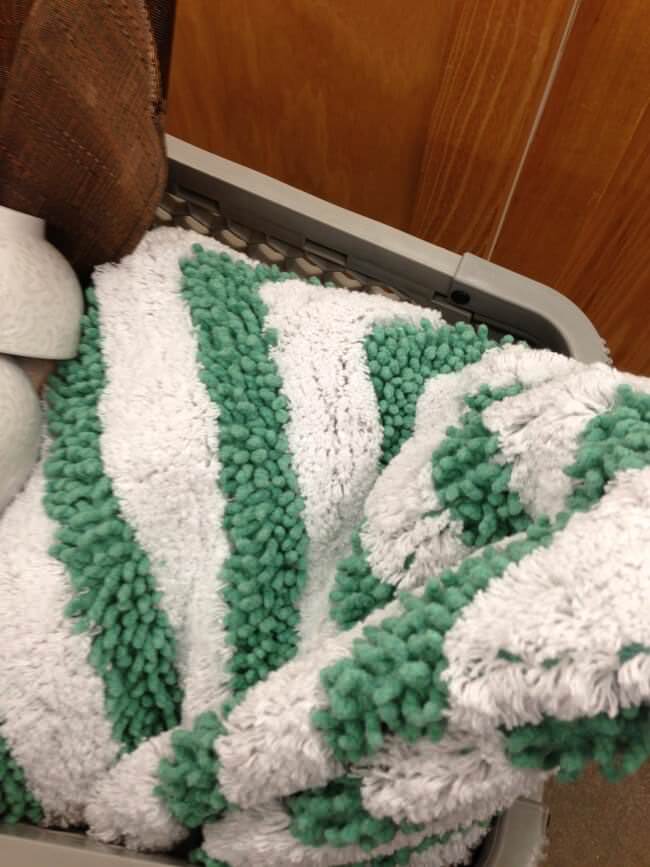 This is the bath rug for the Master Bathroom and I have gray and greenish towels to match. I think I'm just going to do a light neutral color on the walls.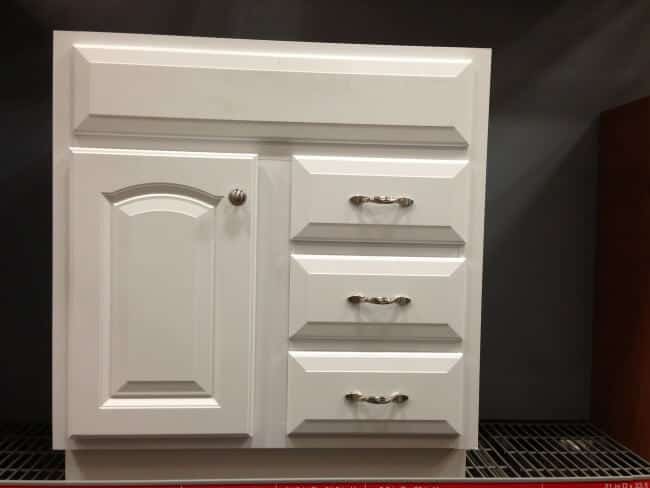 This is what our bathroom vanities and the linen closet for the master looks like only larger!
Here's to a new week and hitting it hard again! Painting here I come!
The hubby has a list he created in an Excel document of all the things we have to do before we can move in. It's rather depressing. As it seems we add more things than we cross out. I thought I'd update you!
This is the list.
1. Gut Upstairs
2. Side entire house
3. Trim out house (ORDERED!)
4. Jack up floor or ceiling
5. Fix Bathtubs (Scheduled for March 21st)
6. Frame windows and patio doors
5. Sheet rock in kitchen
6.Mud & Tape Upstairs (Happening now)
7. Paint, Paint, & Paint (3 Bedrooms Completed)
8. Re-do wiring in kitchen
9. Install new windows (ORDERED!)
10. Install Kitchen Cabinets (ORDERED!)
11. Install Flooring (ORDERED!)
12. Install Appliances (ORDERED!)
13. Install Vanities, toilets etc. in bathroom (Vanities & Tops bought)
Did I mention he also has a nice Excel spreadsheet for our "Estimated" budget and our "Actual" budget. Now that spreadsheet is ubber depressing. I try my best to stay on budget but his famous saying is, "Julie the budget, the budget, what about the budget?"