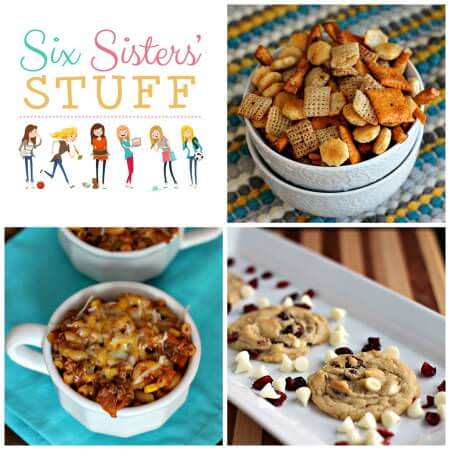 First off have any of you heard of Six Sister's Stuff? It's an amazing blog ran by Six Sisters' obviously! Well those said sisters came up with this brilliant idea to design a website to host all kinds of recipes in one spot. This sight is called My Recipe Magic.
I love it almost as much as I love Six Sisters' Stuff. It's pretty hard to beat my adoration for them so I'm still in love with My Recipe Magic also.


Want to know why I love it so much?
It's really pretty simple. Well that's the first reason I love it. It's simple to use. Who doesn't love that and need that in their life? Simple equal good in my life! It only takes me about 5-10 minutes to upload a recipe. So I put my recipe on My Recipe Magic and then I earn money. Yes money. How sweet is that? I don't know anyone that doesn't love a little extra dough in their pocket. Plus while I'm earning a little extra dough via My Recipe Magic it's also helping me grow my sight by letting all kinds of new people check out Julie's Eats & Treats through My Recipe Magic. I'm not going to lie. I love new readers!
And guess what? Not only can you earn some extra dough you can also earn Reward Points on My Recipe Magic. You can earn these points by sharing, liking, and submitting recipes. When you have enough points they can be redeemed for online gift cards and entries in giveaways. You can earn up to 1,000 points per day. Plus My Recipe Magic changes their prizes and giveaways every week!

MY OTHER RECIPES
You know what other cool things you can do on this website? You can share recipes of course, create custom cookbooks, menus, shopping lists, see nutrition values and much more!
And now I know what you are thinking. I'm not a blogger Julie so why do I care? Well I can upload your recipes too and earn money! You don't even need your own blog!
If you are a food blogger it has extra benefits to you and your blog too. My Recipe Magic is a super easy resource to use for marketing your sight to all kinds of different readers and increase your traffic through this. Plus it makes backlinks to your blog when you link your recipes there and this increases your SEO. The worldwide web is a massive place so anytime you can increase your presence it's a win!
Now I bet you are wondering how to get started with this fabulous sight right? First you just need to sign up as a chef. Then once you've created an account you are ready to start uploading your recipes by filling in the form on their website, uploading a picture and clicking submit! Once a recipe loving person from My Recipe Magic has verified their is no duplicate recipes on the sight your recipe is published and you beginning earning money! On the dashboard you can quickly see your page views, recipes, how much money you've earned and your analytics!
So anytime you see this little guy in my posts you can click on him and go over to My Recipe Magic and find out the nutritional value on that recipe!