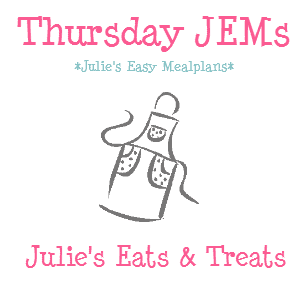 We are officially in our new house and well we still have a lot of boxes and stuff to do like major stuff but hey we are here! I've been enjoying being able to cook and bake in my new kitchen of course! I'll be posting room reveals as we get rooms done some hopefully you start seeing those soon!
Monday
 Meatball Ziti with Vodka Sauce (New Recipe)
Easy, Big, Fat Garlic Knots (New Recipe)
Tuesday
Griddle Steaks
Asparagus & Tater Toss (New Recipe)

MY OTHER RECIPES
Wednesday
Poppy Seed Chicken
Thursday
Pepperoni Roll
Friday
Hamburger Wild Rice Casserole
Treat
Frosted Banana Bars
Saturday
Lunch
Chicken Parmesan Wraps (New Recipe)
Supper
My cousin's wedding!
Sunday
Brunch
Funfetti Overnight French Toast
Supper
BBQ Pulled Pork Sandwiches
Make sure you don't miss any of the fun stuff Julie's Eats & Treats is up too!