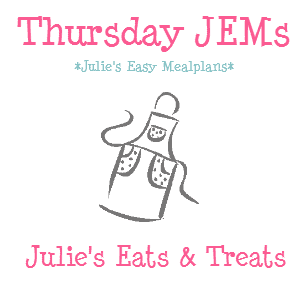 It's my Miss K's first birthday today! Wow where has the time went? I keep remember lying in that hospital bed waiting for her arrival a year ago and feeling like it was yesterday and sometimes a lifetime ago. They say time flies when you have kids and they were so right. Whoever "they" were! This has honestly been the best year of my life. She is such a joy, most of the time, she has a bit of sass but we'll take it! I hope you are all having a great week! Remember to following me on Blog Lovin' if you haven't signed up yet so you get ALL of my posts. Plus check out the Father's Day Man Cave Filler giveaway and Silpat giveaway going on right now and enter to win!
Monday
Tuesday
Wednesday
Thursday

MY OTHER RECIPES
Friday
Treat
Saturday
Lunch
Supper
Hallie Jo's Birthday Party!
Sunday
Breakfast
Supper
Make sure you don't miss any of the fun stuff Julie's Eats & Treats is up too!