This is a classic Italian dessert that combines espresso-dipped ladyfingers and a creamy mascarpone cream and is dusted with a cocoa powder to finish it. If you are looking to make a homemade Tiramisu this is it! Step by step directions make it easy to follow, plus you can make this ahead of time because it's best enjoyed after being refrigerated 24 hours. The perfect dessert recipe for entertaining.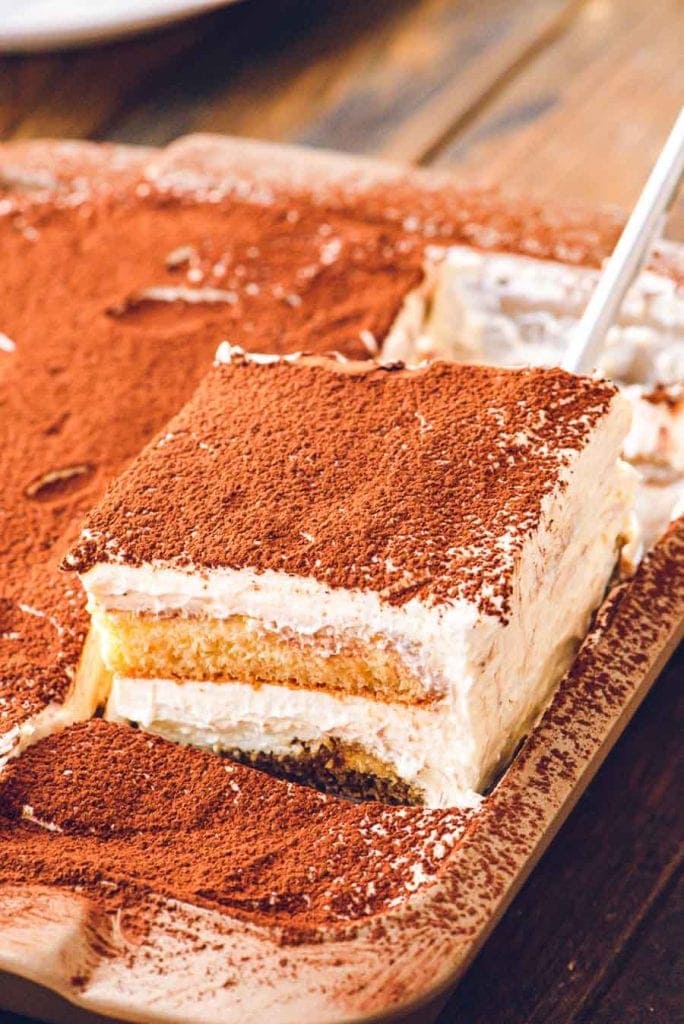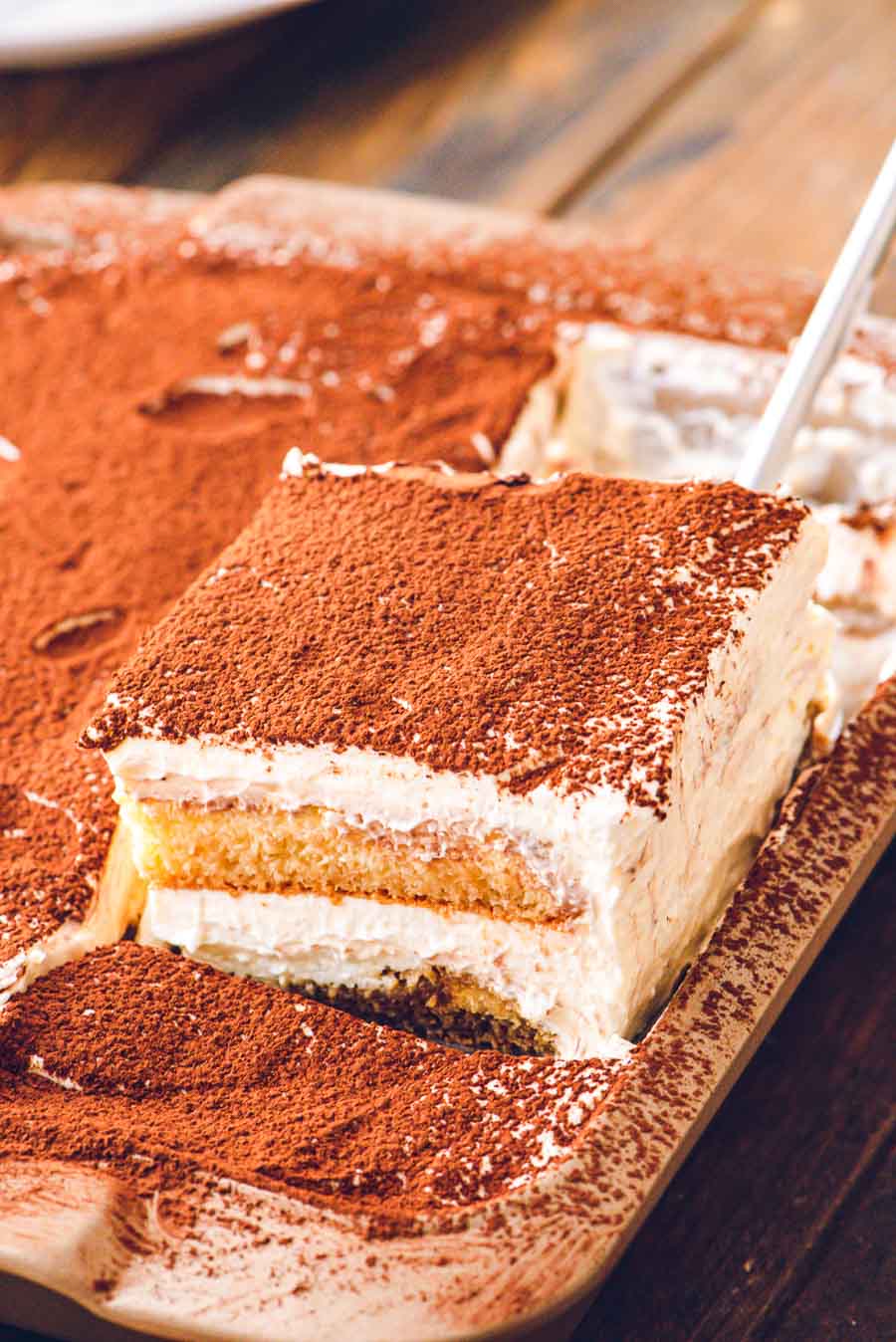 For a long time, I only had Tiramisu if we had dinner at an Italian restaurant because It always looked like a super fancy dessert that would be hard to make at home! Turns out it's not that hard so, of course, I had to share it here with you! There are a few steps, but it's worth it because the combination of flavors is amazing! Everyone will think you got it from a fancy Italian restaurant.
It's a make-ahead dessert and you know how much I love desserts that can be made ahead of time. If you love a cool and creamy dessert flavored with coffee and a hint of rum, I think you're going to love Tiramisu.
Tiramisu is an Italian dessert made with rum and coffee-soaked ladyfingers that are layered with mascarpone cheese and topped with cocoa powder. It's a chilled no-bake dessert and it reminds me of icebox cakes like my Strawberry Cheesecake Icebox Cake because you don't bake it. Instead, you assemble it and chill it in the refrigerator.
Tiramisu is easy to make at home and it's great for entertaining because you have to make it ahead in order for it to set before serving. While it rests in the refrigerator the coffee-soaked ladyfingers soften into a sponge cake texture and all of the flavors meld together. Plus, it serves a crowd so it's a great dessert if you're having friends and family over for the holidays or special occasion dinners. Serve it with some Nutella Hot Chocolate for a complete Italian experience!
If you've ever wondered how Tiramisu is made I'm showing you step-by-step how to make it at home! Once you see the steps I know you'll want to give it a try!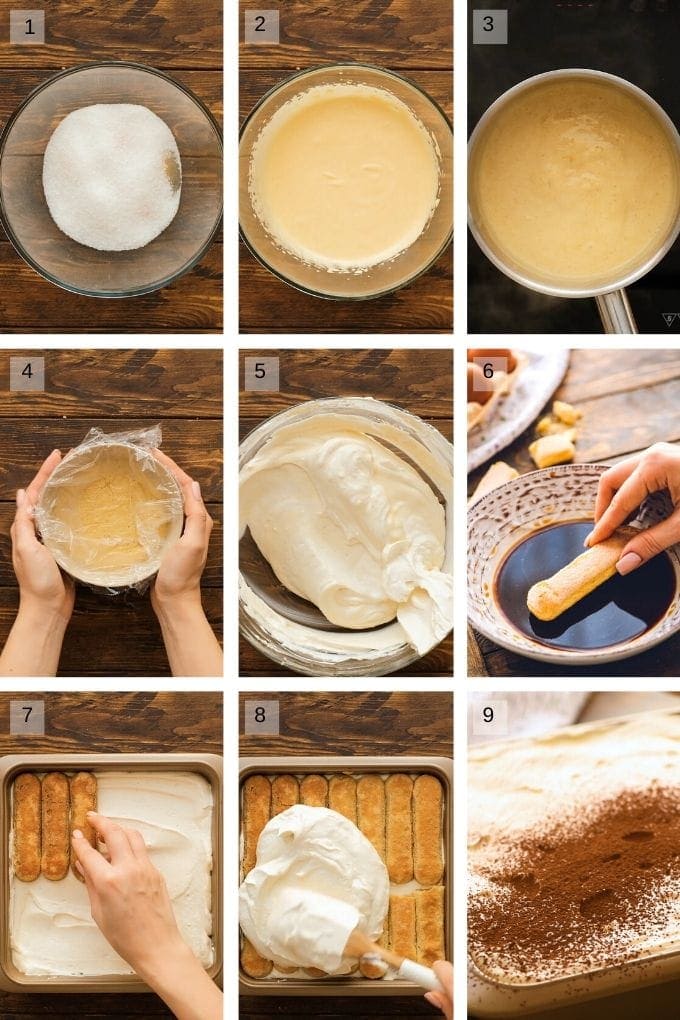 WHAT DO I NEED TO MAKE TIRAMISU?
If you'd rather skip my (very helpful, I think) tips and tricks, essential cooking info, and similar recipe ideas – and get straight to this delicious Tiramisu recipe – simply scroll to the bottom of the page where you can find the printable recipe card.
Room-temperature pasteurized egg yolks
White sugar
Milk
Heavy cream
Vanilla
Sugar
Room-temperature Mascarpone cheese
Room-temperature brewed espresso or coffee
Rum
Ladyfingers
Unsweetened cocoa
How to make Tiramisu
Step by Step Photos above!
How to Make the Filling
In a medium bowl, mix the eggs and sugar with an electric mixer. Add the milk and continue mixing until smooth and the color is light yellow.
Pour the mixture into a saucepan and bring it to a boil over medium heat. Stir it constantly as it heats up. Once boiling, cook it for one to two minutes. Remove it from the heat, let it cool slightly and then cover and chill it for at least an hour.
In a large bowl, whip the heavy cream with the vanilla and sugar. Start at a low speed and slowly increase it over ten minutes. This will create a more stable whipped cream that will stay stable for days in the refrigerator. Whip until stiff peaks form, which means the whipped cream will stand on its own when you pull it up with the beaters. See my post about Whipped Cream to learn more about how to make the best whipped cream.
Remove the egg mixture from the refrigerator and stir in the mascarpone cheese. Fold in the whipped cream.
How to Assemble
In a small bowl, combine the coffee and rum. Dip the ladyfingers in the mixture just long enough to coat them. Don't soak them in the liquid. Place one layer of ladyfingers in the bottom of a 9×9″ baking dish.
Spread half of the filling over the ladyfingers. Top the filling with another layer of coffee-coated ladyfingers.
Spread the rest of the filling over the top of the ladyfingers.
Cover and refrigerate the Tiramisu for 24 to 48 hours. Before serving, dust the top of the top with cocoa powder.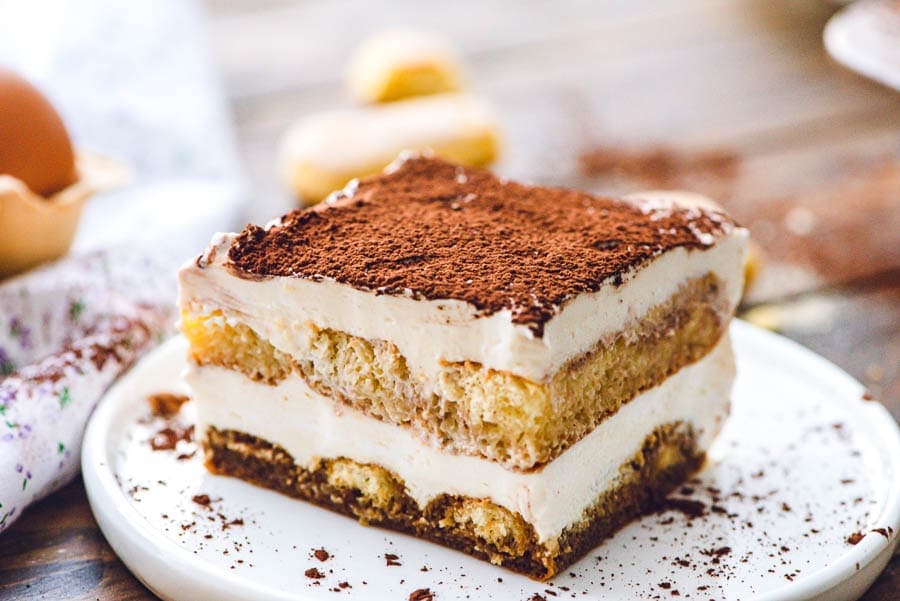 Tips and Tricks for the BEST Tiramusu!
The best ladyfingers for to use are crispy ladyfingers. Crispy ladyfingers absorb the coffee and turn soft like a sponge cake after chilling in the refrigerator. Don't use soft ladyfingers otherwise, they will be too soggy after absorbing the coffee and rum.
The best kind of rum to use is dark rum. It has a rich caramelized flavor which is a nice contrast to the creamy mascarpone filling. As far as a brand, choose a dark rum you like to drink and that fits within your budget.
You will want to use pasteurized eggs for this dessert. That is because the eggs have been partially sterilized to protect against bacteria and are safer to use than unpasteurized eggs. You will not be fully cooking the eggs so it's best to use these.
Tiramisu will keep in the refrigerator for up to four days. This includes the time it rests in the refrigerator before serving it. So, if you make it a day in advance the leftovers will keep for an additional three days after you serve it.
You can also freeze this dessert. Make it as instructed (wait to dust it with cocoa until you serve it), wrap it tightly in plastic wrap and it will keep in the freezer for up to three months. To thaw, transfer it to the refrigerator a day or two before you want to serve it.
Make sure you let it set for a day in the fridge after preparing. That is because you use crispy ladyfingers in Tiramisu, you need to give them time to soak in the liquid so they soften and absorb the flavors. Ideally, it should chill for at least 24 hours in order for the flavors to fully develop.
Never heard of Mascarpone? It's an Italian cheese that's used in desserts and in savory dishes. It's a lot like American cream cheese – it's creamy and spreadable like cream cheese, but less tangy with a sweeter flavor. For Italian desserts, it's often combined with eggs, milk, and sugar to make mascarpone cream which is served with cakes and fruit and also used as a filling in desserts like Tiramisu.
I can't wait for you to try this classic Italian dessert – everyone will think you're a gourmet pastry chef when you serve them slices of Tiramisu! If you want another amazing Italian dessert be sure to try my Affogato, too!
WATCH THE STEP BY STEP VIDEO FOR THIS RECIPE BELOW:
If you enjoy watching these videos make sure you subscribe to my YouTube Channel to be notified each time a post a new video!
Try it and love it? Rate it, please!!!? Seriously though a five-star rating below will make my day! If you snap a photo, please be sure tag me on Instagram at @julieseatsandtreats or #julieseatsandtreats so I can see your yummy treat!!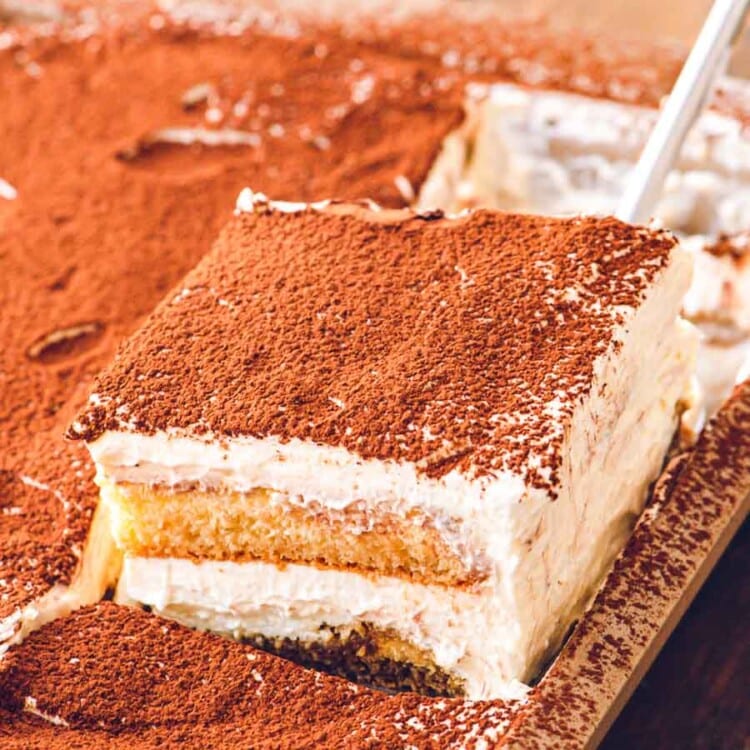 Tiramisu
Classic Tiramisu at home! This Italian dessert recipes has layers of espresso soaked ladyfingers, mascaparone and is dusted with cocoa.
Ingredients
6

egg yolks

pasteurized, room temperature

¾

c.

white sugar

⅔

c.

milk

1 ¼

c.

heavy cream

1

tsp

vanilla extract

1

Tbsp

sugar

1

lb

mascarpone cheese

room temperature

½

c.

espresso or strongly brewed coffee

room temperature

¼

c.

rum

1

package ladyfinger cookies like Savoiardi

7 oz (about 28 ladyfingers total)

1

Tbsp

unsweetened cocoa for dusting
Instructions
In a medium bowl mix the egg yolks with ¾ c. sugar using an electric mixer. Then add the milk and mix until it's smooth and a light yellow color.

Pour into a sauce pan and cook over medium heat, stirring constantly, until mixture boils. Boil gently for 1-2 minutes, remove from heat and allow to cool slightly. Cover tightly and chill in refrigerator for 1 hour.

In a medium bowl, beat cream with vanilla and 1 Tbsp. sugar until stiff peaks form. They peaks should stand when you stop whipping. Do not over mix.

Remove yolk mixture from the fridge. Whisk mascarpone into the yolk mixture until smooth. Fold whipped cream into mixture.

In a small bowl, combine coffee and rum. Dip the lady fingers into the mixture just long enough to get them wet, do not soak.

Arrange half of the ladyfingers in the bottom of a 9x9 inch baking dish.

Spoon half the mascarpone cream filling over the ladyfingers. Repeat layers.

Cover and refrigerate at least 24 hours to let the flavors mix, but we would recommend 48 hours of chill time..

Sprinkle with cocoa before serving.
Tips
Have the eggs and mascarpone at room temperature before making this recipe. That will help them mix together more smoothly

Whipping your cream is also where some people make a mistake. The idea with whipped cream is to do it slowly. Begin whipping the cream on low, increasing the speed over 10 minutes. This makes a whipped cream that will last for days in your fridge without the aid of gelatin. 

Soak the ladyfingers in the coffee mixture briefly. Don't let them get soggy, it will ruin the dessert.

Only use Crunchy SAVOIARDI (ITALIAN LADYFINGERS). Cake style ladyfingers will get too soft.

Allow Tiramisu to set up for at least 6 hours before serving.  Overnite is best.
Nutrition Information
Calories:
357.49
kcal
(18%)
,
Carbohydrates:
26.98
g
(9%)
,
Protein:
6.46
g
(13%)
,
Fat:
23.83
g
(37%)
,
Saturated Fat:
13.82
g
(86%)
,
Cholesterol:
182.37
mg
(61%)
,
Sodium:
67.05
mg
(3%)
,
Potassium:
68.85
mg
(2%)
,
Fiber:
0.35
g
(1%)
,
Sugar:
10.71
g
(12%)
,
Vitamin A:
924.75
IU
(18%)
,
Vitamin C:
0.11
mg
,
Calcium:
84.43
mg
(8%)
,
Iron:
1.12
mg
(6%)