Turkey Corn Chowder ~ Simple, Delicious, Hearty Chowder Perfect for Using up Leftover Turkey! Loaded with Roasted Bell Peppers, Green Chiles, Corn, Turkey and Cheese!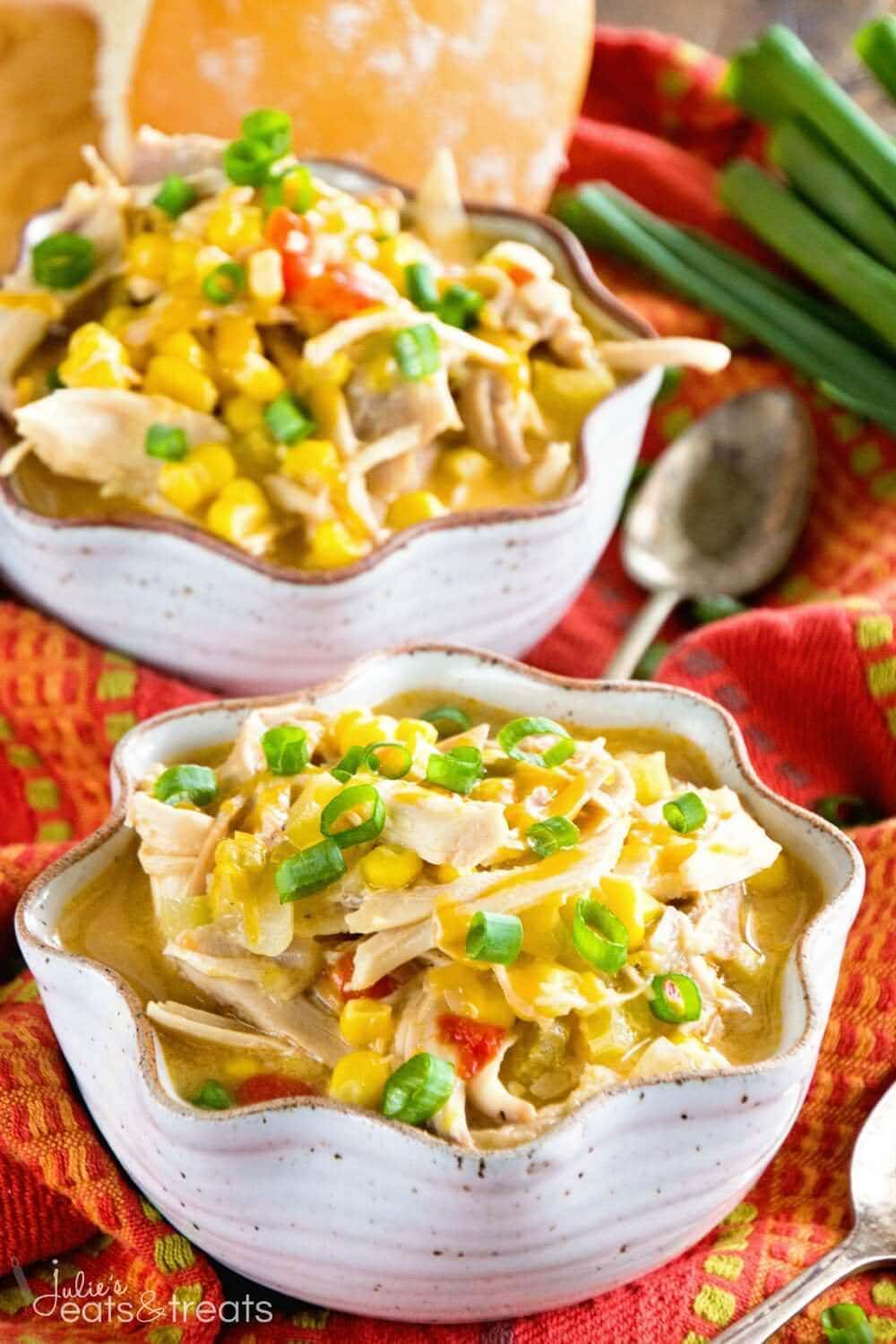 It's turkey season! Do you eat turkey just in November or do you treat yourself all year long? Personally, I only eat it in November it seems, which is a shame! It's actually super easy to make using this method and I really should make it more often. I know my family wouldn't mind!
Plus, you get all those yummy leftovers! Like these Cheesy Turkey Bacon Sliders! I mean how can you resist those sliders or this Turkey Corn Chowder? I was a happy girl for a week when I got eat both of them!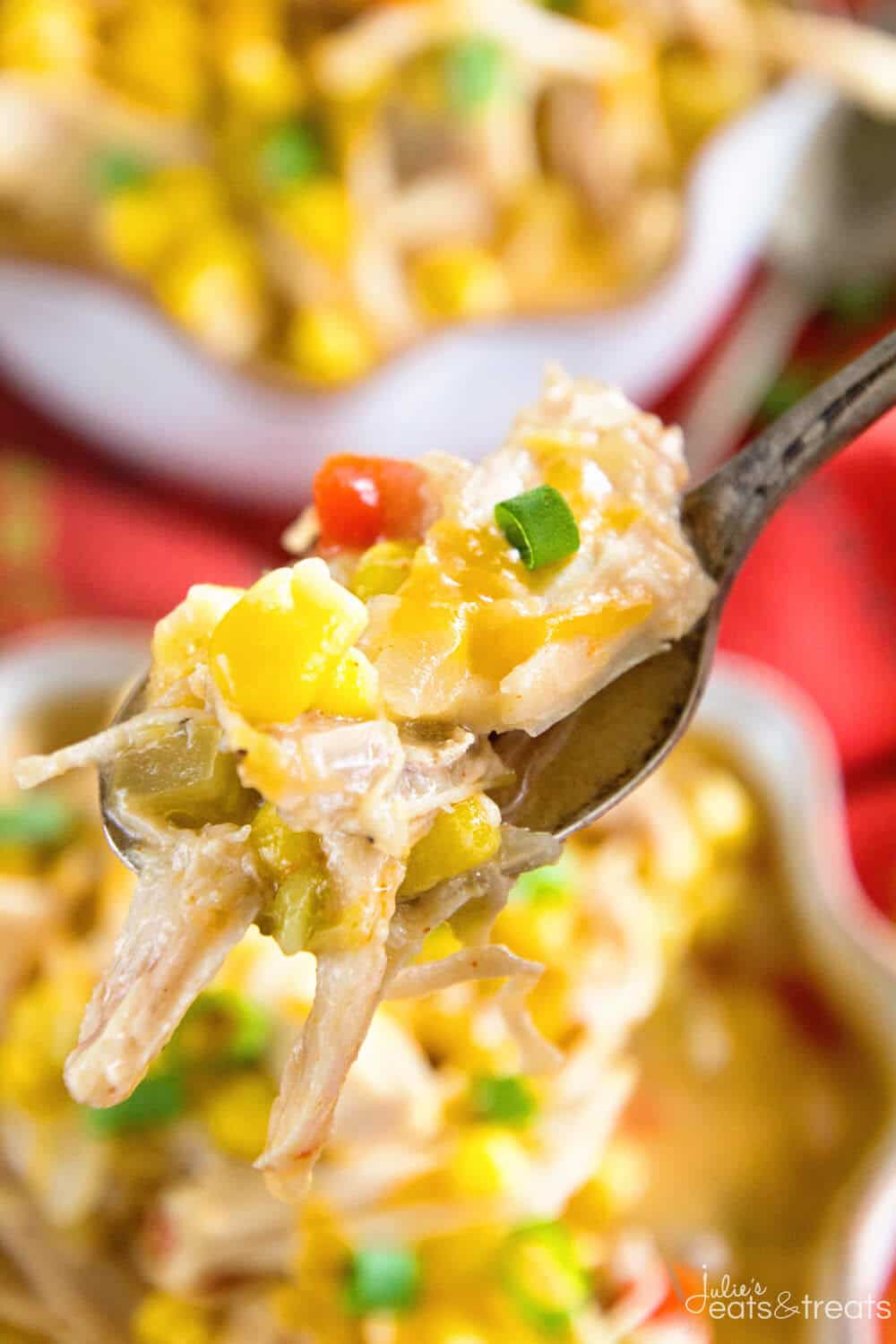 You know what else I rarely do in life? Spend time with my husband. Alone. Seems there is always work to be done and children to be taken care of and we kind of let it slip by the wayside. My mother-in-law always tells me to call them because it's important to make time for each other and she wishes she would have done it more when her kids were young! I mean, I have an offer to babysit and I still don't do it! What is wrong with me?
After a long fall on the farm for the hubs, I may have been a bit whiny. It's possible that I was a LOT whiny after single parenting. While one of my moments he told me to get Veteran's Day off from work and we would go Christmas shopping and spend some time together. He didn't have to tell me twice!
You guys, it was AMAZING! There was no one hanging on me, begging, crying, throwing a tantrum or asking me five million questions. I felt like an adult. I felt like I was "me" again. Do you know what I mean? Love those children dearly but sometimes you gotta bust out of the routine and change it up a little!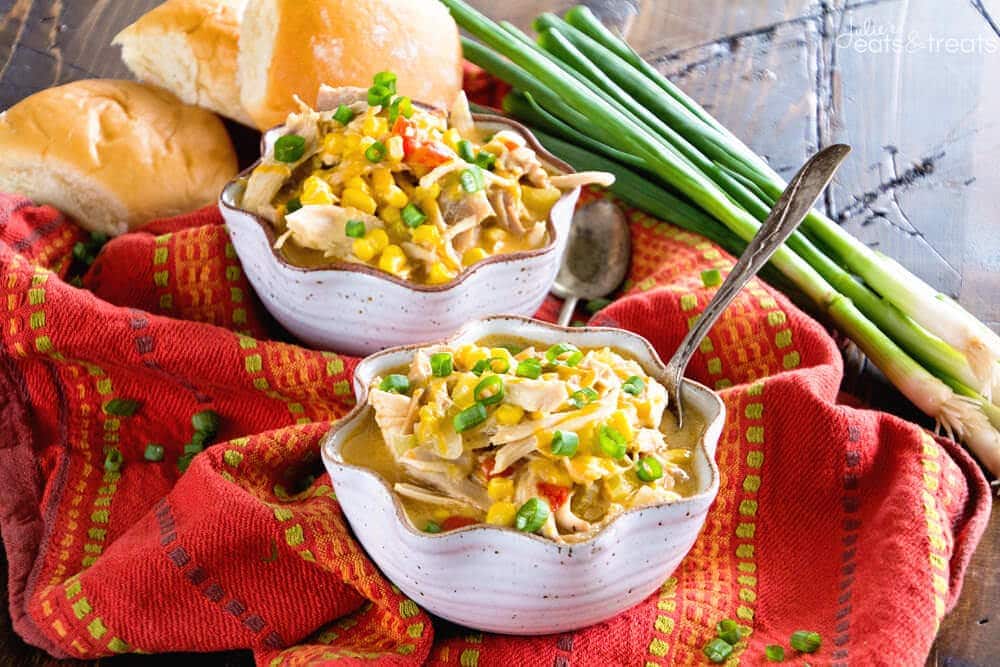 Oh, and it was spectacular to spend time with the hubs of course too! He was a gem. Never complained once about how much shopping we were doing or how much time we were taking. He made have made a few remarks about how expensive children are, but I agree on that too!
We knocked out a lot of the shopping or at least what we knew we could get so that feels great too!
Now, if you are looking to change up your leftovers you have to try this Turkey Corn Chowder. I actually developed this recipe last November and I've been dreaming of sharing it with you ever since. It was killing me. I didn't mind though because I got to make it again! It's so delicious and the leftovers make a perfect lunch to take to work! If you want a simple turkey recipe so you can make this soup, you have to try my Crock Pot Turkey Breast!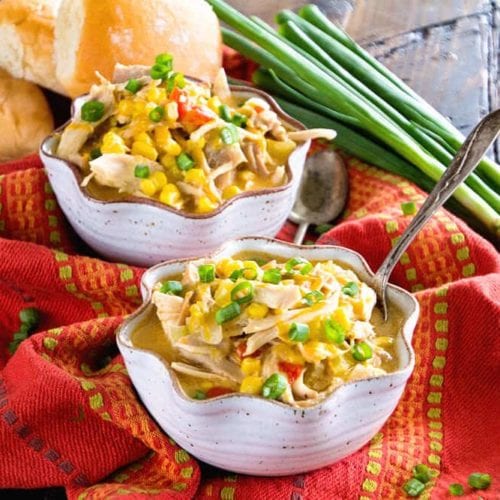 Turkey Corn Chowder
Simple, Delicious, Hearty Chowder Perfect for Using up Leftover Turkey! Loaded with Roasted Bell Peppers, Green Chiles, Corn, Turkey and Cheese!
Ingredients
1

tsp

olive oil

1

medium yellow onion

diced

1

stalk celery

diced

1/2

c.

roasted bell pepper

diced

3

garlic cloves

minced

1

4 oz can diced green chiles

4

c.

low-sodium chicken broth

2

c.

frozen corn kernels

1/2

tsp

salt

1/4

tsp

ground pepper

1/4

c.

all-purpose flour

2

c.

milk

2 1/2

c.

cooked and shredded turkey

3/4

c.

shredded cheddar cheese

1/2

tsp

smoke paprika

green onion

thinly sliced for garnish
Instructions
Heat olive oil in large saucepan over medium heat. Add the onion and celery and cook for 5 minutes or until they begin to soften. Add garlic, roasted bell pepper and green chiles and cook for 1-2 more minutes.

Pour in chicken broth, bring to a boil, then reduce heat and simmer, uncovered, for 10 minutes.

Add the corn and simmer an additional 3 minutes.

Put flour into medium bowl. Slowly whisk in milk until mixture is smooth.

Slowly whisk in milk mixture to soup, along with salt and pepper. Cook, stirring frequently, until soup is thickened, about 15 minutes.

Stir in turkey, cheddar cheese and smoked paprika. Stir until cheese melted and turkey is warm.

Serve garnish with green onions if desired.
Nutrition
Calories:
466
kcal
Carbohydrates:
33
g
Protein:
38
g
Fat:
21
g
Saturated Fat:
9
g
Cholesterol:
109
mg
Sodium:
871
mg
Potassium:
750
mg
Fiber:
3
g
Sugar:
9
g
Vitamin A:
900
IU
Vitamin C:
16.4
mg
Calcium:
340
mg
Iron:
2.4
mg
Recipe adapted from Cookin Canuck
Warm up with more Soup!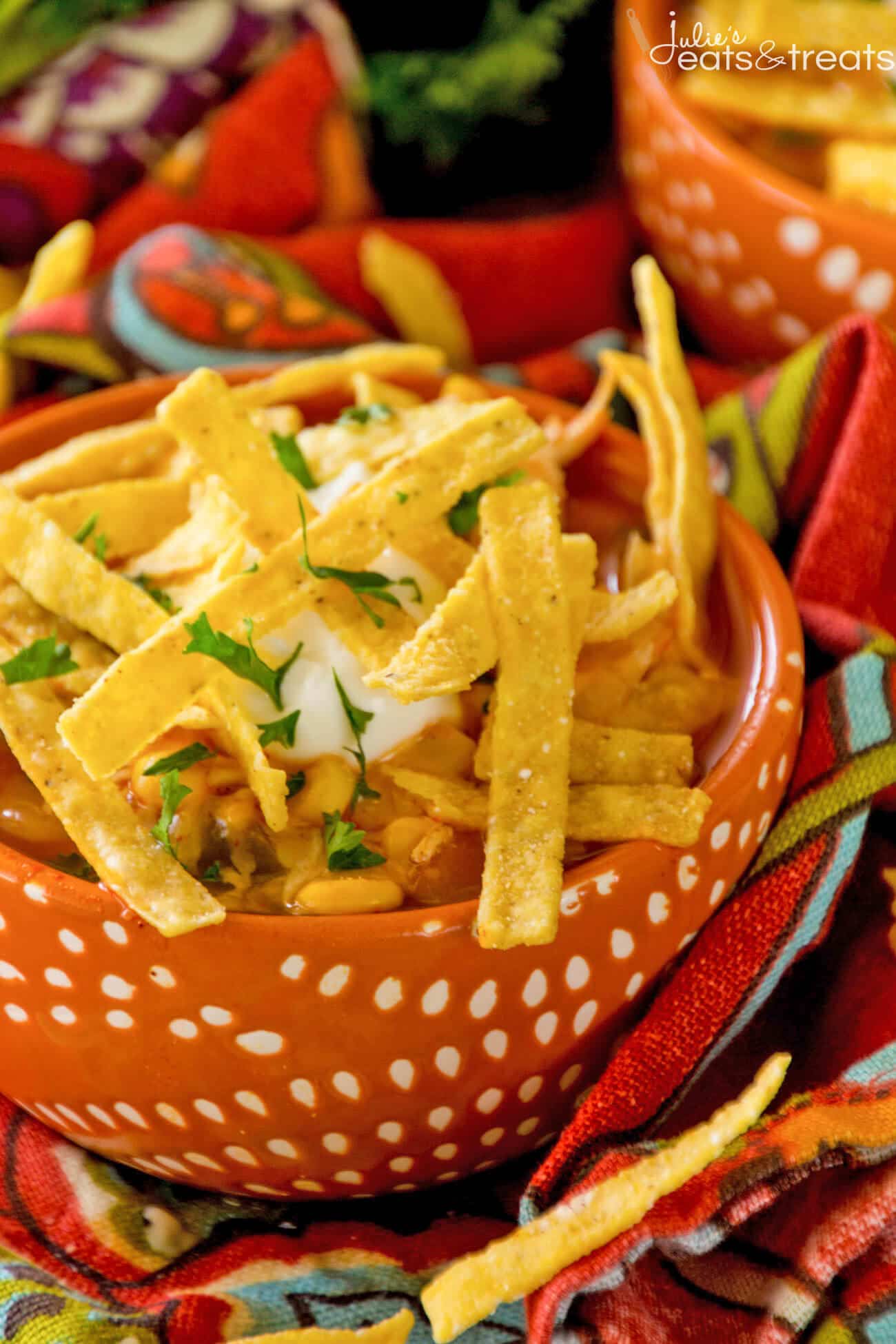 Chicken Tortilla Soup Recipe ~ A Quick, Easy Soup Recipe that is Comforting and Full of Flavor! Make it Tonight for a Perfect Quick Dinner!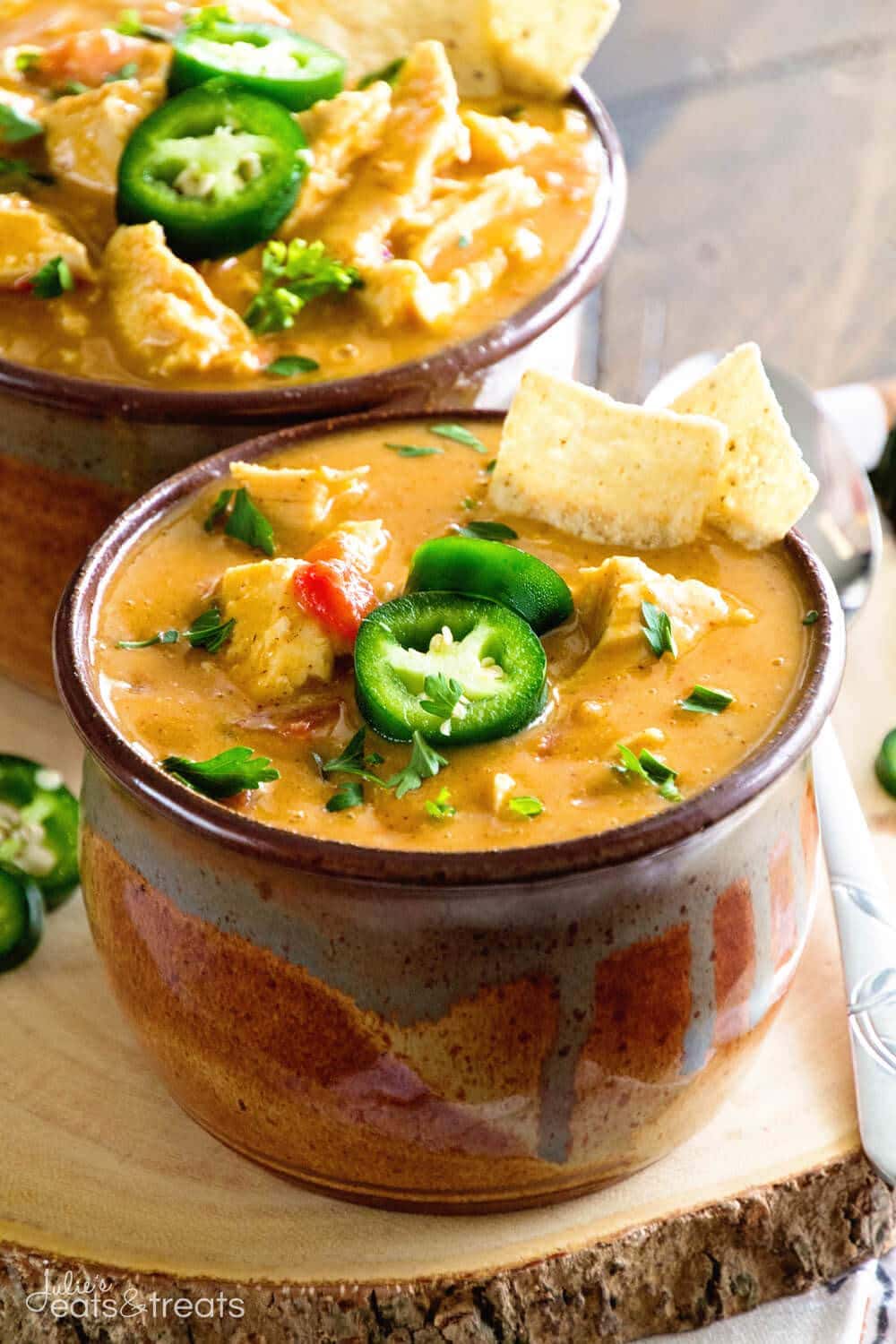 Crock Pot King Ranch Chicken Soup ~ Your Favorite King Ranch Chicken Casserole Flavor Turned into a Comforting Soup Made in Your Slow Cooker!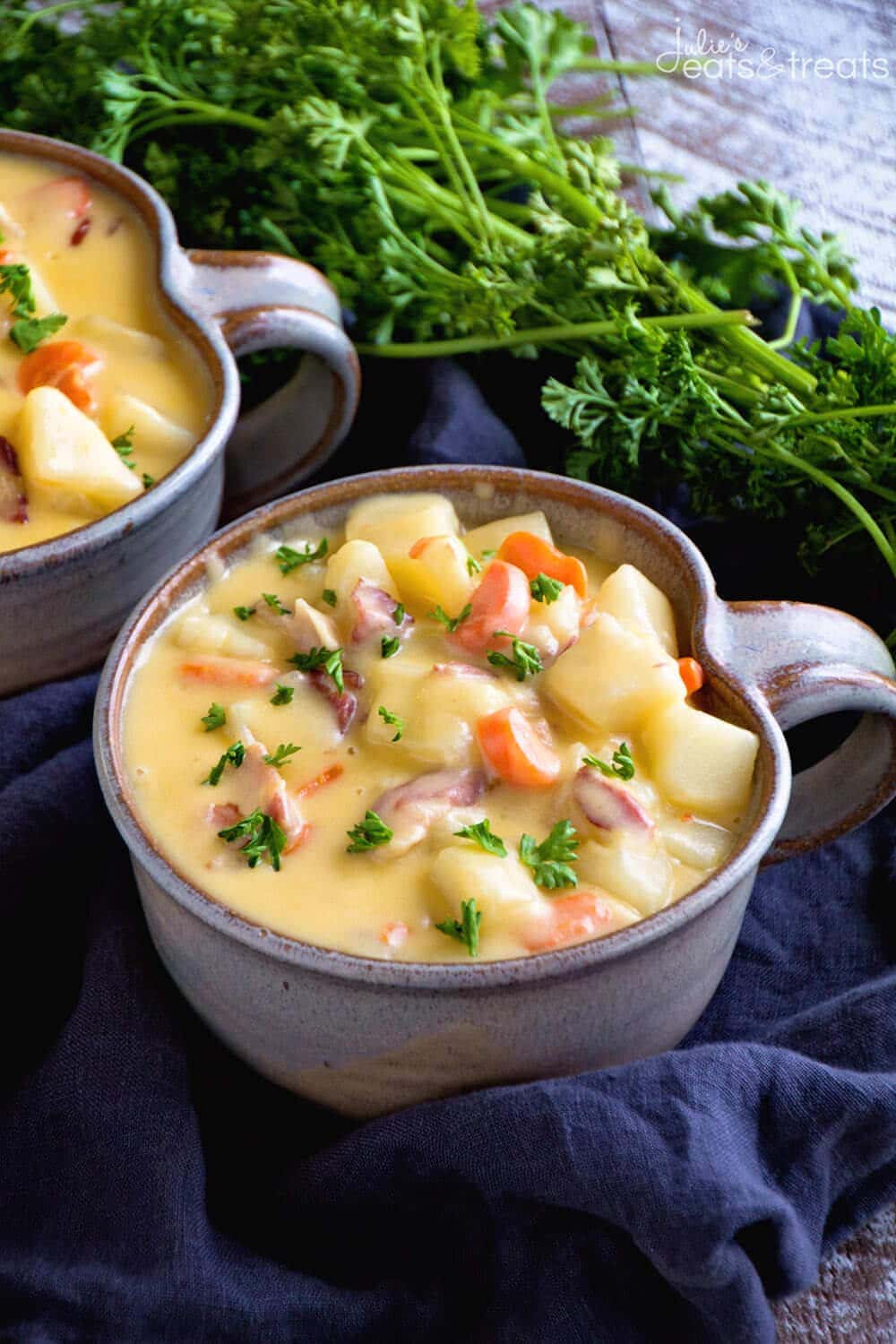 Cheesy Bacon Potato Soup Recipe ~ Comforting, Delicious, Easy Soup Recipe Full of Potatoes, Bacon & Cheese! Grab a Big Bowl and Warm Up This Winter!