I bought a bag of Twix fun sized candy bars a while ago at the "Dent & Bent" store in my hometown and they've been staring at me ever since. So when I saw this recipe online I went "Ah! That's what I can use those things for!"
The "Dent & Bent" store is like my favorite thing in our small town. It's a little grocery store that carries only shelf stable food that the package is a bit damaged, the store went out of business and they bought what was left etc. Every time you go in there it's a bit of an adventure and you never know what you will come up with. Usually I come away with a few good things like these Twix bars!
Once again I'm allergic to chocolate so I'm going off of my hubby's, bro-in-law's and niece's opinion on the cookies, but I do know they stayed soft for a few days before they were gone. My niece ate up two of them quickly and I lost track of counting after three for each of the guys! The trickiest thing about this recipe is getting the cookies off this pan so let this be your warning. If you take them off right away they crumble, but if you wait too long the caramel sticks to the pan. I found out that the best way to get them off the pan is to let them cool almost completely and then loosen them up and let them cool the rest of the way. Enjoy!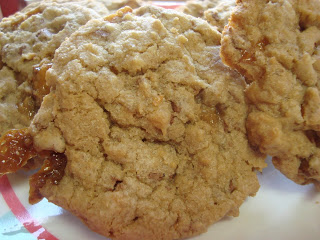 MY LATEST VIDEOS
Ingredients
2 c. + 2 Tbsp flour
½ tsp baking soda
12 Tbsp butter, melted & cooled until warm
1 c. brown sugar, packed
½ c. white sugar
1 egg + 1 egg yolk
2 tsp vanilla
2 c. chopped Twix bars
1. Preheat oven to 325 degrees.
2. Chop Twix bars up. In a medium bowl whisk together flour and baking soda. 
3. In another bowl mix butter and sugar until thoroughly combined. Beat in egg, yolk and vanilla until combined. Add dry ingredients to sugar mixture and beat on low until just combined. Gently stir in Twix.
4. Drop dough onto greased cookie sheets. Bake for 15-18 minutes. Rotate pan halfway through. Cool almost completely. When the cookie is still slightly warm loosen cookie on the baking sheet or it will stick.