This easy Watermelon Mint Lemonade recipe is the perfect summer beverage! This homemade lemonade recipe has only 5-ingredients and is refined sugar free. Beat the heat with the summer drink recipe!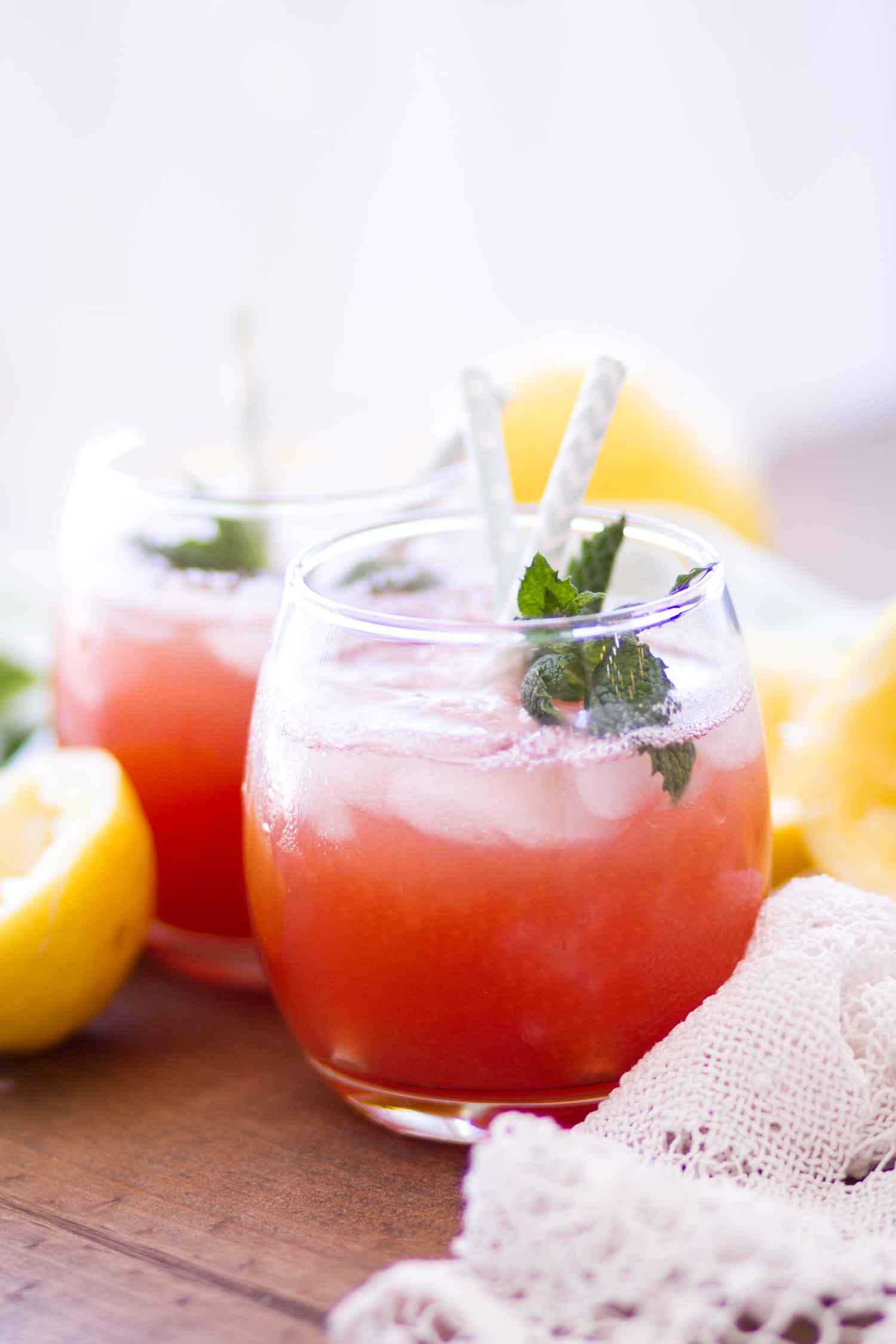 Watermelon Mint Lemonade
Summer is here and I found you the perfect beverage to cool off with! This summer drink recipe has no refined sugar and is perfect to indulge in. Your never favorite beverage is sure to be this Watermelon Mint Lemonade! Did I mention it only has five ingredients?
When I was younger, my favorite smoothie place had a watermelon smoothie that was unlike anything I had ever tasted.
Typically, I'm a berry smoothie kind of girl, but there was something super intriguing about that watermelon smoothie. It was this combination of watermelon, strawberries, and banana that resulted in this refreshing, sweet, and unique smoothie. After one taste, I was hooked.
Sadly, that smoothie place isn't around here anymore, and it's been years since I've had that smoothie. However, this Watermelon Mint Lemonade is totally reminiscent of that smoothie and I could not be more stoked about the whole thing.
It's sweet yet tangy, and it has this refreshing element thanks to the mint…
Can you say obsessed?? (Because that's exactly what I am. ?)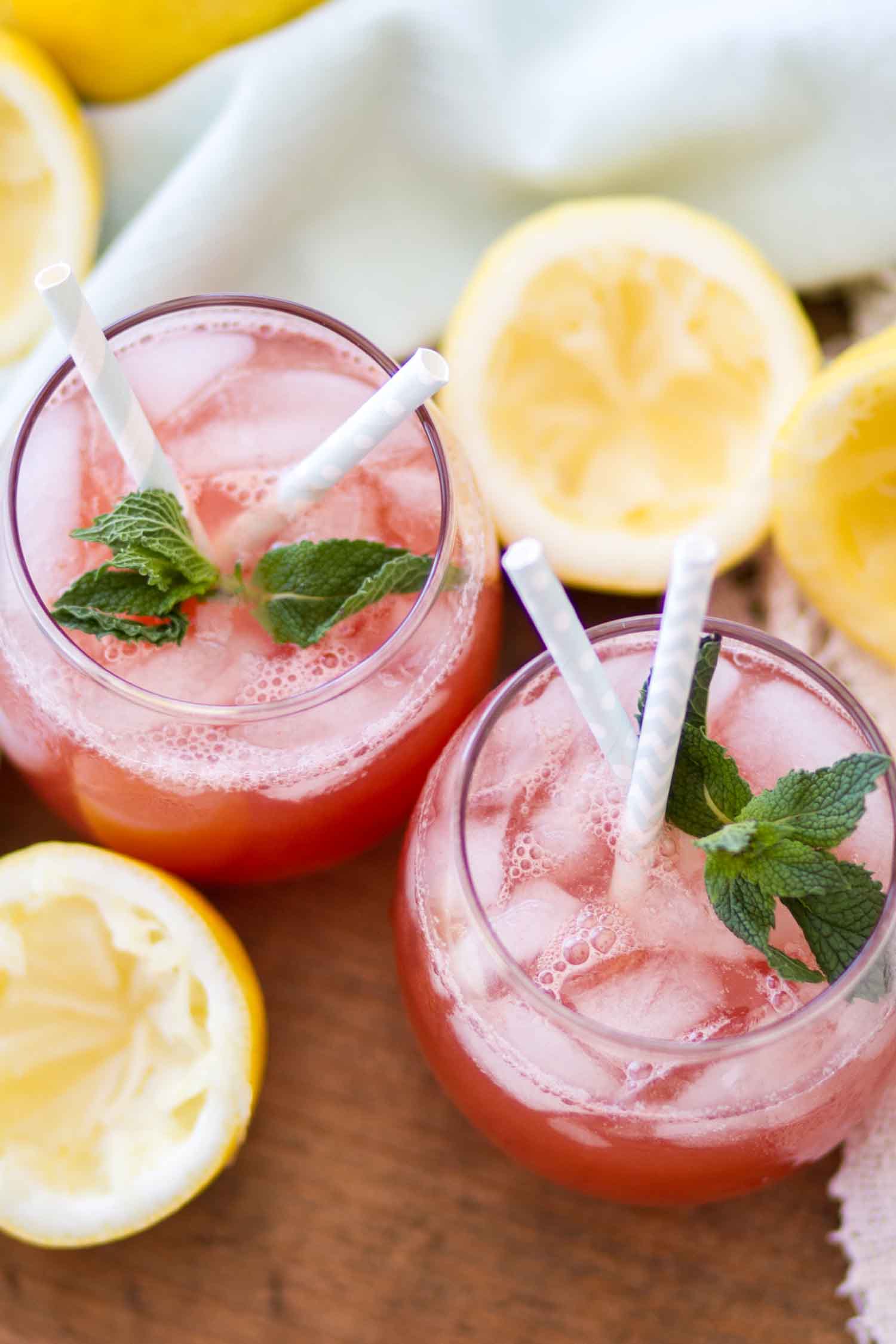 The Perfect Summer Drink Recipe
In the summer months, I drink lemonade (blueberry lemonade is my fave!), iced tea (and even iced tea lemonade, like this Apricot Lemon Iced Tea), and iced coffee like it's going out of style (umm, please never let that happen).
There's pretty much always a pitcher of Peach Raspberry Lemonade or Iced Peach Green Tea or something sweet and summery in the fridge. When I'm in the mood for a cocktail you'll probably find a pitcher of Blueberry Sangria in there, too!
There's a restaurant nearby that's known for its unique lemonade flavors, most of which involve some sort of herb, like rosemary, lavender, and mint.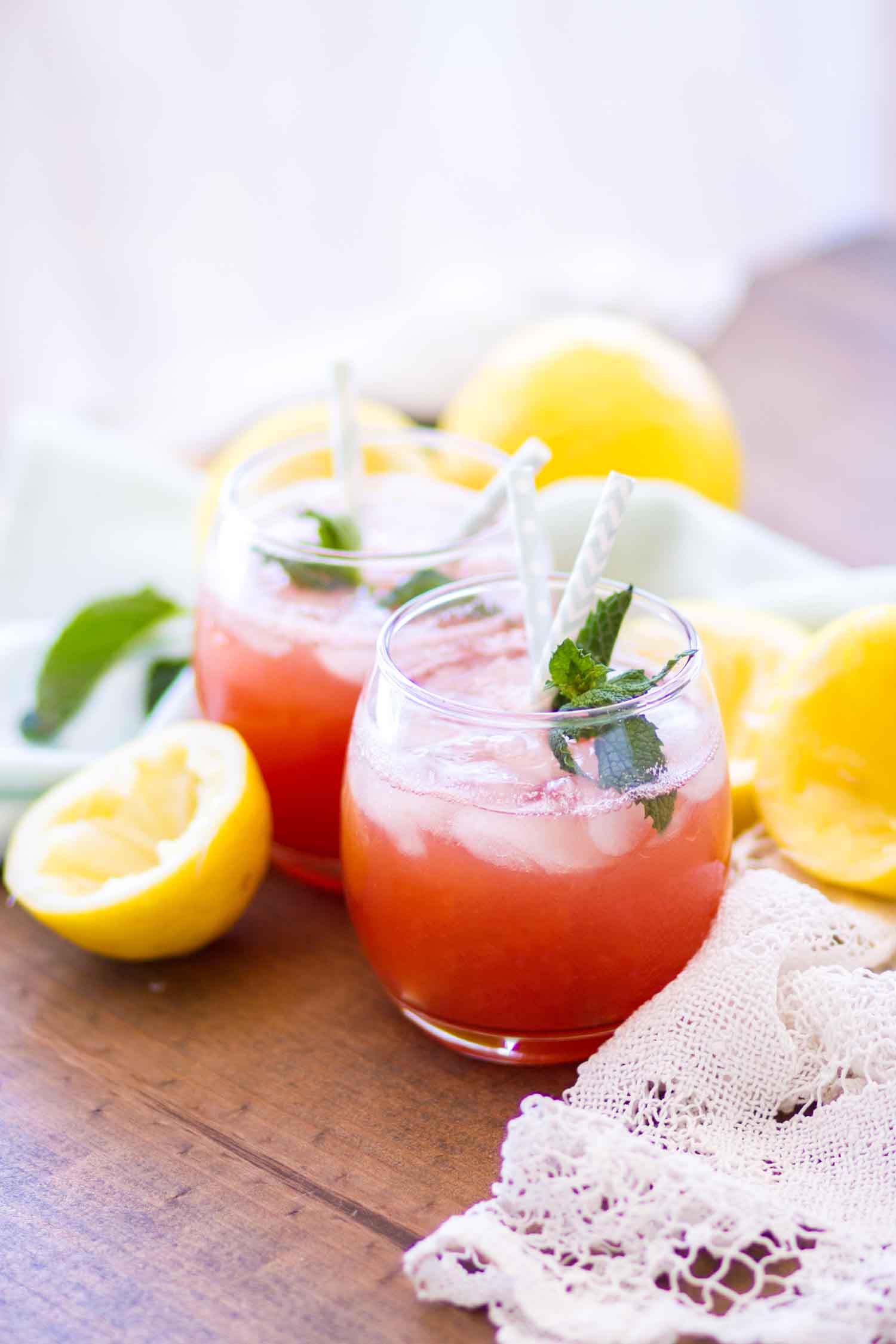 Specifically, they do a watermelon rosemary lemonade, which I want to love, but I just don't. I love rosemary in a savory dish, but I have a hard time mixing rosemary with something sweet.
But, every time I'm there, all I want is that watermelon lemonade, because nix the rosemary and it sounds like the most refreshing drink ever.
So, if you can't get what you want, make it. ?
And throw in some mint for good measure (because I looooove mint in my drinks).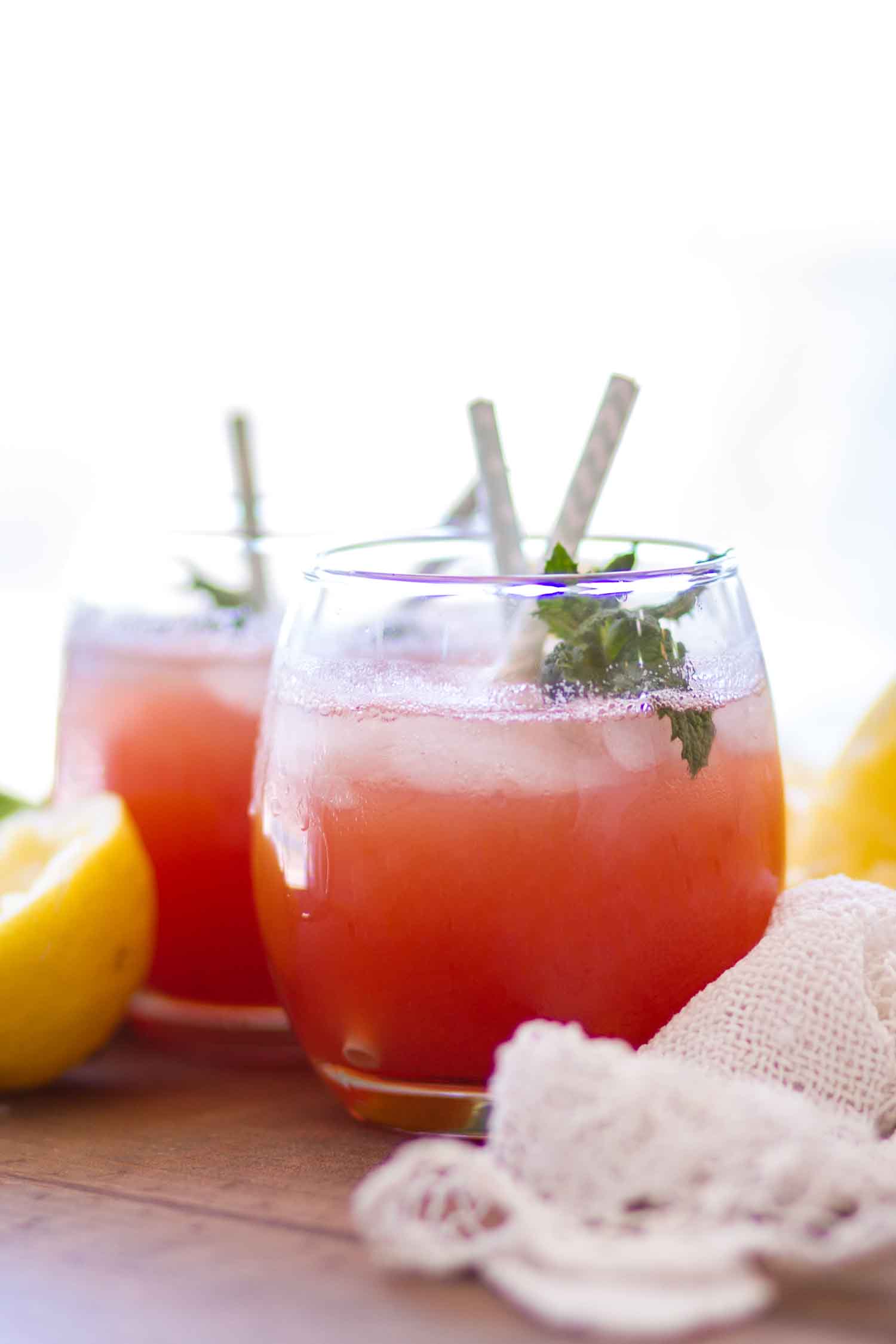 Apparently there's a Chick-Fil-A Watermelon Mint Lemonade, but I've never seen it on the menu at our CFA, so when I thought of adding the mint to this homemade lemonade recipe, I thought I was 100% original. ?
I have no idea if this tastes anything like the Watermelon Mint Lemonade from Chick-Fil-A, but what I do know is that this recipe does taste amazing.
And you know what's even better? This homemade lemonade is made with honey and completely refined sugar-free!
High-fives all around.
So, let's get down to the details of this Watermelon Mint Lemonade recipe.
What Do I Need to Make Watermelon Mint Lemonade
Lemon Juice
Watermelon
Fresh Mint
Honey
Water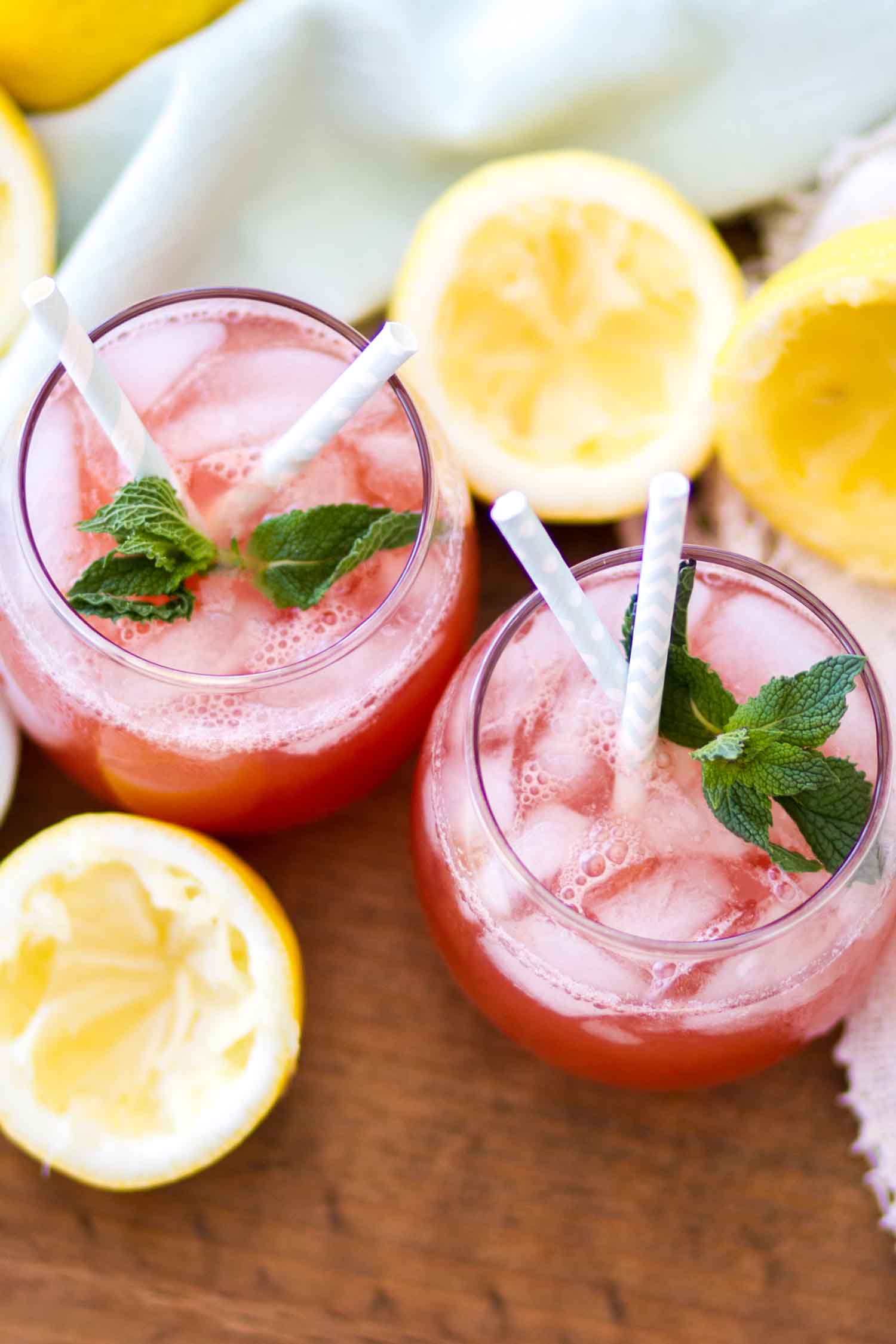 How to Make a Simple Syrup with Honey:
A simple syrup is basically a 1:1 ratio of any liquid to sugar (usually it's water and sugar).
When it comes to making a honey simple syrup, the method is exactly the same. It's a 1:1 ratio, and in the case of this recipe, it's 1 cup of honey to 1 cup of water.
The point of a simple syrup is to avoid having whatever sweetener you are using (sugar, honey, etc.) sink to the bottom of the drink. Here, the honey dissolves into the water, making for a syrup that mixes perfectly with the lemonade.
Additionally, I infuse the fresh mint into the honey simple syrup.
How to Make Watermelon Mint Lemonade:
Puree watermelon and lemon juice together. I prefer to strain the puree with a sieve in order to remove any pulp from the pureed mixture. However, if you do not mind pulp in your lemonade, you skip this step (I like a very smooth lemonade).
Mix the watermelon juice and lemon juice with the honey mint simple syrup, add in a little more water and enjoy! I like to serve with fresh mint just to give it an extra mint kick (plus, it's so pretty too!).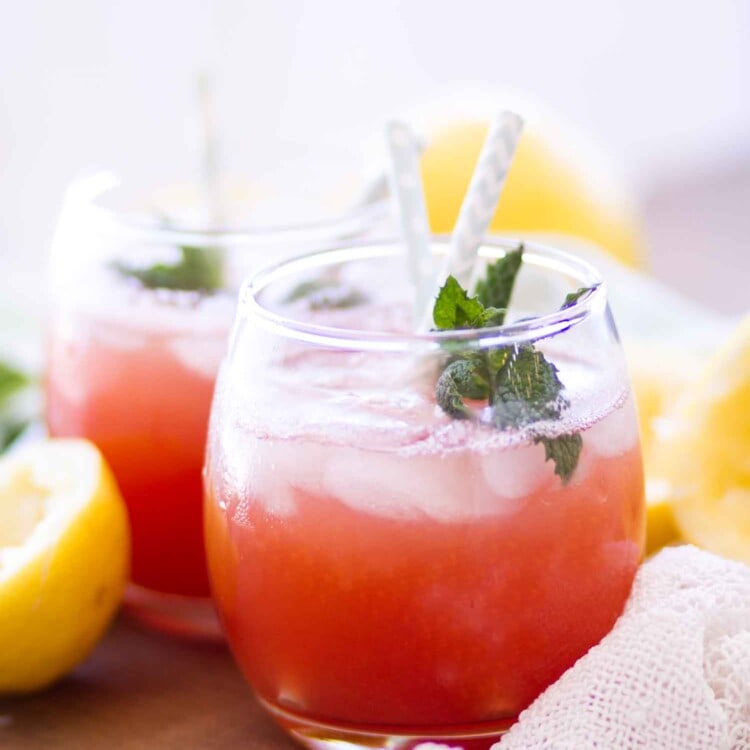 Watermelon Mint Lemonade
This easy Watermelon Mint Lemonade recipe is the perfect summer beverage! This homemade lemonade recipe has only 5-ingredients and is refined sugar free!
Ingredients
Simple Syrup
1

cup

honey

1

cup

water

4

sprigs

fresh mint
Watermelon Lemonade
4

cups

watermelon, cubed

1

cup

fresh lemon juice (about 6 large lemons)

3

cups

cold water
Optional
ice

lemon wedges

fresh mint
Instructions
Honey Simple Syrup
Over medium heat, bring honey, water, and fresh mint to a boil, whisking occasionally.

Once the syrup has reached a boil, remove from heat and allow to cool to room temperature, about 30 minutes or so.
Watermelon Lemonade
With a blender or food processor, puree watermelon and lemon juice together. Strain the mixture through a sieve to remove the pulp (if you do not mind pulp, you can skip this step).

Pour the watermelon juice and lemon juice into a large pitcher.

Remove mint from simple syrup, and pour the syrup into the pitcher.

Add in 3 cups of water (this is to taste, so you can add more/less water until it reaches your desired flavor).

Stir the mixture.

Refrigerate until ready to serve.

Serve with ice, lemon wedges, or fresh mint, if desired.
Nutrition Information
Calories:
158
kcal
(8%)
,
Carbohydrates:
42
g
(14%)
,
Sodium:
9
mg
,
Potassium:
138
mg
(4%)
,
Sugar:
40
g
(44%)
,
Vitamin A:
455
IU
(9%)
,
Vitamin C:
18.3
mg
(22%)
,
Calcium:
13
mg
(1%)
,
Iron:
0.4
mg
(2%)
Here are some other drink recipes you might love: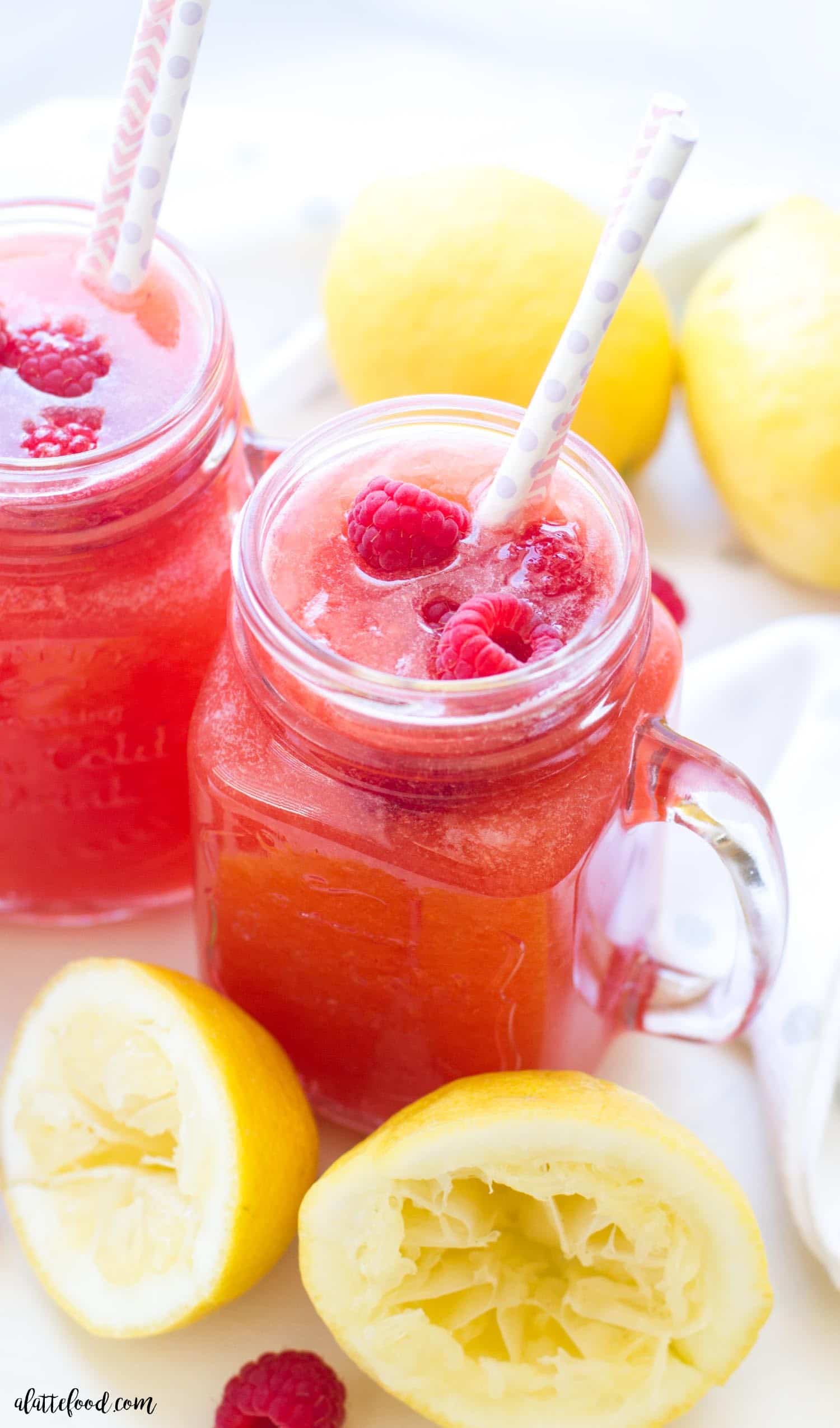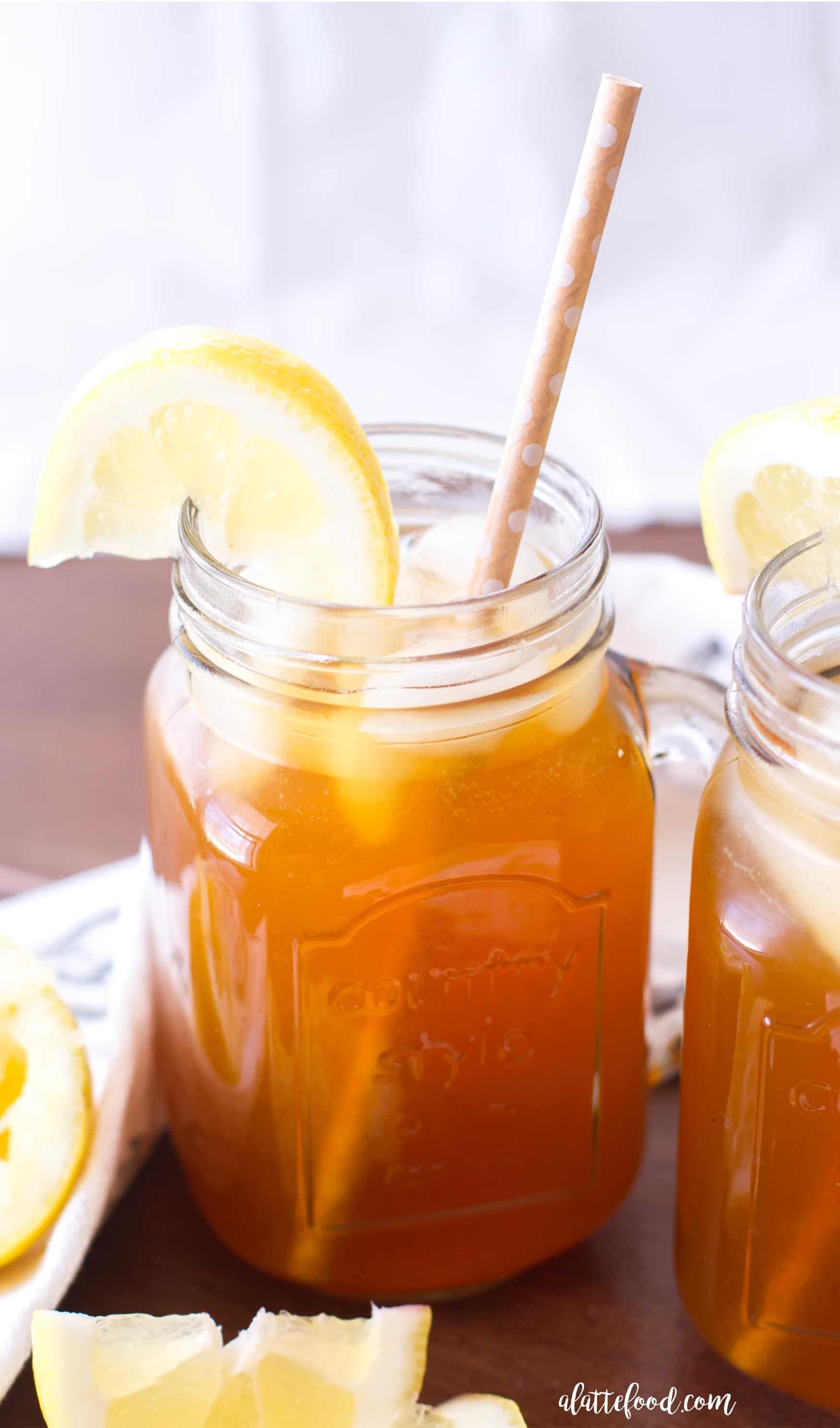 Naturally Sweetened Iced Peach Green Tea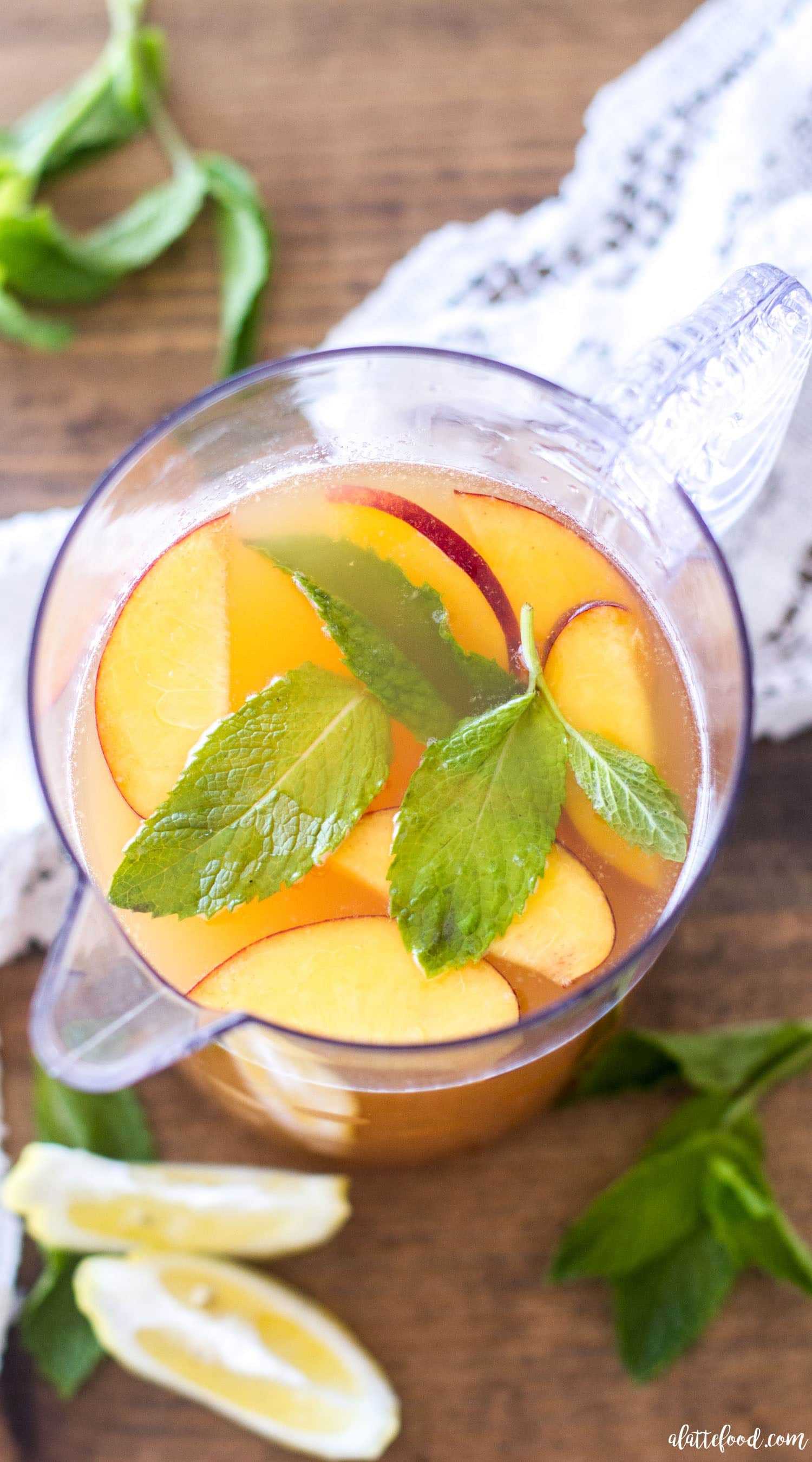 This Cherry Bomb Mocktail is only 4 Ingredients! An easy, fun flirty mocktail recipe with bubbles and a cherry. Perfect for parties!