Zucchini Cookies with Cream Cheese Frosting
Zucchini Cookies with Cream Cheese Frosting Recipe ~ Soft, Delicious Cookies Stuffed with Zucchini and Raisins then Frosted with Cream Cheese Frosting!

I had some zucchini that definitely needed to be used up. Like yesterday. I did the typical Zucchini Bread and I still had some left so I was determined to find something different that I could use it up in. I told my mom I wanted to make pancakes and she didn't think that sounded good. I still think it sounds good but I didn't go with the pancakes because the hubby was gone for work and I knew I'd have to much on hand. I decided to try out these cookies. Wow. I'm sure glad I did. They were wonderful! These cookies are soft even after a few days which is a must in my book plus you top them with a cream cheese frosting that hardens just enough to be perfection. They even turned my mom into a believer that you can actually do something with zucchini other then make it into bread.
I'm not going to say that this whole cookie making process didn't go without a little mishap. Back in college my professor always told us to make sure that we read our recipes through and double checked them. I remember one time none of us did this in class and we were making marshmallows. Lets just say it didn't end pretty and there were grown students getting reprimanded for not following directions and it ended with us having to clean up and not make marshmallows. Not a pretty scene. You would think that after that incident I'd learn to read my recipes, but nope it didn't happen. I got to the "add flour" step in the recipe and there was no flour listed. I might have panicked. Without much of a choice I just started adding flour until I thought it formed a cookie dough. I did a test cookie. Nope to runny. Added some more flour. Tested another cookie. Just perfect. Success! I'll try and make sure all the ingredients are listed on this recipe for you!
This recipe does make a lot. I mean a ton of cookies so if you don't have an army to feed or a lot of friend and family to share with you might want to cut it in half. I shared my cookies with my sister-in-law and her family (who just had the most adorable baby boy ever!), my brother-in-law, my co-workers, my parents, my hubby ate a ton…so you get the idea. I think you could easily freeze these for later also. I added raisins to my cookies but feel free to throw in some chocolate chips instead if you aren't a raisin fan. Enjoy!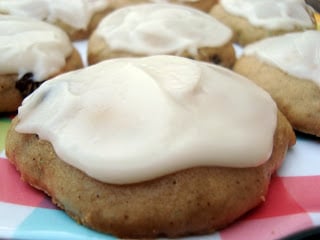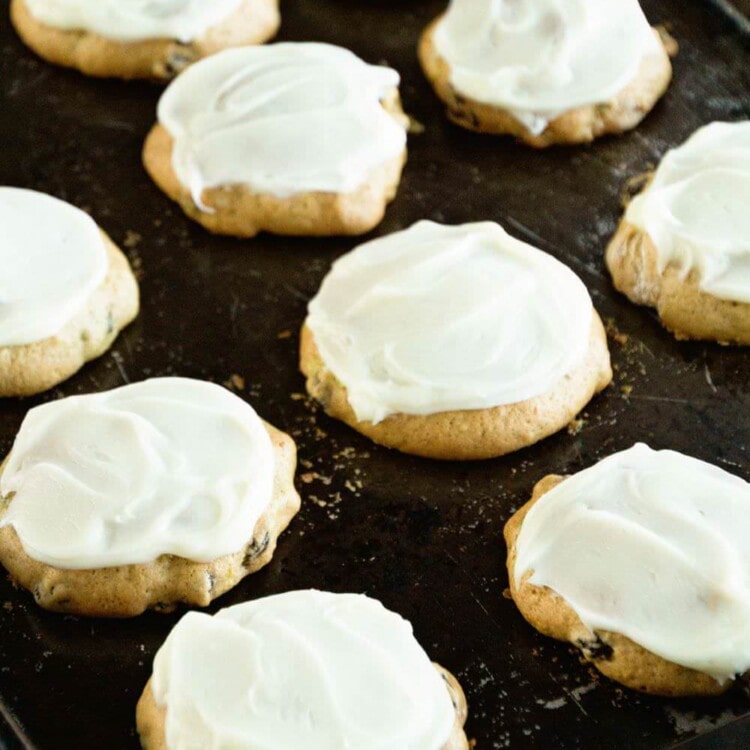 Zucchini Cookies with Cream Cheese Frosting
Soft, Delicious Cookies Stuffed with Zucchini and Raisins then Frosted with Cream Chee
Ingredients
Cookies
3

eggs

1

c.

sugar

1

c.

brown sugar

1

c.

vegetable oil

2

c.

grated zucchini

3

tsp

vanilla

1

tsp

baking soda

1/2

tsp

baking powder

1

tsp

cinnamon

1

tsp

salt

5

c.

flour

1

c.

raisins
Frosting
4

oz

cream cheese

softened

4

Tbsp

butter

softened

1

tsp

vanilla extract

2

c.

powdered sugar
Instructions
Preheat oven to 350 degrees. Beat eggs until light and fluffy. Add oil, sugars, zucchini and vanilla. Mix well.

In a separate bowl combine flour, soda, baking powder, baking soda, cinnamon and salt. Add to egg mixture and mix well. Add raisins.

Drop onto greased baking sheet. Baked 10-12 minutes or until edges start to turn golden brown. Cool completely and the frost.

For the frosting cream butter and cream cheese. Add vanilla. Mix in powdered sugar until the right consistency. Add more if needed. Frost cookies.
Nutrition Information
Serving:
1
,
Calories:
246
kcal
(12%)
,
Carbohydrates:
42
g
(14%)
,
Protein:
3
g
(6%)
,
Fat:
7
g
(11%)
,
Saturated Fat:
5
g
(31%)
,
Cholesterol:
15
mg
(5%)
,
Sodium:
98
mg
(4%)
,
Potassium:
111
mg
(3%)
,
Fiber:
1
g
(4%)
,
Sugar:
19
g
(21%)
,
Vitamin A:
95
IU
(2%)
,
Vitamin C:
2.1
mg
(3%)
,
Calcium:
18
mg
(2%)
,
Iron:
1.4
mg
(8%)
Things You Might Need for this Recipe!
More Zucchini Treats!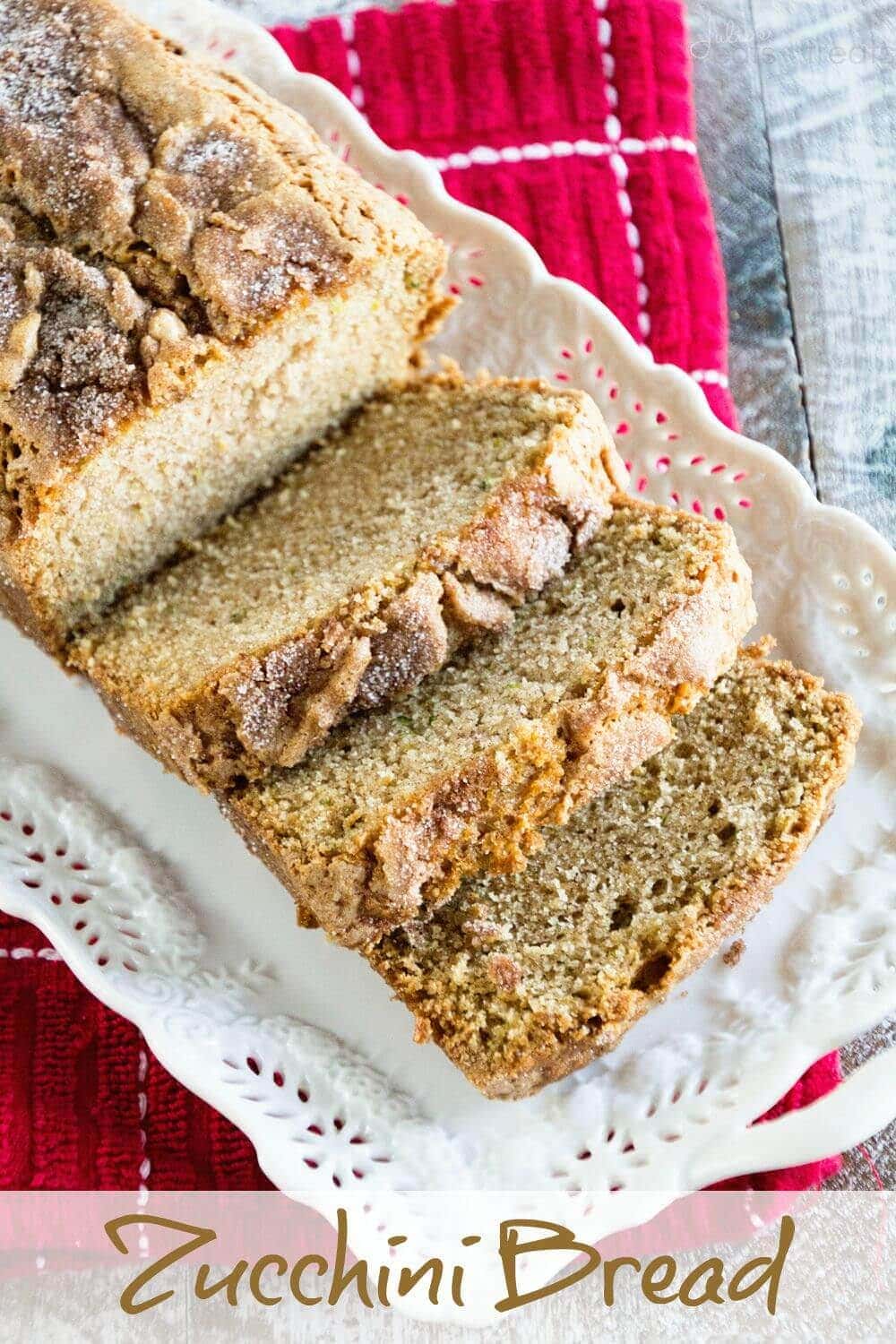 Zucchini Bread ~ Delicious, Comforting Zucchini Bread Recipe Straight from Grandma's Recipe Box! Moist, Delicious Quick Bread Stuffed with Zucchini!