Zucchini lovers, unite! These easy zucchini recipes are perfect for busy weeknights or lazy weekends. Whether you're craving refreshing grilled zucchini or a chocolate zucchini muffin, we've got you covered. Get ready to impress your taste buds and make zucchini your new favorite ingredient!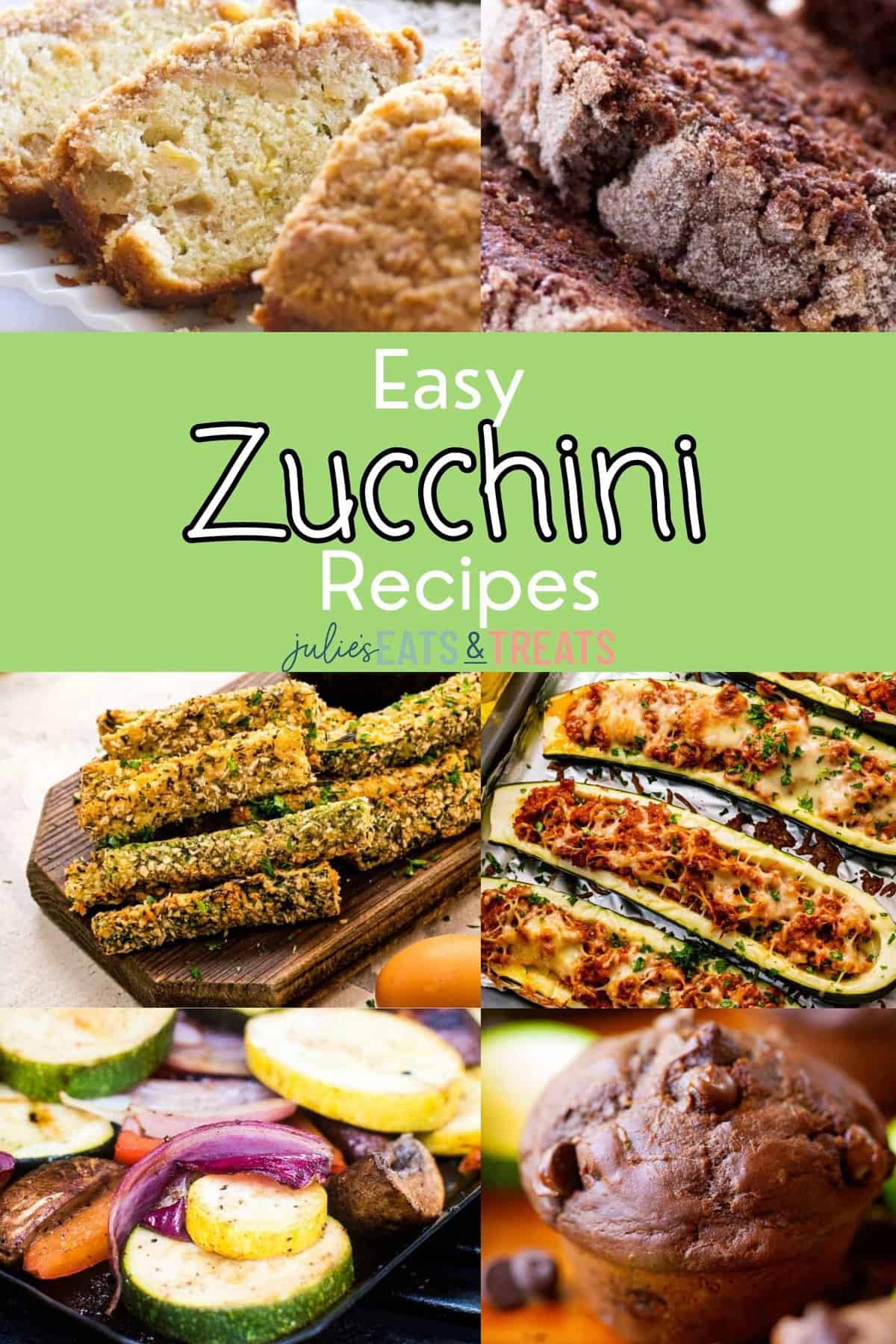 It's that time of year that zucchini is in abundance fresh from your garden or farmers market.
We love using zucchini in so many recipes. It makes your muffins, coffee cakes and cookies so moist.
Toss it with vegetables and grill them up for an easy side dish that's healthy and perfect for pairing with all your summer dinners on the grill. Or roast it in the oven!
Below are all our favorite zucchini recipes that are irresistible!
Click any of the headings below to jump straight to that section!
Zucchini Breakfasts and Breads
Blend the sweetness of bananas with the goodness of zucchini in this delightful loaf of banana zucchini bread! 🍌🥒
"Indulge in these irresistible zucchini muffins, packed with wholesome goodness and a touch of delight! 🥒🧁
A delightful combination of two seasonal favorites, this moist and aromatic bread is the perfect balance of pumpkin spice and the subtle freshness of zucchini.
Moist, rich, and packed with double the chocolate goodness, this bread is a delightful blend of fudgy decadence and hidden veggie goodness.
Sink your teeth into a slice and let the chocolatey bliss take over! 😍✨
Perfect for breakfast or a comforting snack. Get ready to fall in love with zucchini all over again!
Our Crumb Apple Zucchini Bread combines the sweetness of juicy apples, the moistness of zucchini, and a heavenly crumb topping for the ultimate seasonal treat.
Start your day with a deliciously wholesome twist!
Zucchini Side Dishes
Crunch into a healthier snack alternative with our Baked Zucchini Fries!
Get ready for a crispy and guilt-free snack with our Air Fryer Zucchini Fries!
Add a smoky twist to your vegetable medley!
Whether as a side dish or a hearty main course, these roasted veggies are sure to impress your taste buds and bring a healthy dose of satisfaction to your plate
Our simple and flavorful recipe transforms this humble vegetable into a mouthwatering masterpiece.
With minimal effort, you'll have a colorful and mouthwatering side dish.
Zucchini Main Dishes
Quick, easy, and oh-so-delicious, it's a winning combination that will become a family favorite in no time.
These stuffed zucchini boats are sure to impress your taste buds and leave you craving for more.
These zucchini boats are filled with all the delicious flavors of a taco in a healthier, low-carb form
Skewer up a mouthwatering feast with our Vegetable and Steak Kabobs!
Whether served as a main course or as a delightful addition to a Greek-inspired feast, these kabobs are a delightful and satisfying culinary adventure.
Indulge in the perfect blend of comfort and health with our BBQ Chicken Zucchini Noodle Casserole!
Zucchini Desserts
This moist and rich cake is a delightful combination of deep chocolate flavors and hidden veggie goodness.
This moist and flavorful cake combines the goodness of freshly grated zucchini with a swirl of fragrant cinnamon throughout.
These soft and chewy cookies are packed with grated zucchini, adding moisture and a hint of sweetness to every bite.
These moist and flavorful bars feature a tender zucchini-infused base with a generous sprinkling of warm cinnamon.