Another weekends comes to a close. Always the worst part of the weekend is when you realize it is almost over once again and back to the chaos of the work week we go. We had another wonderful weekend in the Evink household. The weather was amazing. Nice and hot for September and as I look at the forecast it looks like it may be coming to an end. Low of 30 degrees on Wednesday night!
I love fall. Love, love, love it. In my mind fall is this – Chilly days filled with hoodie sweatshirts, leaves crispy and falling to the ground, apple desserts and treats, followed by pumpkin treats, the great harvest on the farm and football. What does fall make you think of?
Wait I forgot to include volleyball. My volleyball seasons starts on Wednesday night this week and I'm totally pumped. It's so much fun to get together with the girls and have a slightly competitive, but yet fun filled night.
As fall comes I need to finish posting my summer treats. I think I tell you every time I post a zucchini recipe that this will be my last for the season. Well maybe this time it will be, but I'll warn you I have two zucchinis left. Those might be reserved for some zucchini bread so I won't torture you with another zucchini recipe. I whipped these waffles up for a treat for a Saturday morning "brunch". I had to go and work at a fair for a work both and I knew my hubby needed to be fed before I left so I made these right before I left. They were super yummy. I think the cinnamon really adds to this recipe. I personally used some all-purpose flour and some whole wheat flour. If you don't have whole wheat please feel free to use all-purpose flour. Go get those zucchinis and use them up before I start throwing apple treats at you! Enjoy!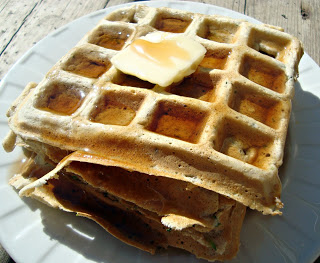 Zucchini Waffles
Printer Friendly Recipe
Ingredients
1 large zucchini, shredded
2 c. flour (I used 1 1/2 c. all-purpose and 1/2 c. whole wheat)
1 Tbsp baking powder
1 tsp salt
1 tsp cinnamon
1/3 c. sugar
1 1/2 c. milk
2 eggs
1 tsp vanilla extract
1. Turn waffle maker on and let it preheat.
2. In a mixing bowl, combine the flour, baking powder, salt, cinnamon and sugar. Stir together.
3. In another bowl whisk together milk, eggs and vanilla extract. Add to the dry ingredients. Beat until smooth. Fold in the zucchini (I drained some of the moisture from the zucchini by pressing it with a paper towel). Mix well.
4. Spray waffle maker with cooking spray and spread batter on waffle maker. Make the waffle according to waffle maker instructions. Repeat with remaining batter.
Love waffles? Be sure to try my recipes for Homemade Waffles – they are AMAZING!!
Adapted from: Gimme Some Oven