Cookies and Cream Dip ~ Quick, Easy Sweet Dip that's Loaded with Oreos!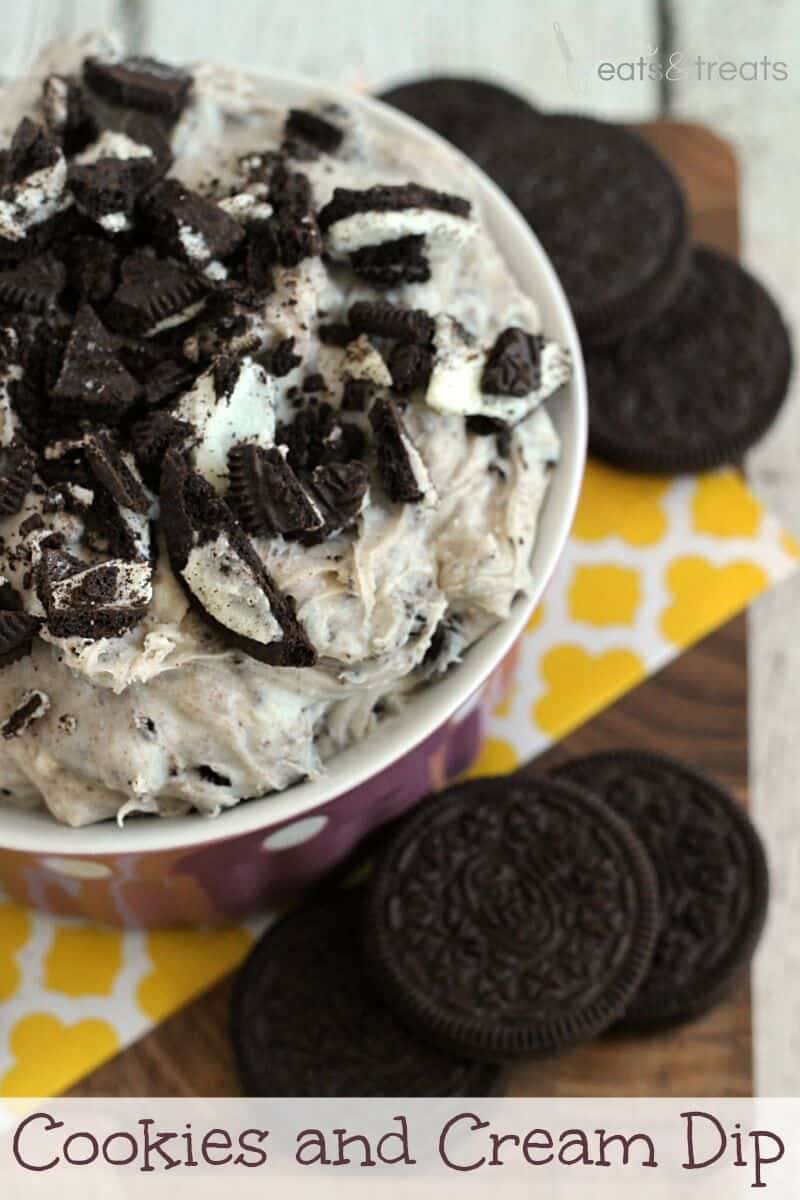 How do you dip? Do you dip in sweet or do you prefer to dip into a savory dip? So many decision I tell you! I prefer savory most of the time. I'm not going to lie. As you can see with all my fabulous dips most of them are savory ones, but because I'm so incredibly nice, don't ever forget that, I decided that I'd branch out a little and give you peeps that like the sweet dip a few choices.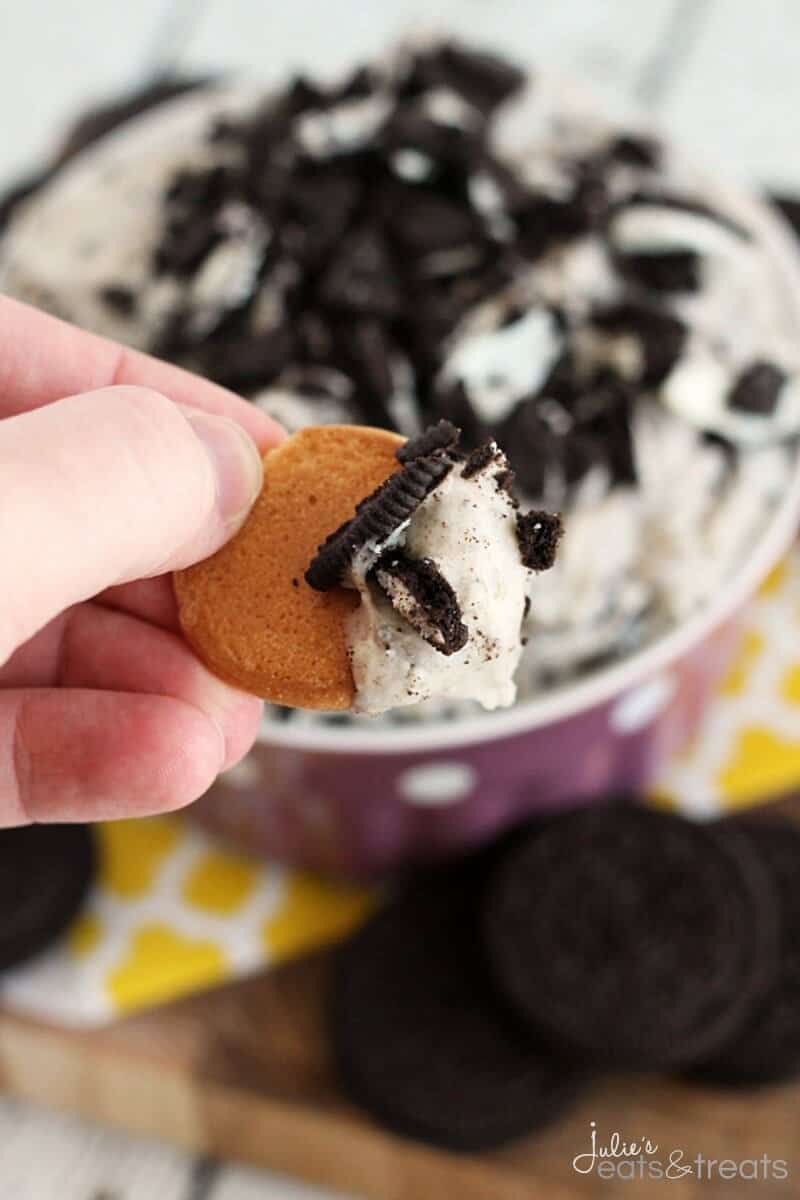 To liven up my sweet dip arsenal I decided to go with a traditional choice. Nothing to crazy as I ease into the sweet dip category and get my toes wet, wait, I should not be talking about dips and toes at the same time should I? Ignore that little comment in there ok? Glad we got that straight.
So back to the Cookies and Cream Dip, sure it's traditional but sometimes that's a good thing right? You can't really go wrong with anything loaded in Oreos can you? Mmmm Oreos. Double Stuff is my preference all the way if you are wondering. This dip takes your oreos gives them a yummy coating in a sweet cream cheese dip and leaves you smiling all the way home.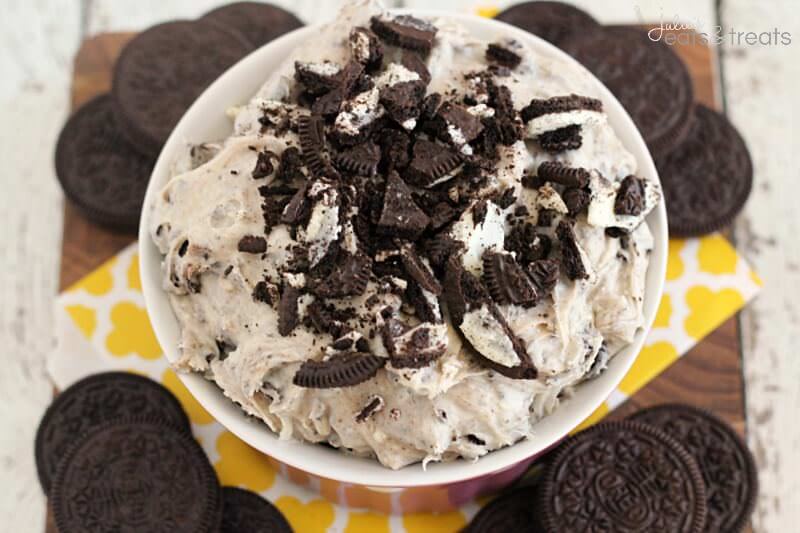 If you love Oreos as much as I do you'll be loving on this dip as soon as you try it. You can dip vanilla wafers, Oroes, graham crackers etc to eat this. Or if you are like my hubs you grab a spoon and start eating it. I don't judge. Eat it however you'd like. Your secret is safe with me. Unless you're my husband then obviously it's fair game for blog material. The main thing is you need to make this dip and try it somehow!
Still looking for something sweet? Here are more of my favorite dessert dips!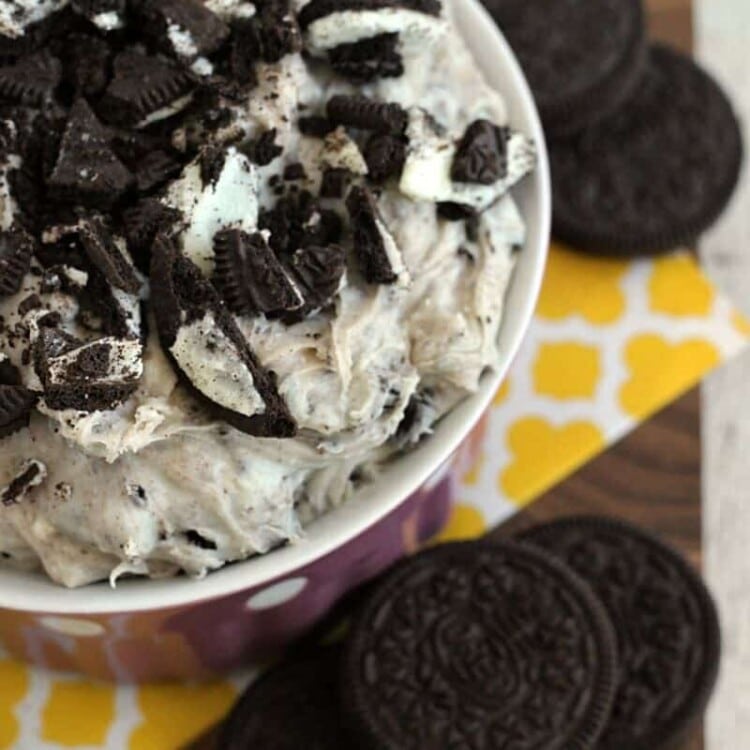 Cookies and Cream Dip
Cookies and Cream Dip ~ Quick, Easy Sweet Dip that's Loaded with Oreos!
Ingredients
1

8 ounce package cream cheese, softened

1/2

c.

butter

softened

3/4

c.

confectioners' sugar

2

Tbsp

brown sugar

1

tsp

vanilla extract

2

c.

crushed Oreos

divided
Instructions
In small bowl, beat butter and cream cheese until light and fluffy. Add sugars and vanilla, beat until smooth. Stir in 1 1/2 c. oreos. Sprinkle remaining 1/2 c. of Oreos on top for garnish. Serve with graham crackers or vanilla wafers. Refrigerate leftovers.
Nutrition Information
Calories:
386
kcal
(19%)
,
Carbohydrates:
45
g
(15%)
,
Protein:
3
g
(6%)
,
Fat:
22
g
(34%)
,
Saturated Fat:
11
g
(69%)
,
Cholesterol:
41
mg
(14%)
,
Sodium:
313
mg
(14%)
,
Potassium:
110
mg
(3%)
,
Fiber:
1
g
(4%)
,
Sugar:
33
g
(37%)
,
Vitamin A:
500
IU
(10%)
,
Calcium:
31
mg
(3%)
,
Iron:
3.5
mg
(19%)
Recipe adapted from: Taste of Home