Air Fryer Chicken Parmesan
Looking for a healthier way to make Chicken Parmesan? We have it! This Air Fryer Chicken Parmesan recipe is everything you love about the original but healthier. The chicken is nice and juicy and the Parmesan coating is crispy. This is an easy dinner in your Air Fryer and the whole family is going to love it. We like to pair it with steamed vegetables, zoodles or pasta!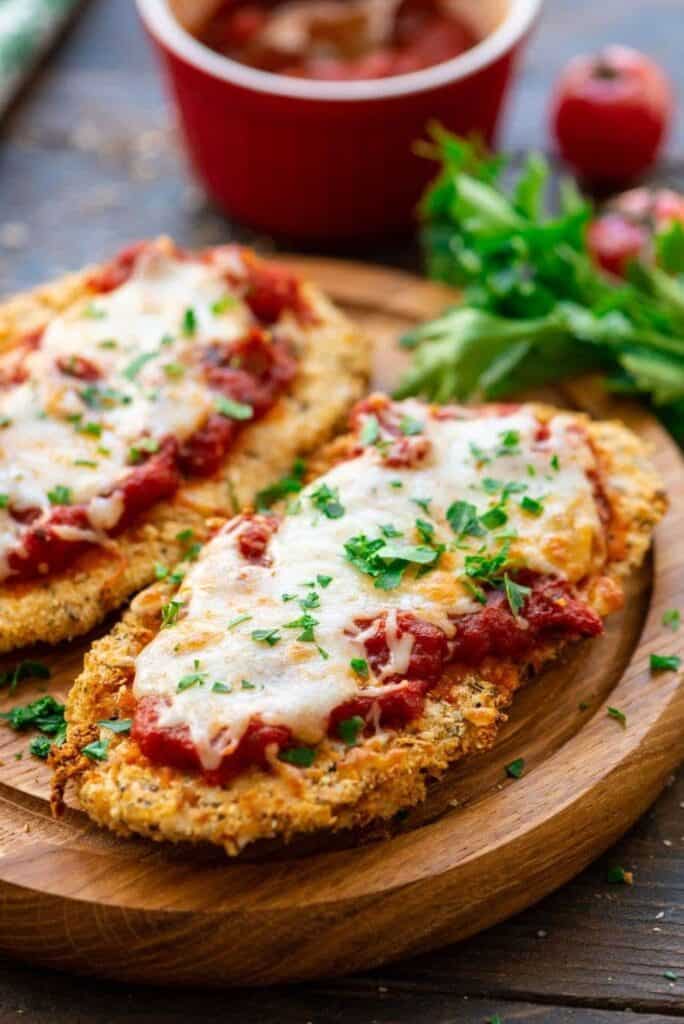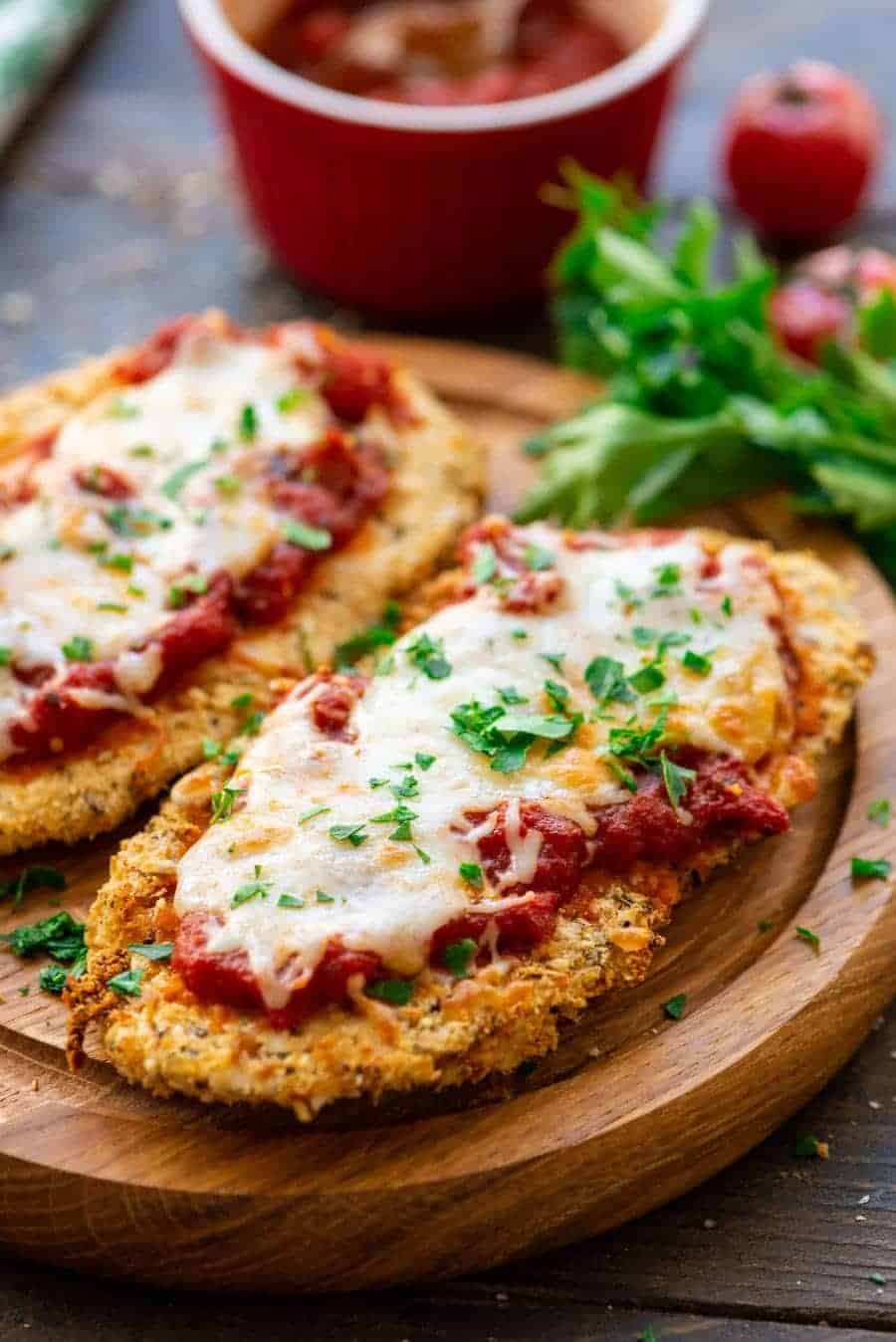 Air Fryer Chicken Parmesan Recipe!
My family loves Chicken Parmesan but until I got our air fryer, I never made it because frying the breaded chicken in oil is such a hassle and not the healthiest of dinners. I've made Crock Pot Chicken Parmesan, Chicken Parmesan Burgers and Parmesan Crusted Chicken, but sometimes we want a classic chicken Parmesan with a super crispy crust like you get in a restaurant. You know, the totally delicious but really unhealthy kind? We love it, but it's a pain to make and is fried in a lot of oil so until now it hasn't been a go-to dinner at our house.
That's all changed now that we have an air fryer! Now we can make juicy chicken with a crispy parmesan crust that tastes just like traditional Chicken Parmesan but without all the oil and mess. I hate splattering oil on the stovetop!
Without all of the oil, this Air Fryer Chicken Parmesan is so much healthier, but you'd never guess because it tastes just like the original. Plus, it's quick and easy to make! You only need a few simple ingredients and 15 minutes to get this chicken dinner on the table. My family loves it!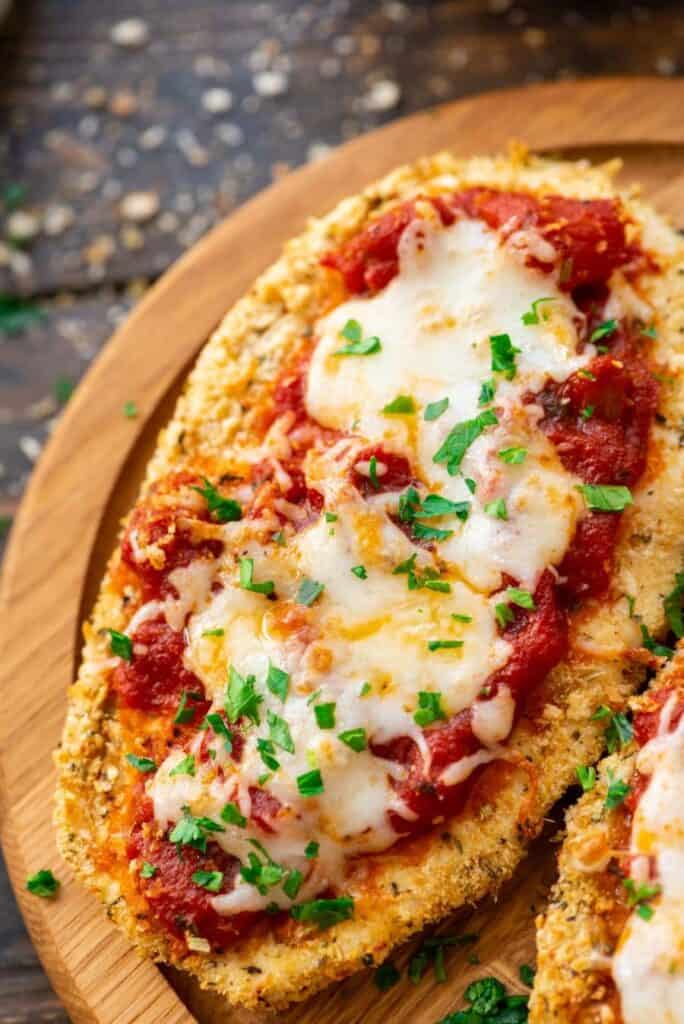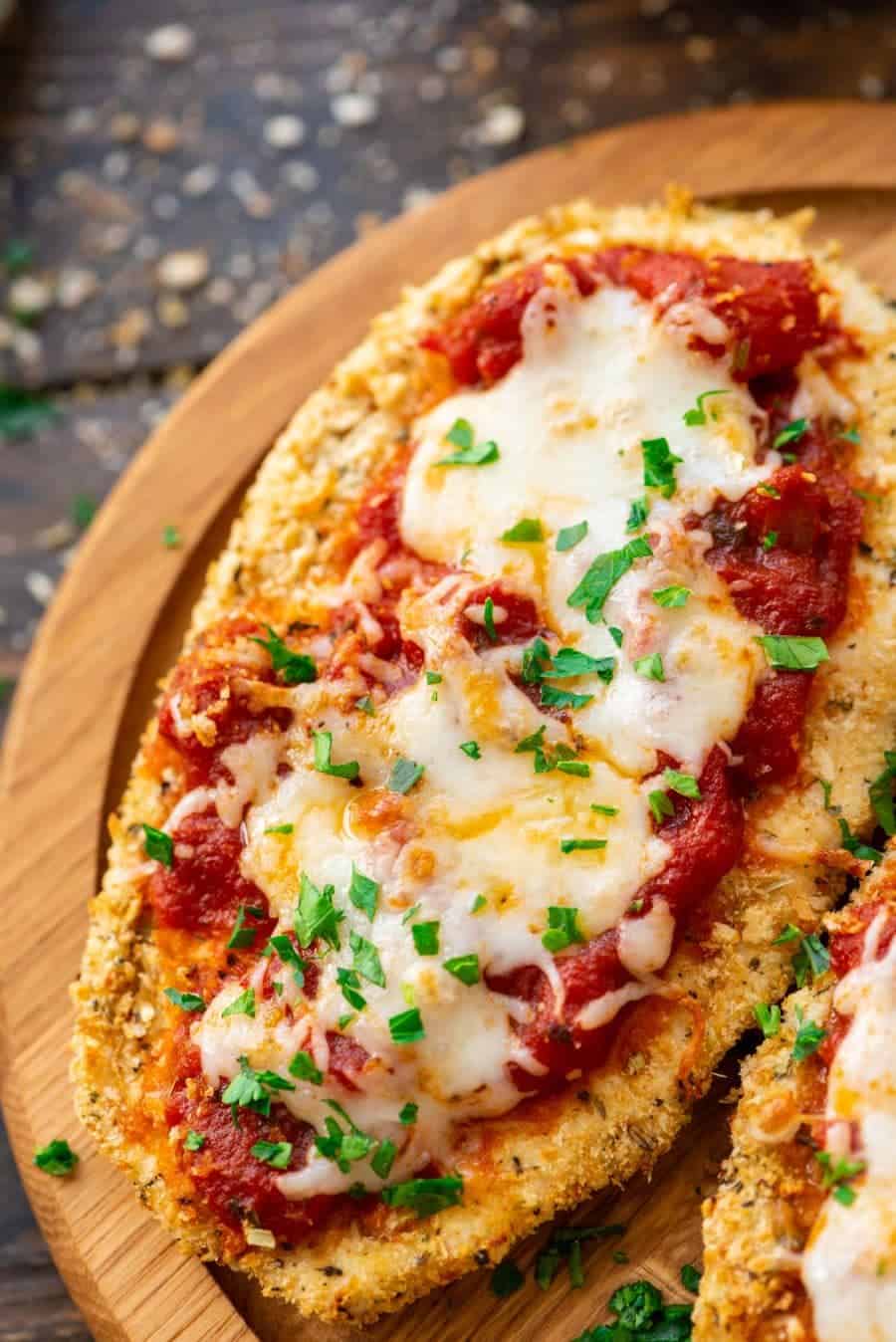 A Healthier Air Fryer Dinner Recipe!
My kids love Chicken Parmesan but frying the chicken in a pan is just not the healthiest thing to do for everyday dinners. I love that you can make a healthier Chicken Parmesan in the air fryer and my family can't tell the difference!
The chicken is coated in a crispy Parmesan coating just like you fried it, but without all of the oil. Topped with marinara sauce and melted mozzarella cheese, it looks just like regular Chicken Parmesan but it's so much healthier.
What is an Air Fryer?
Do you know what an air fryer is? It's an appliance that works like a convection oven. The air fryer has a fan which circulates hot air around the food giving it a crispy exterior.
It's a great alternative to frying because you don't need all the oil and you can make your favorite fried dishes, like this Chicken Parmesan, without all the guilt.
Plus, it cooks food faster than the oven and, I don't know about you, but less time cooking is always a good thing in my book!
Is Air Fryer Food Healthy?
Deep-fried foods are generally higher in fat than foods that are prepared with other cooking methods. The benefit of Air Fryers is they require a significantly less amount of oil than deep frying.
This is why the Air Fryer is touted as being a "healthier" alternative to deep frying. Using an Air Fryer over deep-frying food can significantly cut down on the overall fat content of your food due to the reduction in oil used.
What can you cook in an Air Fryer?
You can cook almost anything in an Air Fryer!
Steaks
Donuts
French Fries
Mozzarella Sticks
Chicken Breasts
Pork Tenderloin
Sweet Potatoes
The options are endless!
Ingredients Needed to Make Air Fryer Chicken Parmesan
Not only is this air fryer chicken parmesan a healthier take on the original, but it's also so easy to make. You only need six ingredients!
I like to use two 8-ounce chicken breasts for this recipe. I slice them in half to make four servings.
I recommend using shredded Parmesan cheese instead of grated because the shredded cheese turns crispy as it cooks and will give your crust a better texture.
Use Italian-style breadcrumbs, which are already seasoned, instead of plain breadcrumbs.
Whisked eggs
Don't worry about making your own marinara sauce! Using a store-bought sauce makes this recipe really easy.
Shredded mozzarella cheese
How to Make Air Fryer Chicken Parmesan
This recipe is so easy you only need five minutes to prep the chicken and 10 minutes to cook it!
Set the air fryer to 350 degrees F. It will need about three minutes to preheat.
Slice the chicken breasts in half lengthwise.
Pound the chicken into thin slices that are of the same thickness. This will ensure they cook evenly.
Combine the breadcrumbs and shredded Parmesan cheese together in a medium-sized bowl. In another bowl, whisk the eggs.
Dip the chicken in the eggs and then dredge it in the breadcrumbs so that it's evenly coated. Repeat with the rest of the chicken.
Place the breaded chicken in a single layer in the air fryer. Depending on the size of your air fryer you may need to cook the chicken in batches.
Cook the chicken for six minutes and then flip the pieces over and top them with the marinara and mozzarella cheese. Cook the chicken for another three to four minutes or until the internal temperature of the chicken is 165 degrees F.
If you're cooking the chicken in batches, repeat the process with the rest of the chicken.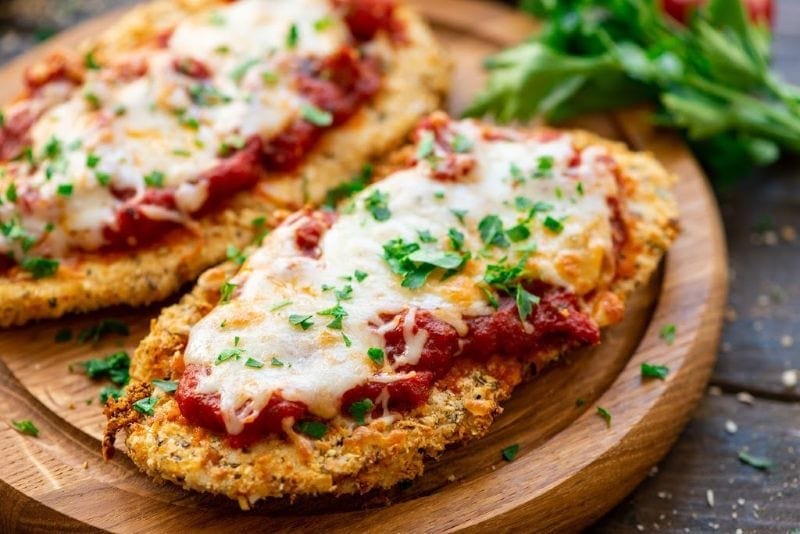 Serve these recipes with Air Fryer Chicken Parmesan!
This Air Fryer Chicken Parmesan is so quick and easy you have plenty of time to make a side dish to go with it! We love it with simple steamed vegetables, pasta, or zoodles or serve it with some of our other favorite side dishes:
More Air Fryer Recipes!
WATCH THE STEP BY STEP VIDEO FOR THIS AIR FRYER CHICKEN PARMESAN RECIPE BELOW:
If you enjoy watching these videos make sure you subscribe to my YouTube Channel to be notified each time a post a new video!
Love this Air Fryer Chicken Parmesan? Please leave a five-star rating below, that will make my day! And if you're over on Instagram you can tag me if you post a photo – @julieseatsandtreatsor #julieseatsandtreats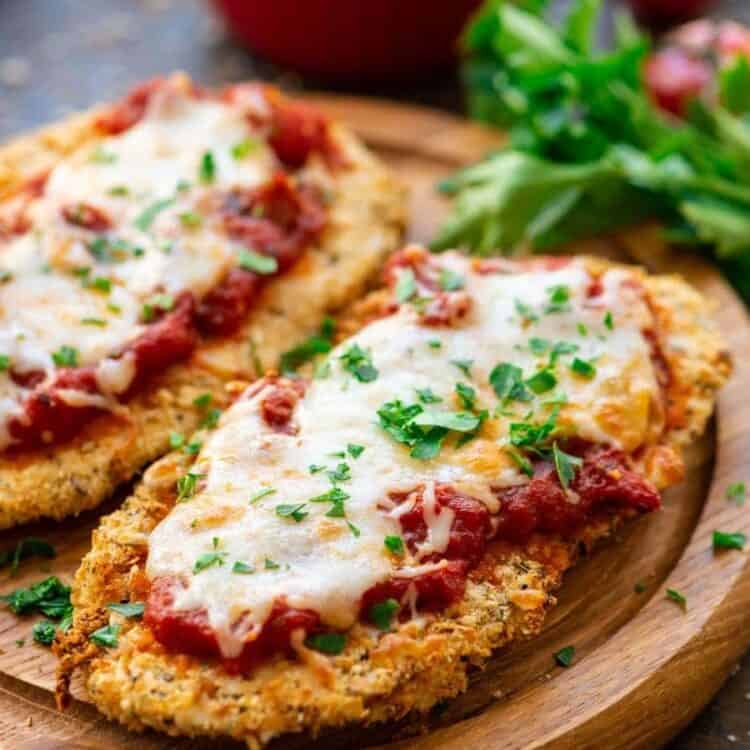 Air Fryer Chicken Parmesan Recipe
Quick and Easy Air Fryer Dinner Recipe! This Chicken Parmesan Air Fryer recipe is healthier than the original and just as good!
Ingredients
2 - 8

oz

chicken breasts

¼

c.

shredded Parmesan

not grated Parmesan

1

c.

Italian style bread crumbs

2

eggs

whisked

½

c.

marinara sauce

½

c.

mozzarella cheese
Instructions
Set temperature on Air Fryer to 360 degrees F. Preheat 3 minutes.

Cut chicken breasts in half, lengthwise and trim.

Pound the chicken breasts into thinner pieces that are the same thickness.

In a medium bowl mix together the breadcrumbs and parmesan cheese.

In another bowl whisk the eggs together.

Dip each piece of chicken in egg and then dredge in the breadcrumb mixture. Repeat with remaining pieces of chicken.

Place chicken breasts in single layer inside of air fryer basket. If you are using a smaller air fryer you will need to cook in batches.

Add chicken breasts to preheated Air Fryer and cook for 6 minutes. Flip the chicken breasts over and top with marinara sauce and mozzarella cheese. Air fry for an addition 3-4 minutes or until chicken reaches an internal temperature of 165 degree F.

Set aside and keep warm, repeat with remaining 2 pieces
Nutrition Information
Calories:
541
kcal
(27%)
,
Carbohydrates:
43
g
(14%)
,
Protein:
47
g
(94%)
,
Fat:
18
g
(28%)
,
Saturated Fat:
8
g
(50%)
,
Cholesterol:
188
mg
(63%)
,
Sodium:
1530
mg
(67%)
,
Potassium:
720
mg
(21%)
,
Fiber:
3
g
(13%)
,
Sugar:
5
g
(6%)
,
Vitamin A:
710
IU
(14%)
,
Vitamin C:
5
mg
(6%)
,
Calcium:
454
mg
(45%)
,
Iron:
4.3
mg
(24%)