Crock Pot Glazed Kielbasa Bites
Crock Pot Glazed Kielbasa Bites ~ Only Three Ingredients in this Easy Appetizer Recipe! Kielbasa Glazed with Sweet Brown Sugar and Made in Your Slow Cooker!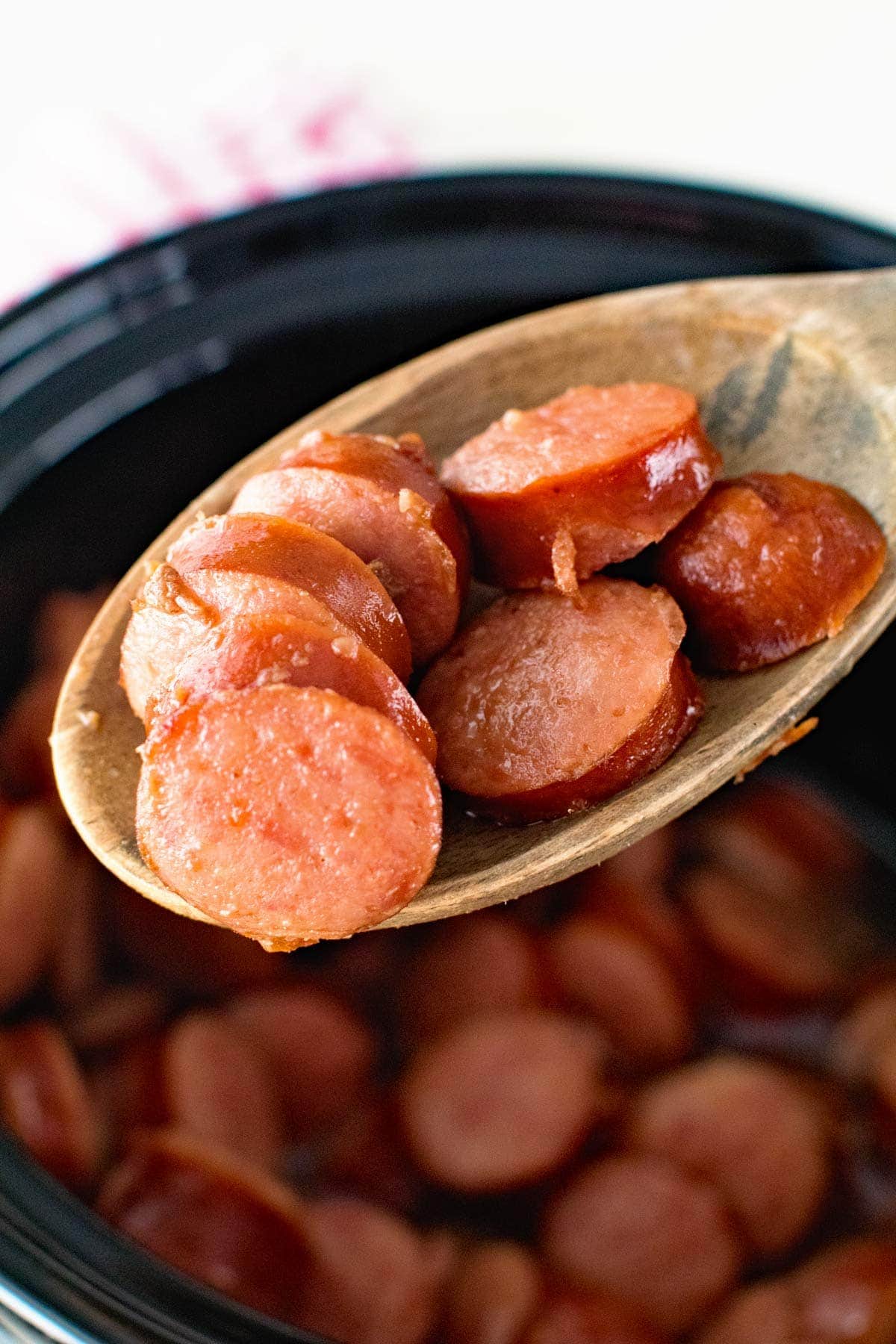 I'm on an appetizer roll and it's just going to keep going if I have anything to do about it! I'll throw in a few main dishes in the next few weeks, but it will be mainly focused on easy appetizer recipes like these Crock Pot Glazed Kielbasa Bites that only have three ingredients! Grab your Kielbasa, Brown Sugar and Ginger Ale and you are set! See, I said easy and I wasn't lying!
Ingredients to Make Crock Pot Glazed Kielbasa Bites!
Kielbasa

Brown sugar

Ginger Ale
I know, you may be raising your eyebrows at this one, or maybe you've heard of this recipe unlike me! It all came about when my husband came home from work before Christmas and he was raving about these little sausage bites as he referred to them. Then he goes onto tell me he thought it was kielbasa, brown sugar and ginger ale, but that's about all he knew. I brushed it off and didn't think another thing about it.
Fast forward a few days and I was needing a appetizer recipe to bring to my future sister-in-law's surprise thirtieth birthday party. I was questioning my hubs on what he wanted to make and he just kept saying whatever is easy for you! Such a thoughtful guy isn't he? This is his typical answer, but usually I'm looking for something a bit more specific.
After a quick rolling of the eyes and me spouting off about how a little more information would be helpful he brought these Glazed Kielbasa Bites back up. I knew they were made in the Crock Pot so that was perfect because I needed to keep them warm at the party.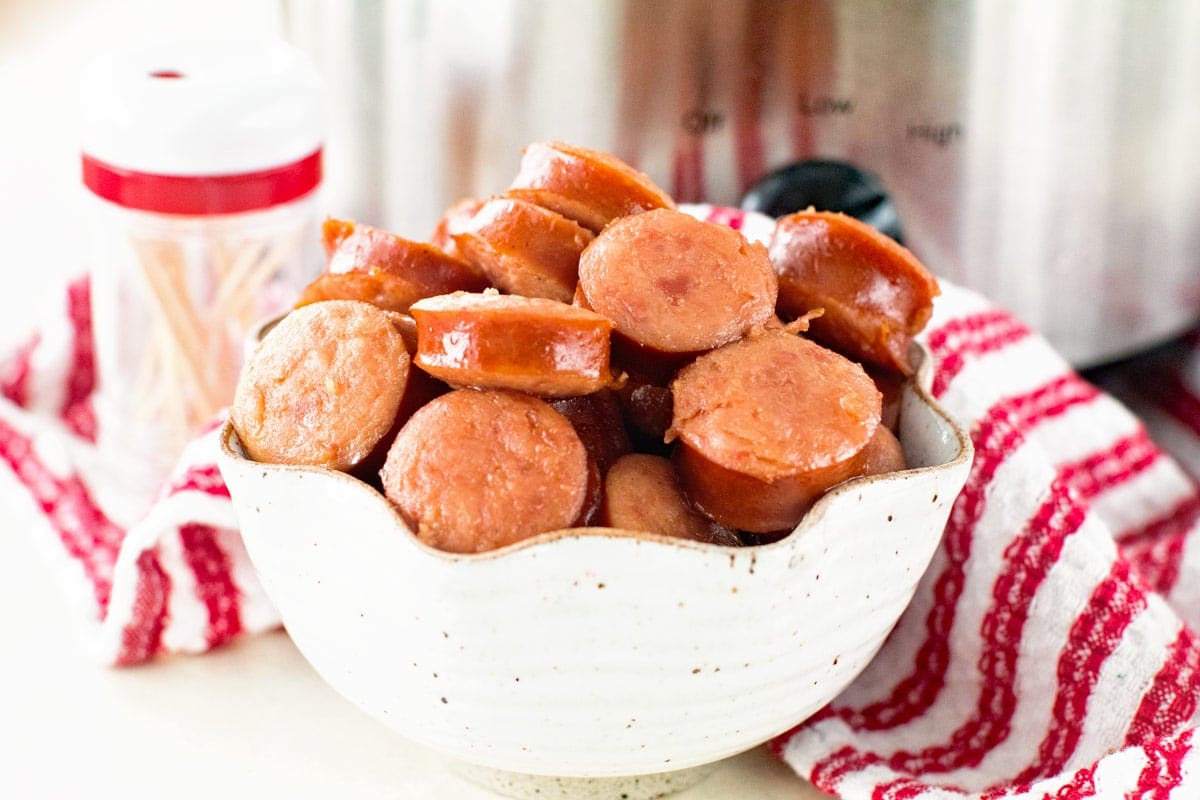 Then I went straight to the source, his coworker that brought them. She's a pretty awesome lady and I actually know her quite well. Back when I was in high school I actually dated her son for a few years! Small world huh? I sent her a Facebook message to get the actual recipe and surprisingly my husband was dead on, but it was helpful to have the ingredients and cook time!
After seeing the ingredients list I was still thinking, can this really be that good? I was apprehensive to say the least. I was also sweating it because I was bringing them to a party and everyone always expects me to have amazing food where ever I go. I mean, three ingredients?? How good can this be?
I was sure I was going to be let down along with my friends at the party. I wasn't going to get rave reviews, people asking for the recipe etc. That's always my goal. Then I know it's a success! I put a lot of pressure on myself don't I?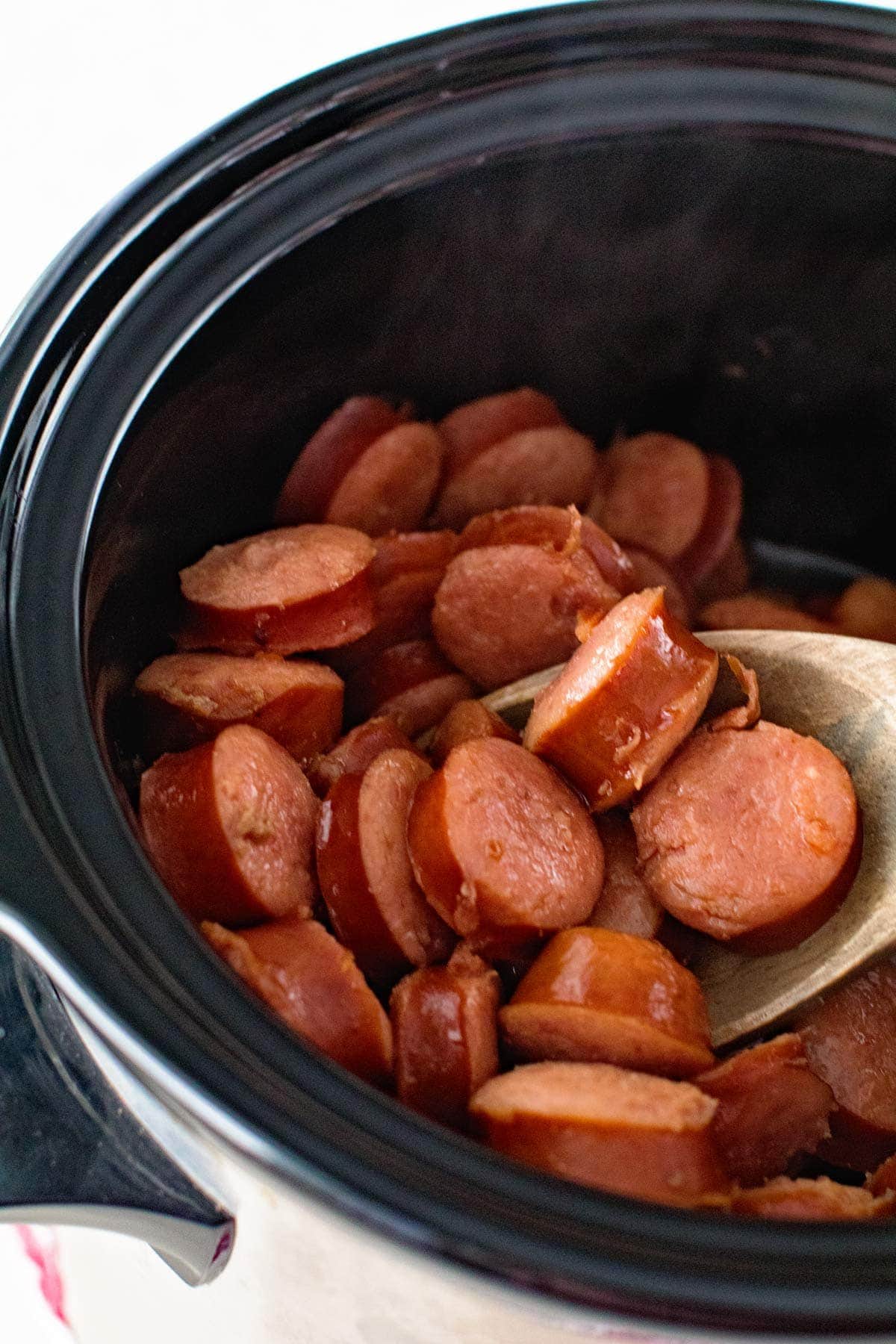 When we got to the party I plugged in my Slow Cooker full of Glazed Kielbasa Bites and wished for the best!
After the birthday girl arrived we dug into the food, which of course there was a ton! At first no one said anything about my Crock Pot Kielbasa Bites, but then I noticed people going back for seconds and I knew I was in luck! They loved them!
My bro-in-law started questioning the hubs about them and how I made them. I walked over to join the conversation and told him that even he could pull these off because they only had three ingredients. He couldn't believe it!
Tools Helpful for Making Glazed Kielbasa Bites
If you are looking for a quick and easy appetizer for a last minute party these Crock Pot Glazed Kielbasa Bites are perfect! Heck, even if you know about the party and have tons of time you can't go wrong with these. No one will know they are this simple!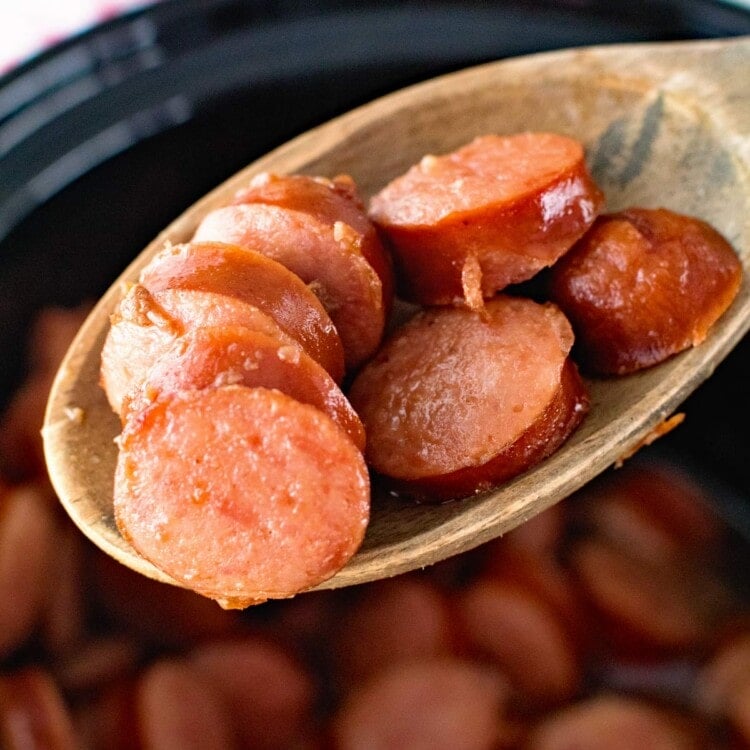 Glazed Kielbasa Bites
Only Three Ingredients in this Easy Appetizer Recipe! Kielbasa Glazed with Sweet Brown Sugar and Made in Your Slow Cooker!

Ingredients
3

13 oz packages fully cooked Kielbasa

1/2

c.

brown sugar

1

c.

Ginger Ale
Instructions
Cut Kielbasa into 1 inch pieces. Place in Crock Pot. Sprinkle Brown Sugar over the top of Kielbasa. Pour Ginger Ale on top.

Cook on low 4-5 hours or high 2 hours
Nutrition Information
Calories:
241
kcal
(12%)
,
Carbohydrates:
9
g
(3%)
,
Protein:
9
g
(18%)
,
Fat:
18
g
(28%)
,
Saturated Fat:
6
g
(38%)
,
Cholesterol:
44
mg
(15%)
,
Sodium:
561
mg
(24%)
,
Potassium:
161
mg
(5%)
,
Sugar:
8
g
(9%)
,
Vitamin C:
0.7
mg
(1%)
,
Calcium:
14
mg
(1%)
,
Iron:
1
mg
(6%)