This recipe would be perfect for this weekend! I've been meaning to make this recipe for a while but because I made homemade dough I need an ample amount of time. It's not hard, but the dough does take a long time. I used the bread maker again so this why I say making the dough wasn't hard! My hubby was quite nervous when I said I was making homemade pizza on the grill. First of all I don't grill. I make my husband do that task. I'm starting to venture outside my comfort zone and try my hand at grilling, but not often. I figure the rest of the year I make all the meals in the house and slave away, so it's his turn in the summer to grill once in a while. This used to happen a lot more when I was working until six during the week. I'd come home and he'd be grilling supper. Now this has changed since I'm usually done before he is and have more time to make a supper. I sure don't miss getting off at 6:00 at night but sometimes I do miss him treating me to grilling! I loved this pizza because the dough was nice and crunchy on the outside but still soft on the inside and a bit chewy. I found that it worked best to make several small pizzas and top them with each person's favorite toppings. The larger pizzas were harder to handle and didn't cook as evenly as the smaller ones. Plus this would be a fun activity if you had people over and everyone could make their own pizza or if you have children they would love having a personal sized pizza! And if you are wondering if the dough falls through the grill rack it doesn't. I will assure you of this. I think my hubby asked ten times, uh Julie are you sure this is going to work? Well first of all I wasn't sure but everyone else that has tried this seemed to be successful so I of course assured him with no doubt in my mind that I would be successful. Sometimes he should just trust his lovely wife! Enjoy!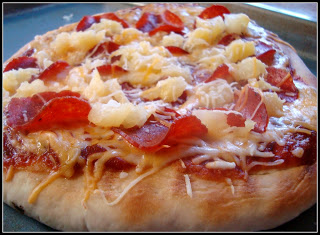 Pizza Dough Recipe
Printer Friendly Recipe
Ingredients
2 teaspoons bread machine yeast
3 cups bread flour
1 teaspoon salt
¼ cups olive oil
1 cup water
Toppings
Pizza Sauce
Cheese
Sausage, Pepperoni, Pineapple etc.
1. Add ingredients in the order recommended for your bread machine and set to dough cycle.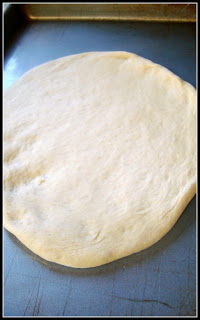 2. After it's finished, transfer dough to a lightly floured surface.  3. Roll out dough into 4 pizzas. Try to keep it about a 1/4 of and inch thick.
4. Preheat grill. Oil the grill grates with olive oil with a paper towel tightly folded, using your tongs.
5. Put your dough on the grill and grill with the lid closed for about 4 minutes until the one side has grill marks on it. If there is bubbles on top don't be alarmed. Just pop them when you take it off!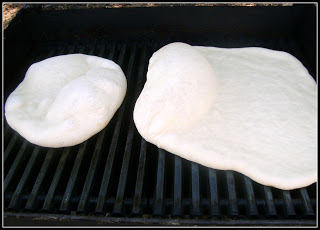 6. Remove the dough from the grill and bring it in the house or wherever you want to put your toppings on. Put the toppings on the cooked side that was facing down. This is a MUST. If you do it on the wrong side half of your dough won't get grilled.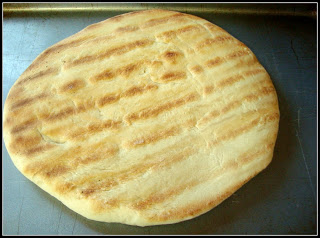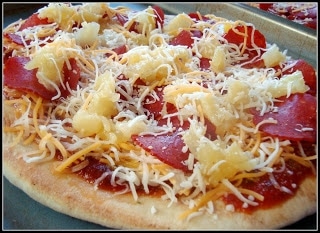 7. Put it back on the grill with the lid closed for about 8 minutes or until cheese is melted.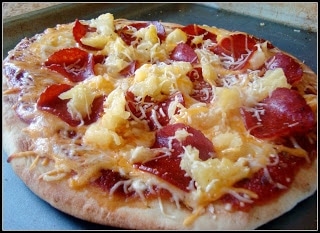 Dough Recipe from: Confessions of a Country Girl