Want a twist on pizza night? Try this delicious Calzone recipe for dinner tonight! All your favorite toppings like pizza sauce, mozzarella cheese, Canadian bacon and pepperoni stuffed inside a dough then baked! These calzones are a meal the kids will flip over!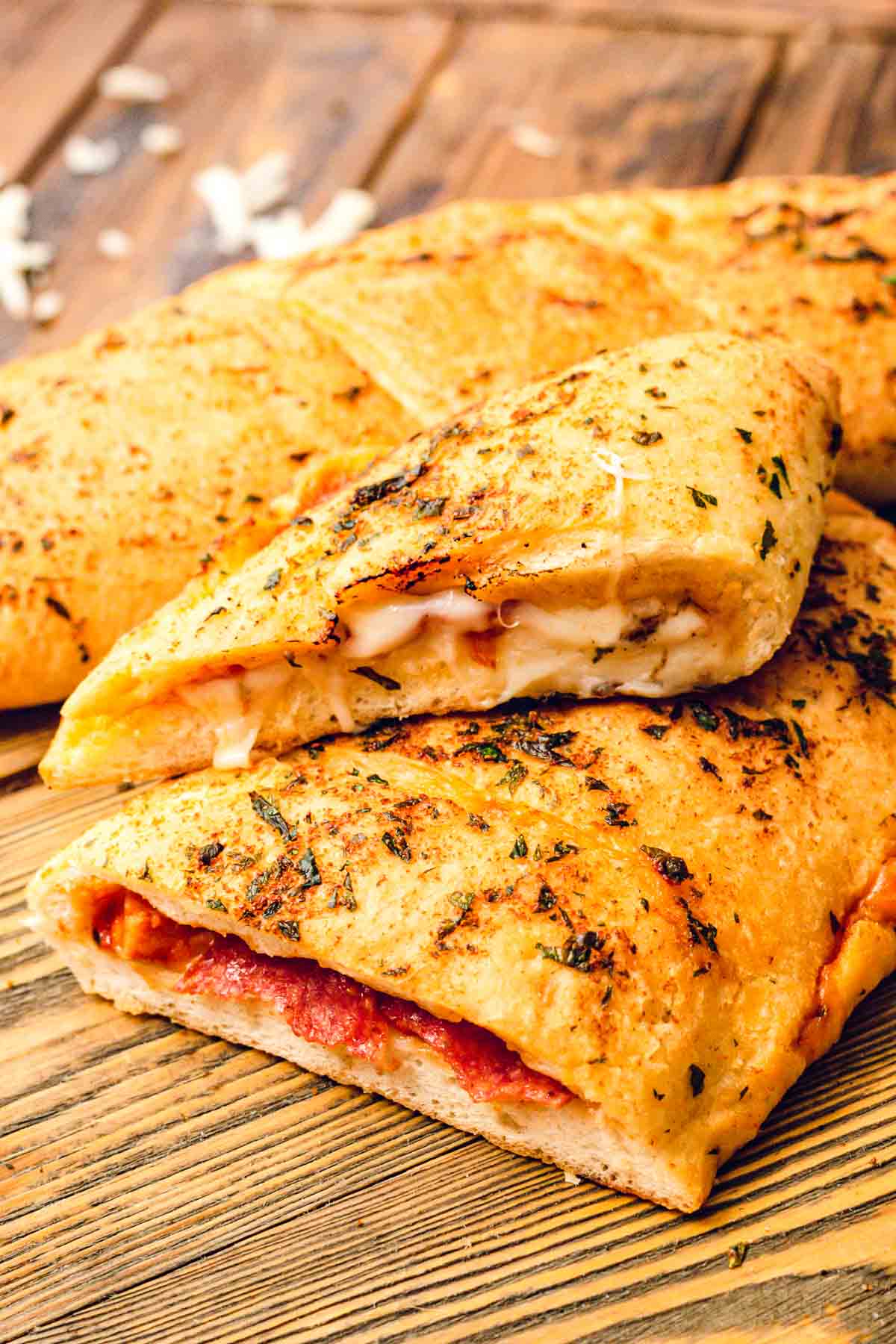 If my kiddos had their way we'd have pizza every night – they just never get tired of it! Of course, we don't have it every night but I do like to make it a few times a month. You know, on Friday or Saturday night? It's always a fun way to end the week. Way, way back in the day I might have been tempted to just pick one up, but now I either make my own dough (it's so easy!) or just pick up the premade dough at the store.
Lately, I've been trying to switch up things up. So, instead of just making a regular pizza I've been making similar dishes that are just a little different like this Calzone recipe I'm sharing today.
The kids call it "The Big Hot Pocket" and I try not to get offended because a Calzone is so much better than a frozen hot pocket! It's all of your favorite toppings folded up in dough and baked. Ooey melted cheese, meat and sauce wrapped up in a golden crust – so good!
What Is Calzone?
They resemble a turnover, pretty much an Italian turnover! The pizza dough is filled with anything that can go on a pizza and then the dough is folded over, pinched and sealed.
The dough is coated with egg wash or olive oil and baked.
What is the Difference between Calzones and Stromboli
Think of Stromboli as a cousin to the Calzone. The main difference is the way they are sealed. A stromboli is rolled up and sliced then baked. A calzone is pinched and sealed like empanadas.
Ingredients You Will Need for Homemade Calzones
This recipe makes enough for four calzones, but you can easily adjust it to make more or less!
Homemade or store-bought pizza dough – You want the dough to be about 1/4" thick when you roll it out so it doesn't tear or break when you fold it over.
Pizza sauce – Use your favorite pizza sauce. It can be homemade or store bought.
Mozzarella cheese – Grab a block and shred it yourself for the best meltability! It truly makes a difference.
Meats – We used both Canadian bacon, ham, sausage and pepperoni, but you can use salami, bacon, chicken, and more!
Butter – You could also use an olive oil, whichever you prefer.
Seasonings – Garlic powder and chopped parsley mixed with the butter and brushed on the outside of the dough provides so much flavor!
How to Make Calzone Recipe
Roll-out the dough: First, divide your dough into for equal parts and roll each into a ball. Roll each ball into flat ovals about 1/4″ thick. You don't want it too thin otherwise it won't be stable enough to hold the fillings. You can stretch the dough by hand, but I think it's easier to use a rolling pin.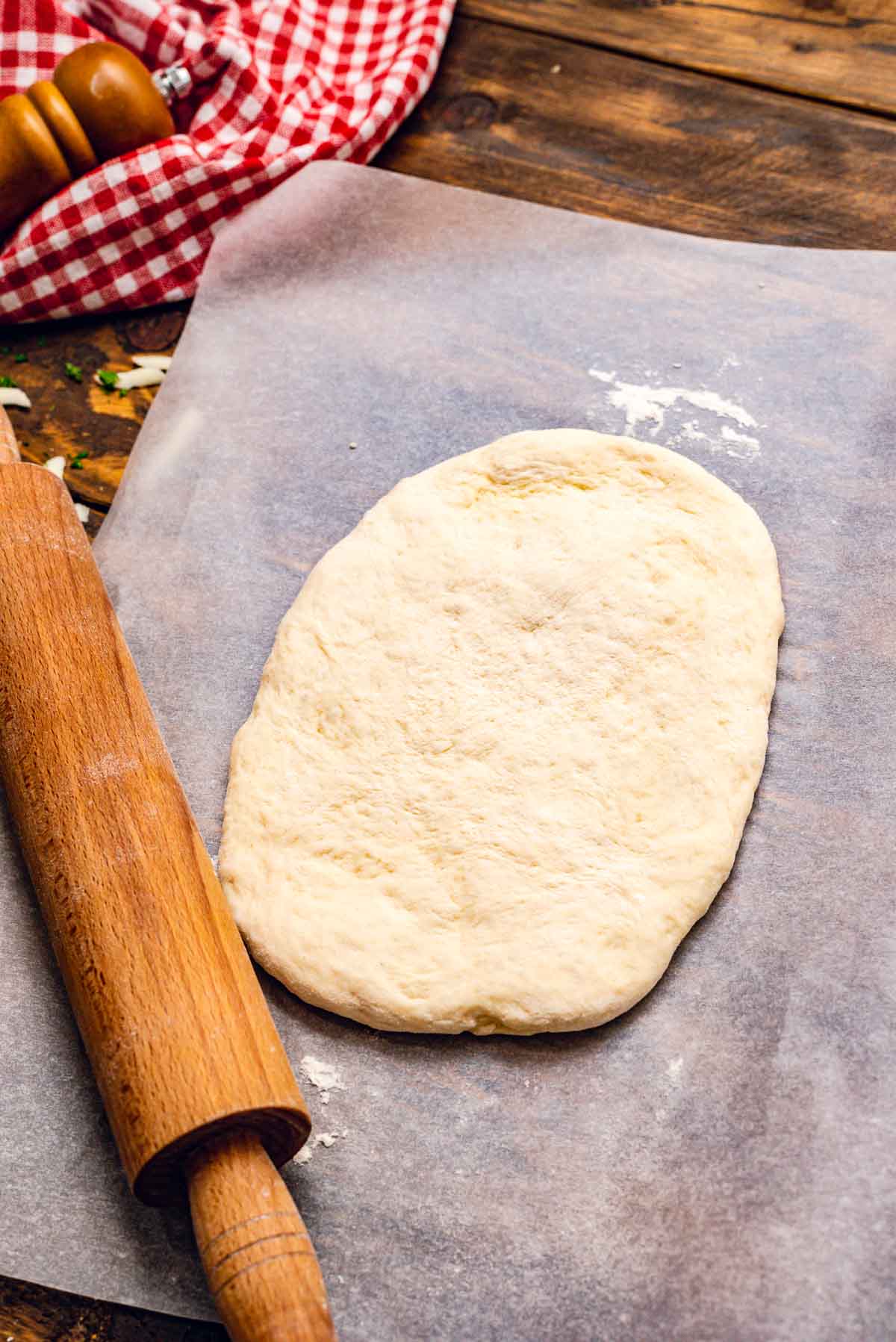 Add the sauce: Spoon some sauce on one half of the oval. Don't spread it all the way to the edge – leave some space around the edge so you can easily seal it when you fold it.
Layer the fillings: Top the sauce with layers of cheese and meat and then moisten the edge of the dough with some water. This will create glue for the edges so they don't pop open while in the oven.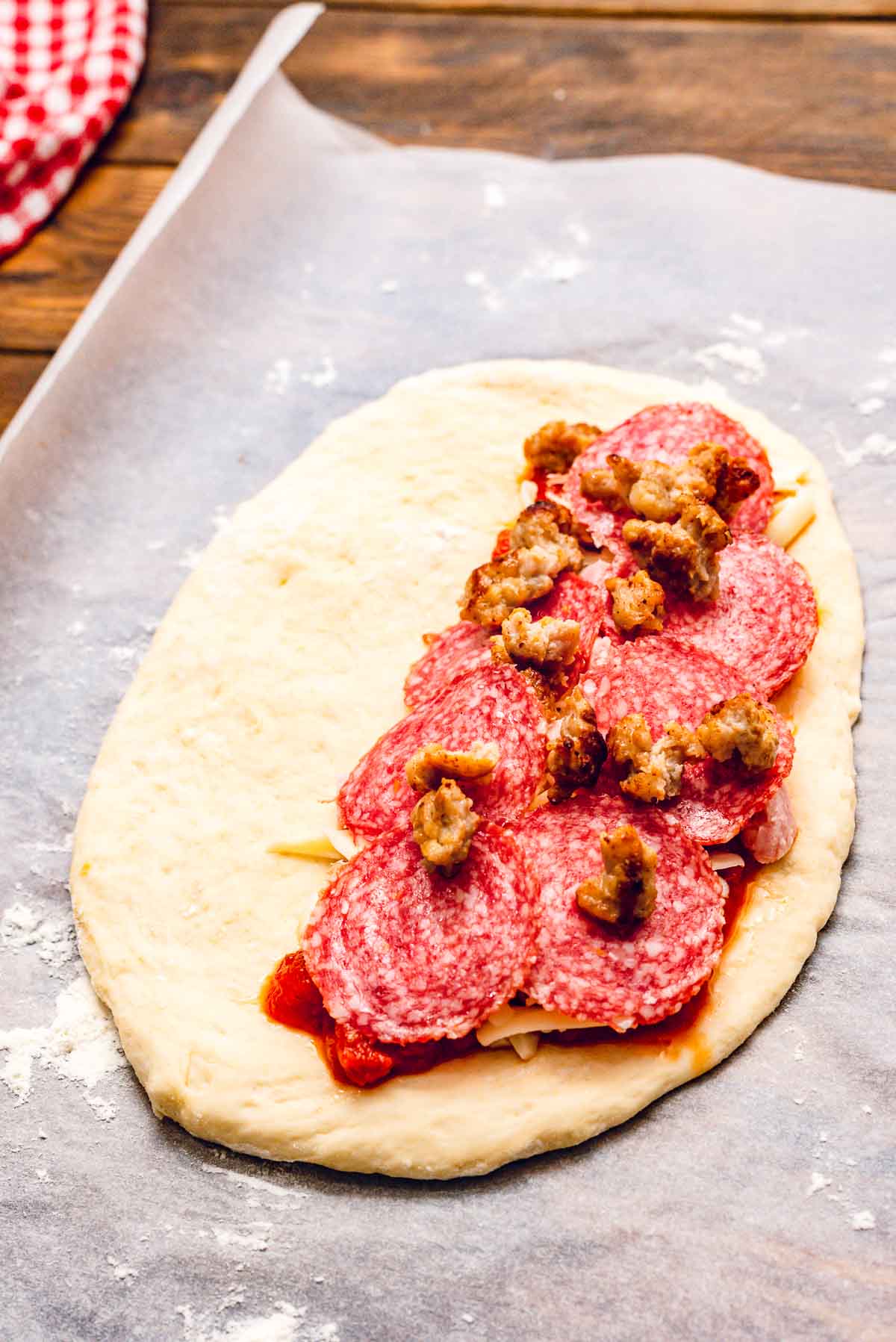 Fold and seal the Calzone! Fold the other half of the dough over the fillings. Seal the edge by pinching and crimping the seams together.
Top! You don't need a fancy stone or wooden peel to bake your Calzones – just transfer them carefully to a large baking sheet. Combine the melted butter, garlic powder and parsley in a bowl and brush the mixture on top of each one
Cut! Using a serrated knife, cut two to three slits in the top of each – this will allow steam to escape while they bake.
Bake! Place the Calzones in a preheated oven at 425 degrees Fahrenheit and bake for 15 minutes or until they are golden brown on top. I like to cool them for a few minutes before serving. You can eat it whole or slice it before serving.
More Filling Ideas
Just like regular pizza you can easily change the fillings to create all kinds of flavor combinations! Here are some ideas you might want to try:
Supreme: sauce, pepperoni, cooked sausage, green bell peppers, onions, black olives, and mozzarella cheese
Hawaiian: Canadian bacon, pineapple (make sure to drain it so it's not too liquidy!), mozzarella cheese, pizza sauce
Veggie: cooked mushrooms, olives, peppers, sliced onions, and other veggies you like on pizza! Cheese and sauce, too!
BBQ Chicken: BBQ sauce, cooked chicken, red onion, crumbled cooked bacon, mozzarella cheese
These are just a few ideas – the possibilities are really endless! Just remember to precook the fillings that need it so everything is cooked through when they are done baking.
Storage Tips
Fridge: Store leftovers in an airtight container in the refrigerator for up to three days. You can also prep them and then place in the refrigerator and bake them later.
Freezer: Calzones can be froze when raw or after they are cooked. To freeze them place on a baking sheets and flash freeze them in a single layer. Once they are frozen place them in a freezer-safe bag or freezer-safe container and store in the freezer for up to three months.
Reheat: To reheat a frozen calzone place in the refrigerator to thaw. We try to do this overnight but make sure it's at least three hours. You can also bake them frozen just add more time to the baking time. Bake raw, thawed calzones according the recipe time, if they are already cooked and thawed bake for half the amount of time.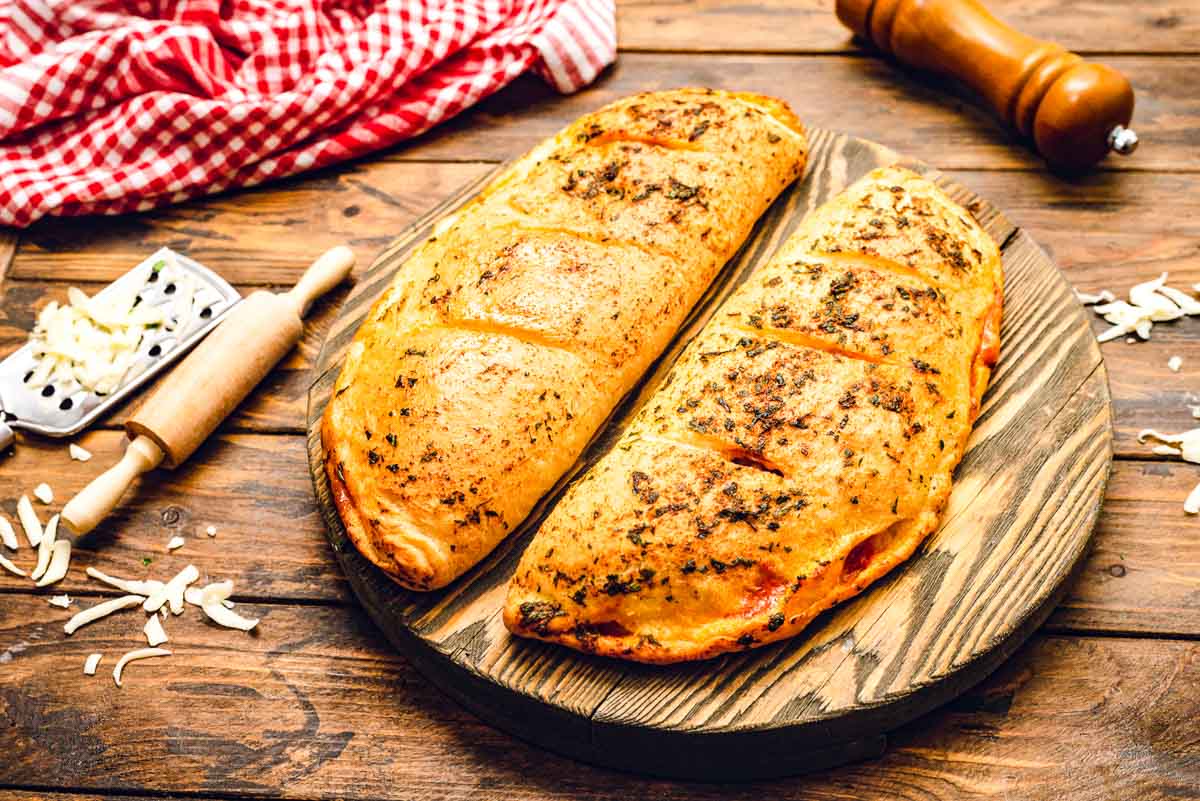 More Great Dinner Recipes to Try!
The other dinner my kids always want is tacos! My easy crock pot chicken tacos are always a hit and so easy to make.
Mini meatloaf is an easy way to get a comfort-food fix during the week! They bake fast and are so hearty and delicious.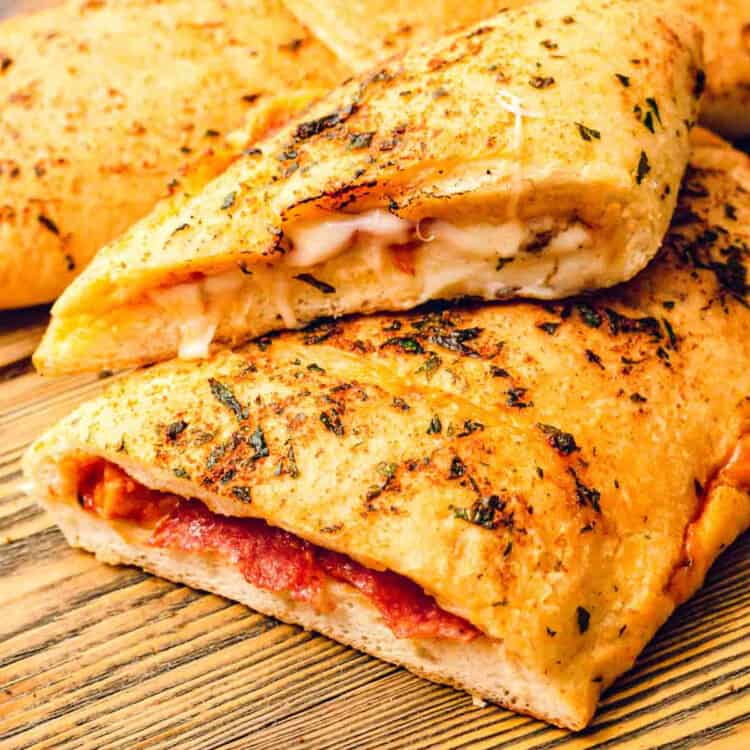 Calzone
Pizza dough stuffed with pizza toppings, cheese and sauce make these a delicious dinner!
Ingredients
1

pizza dough

store-bought or homemade, about 2 lbs

1

c.

pizza sauce

2

c.

mozzarella cheese

shredded

½

c.

diced candian bacon or ham

½

c

pepperoni

½

c.

sausage

cooked and crumbled

2

Tbsp

butter

melted

½

tsp

garlic powder

1

Tbsp

chopped parsley
Instructions
Preheat oven to 425 degrees F. Coat a sheet pan with cookie spray and set aside.

Divide the pizza dough into 4 pieces. Turn dough onto a lightly floured surface, shape into balls and then roll into ¼ inch thick ovals.

Spoon pizza sauce onto one side of the oval. Top with cheese, canadian bacon, pepperoni and sausage. Fold dough in half; dampen seams with water and pinch together then crimp edges all around. Transfer to prepared baking sheets.

In a small bowl combine butter, garlic powder and parsley. Brush the tops of the calzones with mixture. Using a serrated knife, slit the tops of the calzones in 2 to 3 spots to create steam vents.

Place baking sheet in preheated oven and baking 15-17 minutes or until the tops are golden brown.

Remove from oven. Let cool 5 minutes before cutting open.
Tips
OTHER CALZONE FILLINGS TO TRY
Supreme: sauce, pepperoni, cooked sausage, green bell peppers, onions, black olives, and mozzarella cheese
Hawaiian: Canadian bacon, pineapple (make sure to drain it so it's not too liquidy!), mozzarella cheese, pizza sauce
Veggie: cooked mushrooms, olives, peppers, sliced onions, and other veggies you like on pizza! Cheese and sauce, too!
BBQ Chicken: BBQ sauce, cooked chicken, red onion, crumbled cooked bacon, mozzarella cheese
Nutrition Information
Calories:
853
kcal
(43%)
,
Carbohydrates:
53
g
(18%)
,
Protein:
48
g
(96%)
,
Fat:
50
g
(77%)
,
Saturated Fat:
25
g
(156%)
,
Cholesterol:
160
mg
(53%)
,
Sodium:
2631
mg
(114%)
,
Potassium:
398
mg
(11%)
,
Fiber:
2
g
(8%)
,
Sugar:
10
g
(11%)
,
Vitamin A:
1337
IU
(27%)
,
Vitamin C:
5
mg
(6%)
,
Calcium:
611
mg
(61%)
,
Iron:
5
mg
(28%)