Dino Buddies with Mashed Potato Volcano!
Getting your kids to eat is always a challenge! Today we are sharing a simple, easy dinner recipe that is kid friendly. My kids had so much fun making these Yummy Dino Buddies with me. We paired them with mashed potatoes, gravy and broccoli to make a fun mashed potato volcano with gravy and the lava and broccoli as the trees. They got to play with their food, they devoured the meal and I was left smiling!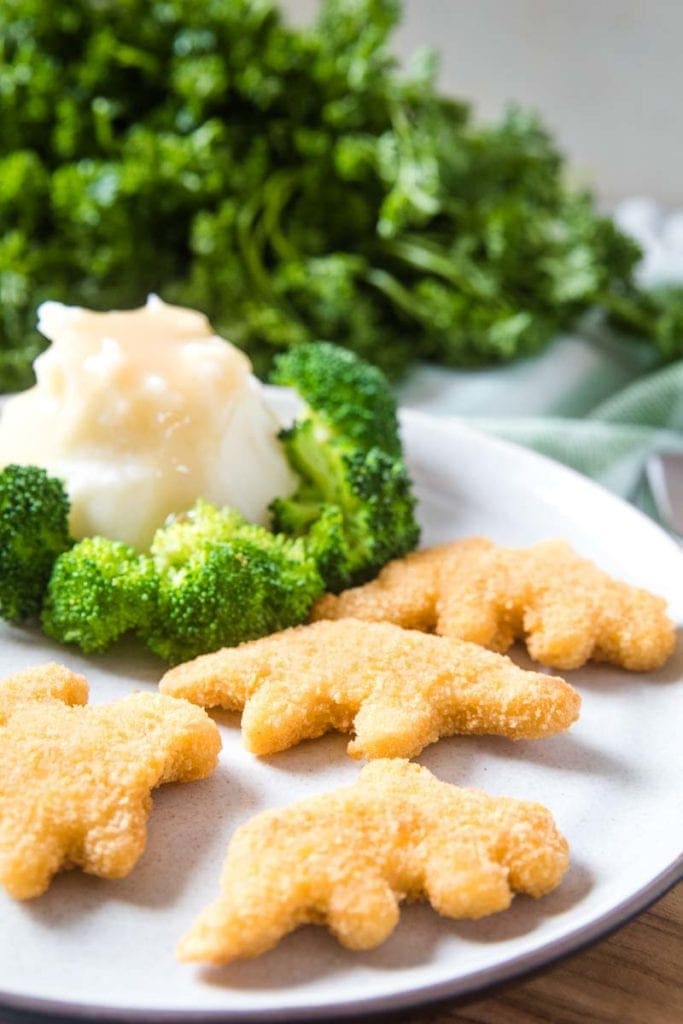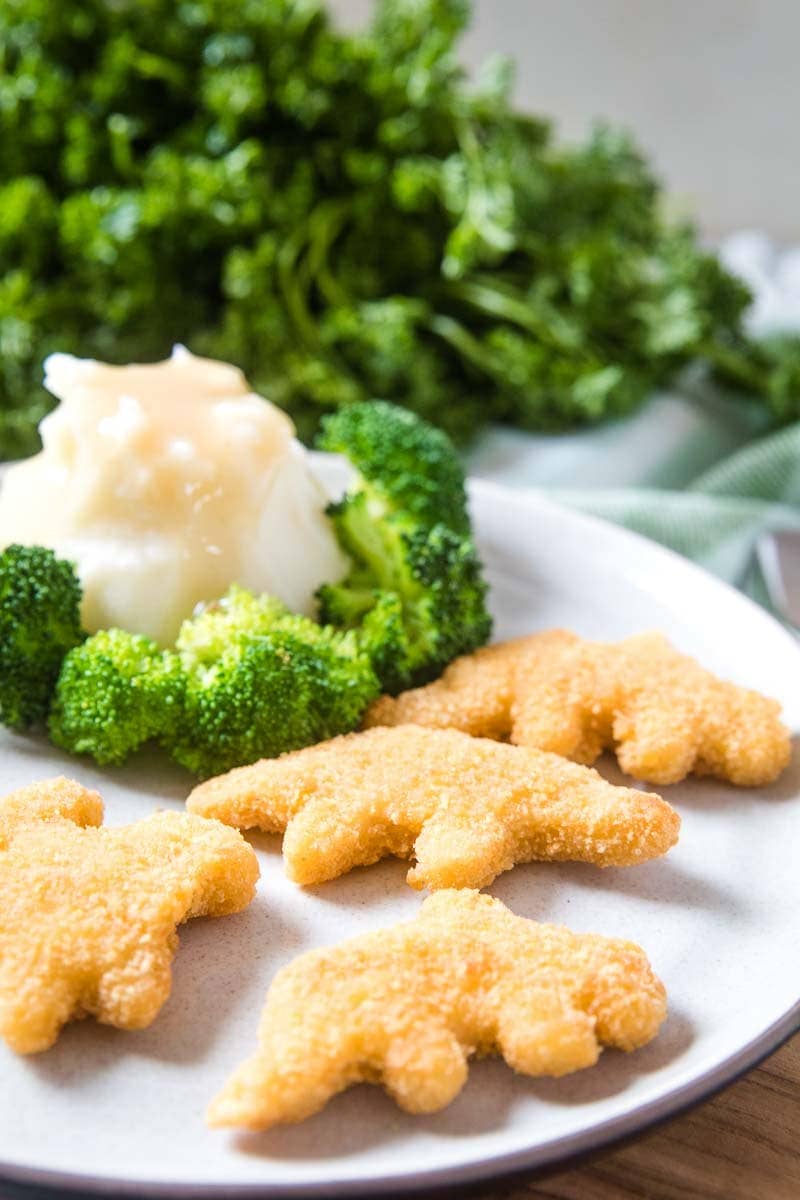 Kid-Friendly Meals
This post is sponsored by Mirum. All comments and opinions are my own.
When you are a kid there's just something about playing with your food, isn't there? I know my kids will pass up the utensils and dig in with their fingers more often than not. That's why I LOVE finger foods like these Yummy Dino Buddies!
They love the fun shapes because who doesn't like to eat dinosaur shaped chicken nuggets? The kid in me even gets excited about this.
Another thing that helps my kids to eat their dinner is when they are actually in the kitchen helping make it.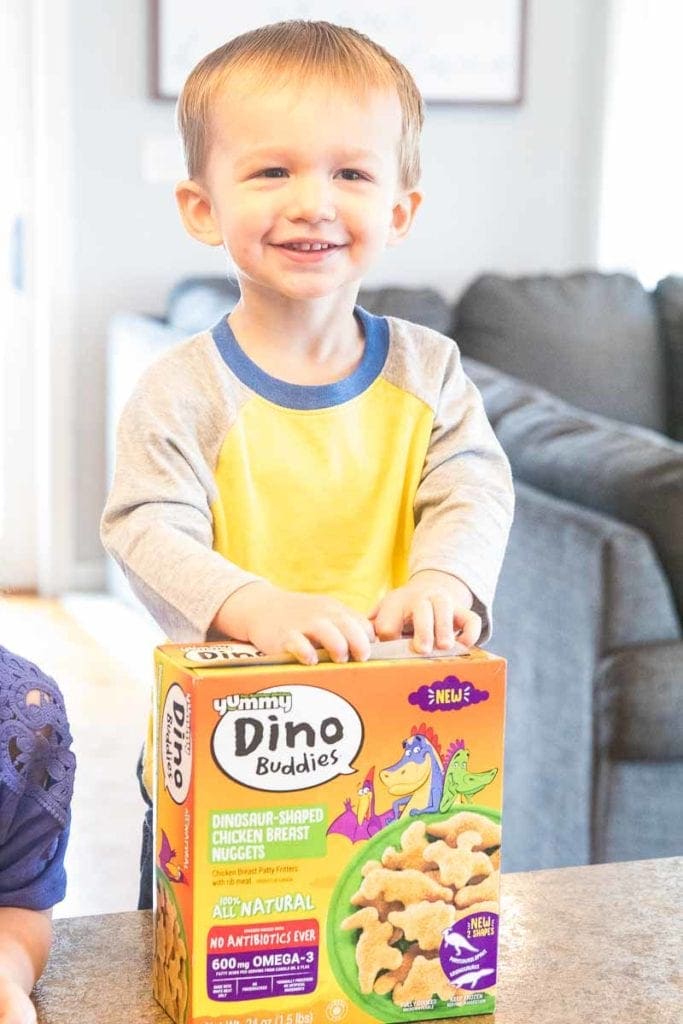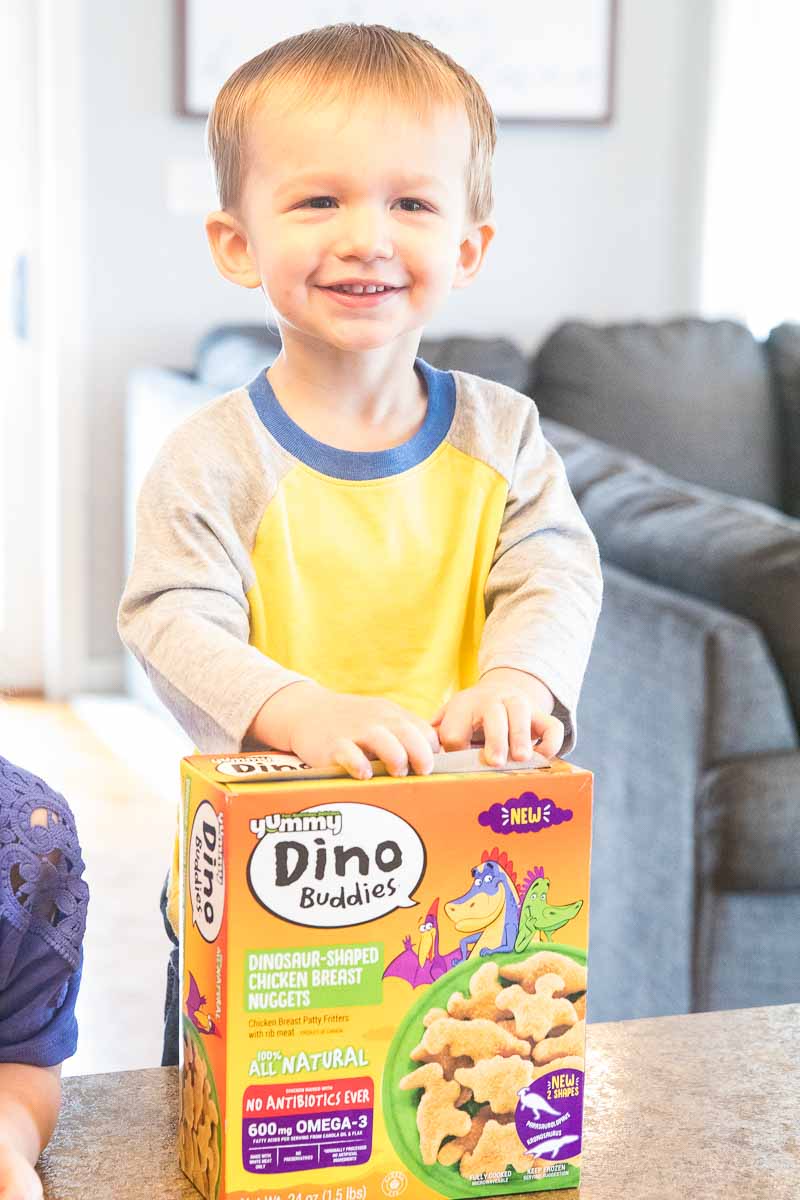 Kid-Friendly Dinners
Simple, easy meals that they can help me prepare are key for this.
Easy tasks that they can easily do safely when in the kitchen are great for building confidence when they are young and beginning to teach them lifelong skills in the kitchen.
They get excited about the simple things like opening the box, arranging their favorite Dino Buddies on the sheet pan and setting timers.
Sometimes it's just the simple things in life!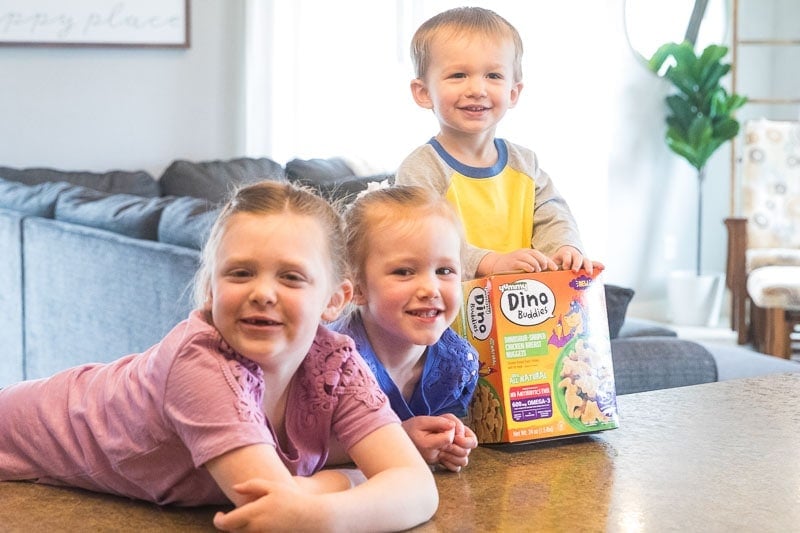 Easy Dinner Ideas
Our littlest guy sees us starting to make anything in the kitchen and he's quickly pushing his stool to the counter and yelling "ME TOO, ME TOO!"
My heart kind of bursts and melts all at the same time.
My oldest daughter loves getting in the kitchen with me and I've found out some of the best conversations are had while cooking together.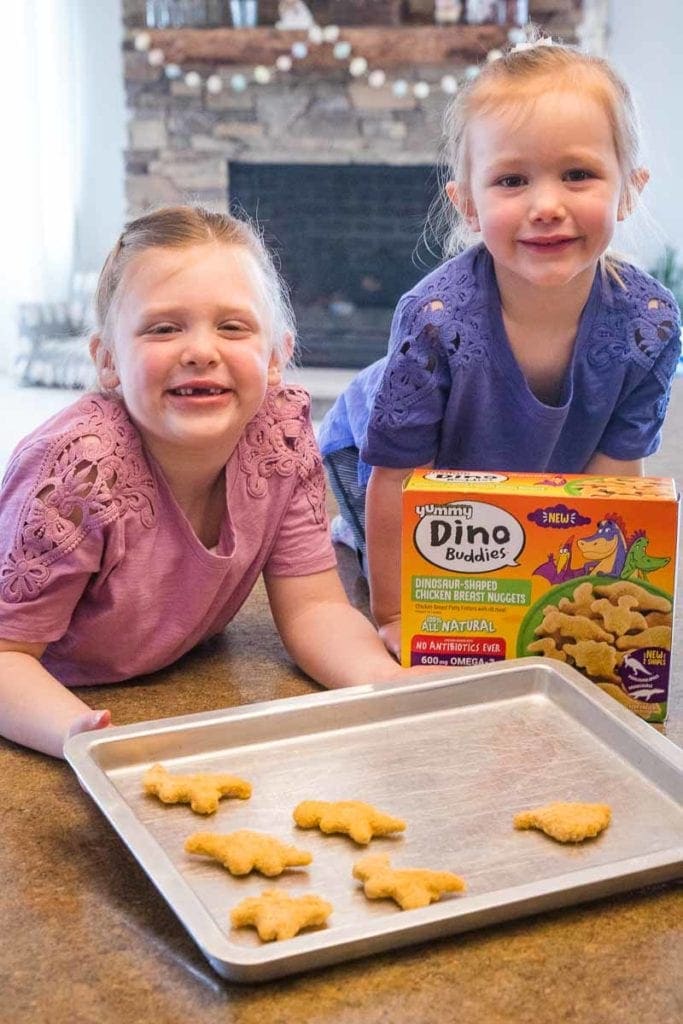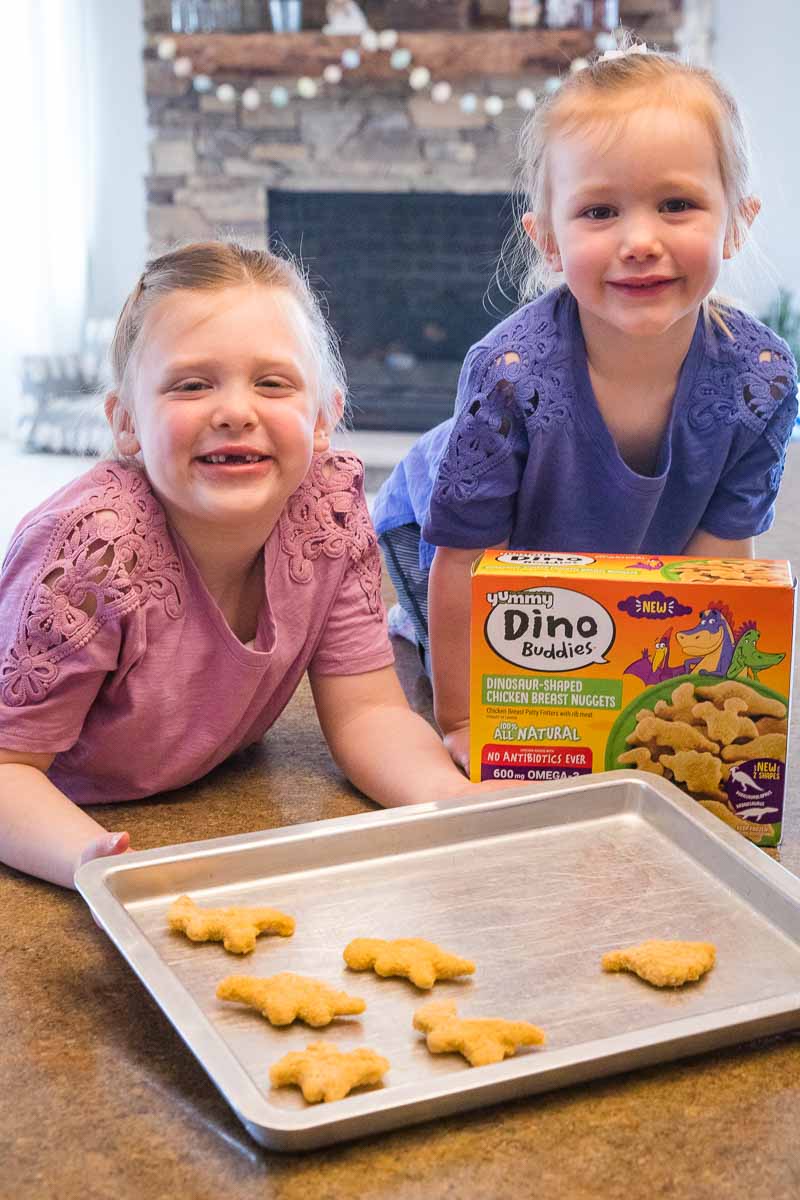 Easy Dinners Recipes for Kids
One of my favorite go-to meals on a busy weeknight is pairing our favorite Dino Buddies with mashed potatoes, gravy and steamed broccoli.
We scoop our mashed potatoes into a shape of a volcano, make an indent in the top and then pour gravy in the middle, making it look like lava. You can bet this is done with our fingers!
We pair it with steamed broccoli which we put on the side of the volcano as trees!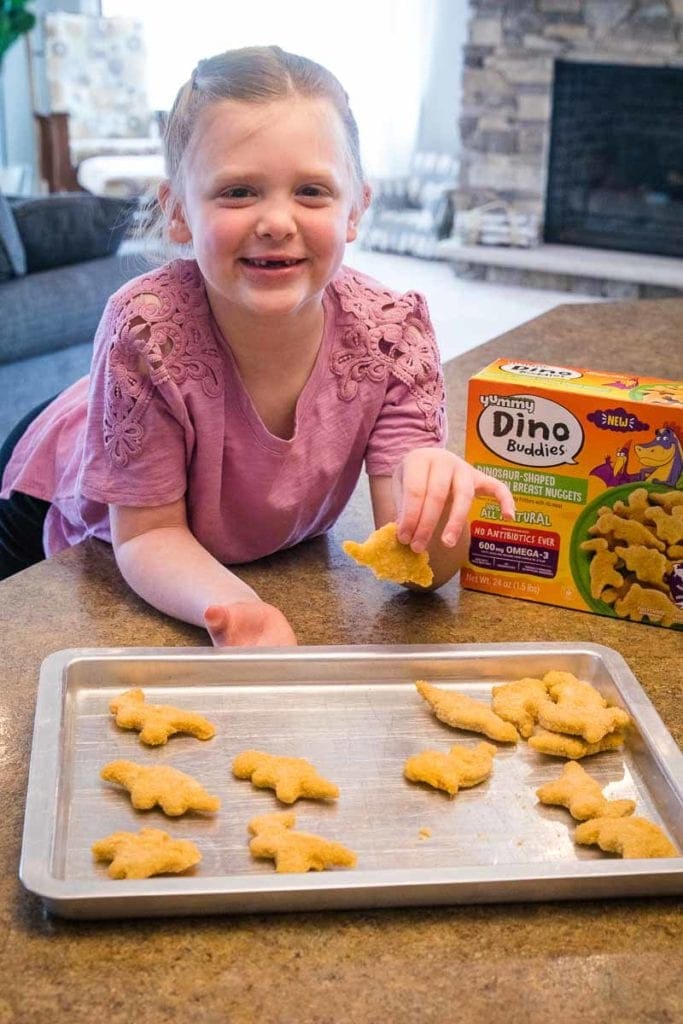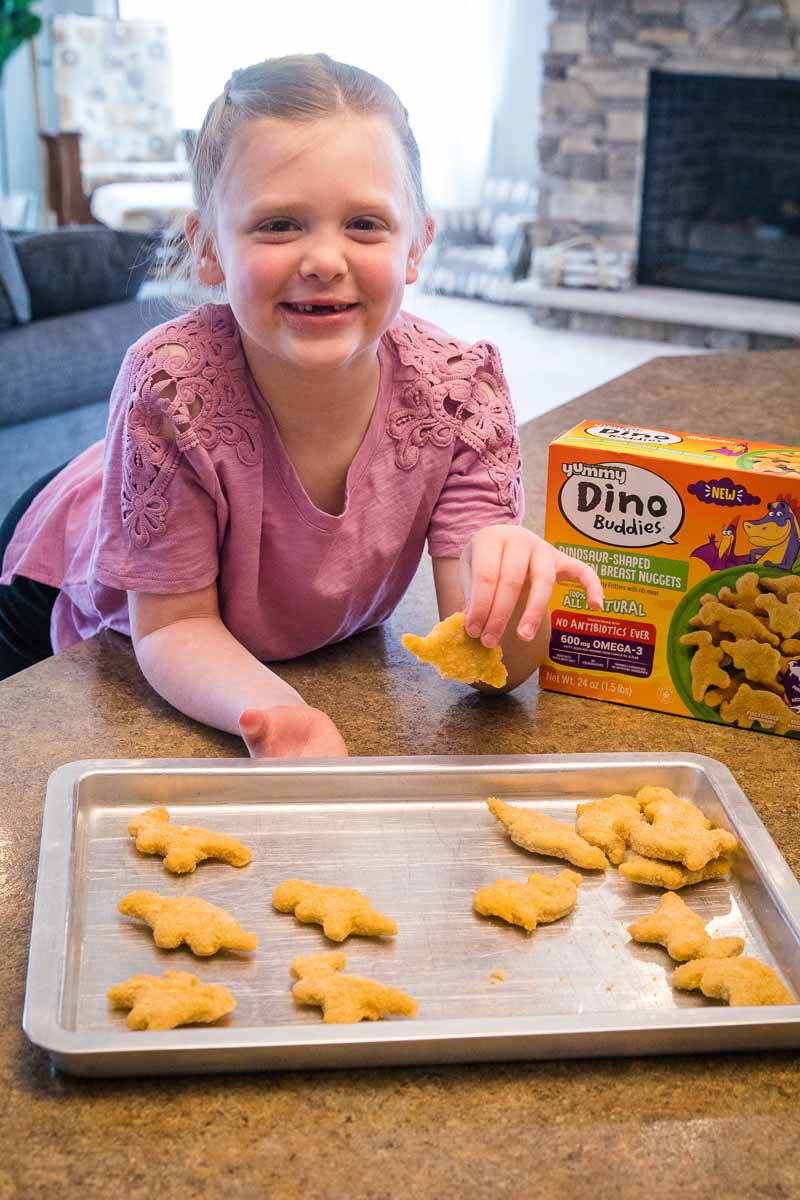 Not only do I love that this is an EASY dinner idea that's kid-friendly, but I love the fact that I'm feeding them a nutritious dinner, also.
Yummy Dino Buddies are not only fun to eat but they are made with boneless, skinless chicken breast meat and are packed with protein and Omega-3.
They go from the freezer to the dinner table in minutes which is a win for this Mom because after daycare and school, my kids are always STARVING and I need to get dinner on the table fast.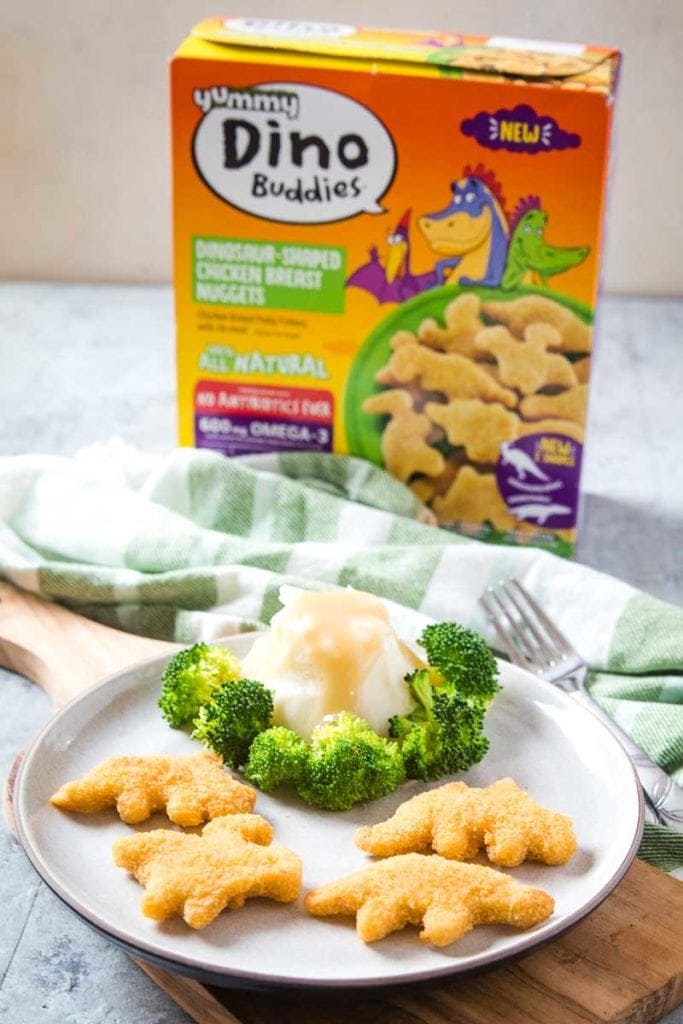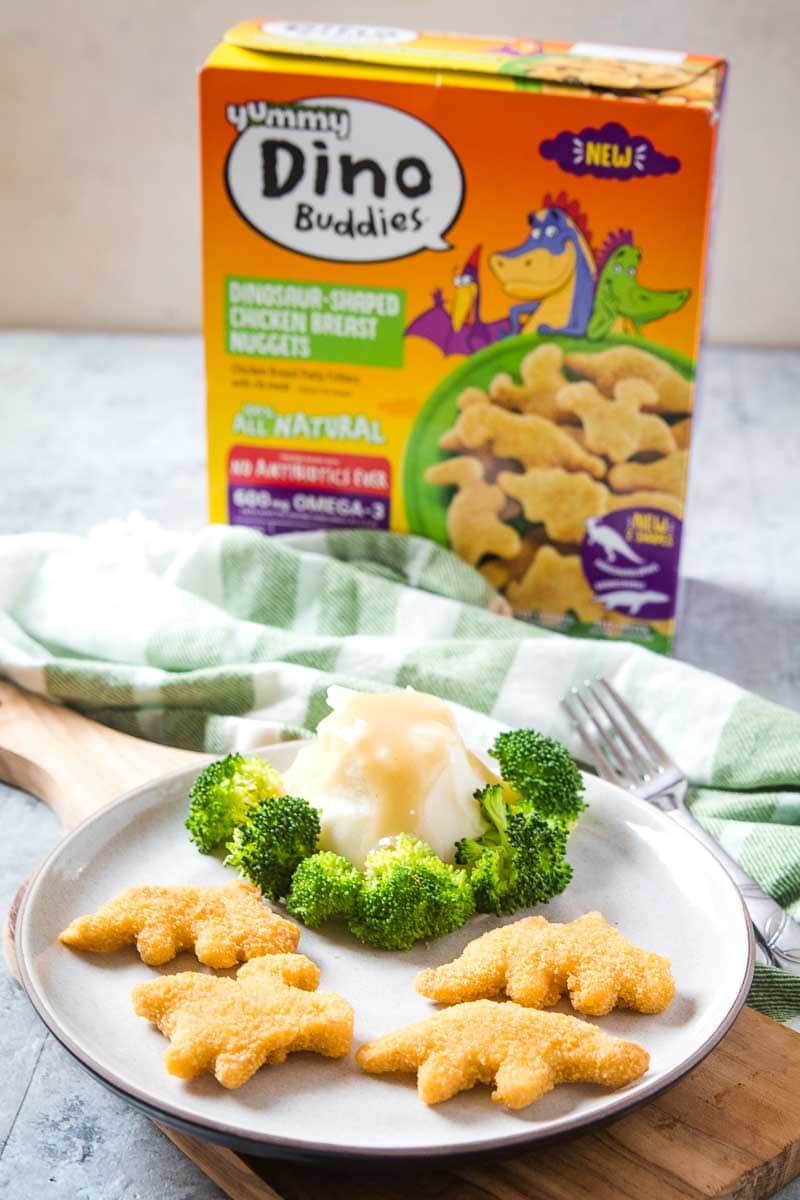 What tricks do you have up your sleeve to get your kids to eat their dinner? I'm always looking for fun new ways to entice my kids to eat their dinners!
Another trick I have is to make a simple sheet pan meal with Dino Buddies. You can throw some French fries on the pan with your nuggets. Then pair it with steamed vegetables.
My daughter loves to help make this easy meal with me! As you can see in the video above she also likes to play with those Dino Buddies!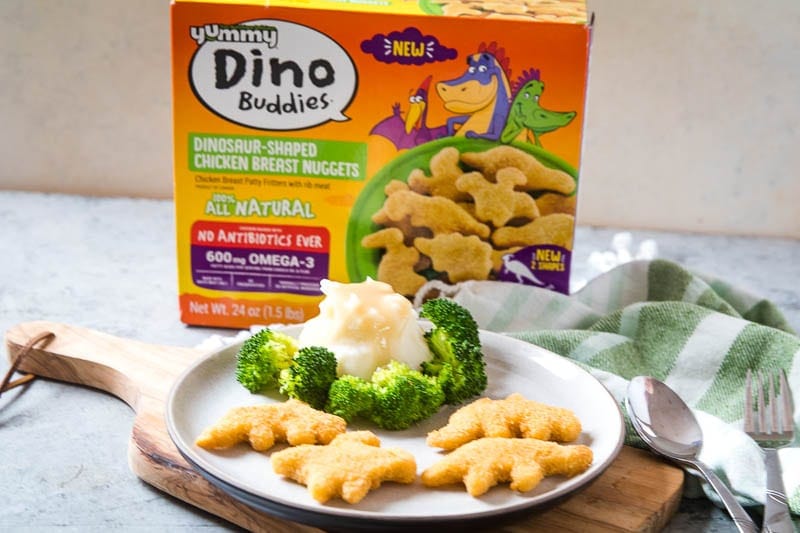 Easy dinner solutions for parents like these options are so important in life! It helps us feel like we are "winning" in the kitchen again instead of dreading meal times.
Plus, if you know your kids are going to eat what you make it's always more enjoyable, right?
I know it is for me!
Simple. Easy. Eatable.
I think it's my new motto!
It sure helps that I can feel good about feeding my kids this easy dinner with Dino Buddies too!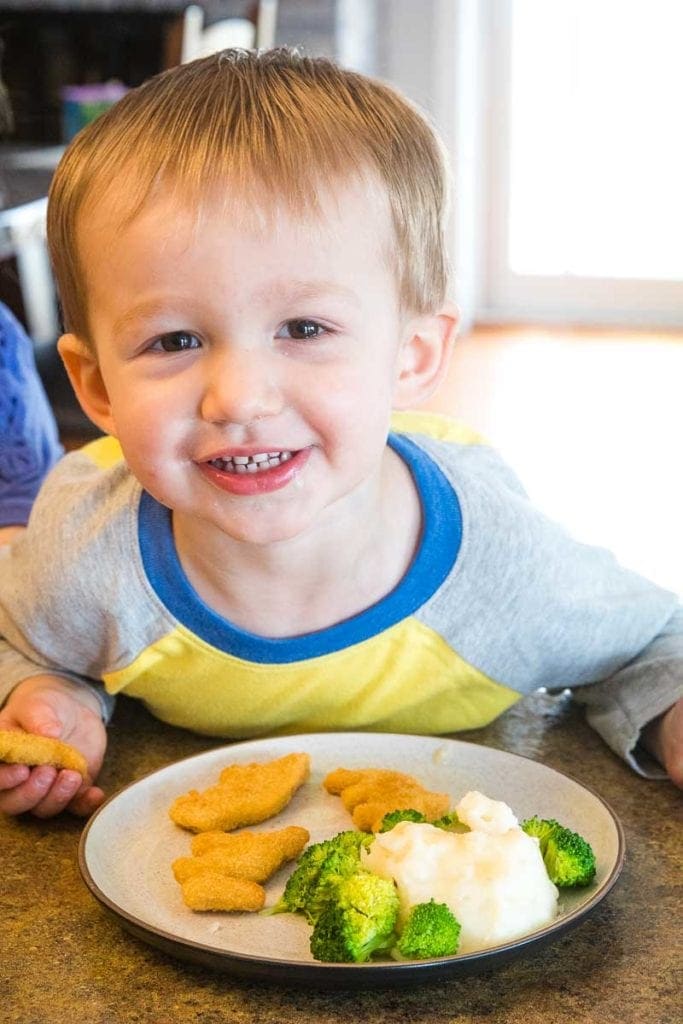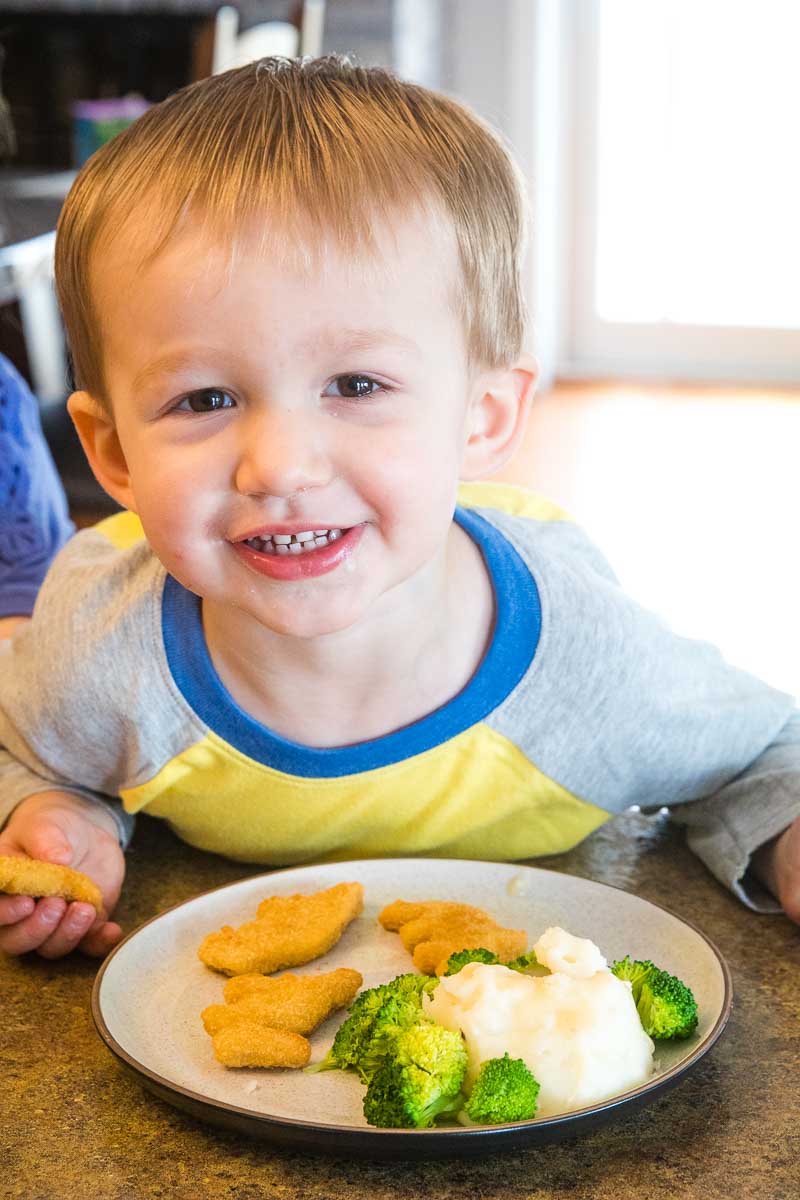 I picked up these Yummy Dino Buddies at my local grocery store in the freezer aisle!
If you are wondering where you can pick them up close to your neighborhood make sure to check out their convenient and easy to use Store Locator.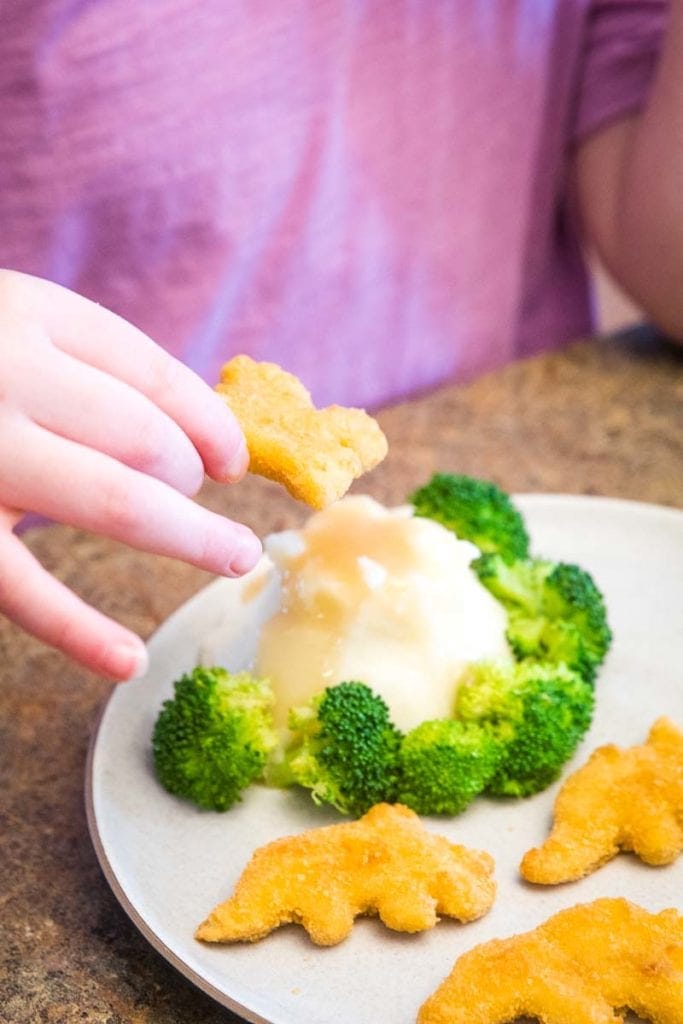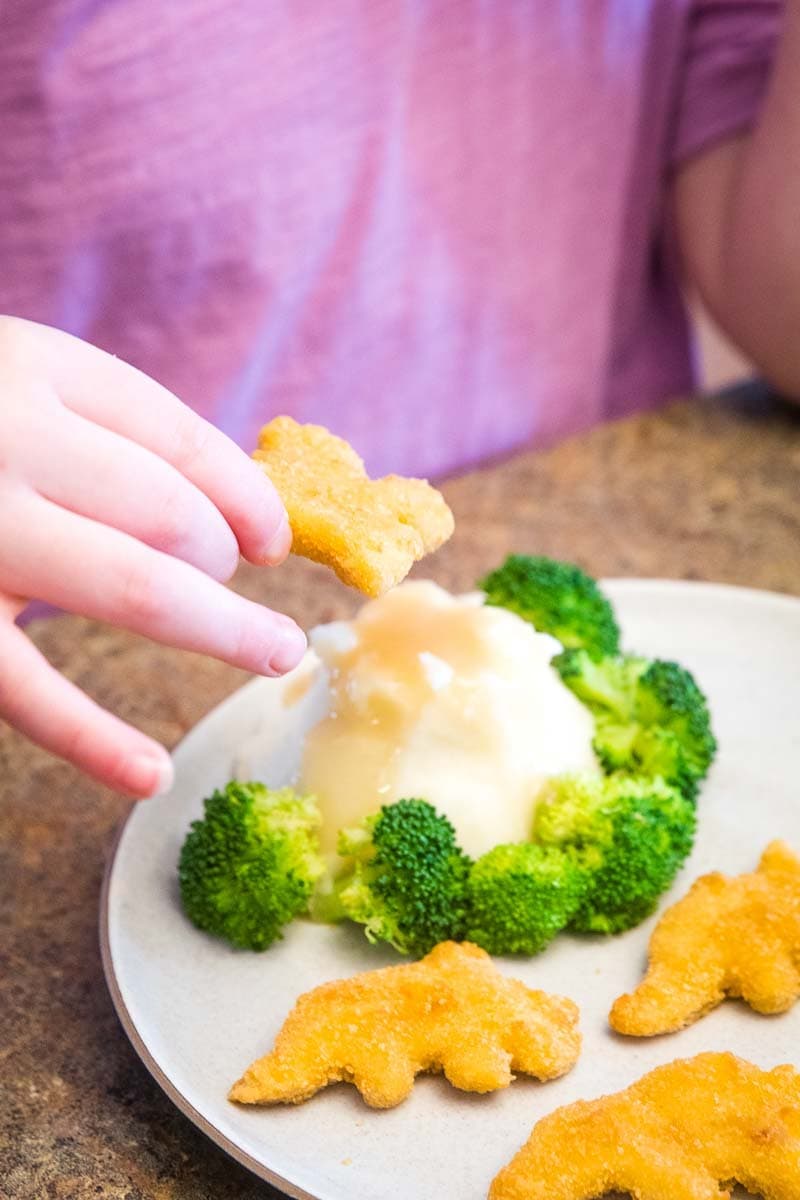 Head over to Facebook and follow Yummy Dino Buddies where you can meet each of the Dinos and find fun content like coloring pages and quizzes for your kids!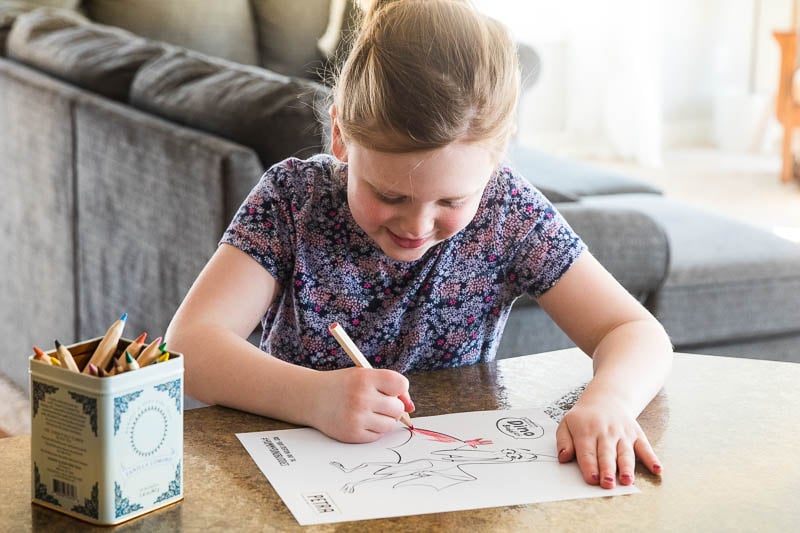 I know my daughter loves fun, new coloring pages so I'm going to be sure to print those out for her!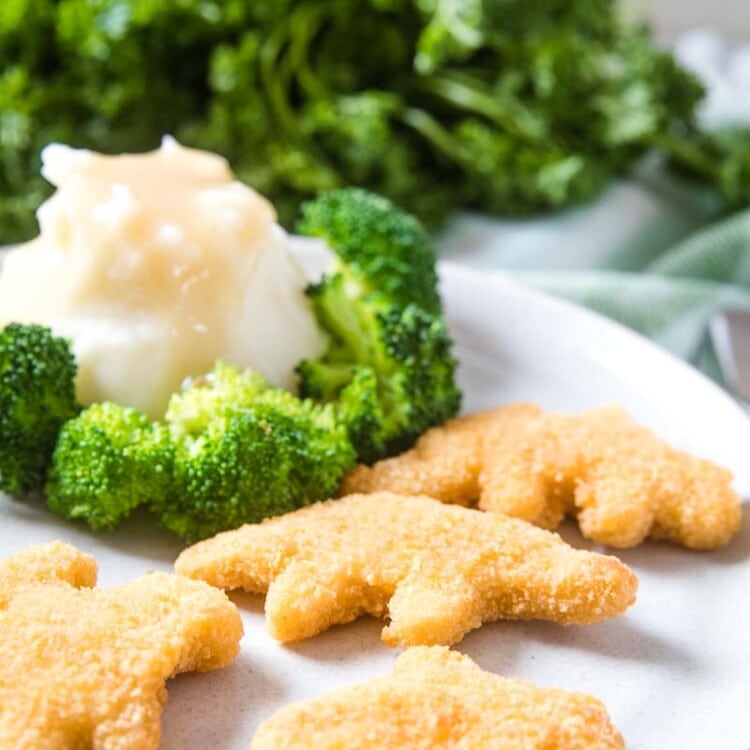 Dino Buddies with Mashed Potato Volcano!
Easy kid-friendly dinner idea with Dino Buddies, mashed potatoes, gravy and broccoli!
Instructions
Prepare Dino Buddies according to directions on package.

While Dino Buddies are baking prepare the rest of the ingredients.

When Dino Buddies are done baking remove from oven and place on plate.

Scoop prepared mashed potatoes onto plate and form into volcano shape with indent on top. Top the mashed potatoes with gravy for lava and place broccoli florets around the base of mashed potatoes for trees.

Nutrition Information
Calories:
836
kcal
(42%)
,
Carbohydrates:
163
g
(54%)
,
Protein:
26
g
(52%)
,
Fat:
11
g
(17%)
,
Saturated Fat:
2
g
(13%)
,
Cholesterol:
26
mg
(9%)
,
Sodium:
964
mg
(42%)
,
Potassium:
2136
mg
(61%)
,
Fiber:
13
g
(54%)
,
Sugar:
8
g
(9%)
,
Vitamin A:
550
IU
(11%)
,
Vitamin C:
213.7
mg
(259%)
,
Calcium:
106
mg
(11%)
,
Iron:
3.4
mg
(19%)