Homemade Pumpkin Spice Granola ~ Perfectly Crunchy, Easy Homemade Granola Recipe with the Perfect Amount of Pumpkin Spice, Crunchy Oats, Sunflower Seeds, Pepitas, Sunflower Seeds, Cranberries and Nuts!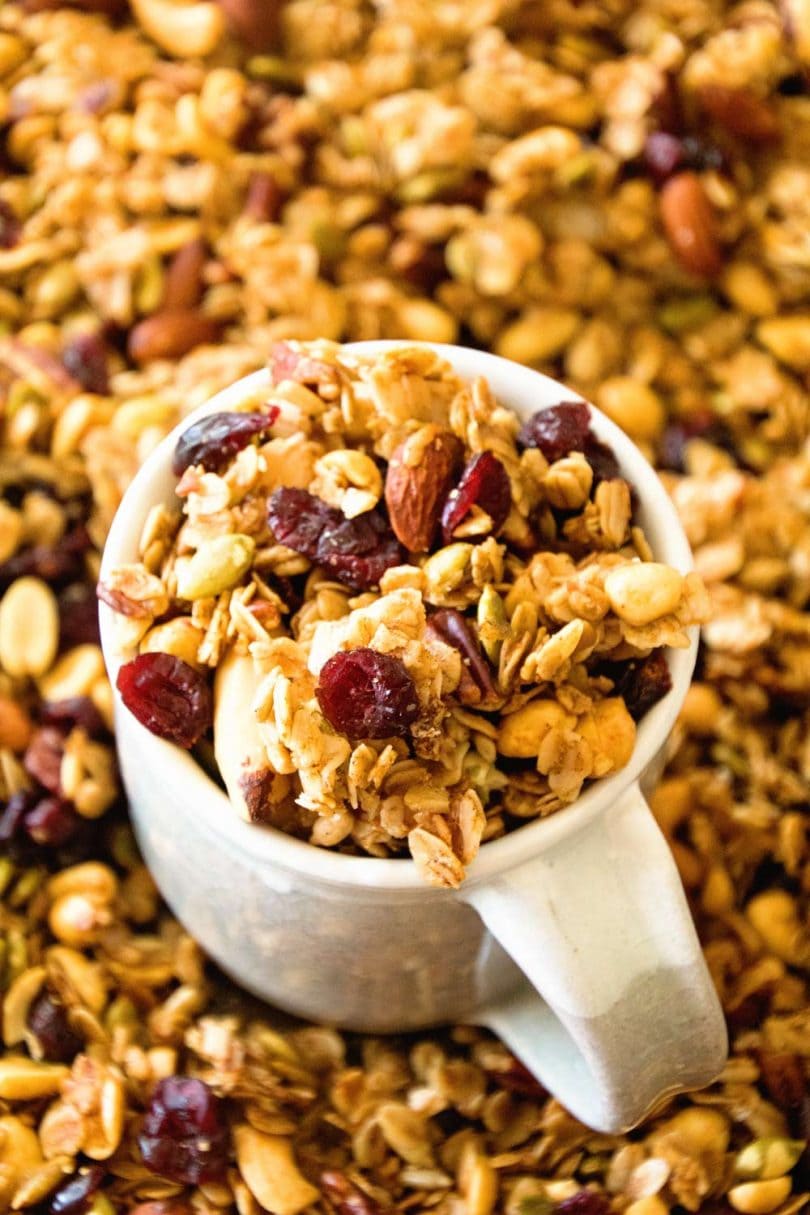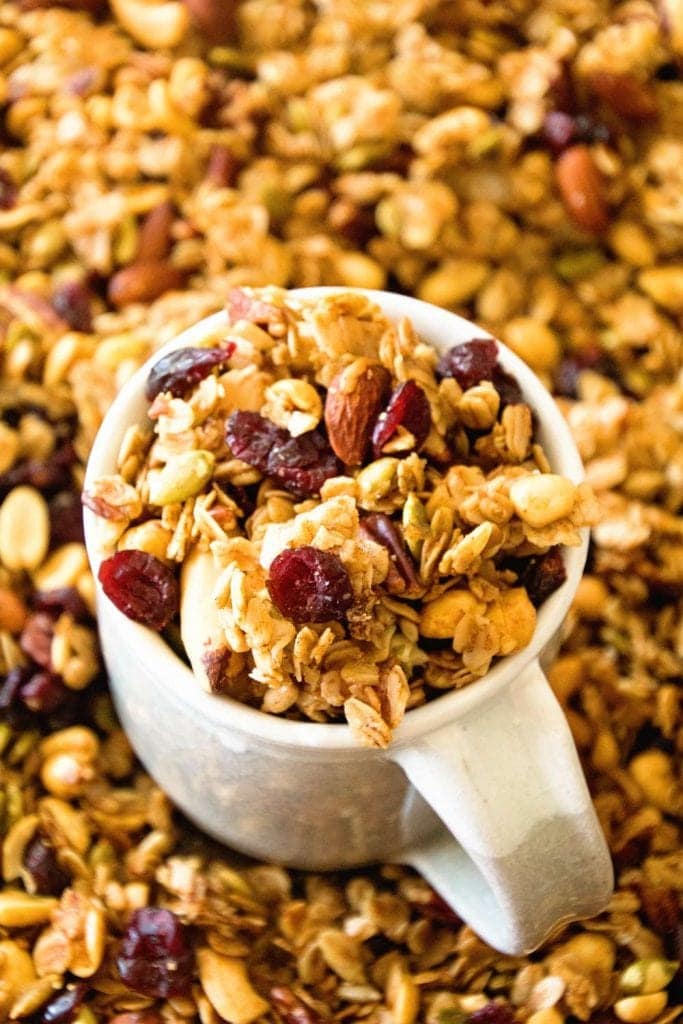 I have a few granola recipes on here like Nutella Gronola and Tropical Coconut Granola, but those delicious homemade granola recipes came from my amazing contributors! I'll be honest, I've never made granola at home. For some reason I always felt it was a little high maintenance and difficult for some reason.
When my amazing coworker made this delicious Pumpkin Spice Granola Recipe I knew I had to have the recipe. It has the perfect amount of pumpkin spice, is crunchy and delicious. Plus, it's easy! Of course, I had to to take her recipe and alter it just a tad bit, because I'm difficult like that! Why haven't I made granola before? It's so easy!
Miss K fondly refers to granola as "That Crunchy Stuff". I was really surprised when she tried it and liked it! Kids always amaze me. The things I think they will like they never eat and the things I think they will hate they inhale! Story of my life. They keep me on my toes!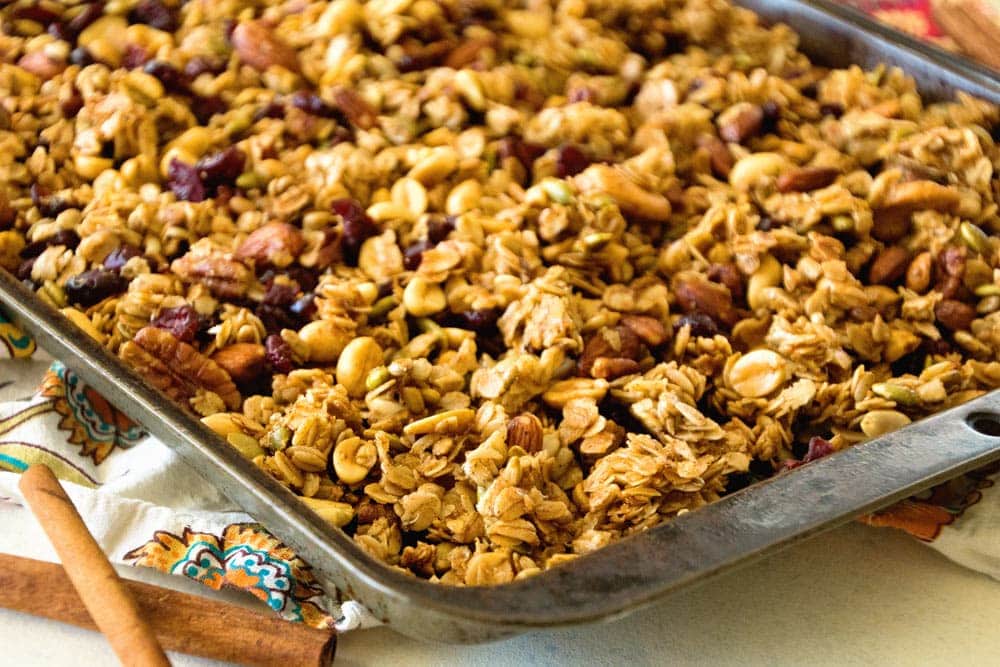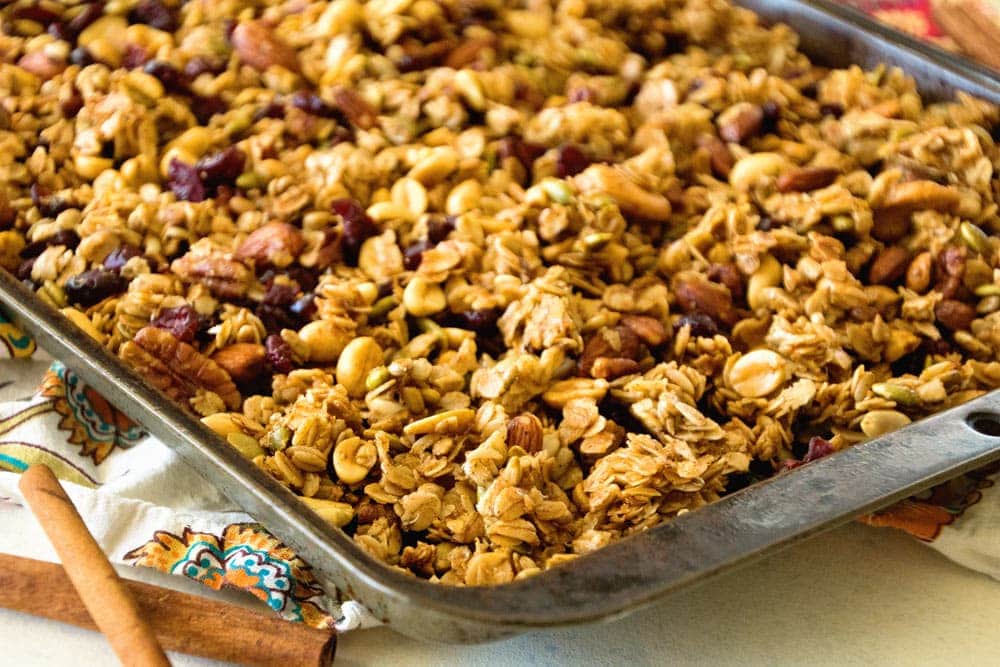 Another thing that kept me on my toes was the Garth Brooks concert this weekend! The hubs and I took a much needed little getaway to his concert, stayed over night and everything! We never do this…. ever. I just feel so guilty asking someone to take our kids over night especially since Mr. Koert decided that he wants to get up in the middle of the night. It's killing me. He used to sleep all night 90% of the time and the last three weeks he's been getting up again. I just want to cry!
I've tried everything. Seriously, name it, I've tried it. I used to laugh at those Mom's that had kids like this because my girls always slept through the night by 3-4 months. This child though, he wants to make sure he's the last because he's killing me! Sleep is a very precious thing to me. Without it I'm a real bear and life is rough. I'm hoping he gets his act together soon!
My in-laws took the kids overnight when we were at the concert and he got up TWICE that night of course. I apologized profusely and felt terrible. But they said they enjoyed the extra cuddles. I took that with a grain of salt, but I guess when it's only one night it's manageable. When it's every night you start to loose it!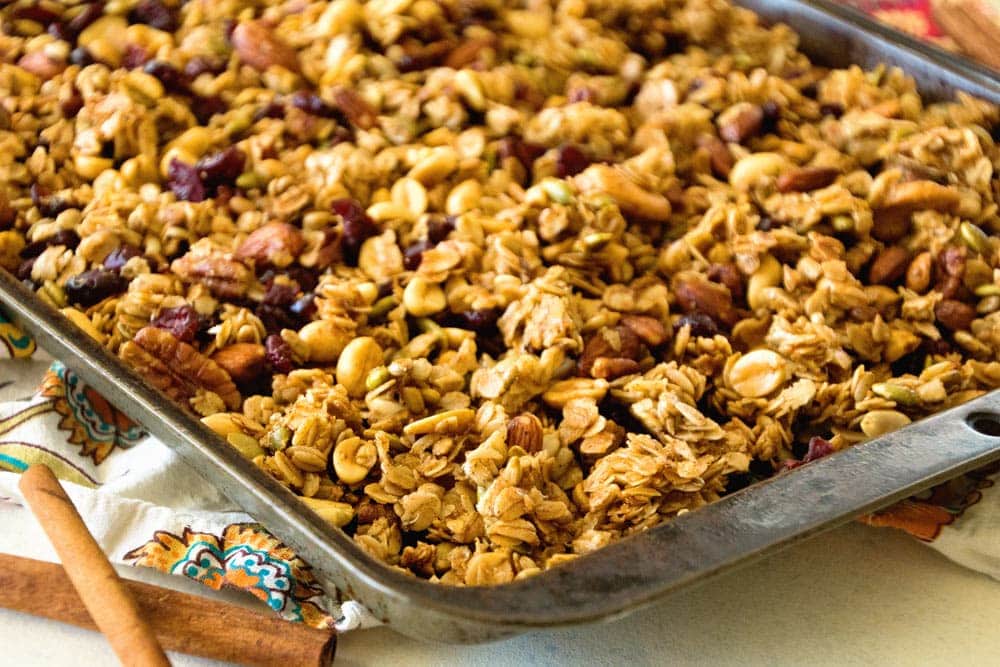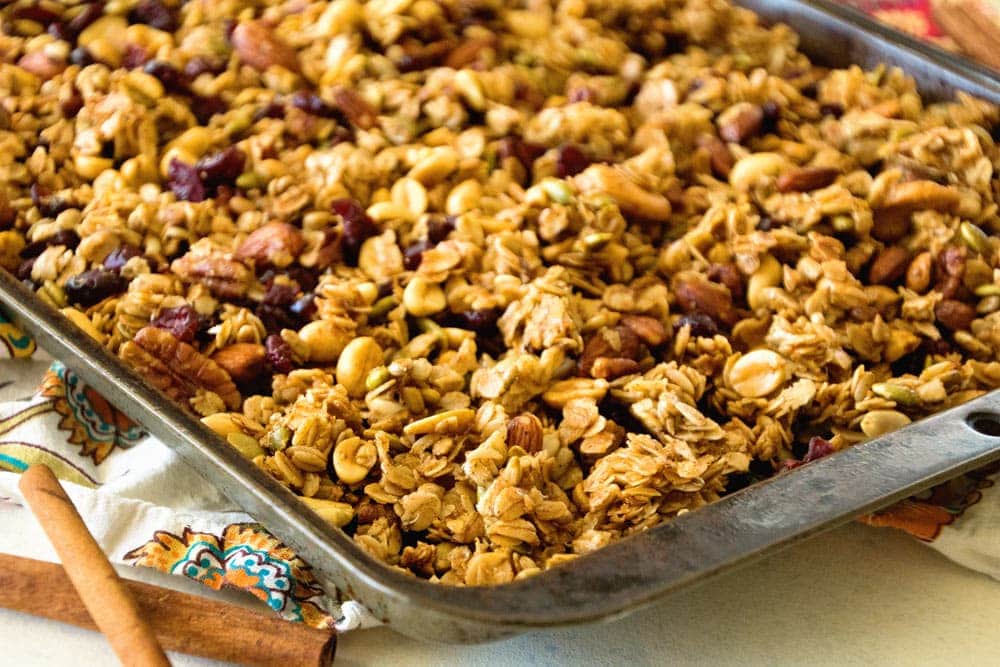 If you have the opportunity to go to a Garth Brooks concert you MUST GO. It's not even an option! I can see why people will buy multiple tickets to see him because he's amazing. You know every song he sings, which always makes it more fun, plus he sounds awesome!
There's nothing more disappointing than when you go to a concert and the artist sounds pathetic live. It's such a let down. Or they play all their new songs and you don't know most of them. It's always more fun to sing and dance to songs you know!
If you need me this week you'll find me eating some yogurt topped with this amazing homemade granola! And yes, I know it has Pumpkin Spice Granola so you think it's a fall granola but it's so delicious I'll be making this all year long!
If you are looking for more pumpkin deliciousness make sure to try these pumpkin pancakes for breakfast!
Things I love about Pumpkin Spice Granola!
EASY!
Crunchy which is a must in granola!
Perfect amount of Pumpkin Spice!
Loaded with delicious nuts, pepitas, dried cranberries and sunflower seeds!
Did I say EASY?!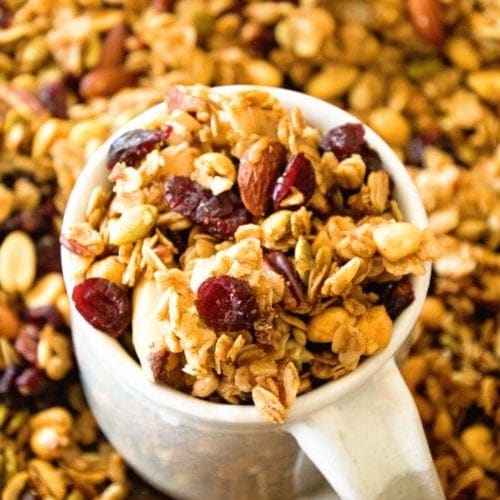 Homemade Pumpkin Spice Granola
Homemade Pumpkin Spice Granola ~ Perfectly Crunchy, Easy Homemade Granola Recipe with the Perfect Amount of Pumpkin Spice, Crunchy Oats, Sunflower Seeds, Pepitas, Sunflower Seeds, Cranberries and Nuts!

Print
Pin
Rate
Ingredients
6

c.

regular oats

1

6 oz bag pepitas

2

24 oz containers mixed nuts

1 1/2

c.

roasted sunflower seeds

1

Tbsp

pumpkin spice

1

c.

vegetable oil

1

c.

honey

1

6 oz bag dried cranberries
Instructions
Preheat oven to 350 degrees.

In a large bowl mix together oats, pepitas, nuts, sunflower seeds and pumpkin spice. Set aside.

In a medium size bowl whisk together vegetable oil and honey.

Pour honey mixture over oat mixture. Stir to combine.

Spread out on two half sheet pans, I recommend lining this with parchment paper or silpats.

Baked at 350 degrees for 30 minutes, stirring every ten minutes.

Remove from oven, cool completely, break up granola and stir in cranberries.

Store in air tight container.
Nutrition
Calories:
657
kcal
|
Carbohydrates:
65
g
|
Protein:
17
g
|
Fat:
39
g
|
Saturated Fat:
11
g
|
Sodium:
27
mg
|
Potassium:
544
mg
|
Fiber:
10
g
|
Sugar:
13
g
|
Vitamin A:
0.2
%
|
Vitamin C:
0.7
%
|
Calcium:
6.9
%
|
Iron:
28
%
LEAVE A COMMENT
More Delicious Granola Recipes!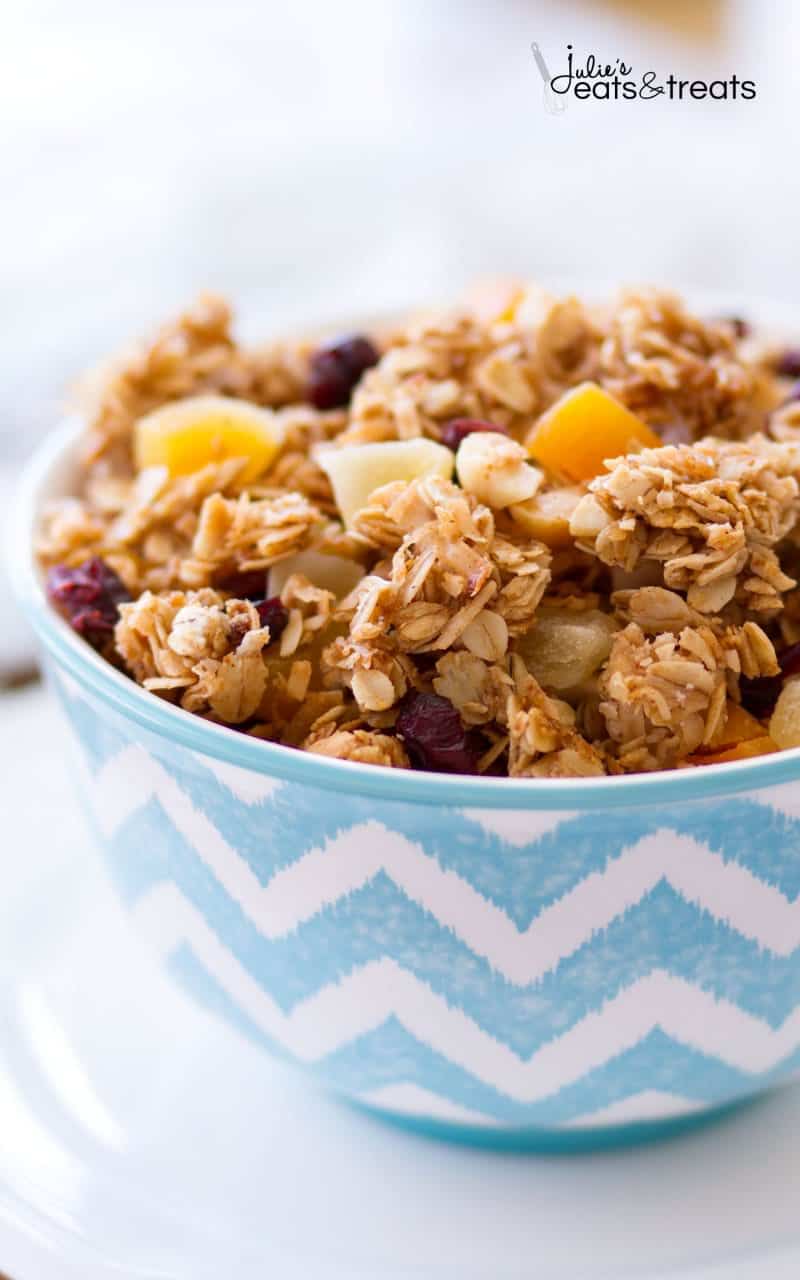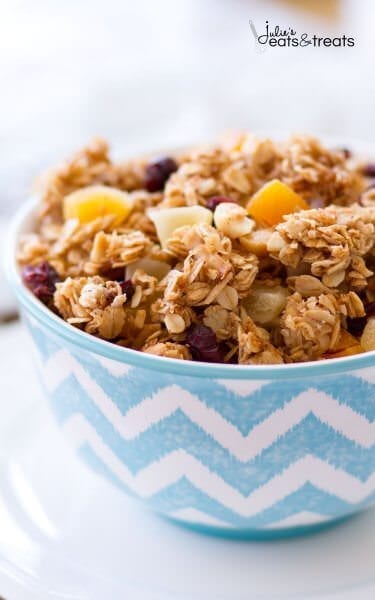 Homemade Tropical Coconut Granola