Leftover Pulled Pork Recipes!
Take your leftover pulled pork and make one of these easy recipes with it! Your family will love the variety of leftover pulled pork recipes we've rounded up for you.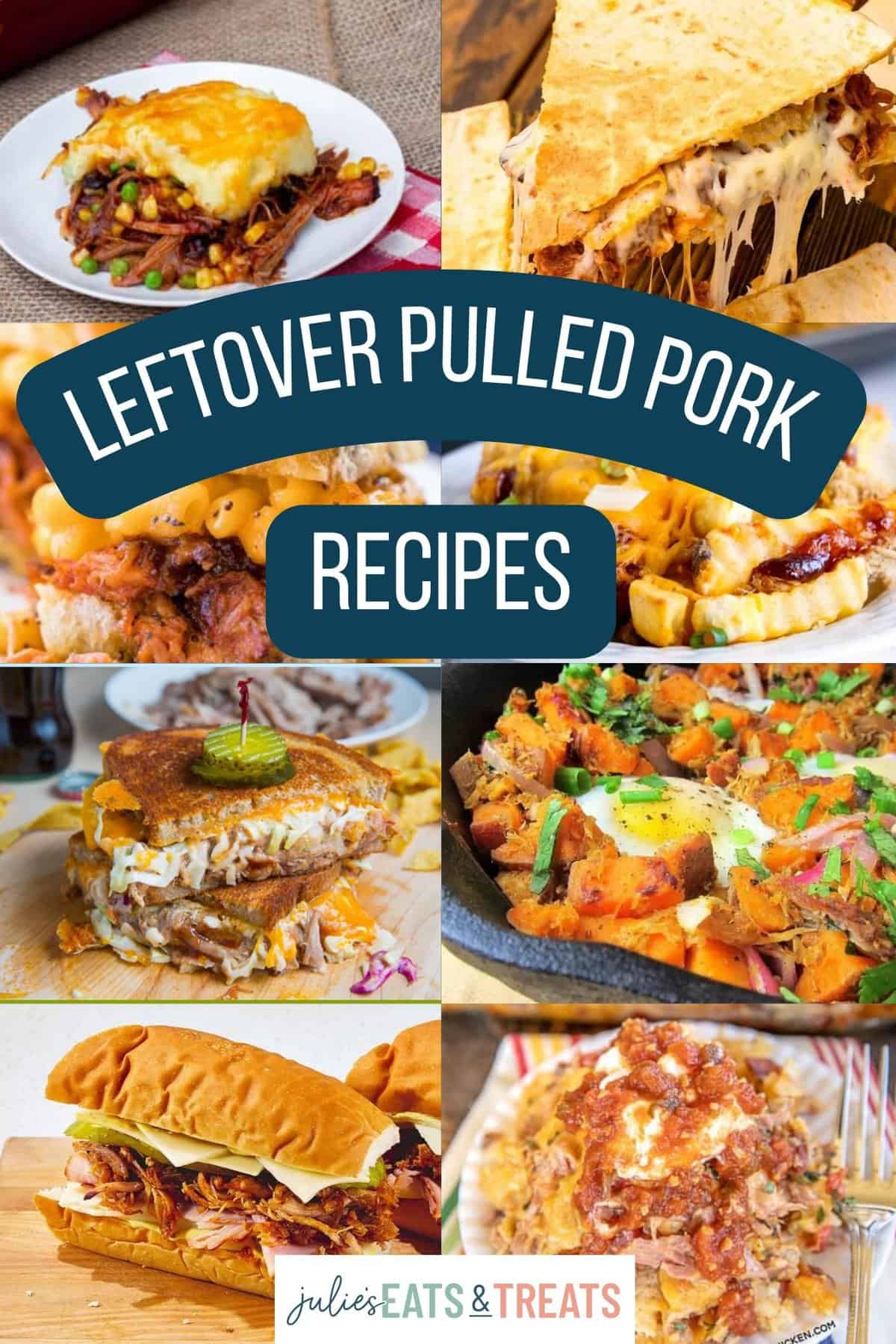 Ever found yourself with a surplus of that delicious pulled pork you made for dinner last night? Don't let it go to water; we've got your back! Let's dive into these delicious leftover pulled pork recipes and make the most out of that juicy and tender pork you already have made.
Using leftover pulled pork will save you some time in many different recipes. From quesadillas to a gooey grilled cheese, there are so many ways to use pulled pork. If you need an easy weeknight dinner and don't know where to start, then check out this round-up of all the most incredible pulled pork leftover recipes!
Choose your favorite and then let's get to cookin'!
Stacked with savory pulled pork, oozing with cheese, and grilled to perfection – our Pulled Pork Quesadilla is the ultimate flavor fiesta! 🌮🔥 Taco Tuesday may be overtaken by quesadillas!
Indulge in the rich, smoky goodness of our Pulled Pork Enchiladas! This super simple recipe is like comfort food in a 9×13 dish. Pack full of flavor and irresistibly delicious.
Dive into a mountain of flavor with our Pulled Pork Nachos! Loaded with cheesy goodness and smoky pulled pork, it's nacho average snack. 🧀🐖 One of my favorite leftover pulled pork recipes.
Use that leftover pulled pork to make these insane pulled pork fries. Loaded with tender pork and topped with flavor-packed toppings, it's fry-day every day. 🍟
Warm up with a bowl of our hearty Pulled Pork Chili! This cozy soup with smoky flavors and a hint of spice is comfort food at its finest. 🍲🔥 Add to your list of pulled pork leftover recipes that are perfect for winter!
Get fired up with our BBQ Pulled Pork Pizza! A mouthwatering blend of smoky pulled pork, tangy BBQ sauce, and cheesy perfection. 🍕🔥 Sorry pizza guy, you won't need to deliver pizza to our house after trying this incredible dish!
Roll into flavor town with our Pulled Pork Taquitos! Crispy on the outside, tender pulled pork on the inside. This is one of the best leftover pulled pork recipes and it's so simple to make.
Layers of succulent roasted pork, ham, Swiss cheese, pickles, and mustard, all pressed to perfection. This incredible sandwich is just as good as anything you could grab at your local deli and sandwich shop.
Melty, smoky, and oh-so-satisfying – our BBQ Pulled Pork Grilled Cheese is a flavor fusion like no other! Who knew that grilled cheese could be on the list for leftover pulled pork recipes? #GrilledCheeseGoals
Comfort food meets BBQ bliss in our Pulled Pork Shepherd's Pie! This twist on a classic dish is a pulled pork leftovers recipe that you didn't know you needed.
Take a flavorful journey with our Pulled Pork Egg Rolls! This Asian inspired dish is way better than the take-out you ordered last week.
Start your day with a twist of flavor with our Sweet Potato Pulled Pork Hash! Savory pork mixed with sweet and soft potatoes is absolutely delicious. A fabulous fall meal!
Get ready for a cheesy, smoky sensation with our Barbecue Pulled Pork Mac and Cheese! This hearty dish is something the entire family will enjoy.
Let your slow cooker do the work while you enjoy the delicious results! Slow cooker pulled pork tacos are a game changer for your Taco Tuesday menu.
Dig into the ultimate comfort food with our Pulled Pork Cornbread Casserole! Layers of savory pulled pork and golden cornbread, baked to perfection. A hearty casserole that anyone would love to dig into.
Layers of smoky pulled pork, creamy sauce, and tortilla chips – a Texan delight in every bite. If you love King Ranch chicken, you'll love this leftover pulled pork recipe.
Mini sandwiches loaded with creamy mac and cheese and tender pulled pork – a bite-sized burst of flavor. I mean, who in the world would turn this down?!
Indulge in the best of both worlds with this Creamy BBQ Pulled Pork Pasta! Rich, smoky pulled pork meets velvety pasta in a bowl of pure comfort. A revolutionary recipe for pasta night.