Southwestern Pork Tenderloin
Southwestern Pork Tenderloin ~ Quick and easy pork tenderloin with a kick and only 3 ingredients!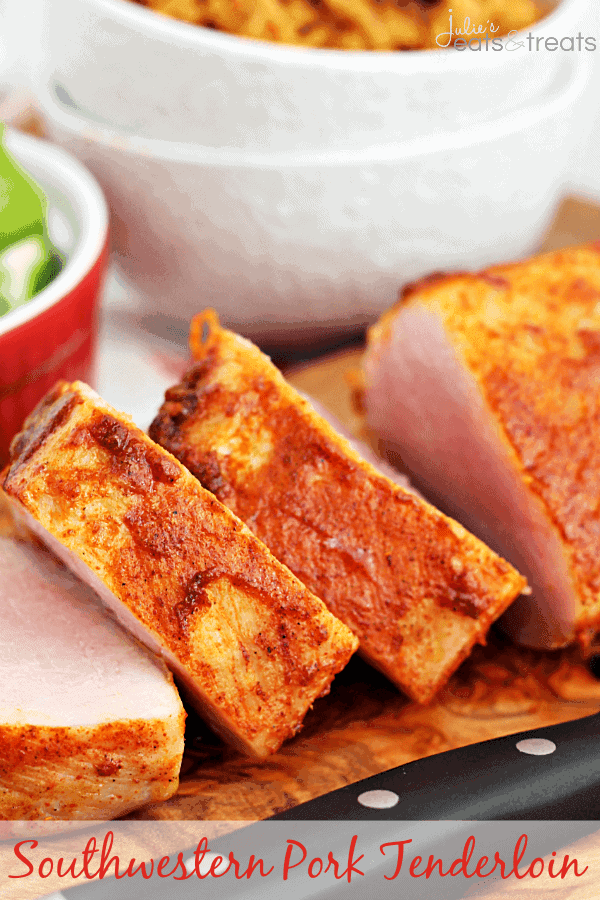 At the beginning of the year the hubs made a big transition with a new job. Gone are the days of co-owning his own carpentry business with his brother and here are the days of working for someone else. The only thing he has ever done is carpentry so he was rather nervous to make the jump but he did it anyways.
Not like he had much of choice. All fall he was in therapy for his knees and had to have them drained due to problems. After a few months of this we decided it was time for a change. I did not want to be pushing him around in a wheel chair at the age of 40. I would have because I love him, but I also am going to try to prevent that!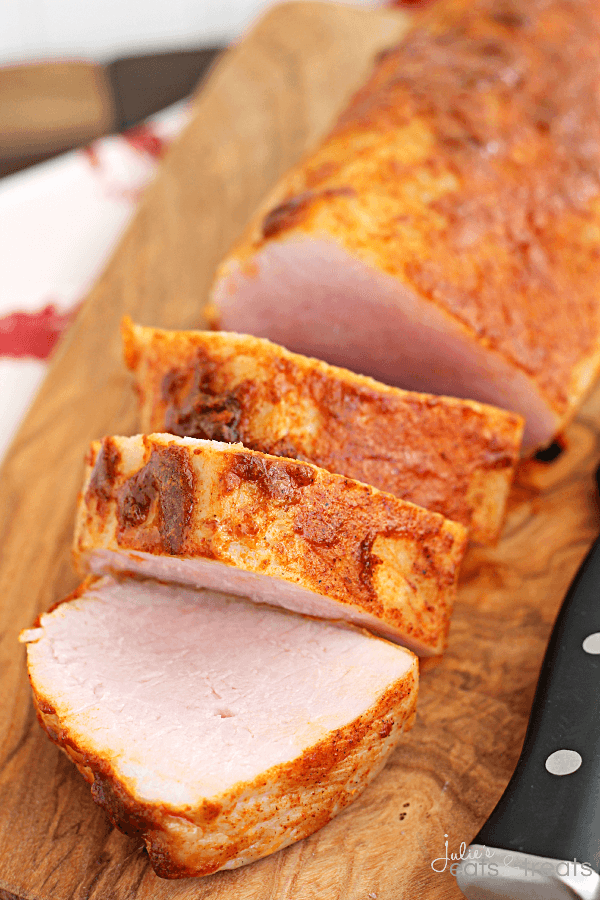 Along with this new job comes new hours. Set hours. Wow what a change. I miss the flexibility of him being able to have some days off here and there due to weather and different things, but man do I enjoy him being done at 4 pm now! He picks up Miss K at night if he can or if I need him to, he comes home and starts supper if I give him specific instructions on what to do and I'm getting spoiled! It's so nice to have someone around to distract Miss K at least although she ends up planting herself in the kitchen on the cupboard to "help" me most nights!
I'm definitely enjoying his help around the house at night. This leads me to ask how do you split up the duties between you and your spouse? I'm usually in charge of everything in the house that doesn't deal with constructing or destructing or fixing and the hubs takes care of those things plus the manly duties like moving snow, mowing, garbage and the dog!
If you are in charge of supper I have an easy recipe for you today! This pork loin has a little kick to it from the taco seasoning and I loved it. Plus it's only 3 ingredients and super easy for those week nights when you really don't feel like slaving away in the kitchen or the weekends for that matter!
More of my favorite Pork Recipes!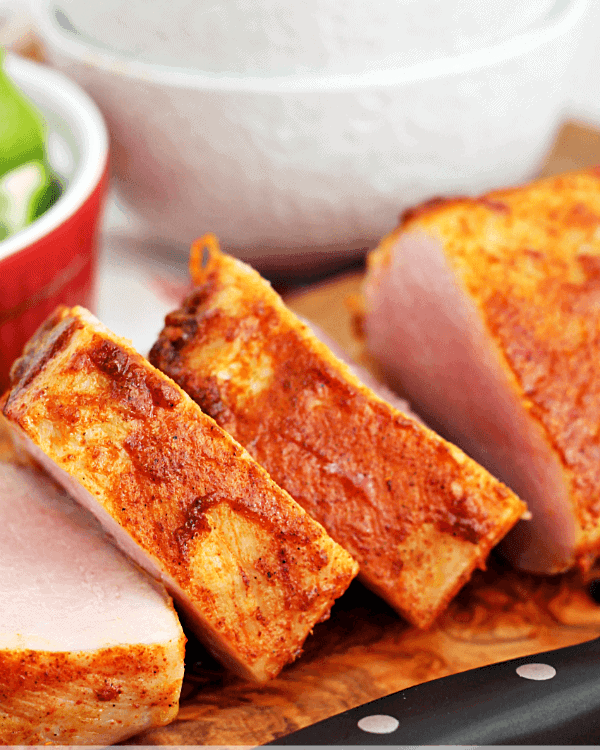 Southwest Pork Tenderloin
Southwestern Pork Tenderloin ~ Quick and easy pork tenderloin with a kick and only 3 ingredients!

Ingredients
2

1 lb Pork Tenderloins

2

Tbsp

canola oil

1

1.0 oz envelope taco seasoning mix
Instructions
Preheat oven to 400 degrees.

Place canola oil in a small bowl. Place taco seasoning in different bowl. Rub tenderloins with oil and then sprinkle with taco seasoning. Place on a baking rack in a shallow pan.

Bake 45 minutes or until thermometer reads 145 degrees. Remove tenderloin from oven and tent with foil. Let stand for 10 minutes before cutting.
Nutrition Information
Serving:
1
,
Calories:
575
kcal
(29%)
,
Protein:
93
g
(186%)
,
Fat:
19
g
(29%)
,
Saturated Fat:
5
g
(31%)
,
Cholesterol:
294
mg
(98%)
,
Sodium:
245
mg
(11%)
,
Potassium:
1782
mg
(51%)
,
Vitamin A:
20
IU
,
Calcium:
27
mg
(3%)
,
Iron:
4.4
mg
(24%)
Recipe from: Taste of Home