Salted Caramel Hot Chocolate Bombs
Pour hot milk over these Salted Caramel Hot Cocoa Bombs, let them melt and they magically release marshmallows, hot cocoa and that delicious caramel flavor. The perfect way to mix up your hot cocoa flavors.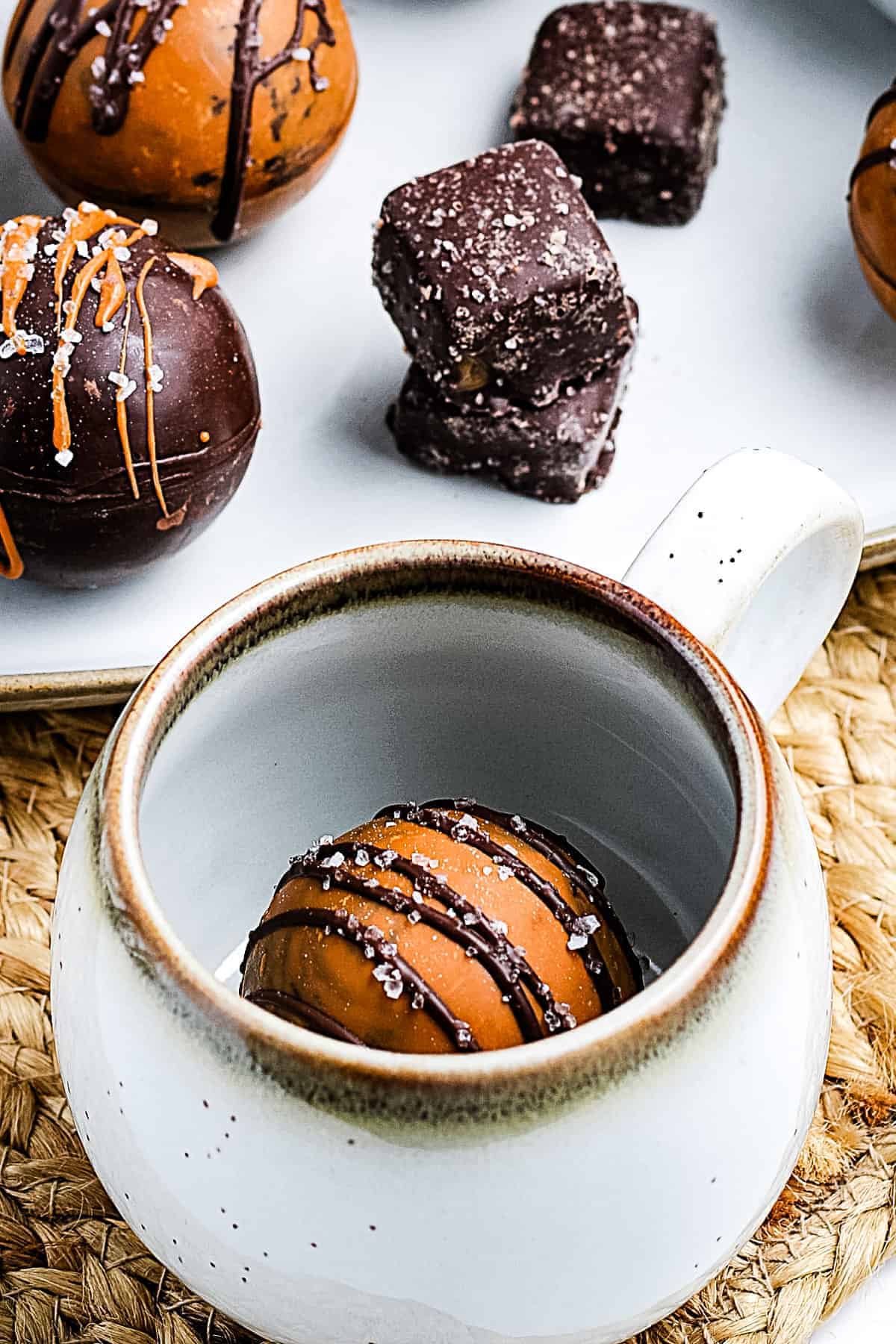 Salted caramel hot cocoa bombs are a fun way to make a mug of hot chocolate! I've been having so much fun coming up with new hot cocoa bomb creations, and this recipe is my new favorite. Salted caramel and hot chocolate are the best flavor match ever.
You Will Love this Salted Caramel Hot Chocolate
Hot cocoa mix is encased in a chocolate sphere with caramel candy melts and mini marshmallows. Pour hot milk over the top, and the chocolate sphere melts and releases all the mix and goodies inside!
You can use store-bought hot chocolate mix or try my easy cocoa mix recipe.
This is a great gift idea, or you can keep them all to yourself. They keep well in a cool, dry place for several days.
Maybe you saw my heart-shaped hot chocolate bombs? These are made the same way with a different mold and different ingredients for a salted hot chocolate you will love.
This is such a fun recipe and will totally impress your friends and family!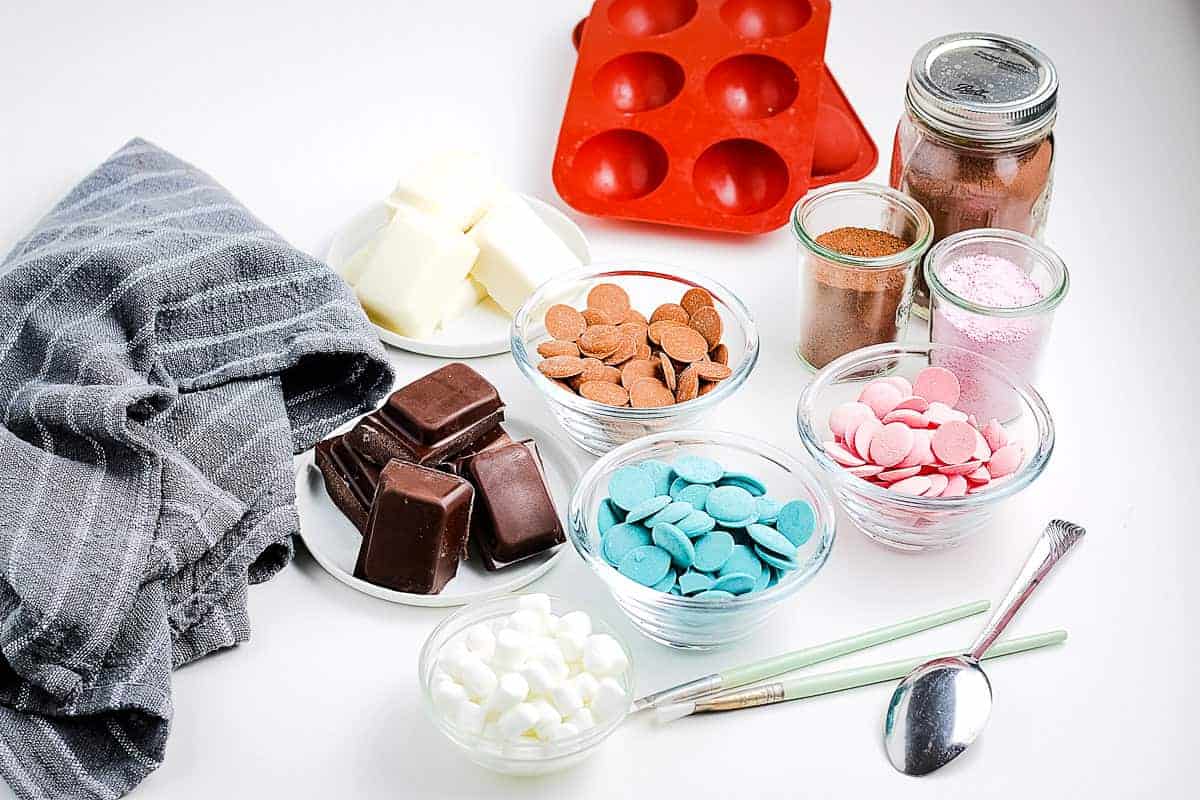 Ingredients
Mini marshmallows
Coarse sea salt
How to Make Chocolate Caramel Spheres
First layer: Melt caramel candy melts following the package instructions. Place the molds on the baking sheet and brush the inside of each with two to three tablespoons of the melted candy. Freeze for five minutes or until the caramel has hardened.
Second layer: Melt the almond bark following the package instructions. Remove the molds from the freezer and brush the melted chocolate over the caramel layer. Freeze the molds again for five minutes. Carefully remove each one from the molds.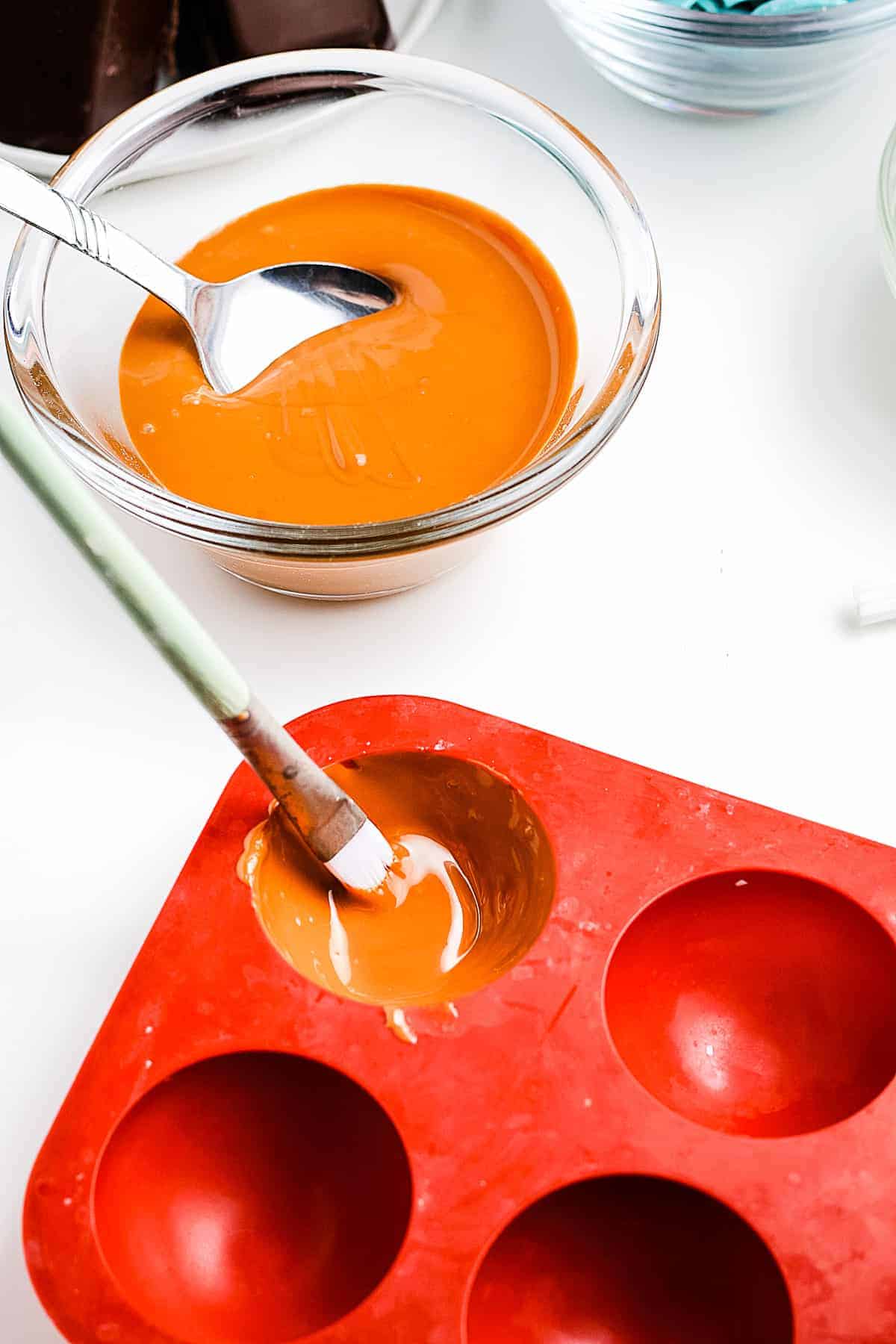 Fill and Seal: Microwave a heat-proof plate for one minute. Take one of the half spheres and place it on the plate to warm the edge. Fill it with hot cocoa mix, marshmallows, and salted candy melts. Adhere it to another half sphere, place it on the warm plate to soften the edges, and then gently hold the two halves together to seal.
Set the filled sphere aside so the edges can harden and fully seal. Repeat this process with the rest of the spheres – you will have six hot cocoa bombs when you are done.
Decoration
Use the leftover melted almond bark and caramel as decoration. Place each in a ziplock bag and snip the corner off. Drizzle both over the top of the cocoa bombs and then set them aside until the topping is set.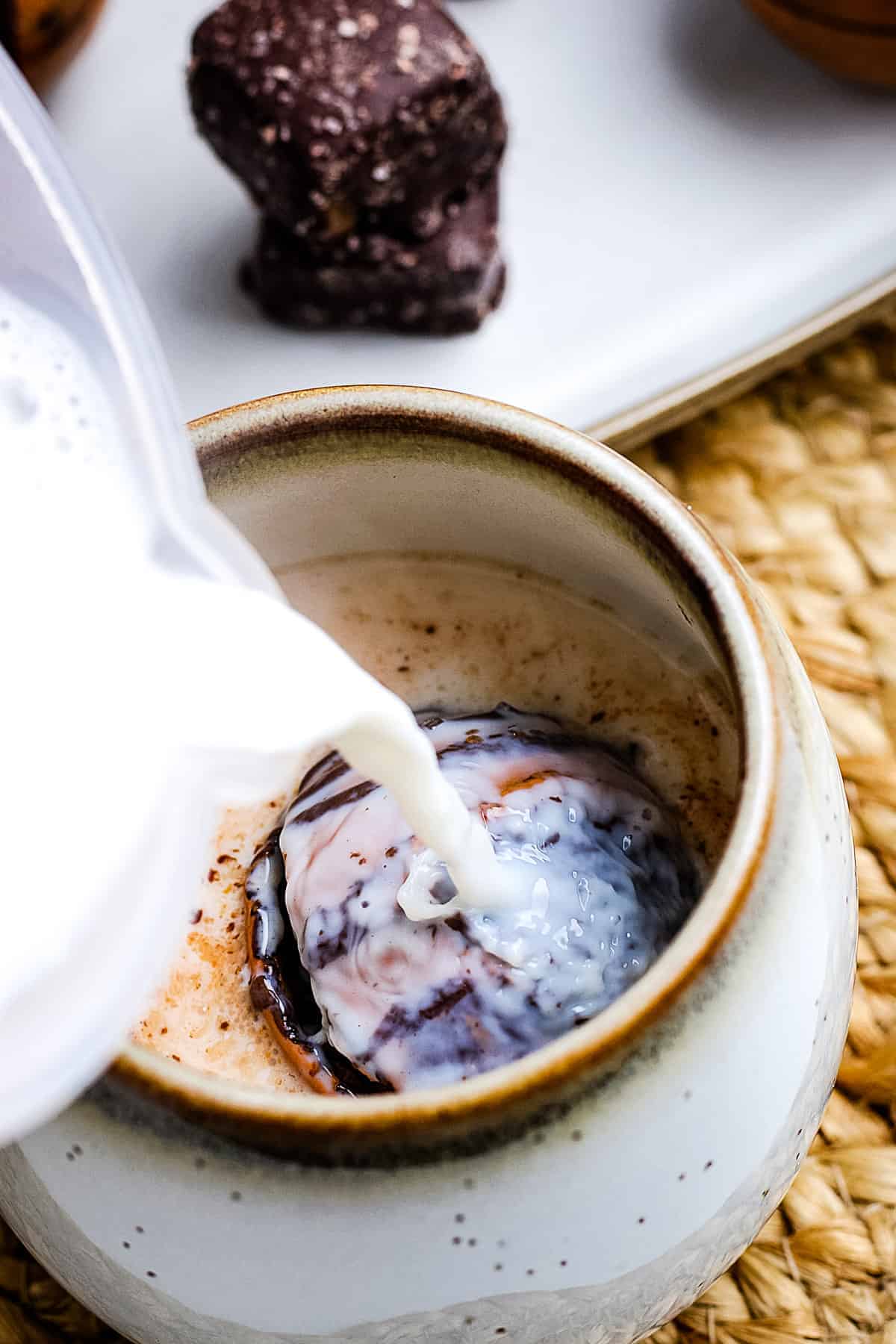 How to Serve It!
To make one mug of cocoa, first warm one cup of milk. Place the hot chocolate bomb in a mug and pour the warm milk over the top.
Once the chocolate starts to melt, stir well and enjoy! For an extra touch, add more mini marshmallows and a drizzle of caramel sauce.
Pro Tips
Storage: Keep them in an airtight container at room temperature. Since these are made with cocoa mix they will keep well for up to two weeks! You can also keep them in the fridge and they'll last a little longer.
For gifts: If you want to give them away, package them in a clear bag tied with ribbons. Add a tag with the instructions for making the hot cocoa.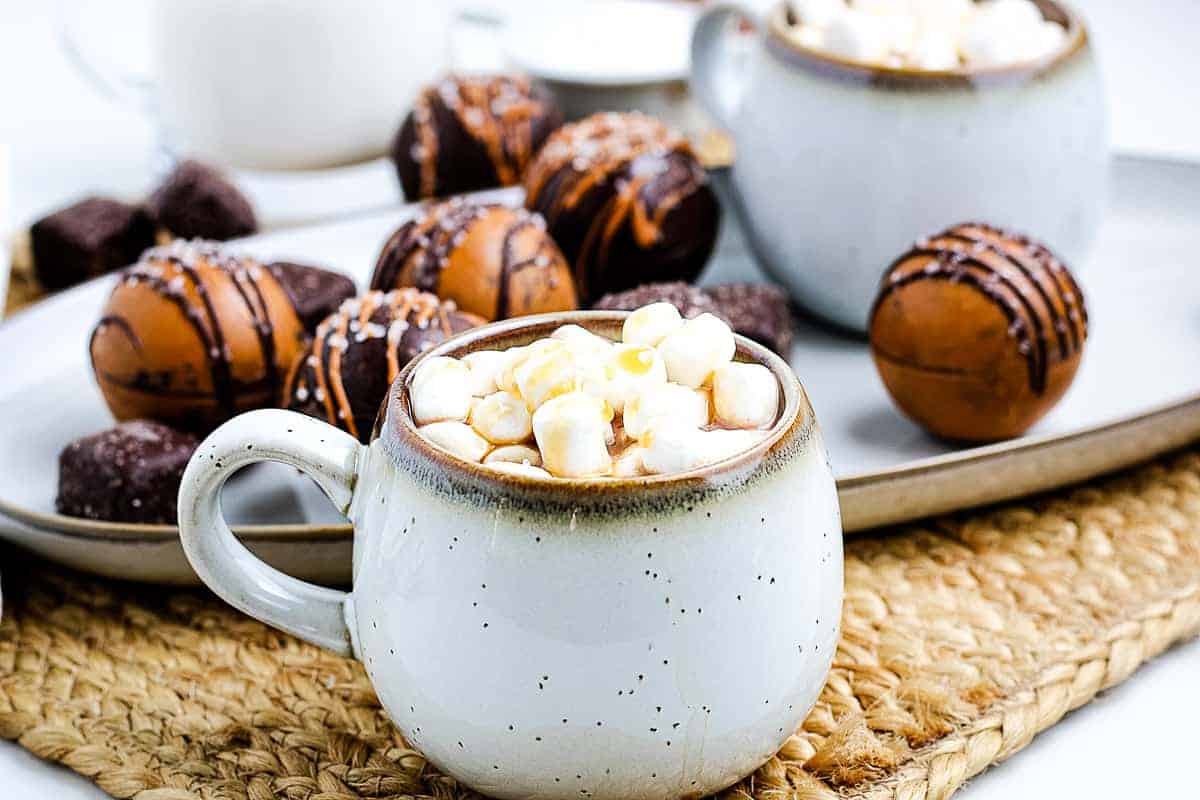 If you haven't tried hot cocoa bombs yet, you have to give this recipe a try. Everyone loves them! Once you try them, you won't want to go back to a plain mug of cocoa again. I know you're going to love it.
More Warm and Cozy Drink Recipes!
Love this recipe? I knew you would! Be sure and leave a five-star rating below!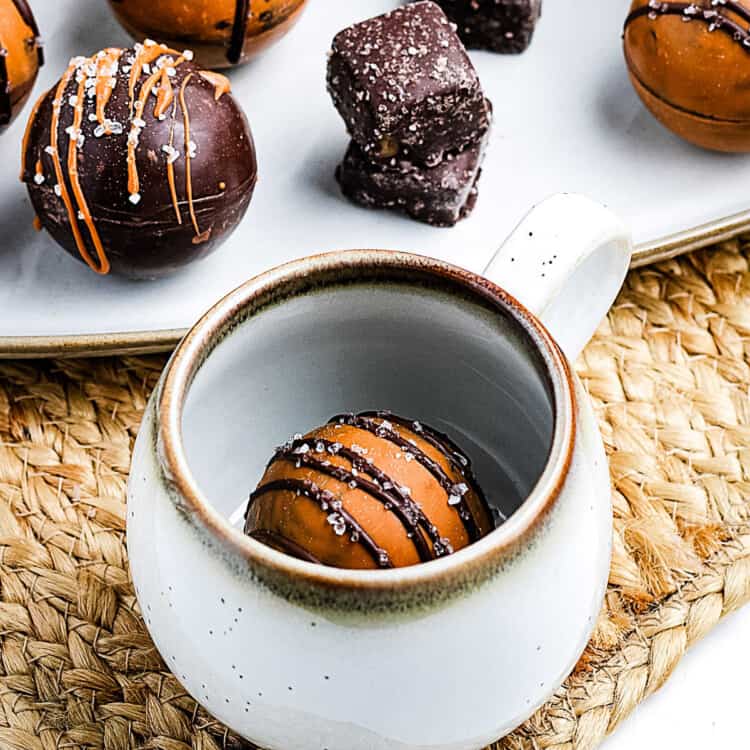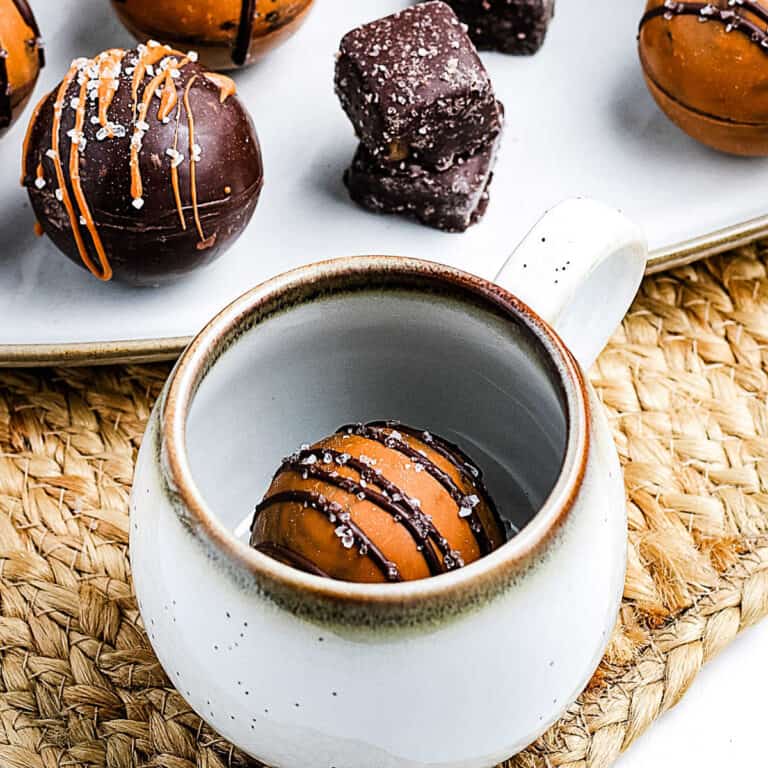 Salted Caramel Hot Cocoa Bombs
Hot cocoa bomb made with caramel and chocolate then filled with marshmallows and marshmallows.
Ingredients
10

oz

chocolate almond bark

or Ghirardelli Milk Melting Wafers

10

oz

salted caramel candy melts

1 ½

c.

mini marshmallows

1

c.

hot chocolate mix
Toppings
coarse sea salt

salted caramel candy melts
Serving
6

c.

warm milk

mini marshmallows

caramel sauce
Instructions
Melt salted caramel candy melt according to package directions.

Place the silicone molds (this recipe make 6 hot cocoa bombs so use two molds with 6 spheres each) on a baking sheet. Add 2-3 Tbsp of melted caramel into each cavity. Using a spoon, pastry brush or paint brush, spread the caramel evenly over the entire cavity.

Place the filled molds in the freezer until it has hardened completely, about 5 minutes.

Melt chocolate almond bark or chocolate wafers according to package directions.

Remove the molds from the freezer and add a layer of chocolate to each mold to reinforce the edges. Place molds back in the freezer for five minutes.

When the five minutes are up or the chocolate is completely frozen remove them from the freezer and carefully remove the hardened caramel and chocolate from each mold.

Microwave a dinner plate for 1 minute to warm it up. Place the rim of an unfilled shell on the warm plate for a few seconds or until the edges start to soften. This will help the rim become even incase there are any imperfections.

Fill that shell with 2 Tbsp of hot chocolate powder and 1/4 c. mini marshmallows.

Take another half sphere and melt the edge on the warm plate. Then promptly place it on top of the filled sphere. Gently hold the two spheres together to seal. Place the sealed bomb aside carefully to let harden.

Repeat with remaining half spheres.
Topping
Drizzle hot cocoa bombs with any leftover chocolate or caramel candy melts. It works best to put it in a ziploc bag and cut a corner off so you can drizzle them.

Immediately sprinkle with coarse sea salt.
To Serve:
Add a hot chocolate bomb to mug and pour 1 c. of warmed milk over the top of it. Stir until the chocolate has melted and everything is combined.

You can add more marshmallows or drizzle the top with caramel sauce if desired.
Storage
To store hot cocoa bombs place them in a cool, dry place in an air tight container.
Nutrition Information
Calories:
834
kcal
(42%)
,
Carbohydrates:
130
g
(43%)
,
Protein:
12
g
(24%)
,
Fat:
36
g
(55%)
,
Saturated Fat:
23
g
(144%)
,
Trans Fat:
1
g
,
Cholesterol:
24
mg
(8%)
,
Sodium:
513
mg
(22%)
,
Potassium:
452
mg
(13%)
,
Fiber:
4
g
(17%)
,
Sugar:
107
g
(119%)
,
Vitamin A:
388
IU
(8%)
,
Calcium:
320
mg
(32%)
,
Iron:
2
mg
(11%)