Chocolate Lava Cake is a dessert that is hard not to fall in love with! It has a molten chocolate center and is ready in less than 30 minutes. Make this decadent chocolate dessert in your own home and impress everyone! Who can say no to the oozing chocolate center?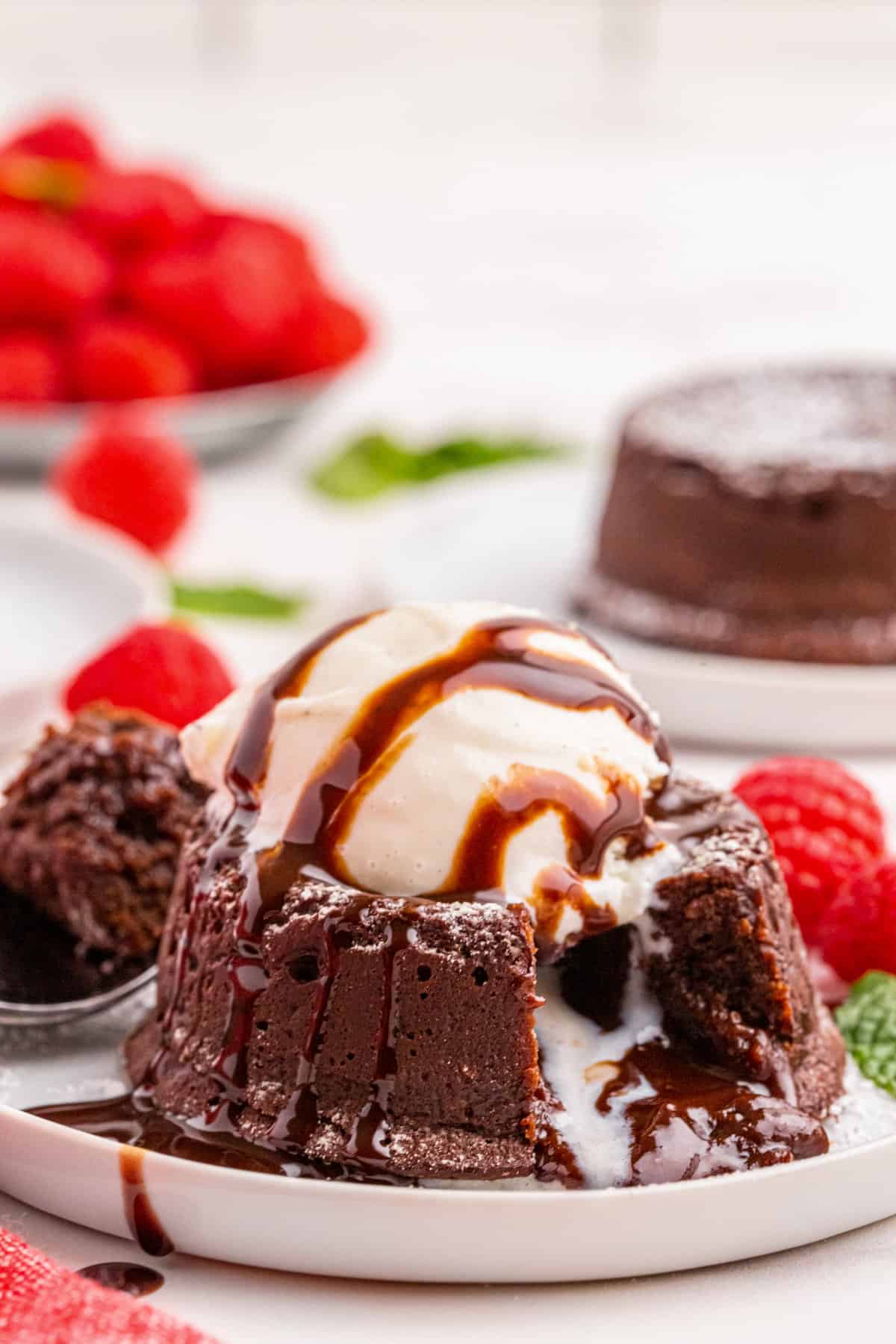 Chocolate Lava Cake seems like a super difficult, unattainable, "only at a fancy restaurant" dessert, right? Wrong! Molten lava cake is deceptively easy and oh so yummy!
This easy chocolate lava cake takes very few ingredients and won't take much of your time. I love making these for birthdays, dinner parties, or even just as a special treat after a family dinner one night. This simple recipe will make you seem like a master chef in the kitchen…and who's to say you aren't!
Why You'll Love Chocolate Lava Cake
Though this dessert seems like it would be quite difficult to make, it is a very easy recipe to follow!
Since molten lava cakes are made in individual ramekins, they make a great single serving dessert for parties or large families.
What's more fun than a mini cake that has a gooey surprise in the middle? Your kids will love the lava like center of this cake!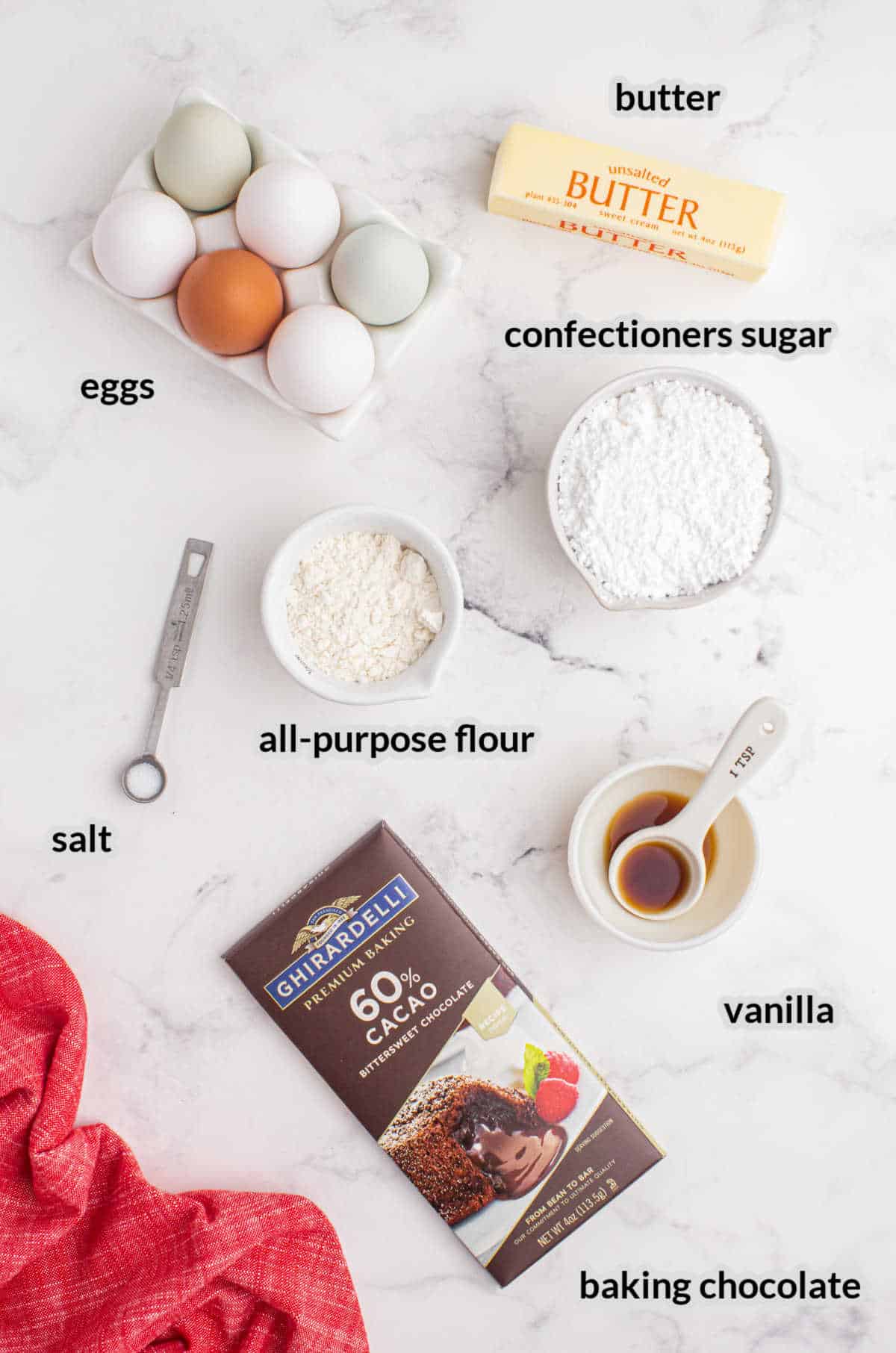 Ingredients for Chocolate Molten Lava Cake
Eggs – You'll be using both egg yolks and full eggs in this recipe, so be sure to get medium/large eggs.
Butter – I prefer to use unsalted butter for this recipe, but salted butter will work just fine!
Vanilla – Vanilla gives some depth of flavor to this easy chocolate lava cake.
All Purpose Flour – Unlike your usual cake recipes, you won't need much flour for chocolate lava cake. This recipe requires just enough flour to hold things together.
Baking Chocolate – I used 60% cacoa baking chocolate in my lava cakes, but you can use dark chocolate as well!
Salt – A pinch of salt helps to enhance the flavor of chocolate.
Confectioners Sugar – Save some to dust each finished molten lava cake with powdered sugar for a pretty presentation and an extra touch of sweetness!
How to Make Chocolate Lava Cake
Take 4 to 6 ramekins and spray the inside of each with cooking spray, then lightly dust with cocoa powder. This will help your chocolate molten lava cake to keep from sticking.
Break up your baking chocolate and place it into a large mixing bowl. Then, cut your butter into cubes and place that in the same mixing bowl.
Pop that mixing bowl in the microwave and melt the butter and chocolate, stopping in 30 second increments to stir well.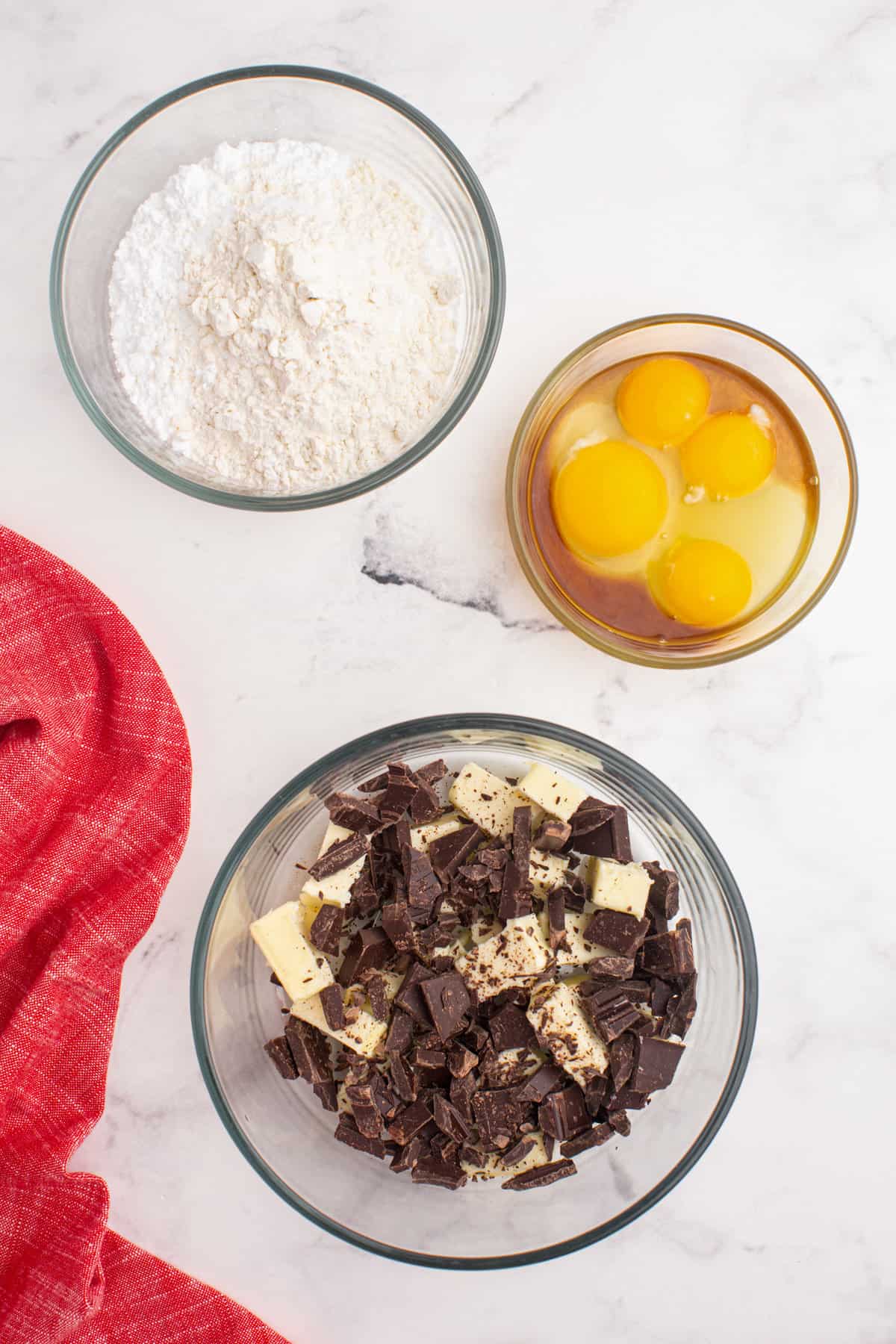 In a small bowl, whisk together the flour, confectioners sugar, and salt.
In another separate bowl, mix together the eggs and egg yolks, along with the vanilla.
Slowly mix the flour mixture into melted chocolate and then add in the eggs. Whisk everything together until it is fully incorporated and there are no chunks.
Pour the mixture into the previously prepared ramekins and bake on a clean baking sheet.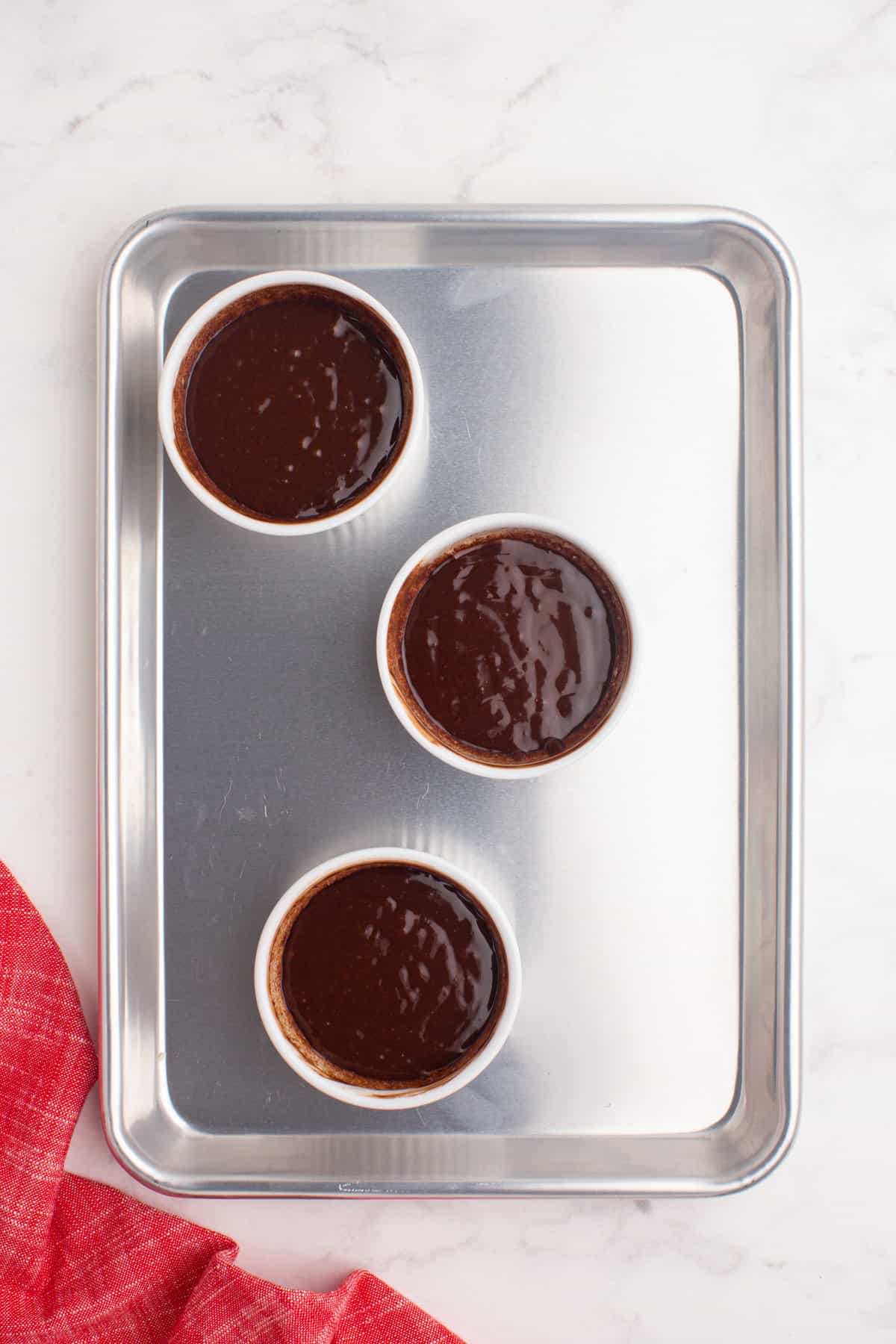 Serving Your Chocolate Lava Cake
Allow your molten lava cake to cool for about one minute, but these are best served while very warm! Be sure to dust the tops with more powdered sugar.
Serve your chocolate lava cake with a scoop of vanilla ice cream on top, drizzled with homemade caramel sauce or chocolate sauce. Or, serve with a a dollop of homemade whipped cream.
How Do You store Chocolate Lava Cake?
FRIDGE: Once your chocolate lava cakes have fully cooled, you can either individually wrap them in plastic wrap or stick them in an airtight container. They'll last 3 to 5 days in the fridge.
FREEZER: Store fully cooled molten lava cake in the freezer in an airtight container for up to 3 months.
REHEAT: Microwave each cake until warmed through. You can heat them from frozen as well, no need to thaw!
What's the difference between chocolate lava cake and soufflé?
Soufflé is characterized by it's very light and fluffy texture. Lava cake has the warm, runny, center which soufflé does not have.
What do I do if I don't have ramekins?
I highly recommend you buy some ramekins, but if you are not able to find them or don't have time you can use a muffin tin. The bake time in a muffin tin will be significantly shorter, so you will need to watch your chocolate lava cakes very closely as they bake.
Tips for the Best Chocolate Lava Cake
Make sure your eggs are room temperature before mixing them in. They will mix better!
Make homemade vanilla ice cream to serve on top of your gooey, warm, molten lava cake.
Get some fresh fruit like strawberries or raspberries and serve them with your chocolate molten lava cake. They'll give a refreshing sweet burst of fruit among the rich chocolate cake!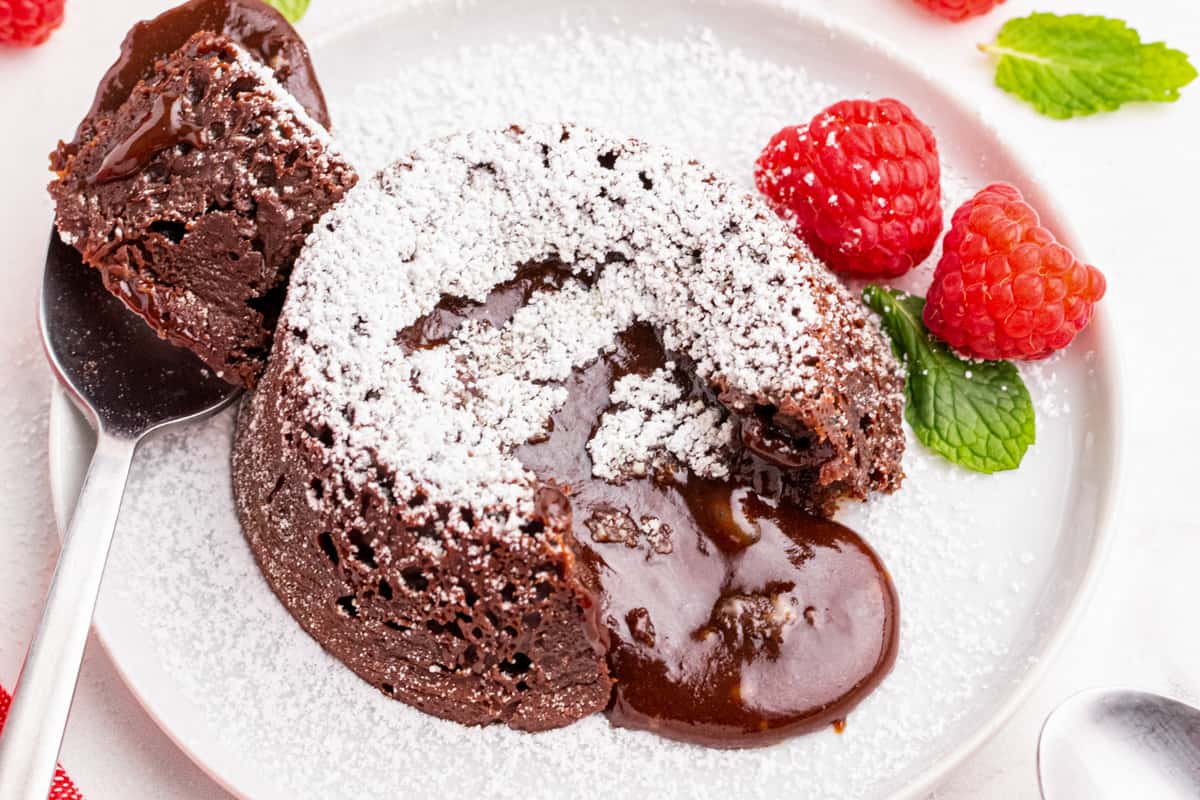 So now that you know how easy these chocolate lava cakes are, be sure not to make them every single evening! Though, if you do…I won't tell!
More Desserts You'll Love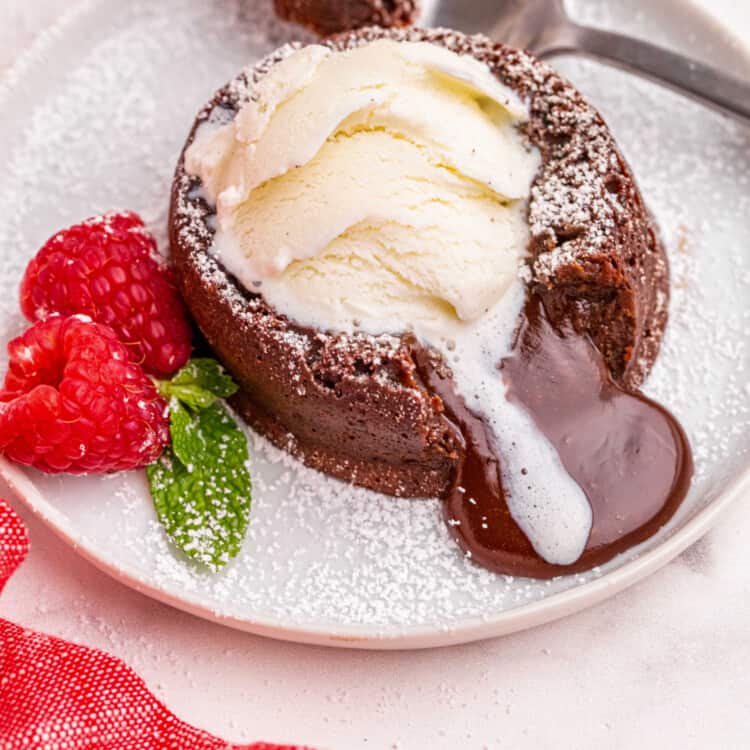 Chocolate Lava Cake
Easy molten lava cake with a decadent molten chocolate center is an delicious chocolate dessert!
Ingredients
4

ounces

Premium Baking Chocolate 60% Cacao

1/2

cup

of unsalted butter

one stick

1

cup

confectioners sugar

¼

cup

all purpose flour

1/8

teaspoon

salt

2

large eggs

2

egg yolks

1

teaspoon

vanilla

Cooking spray

Cocoa Powder

for dusting ramekins
Optional:
Additional confectioners sugar

Vanilla Ice Cream

Chocolate Syrup
Instructions
Preheat oven to 425 degrees Fahrenheit.

Spray the inside of 4 – 6 ounce ramekins and lightly coat with cocoa powder. Turn the ramekin over and beat any excess cocoa powder. Set them aside.

Cut your butter into ½ inch cubes and break up your chocolate. In a large microwavable bowl, place your butter and chocolate inside and microwave it in 30 second intervals. Stir after each interval till it is all melted.

In a small bowl, whisk to combine the flour, confectioners sugar and salt.

In another small bowl, whisk the eggs and vanilla.

Incorporate the flour into the chocolate. Then add your eggs and stir until it is smooth and there are no clumps remaining.

Evenly spoon the mixture into each ramekin up to the line before the rim.

Place filled ramekins on a baking sheet and cook for 8-10 minutes till the sides are firm. The top will still be soft. Do not overbake.

Remove from the oven and cool for 1 minute. Place a plate over the top of the ramekin and quickly flip it over. Top with any desired toppings and serve immediately.
Tips
I prefer the 60% Cacao. It is important that it is high quality, and the dark chocolate gives the rich indulgent flavor you can find in a restaurant. You can use semi-sweet chocolate or milk chocolate but you would have to play with the ratio of confectioners sugar so it is not too sweet.
The extra egg yolks give it the fluffy texture. The confectioners sugar also helps with this, which is why that is the sugar used, instead of granulated.
I melt my chocolate first and then add the flour mixture. I do the eggs last to give the chocolate time to cool so the eggs do not in any way cook.
When preparing your ramekin, you can use the cooking spray, and the coco powder or regular flour, but this is important to ensure that the cake does not stick and it comes out perfectly every time.
Nutrition Information
Calories:
554
kcal
(28%)
,
Carbohydrates:
45
g
(15%)
,
Protein:
9
g
(18%)
,
Fat:
42
g
(65%)
,
Saturated Fat:
25
g
(156%)
,
Polyunsaturated Fat:
2
g
,
Monounsaturated Fat:
12
g
,
Trans Fat:
1
g
,
Cholesterol:
240
mg
(80%)
,
Sodium:
298
mg
(13%)
,
Potassium:
293
mg
(8%)
,
Fiber:
5
g
(21%)
,
Sugar:
30
g
(33%)
,
Vitamin A:
958
IU
(19%)
,
Calcium:
61
mg
(6%)
,
Iron:
6
mg
(33%)