Need a foolproof easy Creme Brulee recipe that's smooth and creamy? This is the recipe you are looking for! Learn how to make this easy dessert recipe perfect for entertaining.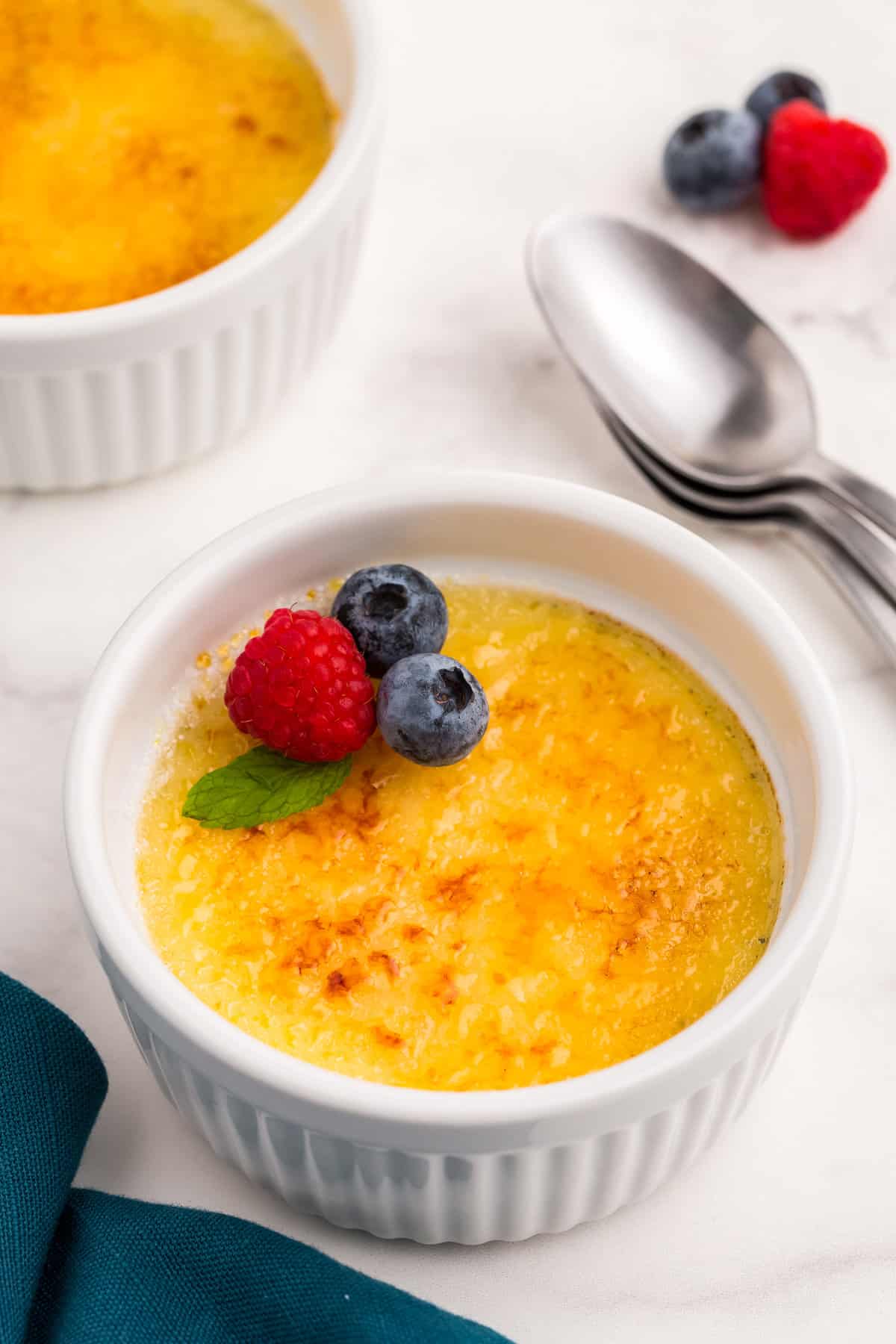 People tend to think that "fancy" desserts like creme brulee are unattainable in their kitchen. However, that's just not the case!
This easy dessert recipe has just about the same number of ingredients and steps that baking a cake has. So, if you can bake a cake, you can make creme brulee!
It would be the perfect dessert after a dinner of Baked Rigatoni or Homemade Lasagna. You can even make it a day or two ahead of time and caramelize a sugar top just before serving!
Go ahead, tackle this dessert recipe! You'll be amazed at how easy it is!
Why You'll Love this Creme Brulee
This recipe is super easy to follow, and will come out so yummy every single time!
It's is the perfect addition to any dinner party, giving your guests a very sophisticated dessert.
Each element in this easy dessert recipe is actually quite simple. In fact, you may have the ingredients in your kitchen already!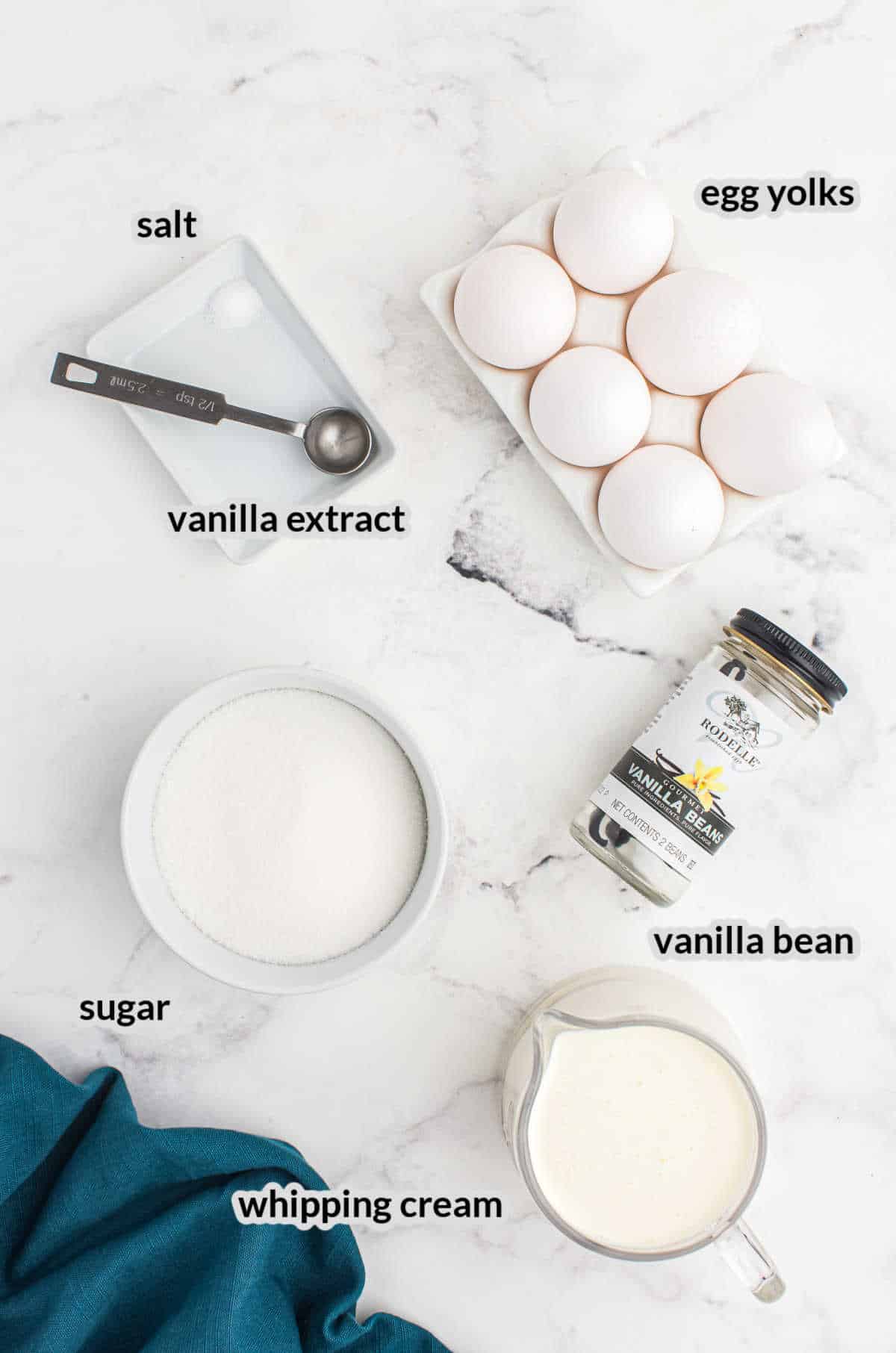 Ingredients for Vanilla Creme Brulee
Heavy Whipping Cream – High quality heavy whipping cream gives it the creamy texture it needs!
Egg Yolks – This ingredient is what helps constitute the smooth custard.
Vanilla Bean – You can't have vanilla creme brulee without fresh vanilla bean! It enhances the flavor so much!
Vanilla Extract – Using a high quality, clear, vanilla extract will help your creme brulee maintain a pure color.
Salt – Every sweet dessert needs just a touch of savory. Don't leave this ingredient out, it really does make a difference!
Sugar – The key to the sweetness of the custard and the crispy, caramelized top!
Can I use Half and Half instead of Heavy Whipping Cream?
You can use half and half, but I would not suggest regular milk. It needs that extra fat to give your custard texture.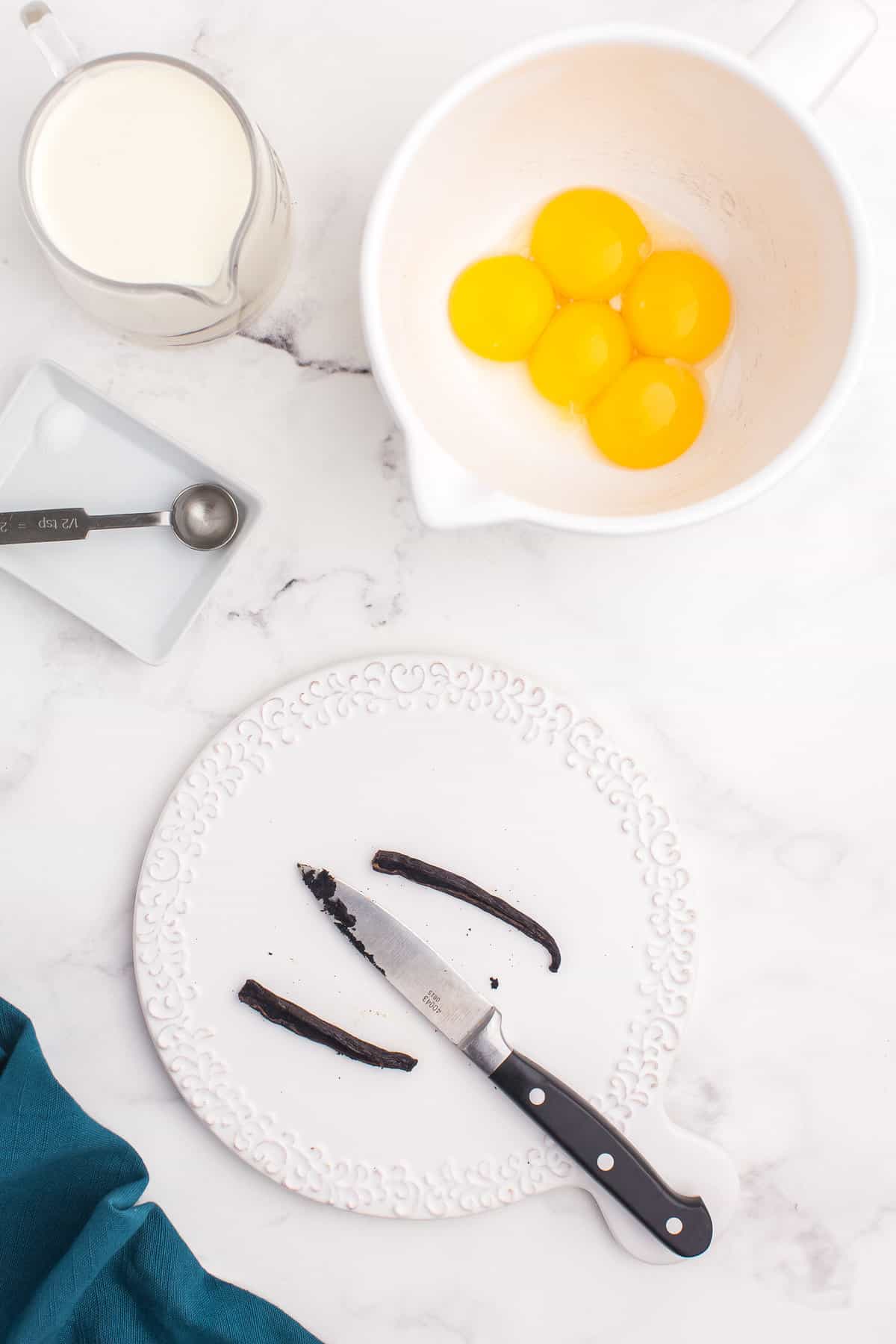 How to make Vanilla Creme Brulee
With a sharp knife, make a cut down the middle of you vanilla bean and scrape out the seeds inside.
Add the vanilla bean, heavy whipping cream, and salt to a saucepan and combine over low heat.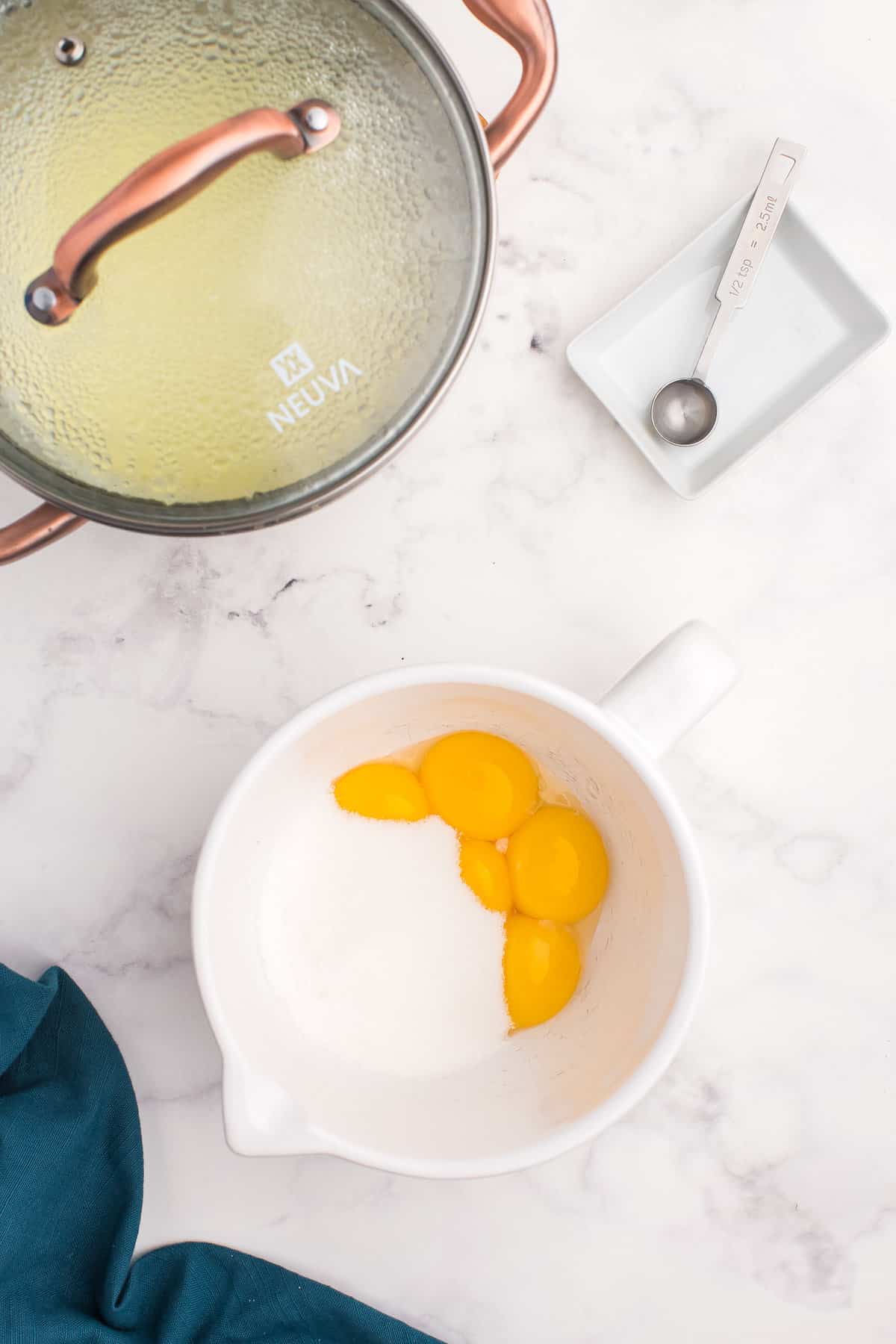 Let the mixture for your custard come to a rolling boil, then remove it from heat and cover the saucepan. Let it sit for 15 minutes with the lid on, then remove the lid and let it sit another 3 minutes.
While your mixture is steeping, separate your egg yolks from the whites and add them to a large mixing bowl. Whisk a 1/2 cup of sugar into the egg whites.
Once your eggs and sugar are mixed, carefully and slowly ladle the cream mixture into the eggs, whisking as you go. Doing small amounts will help keep your eggs from curdling.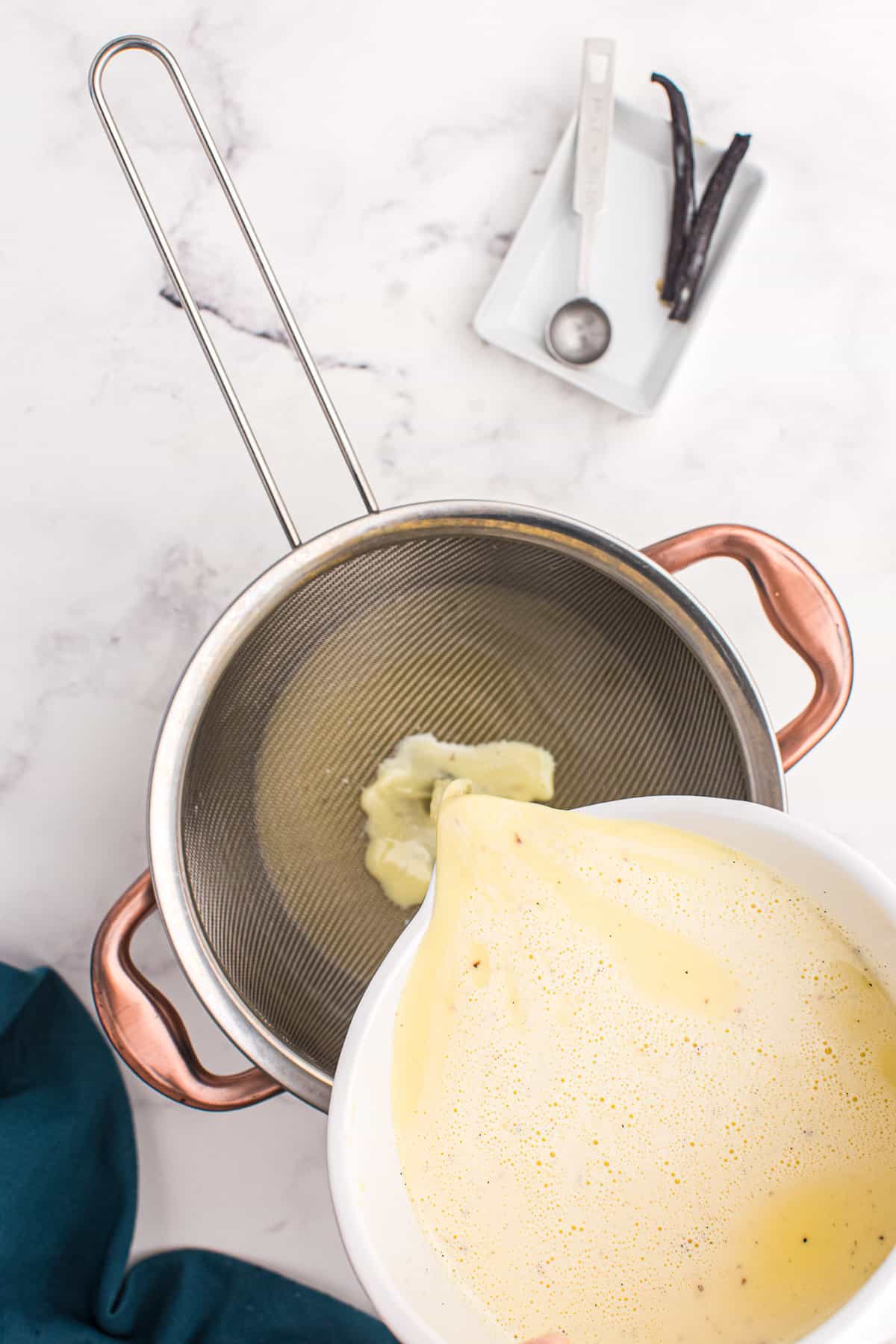 Pour the mixture into another bowl through a fine mesh sieve to filter out any curdled eggs or seeds.
Using a roasting pan or 9×13 dish, line up your ramekins in it and fill them with creme. Then, pour boiling water around the pan until it's about halfway up the ramekins.
Bake 40-45 minutes, until your creme brulee is jiggly. After baking, let your ramekins chill for a minimum of three hours.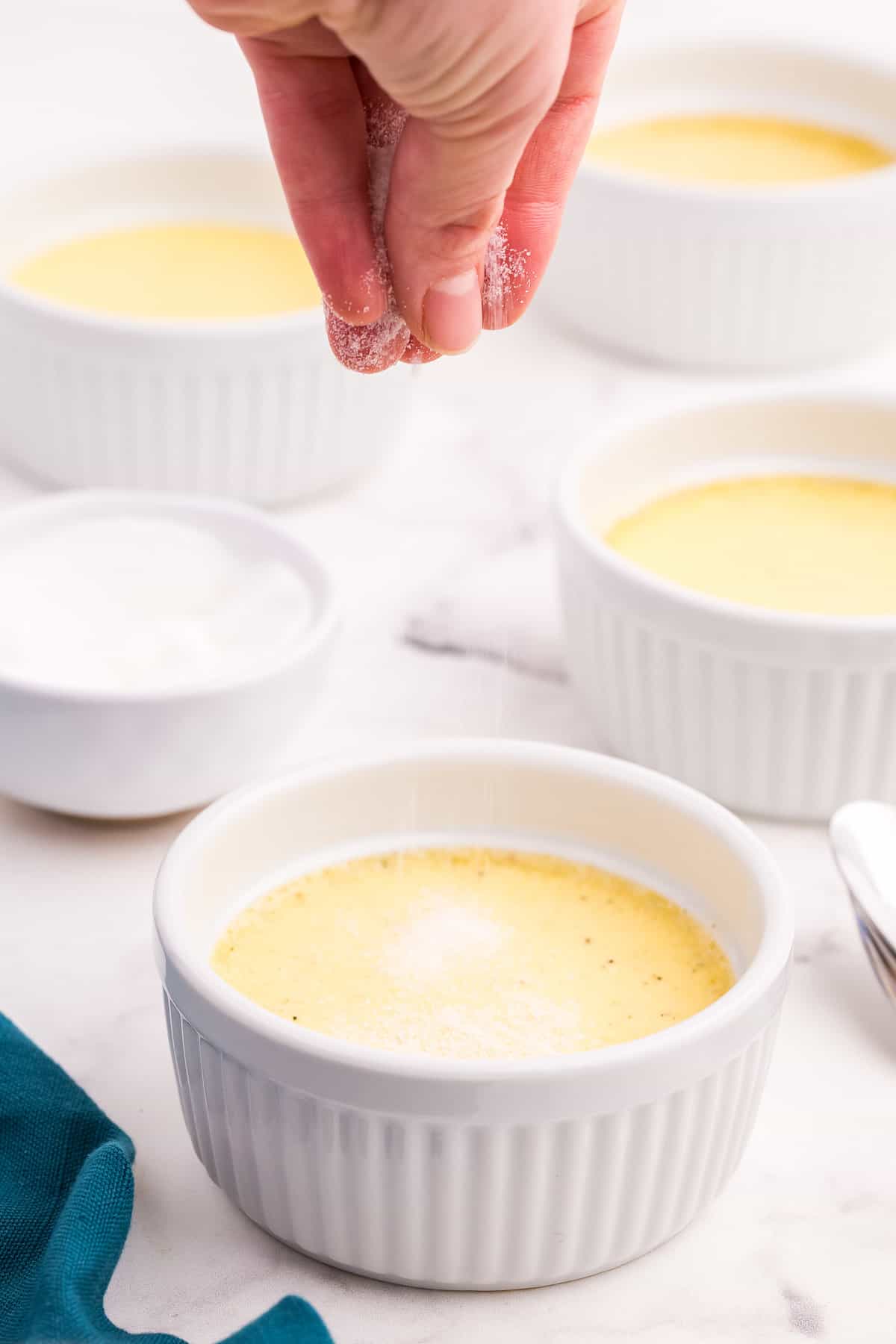 Just before serving, sprinkle the top of each ramekin with sugar. Then, using a butane torch, caramelize the sugar and serve within 30 minutes!
How to Serve Creme Brulee
For best results, serve it no more than 30 minutes after caramelizing the sugar. You can garnish each serving with fruit for a simple and elegant presentation.
Is creme brulee served hot or cold?
The unique thing about this dessert is the cold custard contrasted by the warm, caramelized sugar top. So, keep the custard cold and serve it with the little bit of warmth provided by the crispy top!
Can I store my creme brulee in the fridge?
It can be stored in the refrigerator for up to 3 days without the caramelized sugar top. Once the sugar has been caramelized on top, it will not store well.
Can I use something other than a butane torch?
I highly recommend a butane torch but if you are really in a pinch you can place them under the broiler to caramelize the top. You have to be careful if you go this route because it can affect your custard if it gets too warm.
Is there a substitute if I can't find vanilla bean?
If you can't find vanilla bean or do not want to purchase it, you can replace it with 1 teaspoon of vanilla extract.
Pro Tips for the Best Creme Brulee
Use a high quality, clear vanilla extract so it does not change the color of your creme brulee.
Let your creme mixture cool an extra few minutes before adding to your eggs and sugar to ensure your eggs don't curdle!
Use an extra fine mesh sieve in order to make your creme brulee extra silky smooth.
This recipe is creamy, velvety, with a kick of vanilla and sweetness of sugar. If you prefer a milder vanilla flavor use only 1⁄4 teaspoon of vanilla extract.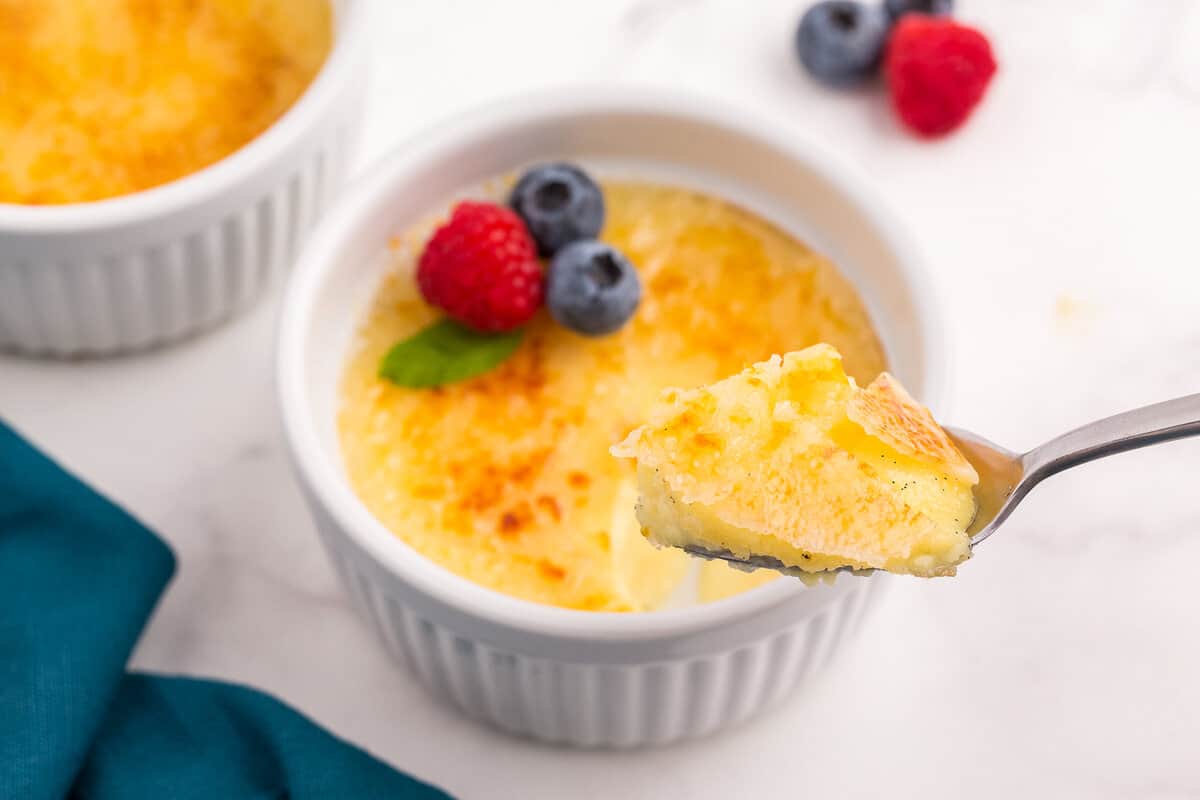 Creme brulee is such a unique and fun addition to your dinner menu! Whether you make it for a fun treat after a weekday dinner, or wow your dinner guests on the weekend, you'll want to come back and make more after you see how easy and fun this recipe is!
More Dessert Recipes You'll Love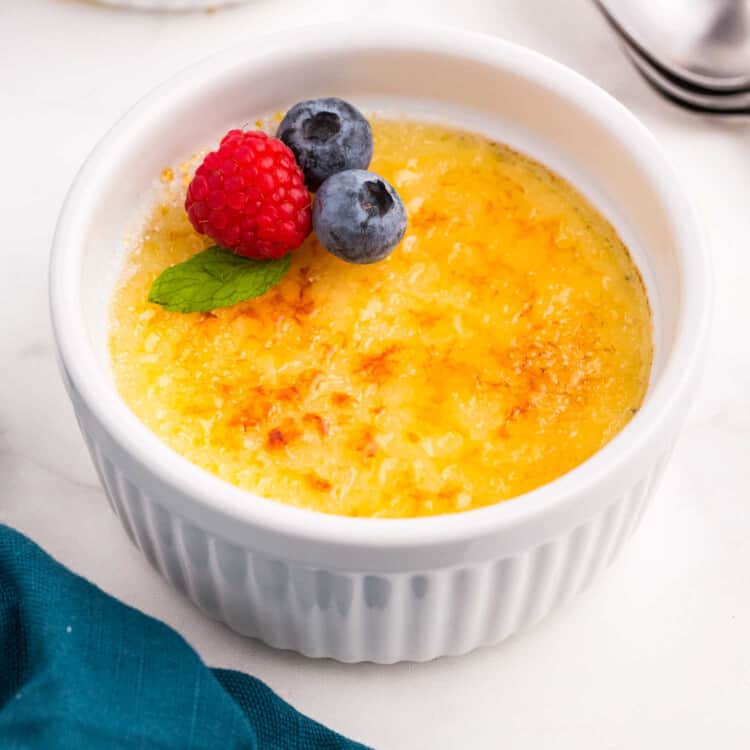 Creme Brulee
Easy Creme Brulee recipe that's creamy and smooth!!
Ingredients
2

cups

heavy whipping cream

5

large egg yolks

1

vanilla bean

½

teaspoon

vanilla extract

⅛

teaspoon

salt

¾

cup

white granulated sugar

divided
Instructions
Preheat oven to 325 degrees Fahrenheit.

Slice your vanilla bean in half and scrape out the seeds, using the back of the knife.

In a saucepan, over low-medium heat, combine your vanilla bean, seeds and salt with your cream. Bring it to a hard simmer and then remove from the heat, covering it and allowing it to steep for 15 minutes. At the end of 15 minutes, remove the top and allow it to continue to cool while you move to step 3.

Separate your egg yolks from your egg whites. Whisk the egg yolks with ½ cup of sugar.

Using ¼ cup at a time, ladle your cream into your sugar mixture. Whisk in between each pour of warm cream to prevent your eggs from curdling. Once it is all whisked, add your ½ teaspoon of vanilla extract.

Pour your creme into a fine meshed sieve, over another bowl, to make sure you have removed any slightly curdled eggs or larger seeds. This will keep it nice and creamy.

Place your ramekins in a roasting pan or 9×13 dish and fill them to the inner rim with creme. I used 4- 7 ounce ramekins. Then take boiling water and pour it into the pan till it goes about ½ way up the ramekin. Bake till it is set but still jiggly. This will take 40-45 minutes.

Remove your ramekins and chill them for at least 3 hours. I kept them in the refrigerator overnight.

When you are ready to serve, sprinkle the tops of your creme brulee with sugar. I used a heaping tablespoon for each.

Using a butane torch, torch the tops of your sugar so that it caramelizes. Allow it to sit for a minute and it will harden.

Serve and enjoy. It is best if you enjoy it within 30 minutes for that optimum crystalized crunch of the brulee.
Nutrition Information
Calories:
624
kcal
(31%)
,
Carbohydrates:
42
g
(14%)
,
Protein:
7
g
(14%)
,
Fat:
49
g
(75%)
,
Saturated Fat:
30
g
(188%)
,
Polyunsaturated Fat:
3
g
,
Monounsaturated Fat:
13
g
,
Cholesterol:
377
mg
(126%)
,
Sodium:
116
mg
(5%)
,
Potassium:
139
mg
(4%)
,
Sugar:
41
g
(46%)
,
Vitamin A:
2074
IU
(41%)
,
Vitamin C:
1
mg
(1%)
,
Calcium:
108
mg
(11%)
,
Iron:
1
mg
(6%)