Crock Pot BBQ Brisket Recipe
Crock Pot BBQ Brisket Recipe ~ Delicious, Slow Cooked Brisket with Onions, Carrots and Potatoes Smothered in a BBQ Sauce!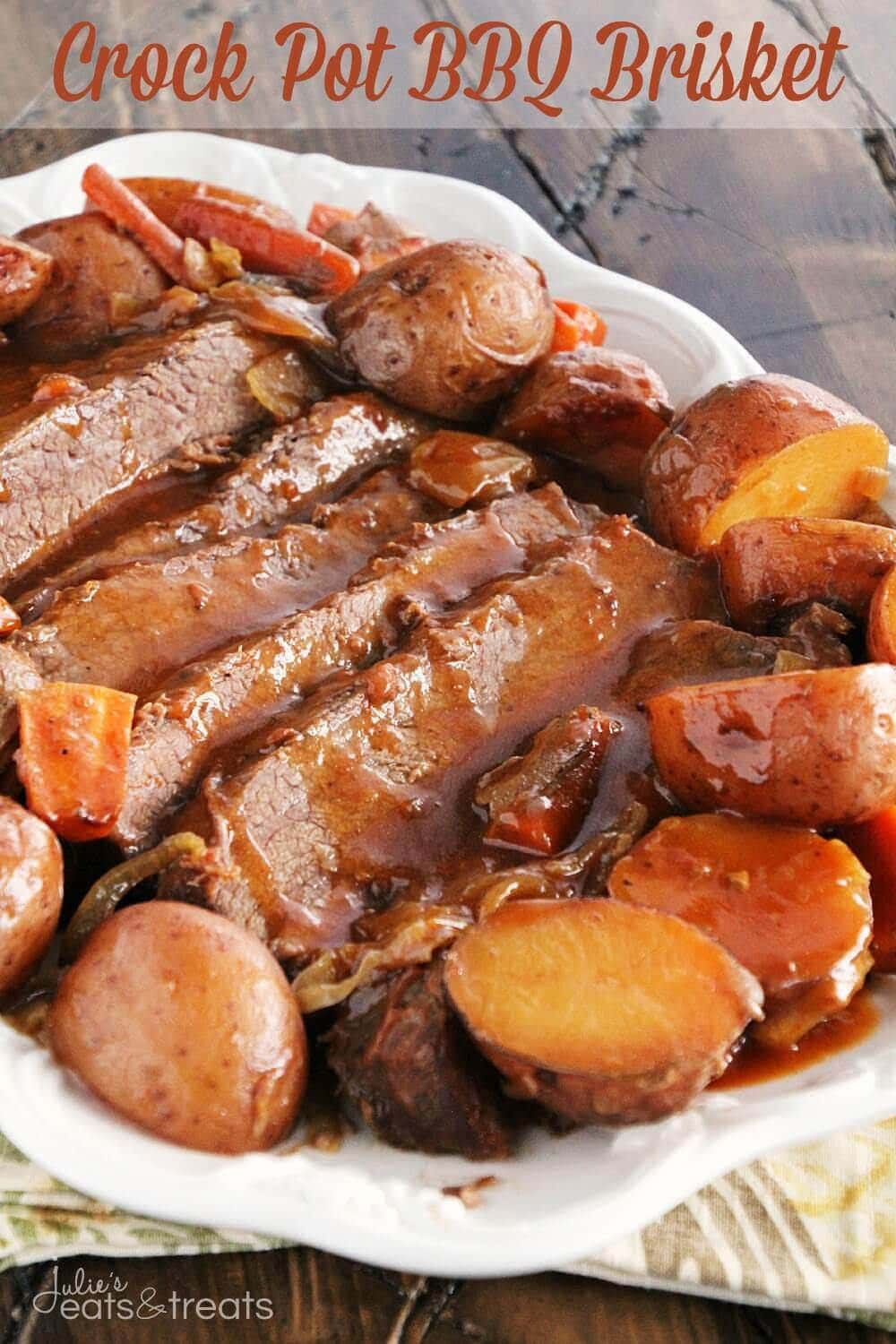 I've come to realize I'm not the "cool" parent in our house. Far from it. I'm the parent that nags to pick up toys, wash your hands, take your shoes off. All that "fun" stuff that needs to be done but the kids would rather not do it. On the other hand my husband is the cool parent. Sure, he still does that stuff when he's around, but because he's around less he focuses on the playtime more. When he's around the kids are begging to go outside on the swing, ride the Ranger, play in the shop, wrestle on the living room floor. You name it and he's doing it. Whatever their little hearts desire for the most part. The hubs has been in the field lately so the nights haven't been to exciting on the home front. My main focus is to keep both children alive, happy and fed. Some nights I may just count down the minutes until bedtime. Does that make me a terrible mom? I hope not!
The hubs had the night off last night and he picked up the girls from daycare. I came home to them in the shop playing, which they didn't want to come in from the shop for dinner. Imagine that! After dinner while I was cleaning up all I could hear was giggles and squeals from the living room. I politely reminded their father, six times, that it was bath night. When he finally drug them to the bath I'll I could hear from the bathroom was giggling and squealing some more. At one point I made have heard the hubs scream and say "Really? Really? Did that just happen?" Of course I go running to the bathroom to finding him with his hands in the air and Miss K giggling hysterically. After I asking what happened I found out the she literally peed on him somehow. He then informed me he didn't think he would have to worry about the aiming thing with girls! I'll let you use your imagination! Never a dull moment, never.
This is when I realized I'm the boring parent. When the hubs isn't around their is far less squealing and giggling! He let's them splash and carry on while I'm always trying to contain the mess because we know who cleans that up! Maybe I need to lighten up? For the record, the hubs cleaned up the pee. I disappeared graciously!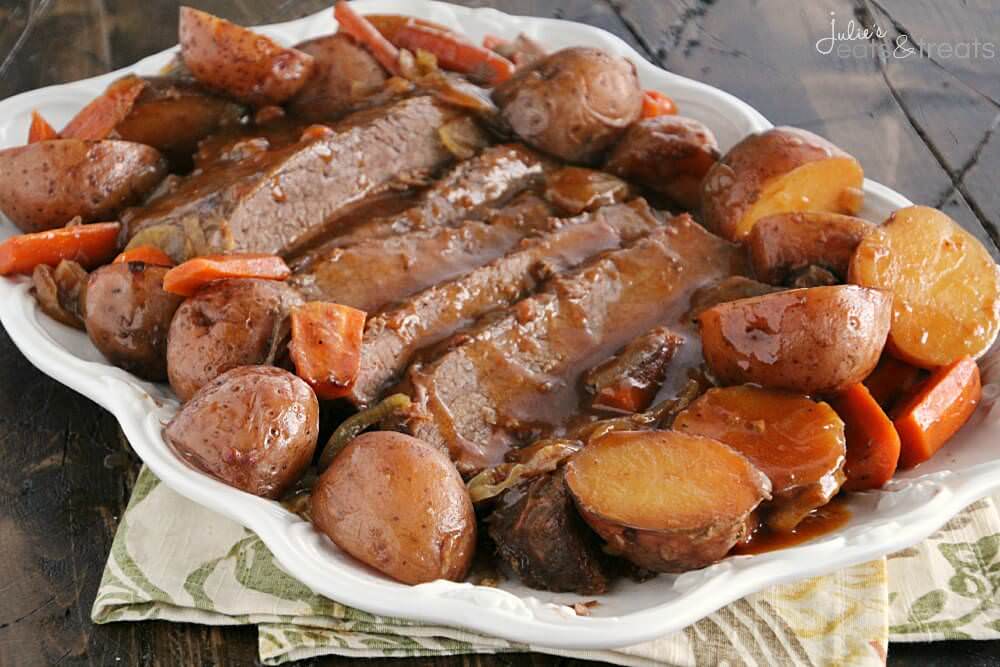 Life has so many chores and sometimes the play gets forgotten. I'm glad the girls have an awesome Daddy who loves to play with them while Mom gets the mundane stuff done on a daily basis! If you are looking to relax and play a little more in life like I am I'm going to highly recommend you start this by making delicious Crock Pot BBQ Brisket for dinner. You'll be able to relax and play without the hassle of the dinnertime rut. All you have to do is pull it out of the slow cooker before dinner, put it on a nice platter if you desire and it's done! I love that it has the potatoes, carrots and meat all in one dish so there's nothing you have to do when you want dinner!
[et_bloom_inline optin_id="optin_1″]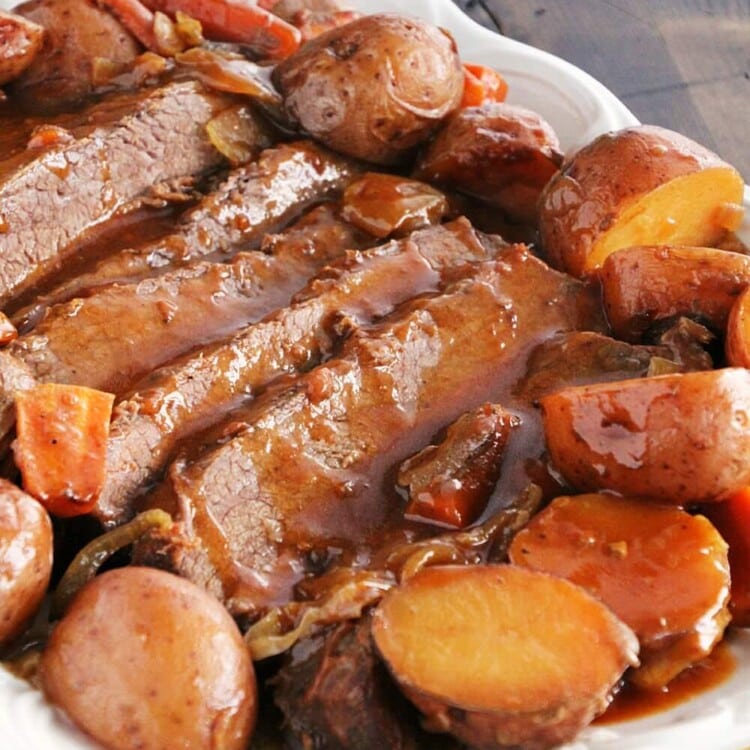 Crock Pot BBQ Brisket
Delicious, Slow Cooked Brisket with Onions, Carrots and Potatoes Smothered in a BBQ Sauce!
Ingredients
3/4

c.

barbecue sauce

1/4

c.

flour

1 1/2

lb

small red potatoes

halved

3

carrots

peeled, cut lengthwise, then sliced in half

1

onion

cut lengthwise in half, then sliced crosswise

3

lbs

beef brisket
Instructions
In a small bowl whisk together barbecue sauce and flour.

Place vegetables and then meat in slow cooker, top with 1/2 c. barbecue sauce mixture. Cover with lid and cook on low 8-9 hours.

Refrigerate barbecue sauce until beef is done.

Remove meat from slow cooker; place on cutting board and cover for 10 minutes.

Meanwhile use slotted spoon to transfer vegetables to splatter. Whisk remaining barbecue sauce mixture into juice in slow cooker, cook, covered, on high for 10 minutes or until thickened.

Cut meat across the grain and place on platter with vegetables. Drizzle with barbecue sauce.
Tips
Cook on low or meat will not be tender, please note that all slow cookers cook at different temperatures and adjust accordingly.
Nutrition Information
Calories:
403
kcal
(20%)
,
Carbohydrates:
31
g
(10%)
,
Protein:
38
g
(76%)
,
Fat:
12
g
(18%)
,
Saturated Fat:
4
g
(25%)
,
Cholesterol:
105
mg
(35%)
,
Sodium:
393
mg
(17%)
,
Potassium:
1100
mg
(31%)
,
Fiber:
2
g
(8%)
,
Sugar:
10
g
(11%)
,
Vitamin A:
3870
IU
(77%)
,
Vitamin C:
9.8
mg
(12%)
,
Calcium:
35
mg
(4%)
,
Iron:
4.5
mg
(25%)
Things You May Need for This Recipe!