Happy Memorial Day! It's been a great day. We started the day at a Memorial Day service that really reminded me why we celebrate Memorial Day and brought me back to the real meaning of the day. Sometimes it seems we get caught in the hustle and bustle of life and forget how much we really have to be thankful for in our country. If any of you are serving the armed forces or have served, lost a family member or have someone overseas I would like to personally thank you and your family for all of the sacrifices that you have made for our country.
As the weekend winds down it's nice to think that I only have four days of work this week and then off to our first camping adventure of the year. Lots to get ready before then including cleaning out that camper. I'm really looking forward to a relaxing weekend at the lake with family and friends. The weather looks gorgeous for the weekend so I'm hoping mother nature cooperates with us and it holds out for that long. Speaking of weather wow was it a hot and windy one today. We tried to turn our central air on tonight and unfortunately my hubby is sitting on the couch quite defeated because we can't get it to kick in so it looks like we are calling to get it serviced tomorrow. It's only a few years old so hopefully it's nothing major but it could be a toasty one tonight in our house!
The recipe that I'm sharing with you tonight was a first for me. I stole my mom's bread maker because she never used it. I remember she got it for some kind of present when I was probably around 10 and it's collected dust ever since one attempt at bread that didn't go to well. Looking back it was one of those presents dad bought for her because he wanted homemade bread. Heads up to the men out there this is not a great idea and it will probably backfire!
I'm afraid after she gets a taste of these dinner rolls she might reclaim her bread maker because they were divine. I'm hoping not. I brought them to dinner today at my in-laws and a young gentleman told me they rivaled his grandma's but in case I ever met her I was suppose to keep this on the down low because she might take offense to that! These make wonderful buns for sandwiches or burgers too. Enjoy!
Looking for another delicious bread recipe? Try this recipe for Homemade Crescent Rolls – they are AMAZING!!!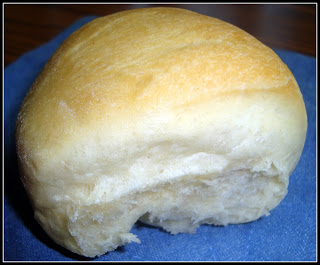 Dinner Rolls
Printer Friendly Recipe
Ingredients
1 c. warm water (80-90 degrees)
2 Tablespoons butter
1 egg
3 1/4 c. flour
1/4 c. sugar
1 tsp salt
3 tsp bread machine yeast or quick-acting active dry yeast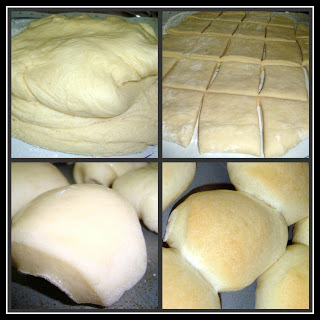 1. Put ingredients in your bread machine in the order listed. Put yeast in on top without letting it touch the wet ingredients. I made a little dent in the top and put the yeast in there.
2. Set your machine on the dough setting then start it. Go have a glass of wine, run errands or take a nap this cycle takes about a hour.
3. When dough is ready, lay it out on a floured smooth surface. Make into a rectangular shape. Cut rolls with a pizza cutter. You should get 15-18 rolls. It really all depends on how big you want your dinner rolls. Pinch rolls into nice shape and brush with melted butter. Cover with clean towel and let rolls rise 30 minutes. They should double in size.
4. Bake at 375 degrees for 12-15 minutes.
Recipe from: Spruce Hill