Easy 30 Minute Caramel Pecan Sticky Buns Recipe
Easy 30 Minute Caramel Pecan Sticky Buns ~ Tender and gooey melt-in-your-mouth sticky buns topped with caramel sauce and chopped pecans. This easy recipe uses canned crescent roll dough and prepared caramel sauce!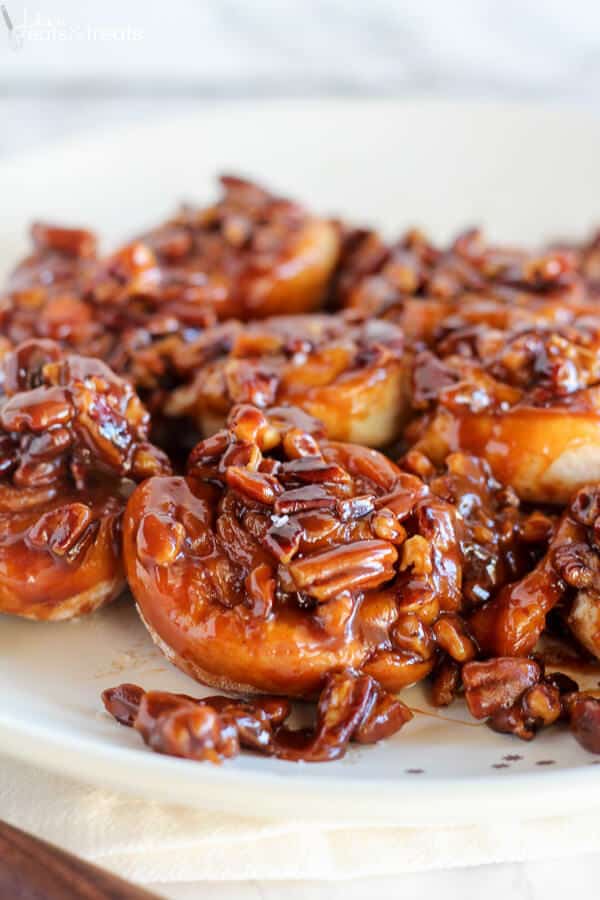 I have a serious weakness for sticky buns. They are without a doubt my favorite breakfast pastry. There is a restaurant near our house that sells the absolute best sticky buns. They are huge; nearly the size of a dinner plate! The pastry is tender and the caramel topping is ultra gooey and sweet, and it's just pure perfection. I only allow myself to order one about once a year because I cannot stop myself once I start eating it. It's unbelievably delicious!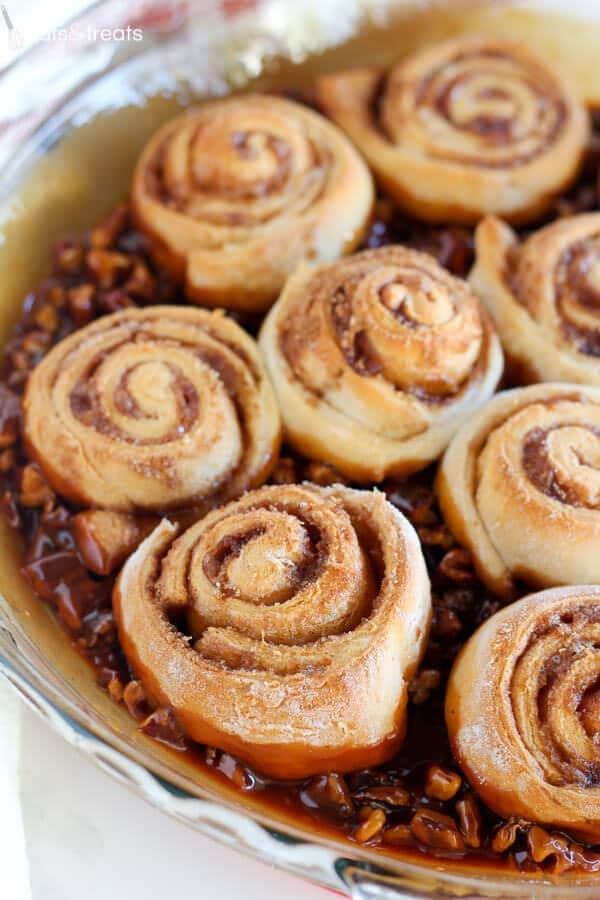 I am never ambitious enough to make "real" sticky buns at home. They require quite a bit of work, time, and planning ahead. Plus, I don't need a huge pan of sticky buns sitting around my kitchen (see above regarding my lack of self control) ;). So, for those times that I'm craving a sticky bun – stat!- this recipe for Easy Caramel Pecan Sticky Buns comes to the rescue.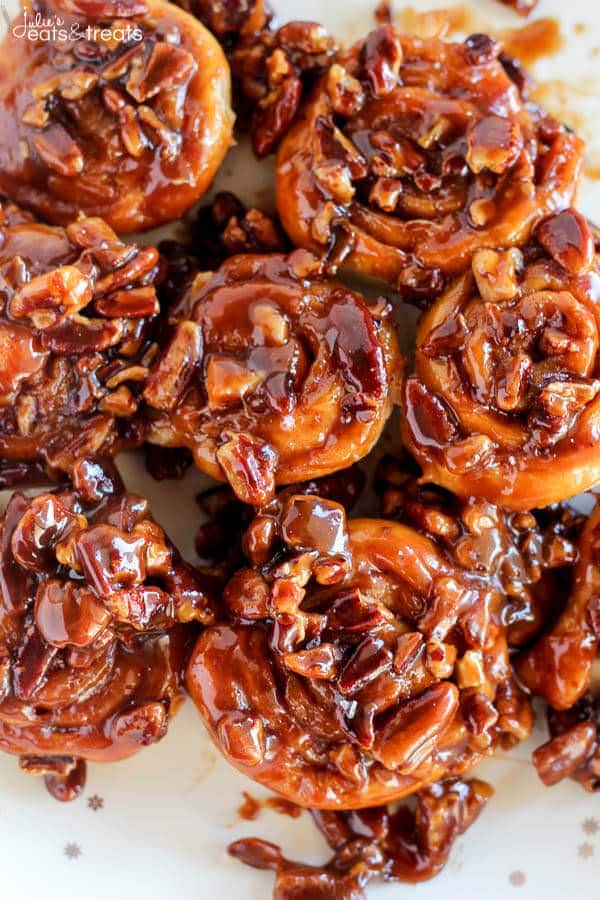 This recipe makes 10-12 small sticky buns and I take shortcuts with a couple store bought ingredients. Instead of making a traditional yeast dough, I use store bought crescent roll dough. I also use store bought caramel sauce instead of homemade. I prefer salted caramel sauce because I like the salty/sweet combo. If you prefer regular caramel, feel free to use that.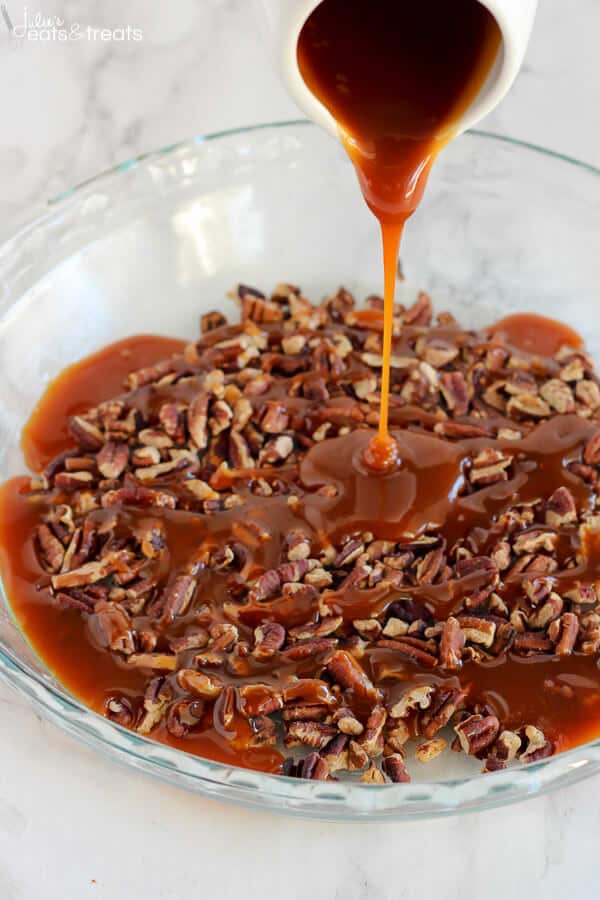 To prepare: sprinkle chopped pecans in the bottom of a pie dish and top with caramel sauce. Unroll the crescent dough on a flat surface, then fill it with brown sugar and cinnamon. Roll up the dough, cut into pieces, and place the pieces on top of the caramel and pecans. Bake until bubbly and golden brown, then carefully invert the pan onto a plate. After inverting, the gooey caramel and crunchy pecans smother every surface of each sticky bun. At that point you have a big decision to make – burn the roof of your mouth by diving in immediately, or allow them to cool slightly. You know which option I chose. #WorthIt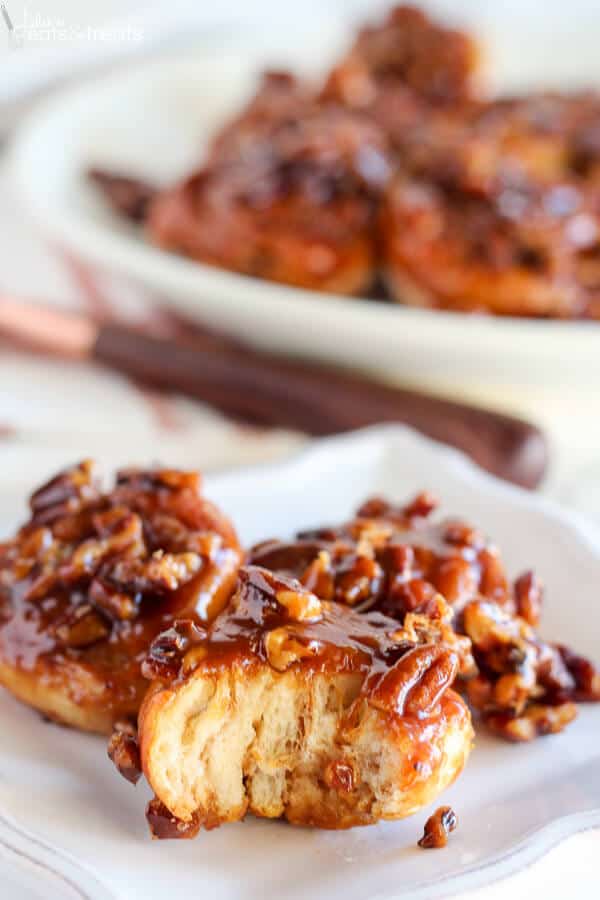 Enjoy, friends!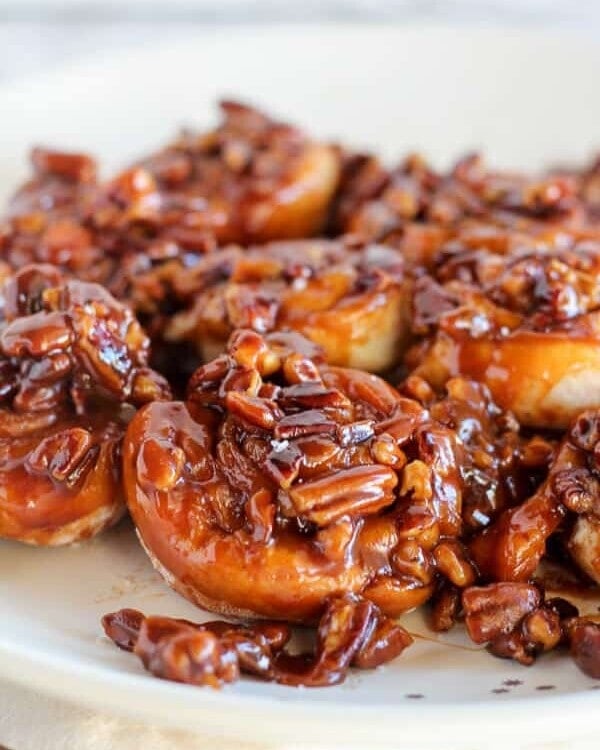 Easy Caramel Pecan Sticky Buns
Tender and gooey melt-in-your-mouth sticky buns topped with caramel sauce and chopped pecans. This easy recipe uses canned crescent roll dough and prepared caramel sauce!
Ingredients
3/4

cup

toasted chopped pecans

see note

1/2

cup

salted caramel sauce

heated until pourable (see note)

8

oz

refrigerated crescent rolls

1/4

cup

brown sugar

1/4

teaspoon

ground cinnamon

Sea salt

optional
Instructions
Preheat oven to 375°F. Grease a 9.5 inch pie dish. Scatter the pecans into a single layer in the bottom of the pie dish. Pour the caramel sauce evenly over the top of the pecans. Set aside.

On a lightly floured surface, roll out the crescent dough into a 13x9 inch rectangle. Be sure to press together any seams in the dough to form one complete piece. Sprinkle the brown sugar and cinnamon over the crescent roll dough leaving a half inch border around the outside. Starting at one of the shorter sides, tightly roll the crescent rolls into a log. Cut the log into 10-12 rolls. I cut the dough using a piece of unflavored dental floss. Slide the floss under the log of dough where you want to cut, grab both ends of the floss in each hand, crossing them over each other above dough. Pull it taut until the slice is cut. Continue to slide the floss along the length of the log of dough until all pieces are cut. Alternately, you can use a really sharp knife to cut them.

Place the sticky buns cut side up on top of the caramel in the pie dish, placing approximately 8 buns around the outside and 3 inside.

Bake for 16-18 minutes, until the buns are light golden brown and the caramel sauce is bubbling. Remove from the oven, and place a large plate on top of the pie dish, then quickly flip the pie dish over to invert the buns onto the plate. Spoon any caramel or pecans left in the pie dish onto the buns. If desired, sprinkle lightly with sea salt. Serve while warm. The caramel will firm up as it cools. These are best served immediately.
Tips
To toast pecans, place nuts in a dry skillet set over medium heat. Cook, stirring occasionally, until the nuts are fragrant and lightly toasted. Watch them closely so that they don't burn.
Make sure you use a fairly thick caramel sauce (not a thin caramel "syrup"). I use Trader Joe's Fleur de Sel caramel sauce and I highly recommend it.
Nutrition Information
Calories:
150
kcal
(8%)
,
Carbohydrates:
19
g
(6%)
,
Protein:
1
g
(2%)
,
Fat:
8
g
(12%)
,
Saturated Fat:
2
g
(13%)
,
Sodium:
182
mg
(8%)
,
Potassium:
39
mg
(1%)
,
Sugar:
6
g
(7%)
,
Vitamin A:
10
IU
,
Calcium:
13
mg
(1%)
,
Iron:
0.5
mg
(3%)
Things You Might Need for this Recipe!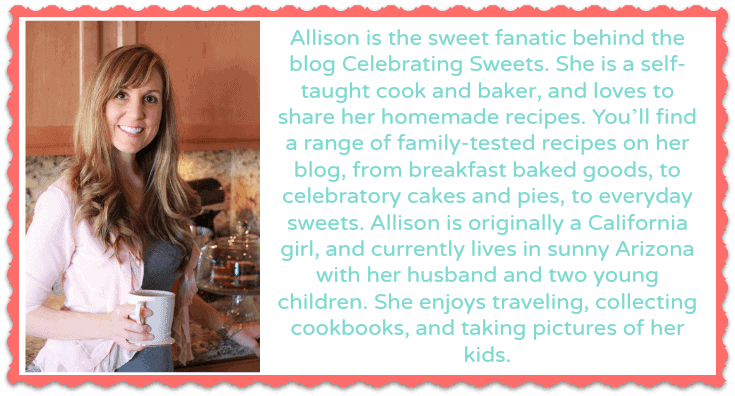 Connect with Allison Here!
Facebook~Twitter~Pinterest~Instagram~Google+
More from Celebrating Sweets:
Brown Sugar Banana French Toast Casserole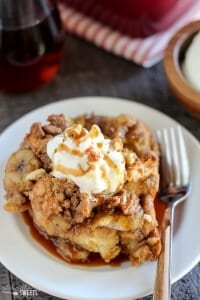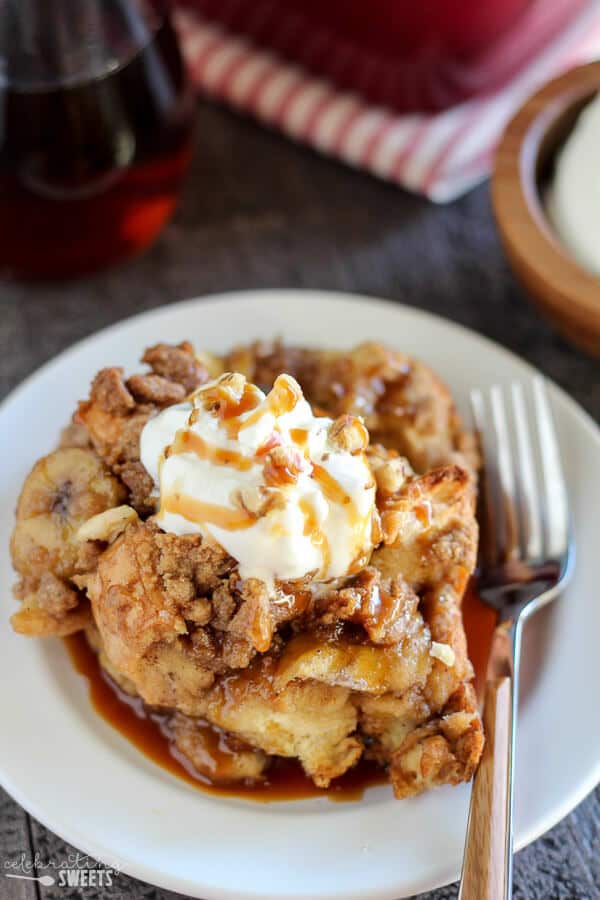 Almond Waffles with Berries and Whipped Cream