Easy Chicken Fried Rice ~ Loaded with Veggies, Eggs, Chicken and Rice! On the Table in 30 Minutes!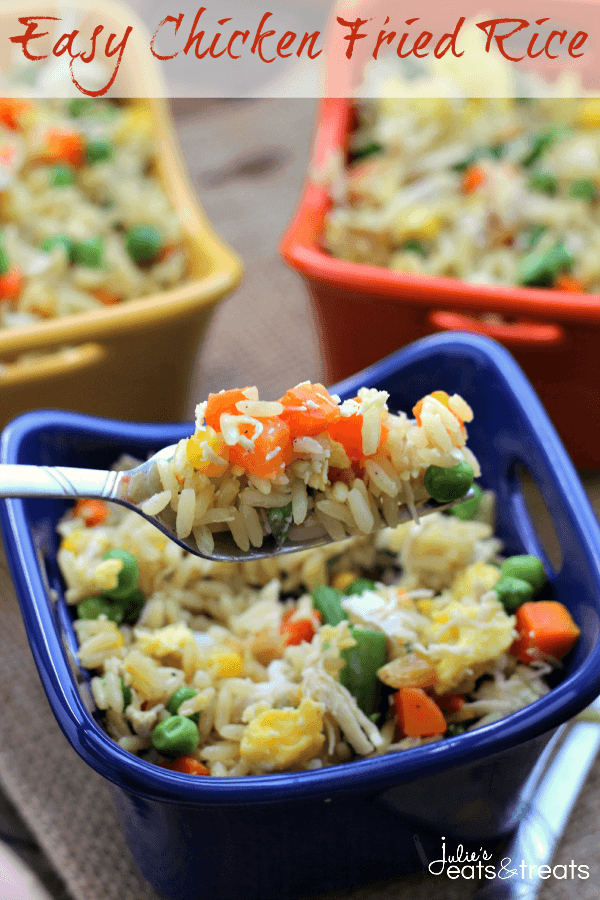 One would think that since I'm a food blogger I have an endless supply of weeknight recipes and I never run out of ideas. This is so wrong in every sense of any way. I'm just like you. I run out of ideas, get in a rut and really don't want to make dinner at the end of a day.
Or do you know that feeling of going and getting groceries then when you get home you have nothing to make for dinner? That was me last week. Miss K and I went and got groceries and I had this wonderful meal plan figured out.
You'd think this would be a piece of cake. By the time I got done dragging a kid around the grocery store after work. Hauling in the groceries and trying to entertain a kid I was exhausted. I pulled a frozen pizza out and threw it on the grill. Yes I did. Don't judge. Miss K was ecstatic. She thinks it's the best thing when we grill pizza and eat dinner out on the patio. In fact every time we sit on the patio she looks at me with big eyes and says Pizza, Pizza? I mean, I made her dream come true!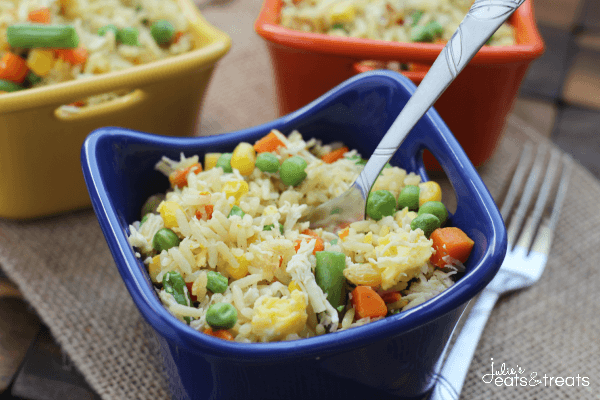 Are we all nodding our heads in agreement and thinking, "Oh we've been there". Enter this amazing Easy Chicken Fried Rice. It will come together in 30 minutes and your family will be beaming from ear to ear at the new meal. Mom will be happy because we have other stuff to get done at night.
I mean yes I love being in the kitchen slaving away, but we all know we'd rather be somewhere else most of the time or more so we know we have other stuff to get accomplished at night!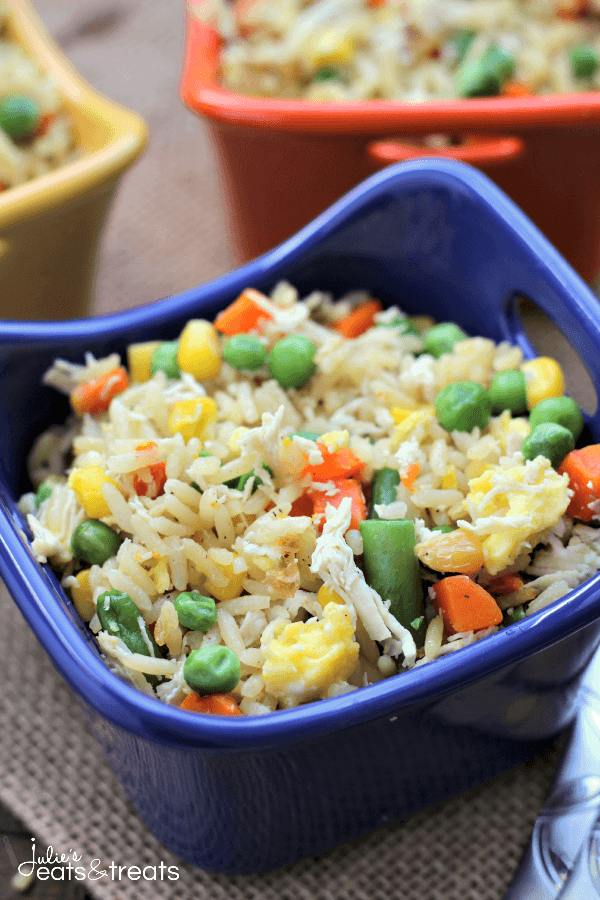 If you are looking for an easy recipe to get you out of the weeknight meal rut this is your answer. Add it to your recipe box and put a fun new twist into dinner time plus save yourself time! I promise you won't regret trying this recipe!
Love this? Be sure and check out my recipes for Fried Rice, Cauliflower Fried Rice, Chicken Pineapple Kebabs and Beef Lo Mein with Asparagus.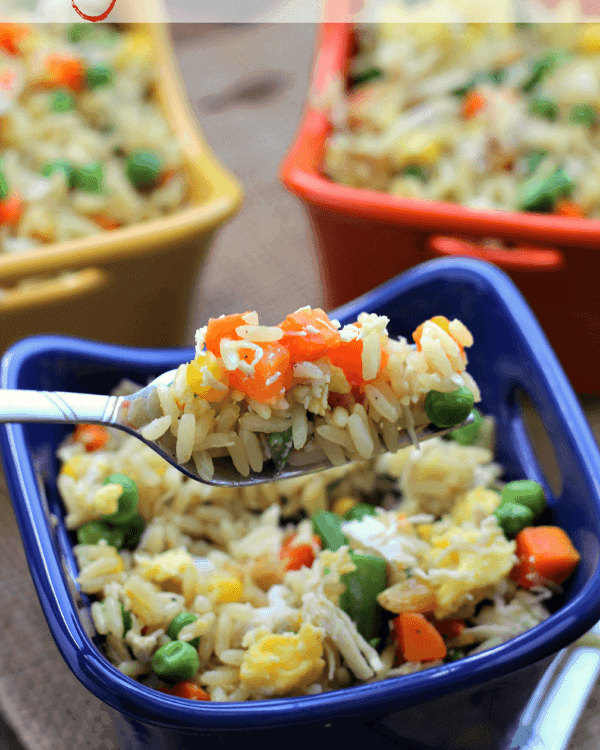 Easy Chicken Fried Rice
Easy Chicken Fried Rice ~ Loaded with Veggies, Eggs, Chicken and Rice! On the Table in 30 Minutes!
Ingredients
1

package

12 ounces frozen mixed vegetables

1

tablespoons

olive oil

4

eggs

lightly beaten

4

tablespoons

sesame oil

divided

3

packages

8.8 ounces each ready-to-serve garden vegetable rice

1

lb

skinless chicken breasts

cooked and shredded

1/4

teaspoon

salt

1/4

teaspoon

pepper
Instructions
Prepare frozen vegetables according to package directions.

In a large skillet heat 1 Tbsp olive oil over medium heat and pour in eggs. Cook eggs stirring frequently until eggs are scrambled and cooked through. Remove from pan and place in bowl.

Heat 2 Tbsp sesame oil in skillet and remaining olive oil over medium heat. Add rice to skillet at cook for 10-12 minutes or until rice is just beginning to brown.

Stir in chicken, salt and pepper to rice. Add eggs and vegetables. Heat mixture through.
Nutrition Information
Serving:
1
,
Calories:
232
kcal
(12%)
,
Protein:
19
g
(38%)
,
Fat:
16
g
(25%)
,
Saturated Fat:
2
g
(13%)
,
Cholesterol:
157
mg
(52%)
,
Sodium:
228
mg
(10%)
,
Potassium:
320
mg
(9%)
,
Vitamin A:
190
IU
(4%)
,
Vitamin C:
0.9
mg
(1%)
,
Calcium:
20
mg
(2%)
,
Iron:
0.8
mg
(4%)
Recipe adapted from: Taste of Home