Gazpacho is a chilled soup that is perfect for summer! If you have a garden with ripe tomatoes this is the perfect, healthy recipe to use them with. It's so flavorful with the fresh vegetables like tomatoes, red onion, cucumbers, jalapeno, bell peppers and more! The seasonings of fresh lime, Gourmet Garden Lightly Dried Parsley and Chive, balsamic, hot sauce, Gourmet Garden Stir-In Garlic Paste and more! Leftovers are perfect for a quick lunch on the go.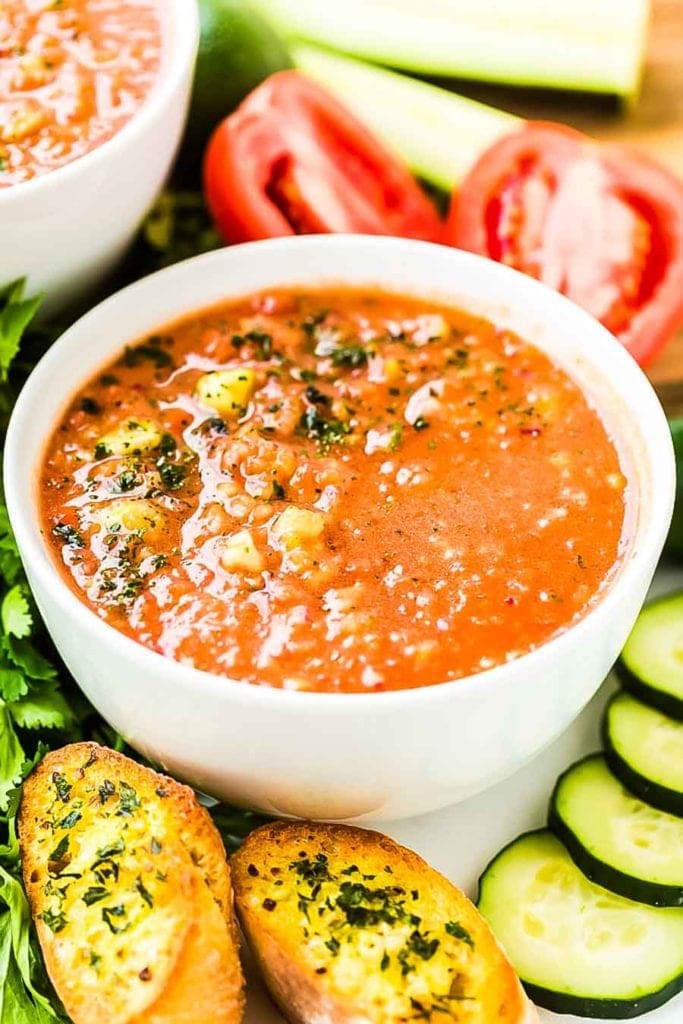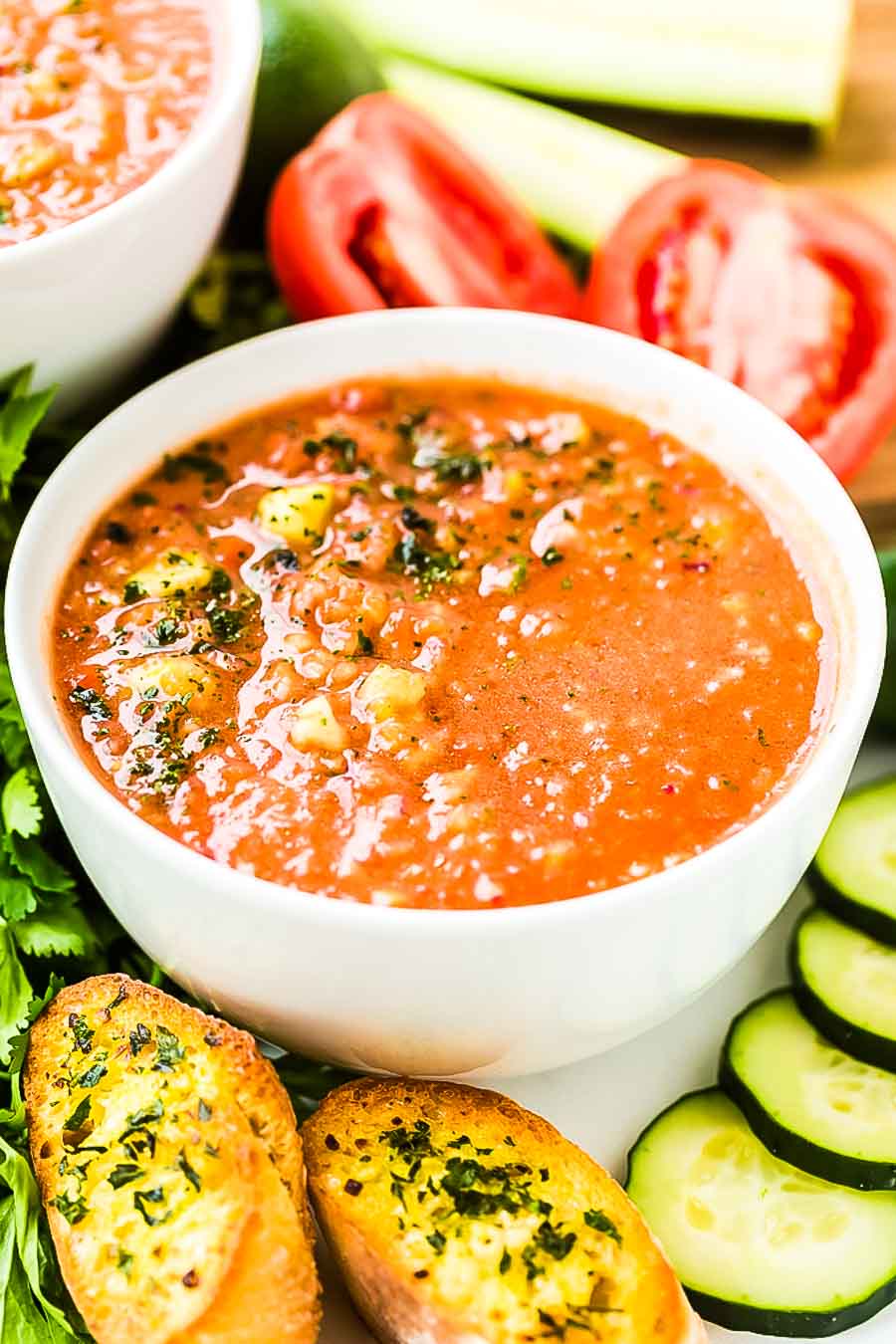 This post is sponsored by Gourmet Garden. All text and opinions are my own.
Have you ever had Gazpacho? Have ever even heard of it? I was first introduced to it while I was in college during one of my cooking courses. I had never even heard of it before.
A cold soup? It just seemed "weird" to me. I didn't have much of a choice but to go ahead and make it since it was required!
I'm proud to report back to you that it's AMAZING. I'm so glad I was introduced to it. It's the perfect recipe for a hot summer day. Refreshing, light and it's great for a take-along lunch to work.
In fact, it's perfect for lunches because it gets better when it's refrigerated and the flavors meld together.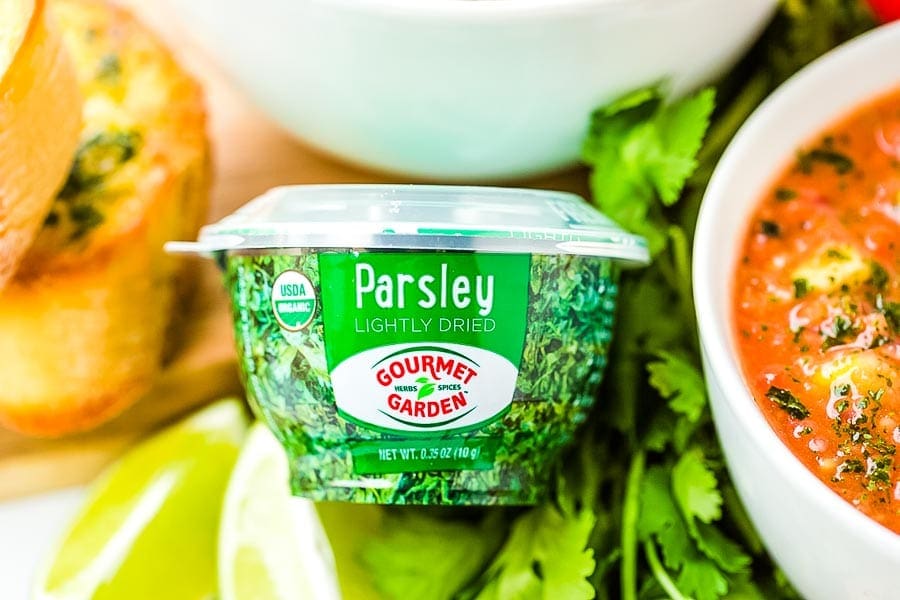 Tips to making the best Gazpacho Soup!
Here are a few of the more frequently asked questions when making Gazpacho.
If you have a question that isn't answered please leave us a comment below and we will do our best to answer it!
What soup do you eat cold?
Gazpacho of course! It seems against the "norm" but serving this soup cold is amazing. It's perfect for a hot summer day.
What is Gazpacho?
This cold soup originated in Andalusia. It is widely eaten in Spain and Portugal and that's maybe the reason you might have never head of it! It's often served during the hot summers as it is perfectly refreshing and cool.
There are a few different takes on Gazpacho. Originally it included bread, but in the 19th century tomatoes were added to the mix. Today some recipes omit both the bread and tomatoes and add in ingredients like avocados, cucumbers, parsley, watermelon, grapes and seafood!
Is gazpacho healthy?
This soup is packed with tons of fresh produce and that means it's very healthy for you!
Can gazpacho soup be served hot?
Usually this soup is served cold and not hot although some people do serve it hot. There's no hard rule saying you can't but normal it is served cold.
What is the difference between gazpacho and salsa?
Gazpacho is a soup served in a bowl and salsa is served as a condiment.
Do I puree Gazpacho?
This is really your own preference. We enjoy ours a little more on the chunky side, but if you want it smooth just blend it longer to achieve the texture you prefer.
Another option is to blend have the ingredients so they are smooth and then blitz the other half so they are just slightly blended. Mix the two together and you have a perfect blend of smooth and chunky!
How long is Gazpacho good for?
Store leftovers in the fridge for up to 5 days!
Where do I find Gourmet Garden products?
If you haven't tried Gourmet Garden's Lightly Dried herbs yet you can find them in the produce section at your local grocery store.  I love keeping a variety of them on hand so my fridge is stocked when I need them, and they stay fresh in the fridge for up to four after opening!
While you are getting those make sure to check out Gourmet Garden's stir-in pastes including my favorite garlic! Think –> No more stinky hands from fresh garlic and all of the flavor! The pastes last even longer, keeping their fresh flavor for three months!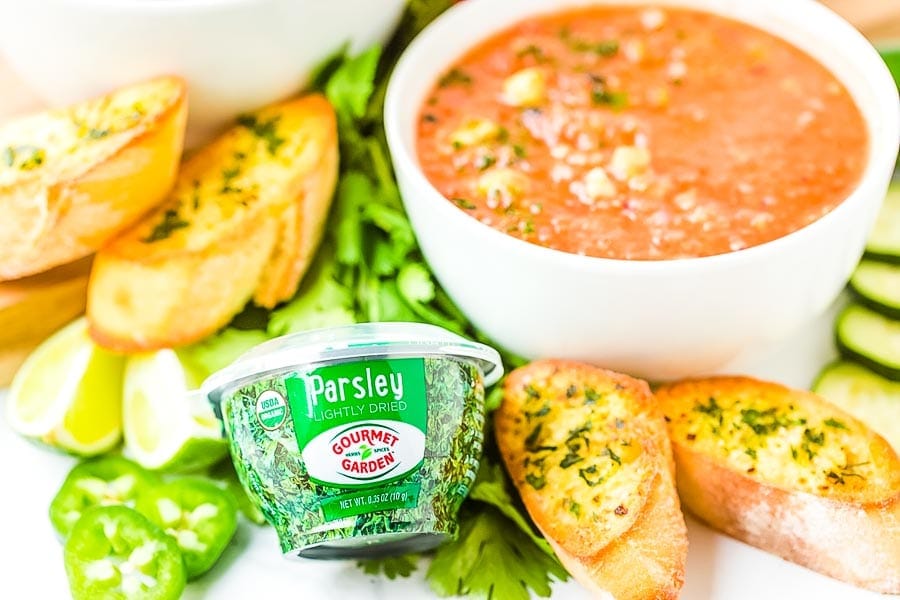 What do I need to make Gazpacho?
Tomatoes
Red onion
Cucumbers
Jalapeno
Red bell
Gourmet Garden stir-in garlic paste
Red wine vinegar
Olive oil
Lime juice
Sugar
Balsamic vinegar
Ground cumin
Salt
Ground black pepper
Hot sauce
Worcestershire sauce
Tomato juice
How do I make Gazpacho?
Gazpacho is really pretty easy to make. The hardest part is cutting, coring and dicing the vegetables!
Prepare Ingredients – You will want to prepare all the fresh vegetables according to the directions. Then you will want to mix them into a large bowl.
Blend Ingredients – After they are in the bowl you will want to use an immersion blender to blend to desired smoothness. We prefer it slightly chunky but if you want it smooth just blend it a little more. You can also use a large blender, but you might have to do it in batches.
Refrigerate – You will want to refrigerate your Gazpacho for at least two hours to let the flavors to blend.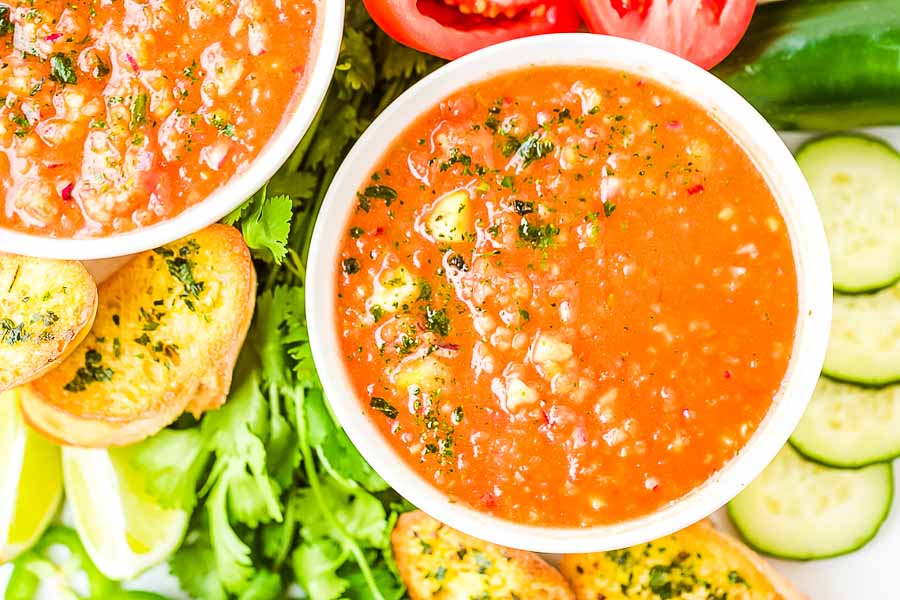 My Secret to Making the BEST Gazpacho!
I'm going to let you in on a few of my secret ingredients that I keep in my refrigerator at all times! They are Gourmet Garden's Lightly Dried Parsley and Chives plus my favorite stir-in garlic paste from Gourmet Garden!
It's because these products keep fresh in the refrigerator for up to FOUR WEEKS! It seems that every time I would buy fresh parsley or chives I would go to my fridge and it would be wilted and limp. Not any more! I love how convenient it is to stock my fridge with lightly dried herbs so they are always there when I need them.
This is my fourth week incorporating Gourmet Garden into my recipes and it's such a great time-saver. Being able to reach into the fridge and have fresh herbs and stir-in pastes on hand is so convenient. You don't realize how much time you spend chopping fresh herbs and garlic/ginger until you have the convenience of Gourmet Garden products in your fridge!
Check out some of my other favorite recipes I've created over the last three weeks using these lightly dried herbs and stir-in pastes are my famous Texas Caviar, Margherita Pizza, and Lasagna Roll Ups which are all family favorites!
MORE RECIPES USING GOURMET GARDEN'S LIGHTLY DRIED HERBS AND STIR-IN PASTES!
What would you make first with Gourmet Garden's lightly dried herbs and stir-in pastes?
Love it? I knew you would! Rate it, please!! It would be awesome if you'd give it a five-star rating below!
If you snap any photos, don't forget to tag me on Instagram @julieseatsandtreats or #julieseatsandtreats that way I'm sure to see your pictures!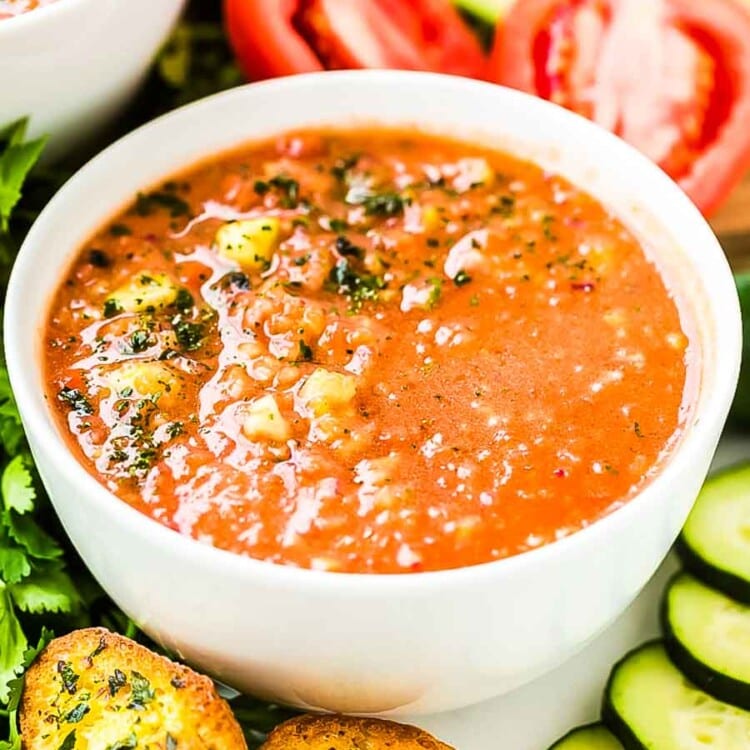 Gazpacho Soup Recipe
Healthy soup recipe that is full of fresh, ripe produce like ripe tomatoes, red onion, cucumbers, jalapeno, bell peppers and more! Gazpacho is the perfect summer recipe!
Ingredients
6

ripe tomatoes

cored, peeled and chopped (about 6 cups)

1

red onion

finely chopped

2

cucumbers

peeled, seeded, chopped

1

jalapeno

seeded and diced

1

sweet red bell pepper

seeded and chopped

1

Tbsp

Gourmet Garden lightly dried parsley

1

Tbsp

Gourmet Garden lightly dried chives

2

tsp

Gourmet Garden stir-in garlic paste

¼

c.

red wine vinegar

¼

c

olive oil

1

Tbsp

freshly squeezed lime juice

2

tsp

sugar

more may be needed to balance it out, add to taste

1

tsp

balsamic vinegar

1

tsp

ground cumin

2

tsp

salt

½

tsp

ground black pepper

6

hot sauce

to taste

1

tsp

Worcestershire sauce

2

c.

tomato juice
Instructions
Mix all ingredients in a large bowl. Using an immersion blender or blender in batches, blend to desired smoothness. We prefer ours somewhat chunky so we only pulse a few times in a blender.

Adjust seasonings to taste.

Chill in covered container at least several house before servings or overnight to allow the flavors to blend.
Nutrition Information
Calories:
232
kcal
(12%)
,
Carbohydrates:
24
g
(8%)
,
Protein:
4
g
(8%)
,
Fat:
14
g
(22%)
,
Saturated Fat:
2
g
(13%)
,
Sodium:
1248
mg
(54%)
,
Potassium:
1047
mg
(30%)
,
Fiber:
5
g
(21%)
,
Sugar:
16
g
(18%)
,
Vitamin A:
3180
IU
(64%)
,
Vitamin C:
99.4
mg
(120%)
,
Calcium:
69
mg
(7%)
,
Iron:
2.2
mg
(12%)