Lemon Sugar Cookies ~ Easy, Soft Lemon Pudding Cookies Rolled in Sugar!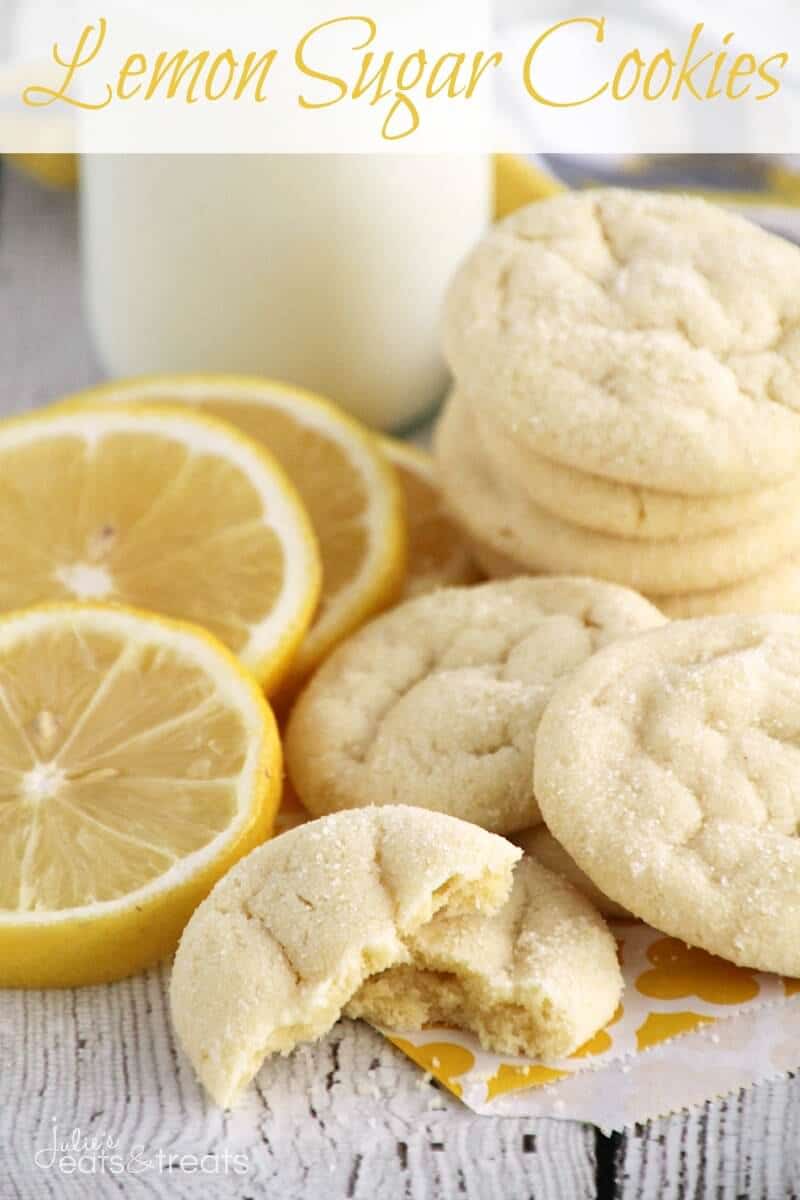 Every played Bunco? I think I used to play it on my cell phone eons ago and then promptly forgot about it. Until last night that is. About a week ago a neighbor called me up at work and invited us over for a neighborhood Bunco night. I was a little hesitant and first but we agreed to go. After I got over the stress of finding 5 new gifts and 5 crappy gifts for each of us because I was worried they were lame we were ready to go. Oh that's right we also had to bring an appetizer so I whipped up a batch of Kickin' Ranch Corn Dip and everybody loved it after they figured out it was Kickin'! In fact when I walked in and opened up the bowl to the dip everybody was hovering over it to see what I brought. Now people that's a lot of pressure. Then they were like is it on the blog? Is it from Julie's Eats & Treats? You bet it is people! Do you have to ask? Sometimes when I go places I have to bring something that isn't on the blog because my friends and family end up bringing the same thing as me because they use my recipes as much as me. Now that is a compliment!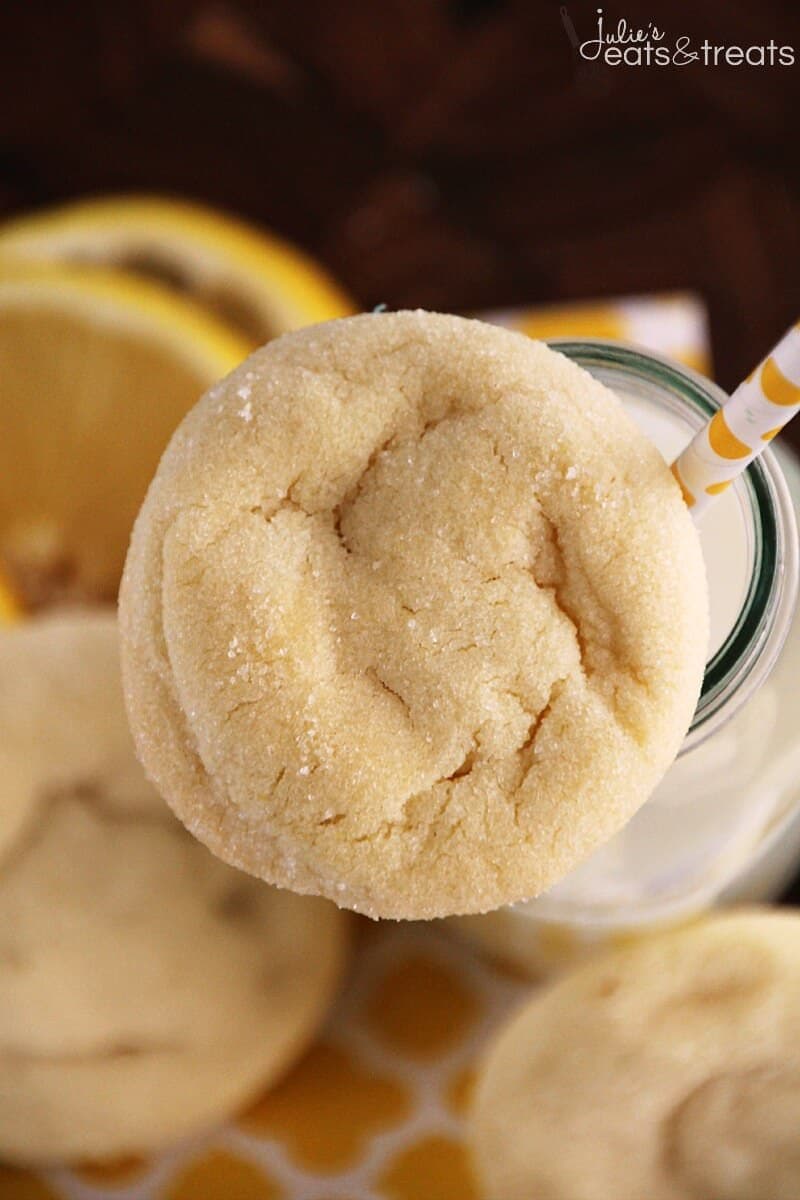 After we had a few appetizers and possibly a few adult beverages it was time to play Bunco. Oh man did we have a blast. I'll be honest I didn't know some of the neighbors that great before this but we had tons of fun and I can't wait to do it again.
If you are looking for a fun night I highly recommend having a few people over for a night of Bunco. The gifts made it all the more fun. Plus no one laughed at what we brought, well other than in a crap I don't want that way which is really the point of it all right!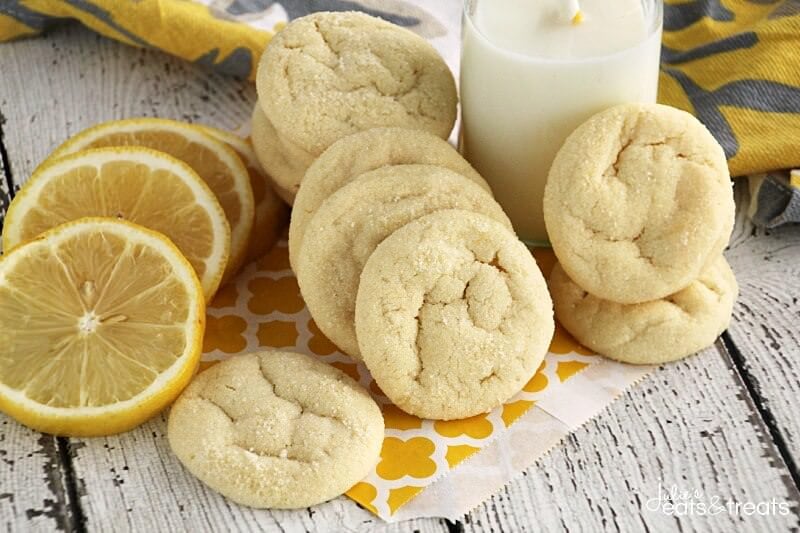 Hopefully we do it again and next time I think I'll bring these delicious Lemon Sugar Cookies. They are so easy to make and have the perfect amount of lemon flavoring to bring spring into your life. We have had such nice weather in Minnesota that I'm ready to rejoice and sing praises, yet in the back of my mind I keep remembering it's only March and that means we might get more snow.
I have this fear until the middle of May! We hardly had any snow this year so I know, I just know we will get dumped on yet and we will have to go through the muddy mess of it melting and drying up again.
If you want another amazing cookie recipe you have to try my classic oatmeal cookies! All you need is 4 ingredients to make these easy Cool Whip Cookies!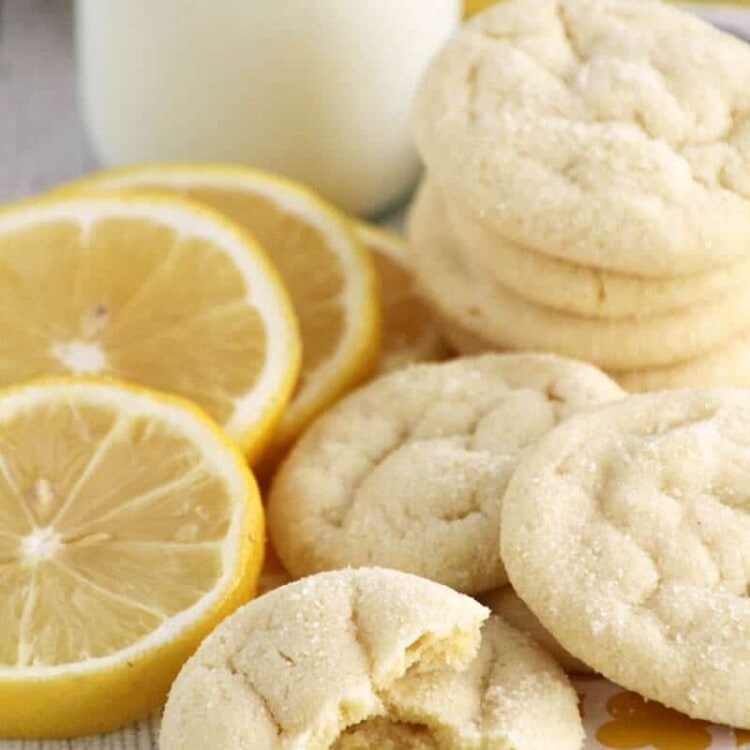 Lemon Sugar Cookies
Lemon Sugar Cookies ~ Easy, Soft Lemon Pudding Cookies Rolled in Sugar!
Ingredients
1

c.

butter

softened

1

c.

canola oil

1

c.

sugar

2

eggs

1

tsp

vanilla

1

3.4 oz pkg instant lemon pudding

4

c.

all-purpose flour

1

tsp

cream of tartar

1

tsp

baking soda

Sugar for rolling
Instructions
Preheat oven to 350 degrees.

In a large bowl cream together butter, oil and sugars. Beat in eggs, vanilla and dry pudding mix.

In a separate bowl combine flour, cream of tartar and baking soda. Mix into wet mixture until combined.

Make into balls the size of a tablespoon and roll in sugar. Place on ungreased cookie sheet two inches apart.

Bake for 10-12 minutes or until edges are just starting to turn golden brown and the tops are starting to crack. Remove to wire rack to coo.
Nutrition Information
Serving:
1
,
Calories:
240
kcal
(12%)
,
Carbohydrates:
29
g
(10%)
,
Protein:
3
g
(6%)
,
Fat:
12
g
(18%)
,
Saturated Fat:
3
g
(19%)
,
Cholesterol:
23
mg
(8%)
,
Sodium:
99
mg
(4%)
,
Potassium:
46
mg
(1%)
,
Sugar:
6
g
(7%)
,
Vitamin A:
175
IU
(4%)
,
Calcium:
7
mg
(1%)
,
Iron:
1.3
mg
(7%)