Kickin' Ranch Corn Dip + VIDEO
Easy dump and go Corn Dip is the perfect party appetizer! This Kickin' Ranch Corn Dip is Loaded with Ranch, Corn, Green Chilies & Cheese which makes it the perfect party appetizer!
Corn Dip
Looking for the perfect party appetizer? Look no further than this Kickin' Ranch Corn Dip! This Corn Dip is loaded with flavor and so easy to make. Plus, you can make it ahead of time so you aren't rushed when you are hosting a party!
Hey There! Glad to see you all came out alive on the other side of Christmas! Anyone else feel like they ran a marathon and now need to recover from it? I know I do. All the hustle and bustle and the fact I have a newborn and feel like I haven't slept in a month, wait that's kind of true.
When people ask me how she is I frankly look at them with a reply of, she's a newborn she sleeps as well as any other newborn. Some nights are good, some nights are not so good and sometimes I wish away these moments. Many people tell you not to wish them away, but my friends I do.
I honestly wish them away until they start sleeping through the night because let's face it I'm usually not enjoying them anyways because I'm so exhausted! Tell me I'm not the only one that feels like this.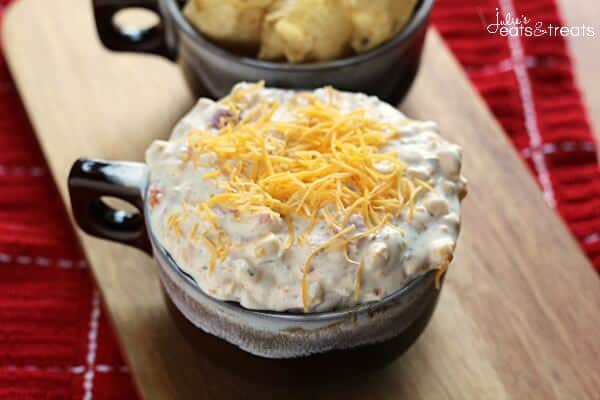 Speaking of Christmas and the hustle and bustle. Are you actually done with your Christmas? Ours is not and we still have at least one more family gathering next weekend so the rush somewhat continues. It's amazing living by all our family but the result of that is that we have all these parties to attend!
Anyone else's house look like a tornado went through it and the toys are overtaking every nook and cranny? We did some strategic rearranging and put the old toys downstairs and the new ones up stairs.
You know what present I wish I would have got this Christmas? Earplugs. Why didn't any of my siblings think of that when they were buying Miss K all these lovely, loud toys? Maybe some Advil to accompany those toys, but boy does she love them. The noisier the better of course! Typical kid right?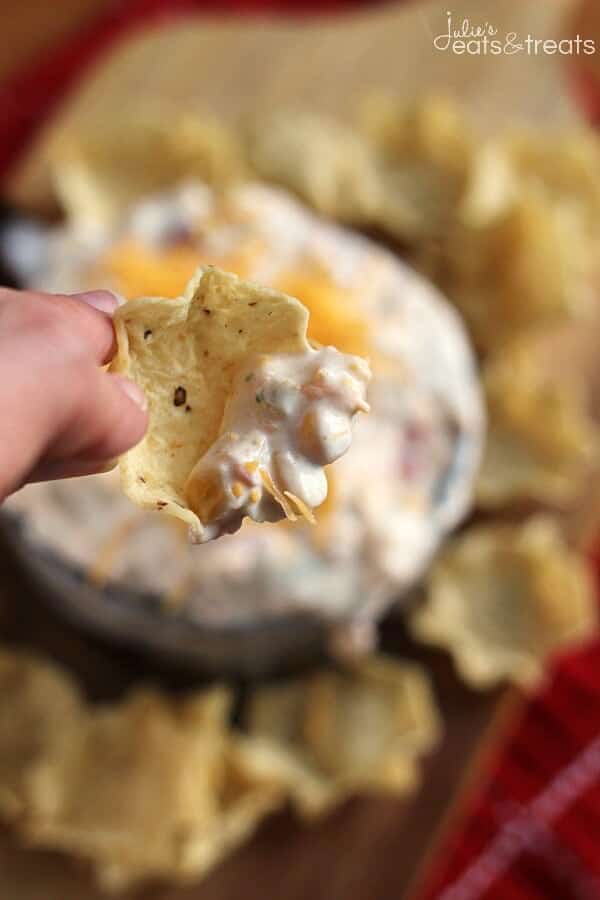 Now that Christmas is done it's time to plan your New Year's festivities!
Are you going out on the town? Maybe you are gathering at a friend's house or maybe you are lame and staying home. Actually that's not lame at all because if it was I'd be calling myself lame! We might have a few friends over to our house for appetizers, make Cheesy Corn Dip and of course Kickin' Ranch Corn Dip too. That's the way you are rolling this year then you need to put this delicious dip on your menu!
It's so delicious and easy. It's got ranch in it so of course it yummy and addictive, but it's a got a kick to it that will have you coming back for more!
Can I Make This Corn Dip in Advance?
Yes! In fact I recommend it. Making this dip in advance and refrigerating it until you want to serve it let's the flavors meld together and I think it's even better this way! So go ahead and prep for your party, whip up this dip and let it hang out in the fridge until party time!
Store this dip in the refrigerator for up to two days in a container with a tight lid.
How Long Can I Leave a Dip out at a Party?
No one wants to be the host or hostess that gives someone food poisoning, right?
Essentially you don't want to leave perishable food at room temperature for more than two hours. This is called the "Danger Zone".
If you make this ahead of time and store it in the fridge, then pull it out it will be chilled when you serve it so this will buy you about 1 additional hour.
You want to make sure this heads back to the fridge in about 2-3 hours from when you pulled it out of the fridge to serve it.
What Do I need to Make Corn Dip
Ranch Salad & Seasoning Mix
Light sour cream
Rotel
Petite diced tomatoes
Whole kernel corn
Diced green chilies
Shredded cheddar cheese
How to Make Corn Dip
It's so simple.
Essentially you grab a bowl, dump all the ingredients into your bowl, stir it up and cover it so it's airtight if you are storing it in the refrigerator until you are serving it later. You can also serve it right away!
Watch the video below to see how easy it is!
If you enjoy watching these videos make sure you subscribe to my YouTube Channel to be notified each time a post a new video!
More Dip Recipes for a Party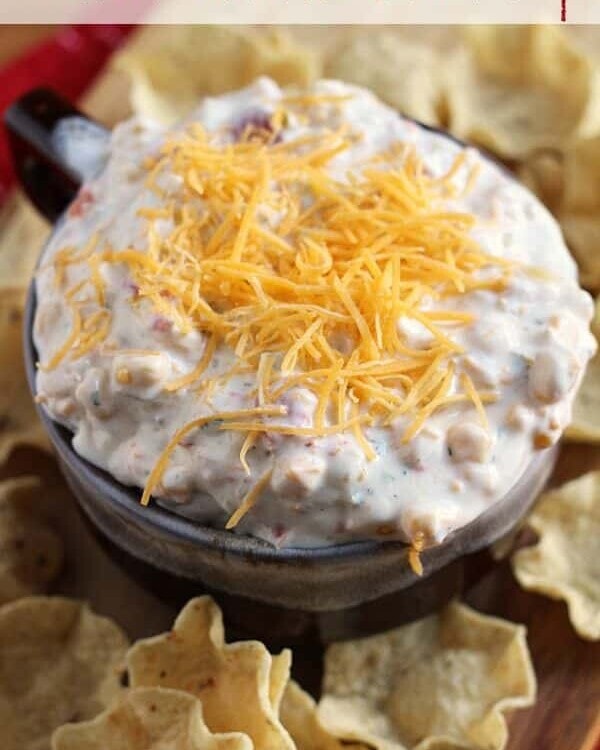 Kickin' Ranch Corn Dip
Easy dump and go Corn Dip is the perfect party appetizer! This Kickin' Ranch Corn Dip is Loaded with Ranch, Corn, Green Chilies & Cheese which makes it the perfect party appetizer!
Ingredients
1

1 oz Ranch Salad & Seasoning Mix

16

oz

light sour cream

1

10 oz can original Rotel

1

14.5 oz can petite diced tomatoes, drained

1

15.25 oz can whole kernel corn, drained

1

4.25 oz can diced green chilies, drained

3/4

c.

shredded cheddar cheese
Instructions
Mix all ingredients together.

Refrigerate for 1 hour before serving.
Nutrition Information
Calories:
169
kcal
(8%)
,
Carbohydrates:
4
g
(1%)
,
Protein:
7
g
(14%)
,
Fat:
13
g
(20%)
,
Saturated Fat:
8
g
(50%)
,
Cholesterol:
43
mg
(14%)
,
Sodium:
206
mg
(9%)
,
Potassium:
141
mg
(4%)
,
Vitamin A:
410
IU
(8%)
,
Vitamin C:
1.2
mg
(1%)
,
Calcium:
240
mg
(24%)
,
Iron:
0.2
mg
(1%)