These delicious No Bake Chocolate Chip Energy Bites are loaded with chocolate chips, coconut, oats, flaxseed and chia seeds! They are the perfect healthy snack recipe!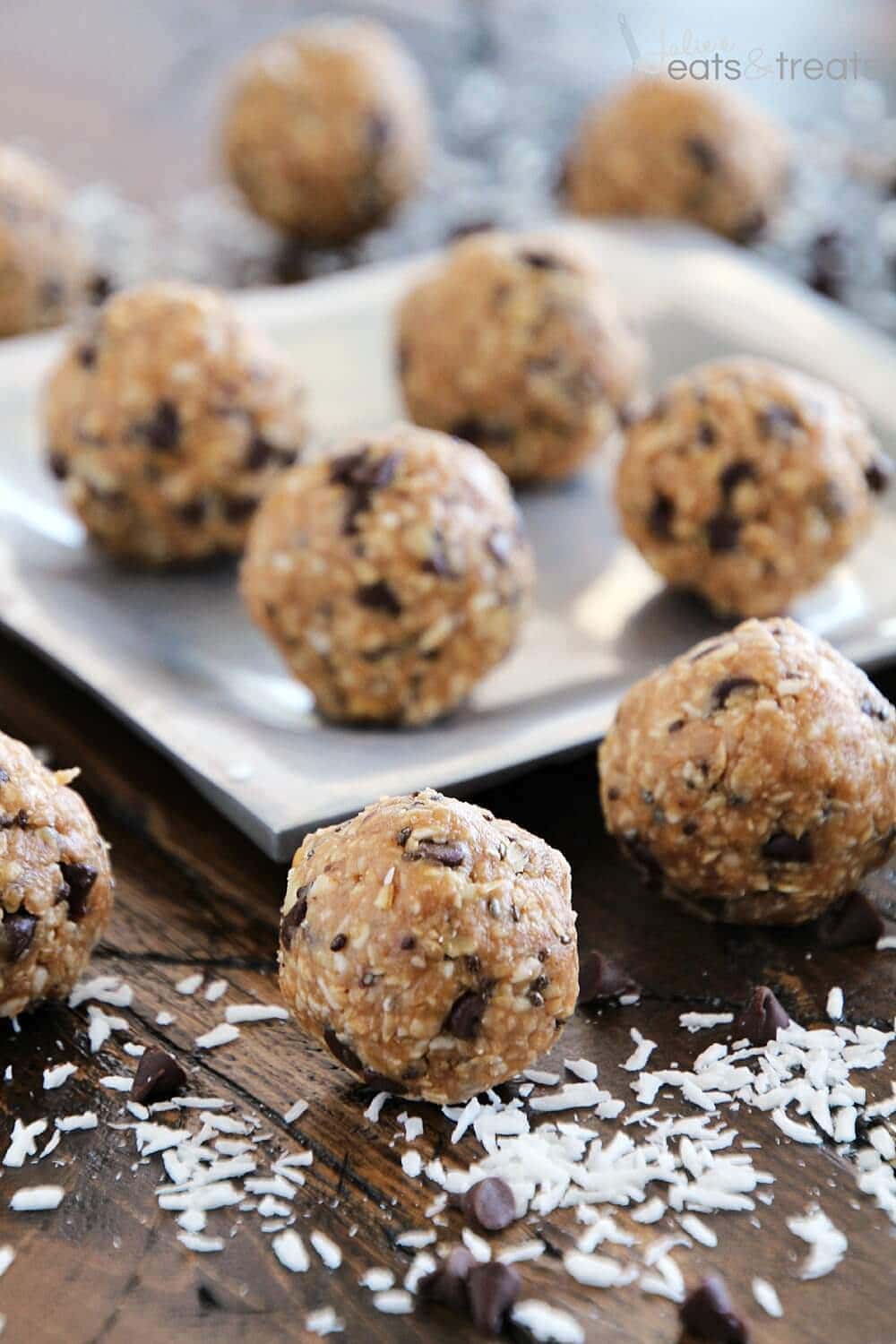 No Bake Energy Bites
I'm always looking for healthier treats and these fit the bill! Loaded with good for you ingredients like flaxseed, oats and chia seeds. Plus a little something sweet, mini chocolate chips, to curb my sweet tooth makes these way better for me than a chocolate chip cookie and just as delicious! Energy balls are a great snack for the mid afternoon munchies that I always seem to get!
Well, the little brother's wedding weekend is over and done with and we survived! My hubs was a groomsman and I forgot how exhausting two children can be when you are doing it solo! It's horrible! It also makes me appreciate him that much more. Not that he didn't help out with them because he did as much as he could and we had tons of family there who were more than awesome about lending a hand. But man oh man trying to keep them in the right places at the right times, entertained and happy and not to mention clean the whole time was not fun!
I succeeded for the most part. Miss RyRy may have sputtered sweet potatoes all over her dress during the reception but by that time I had thrown in the towel of trying and gave way to the madness. The pictures and ceremony were done with and it was kind of a free for all after that!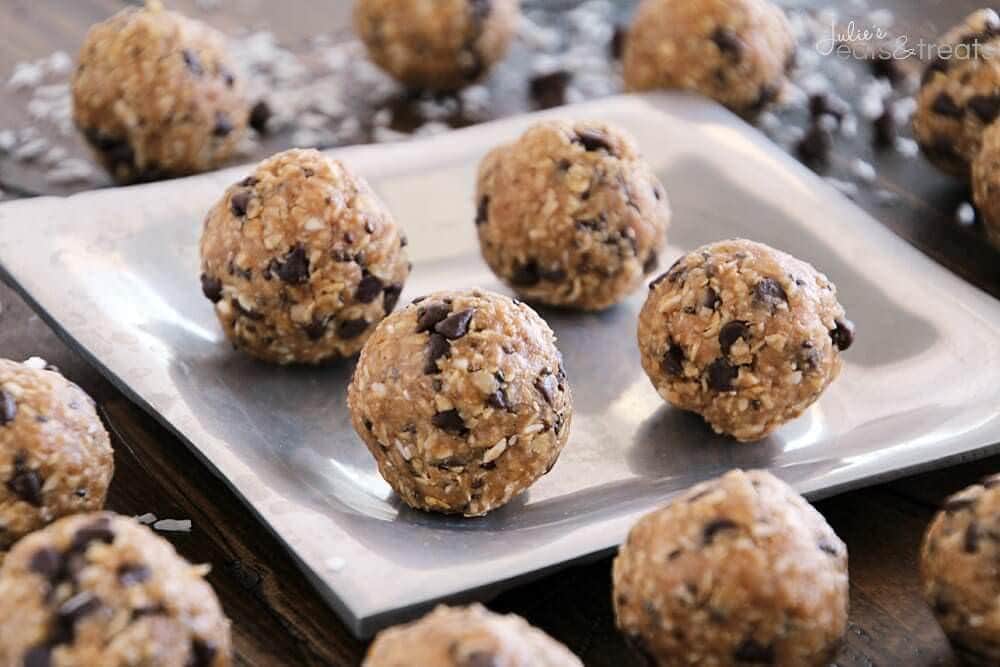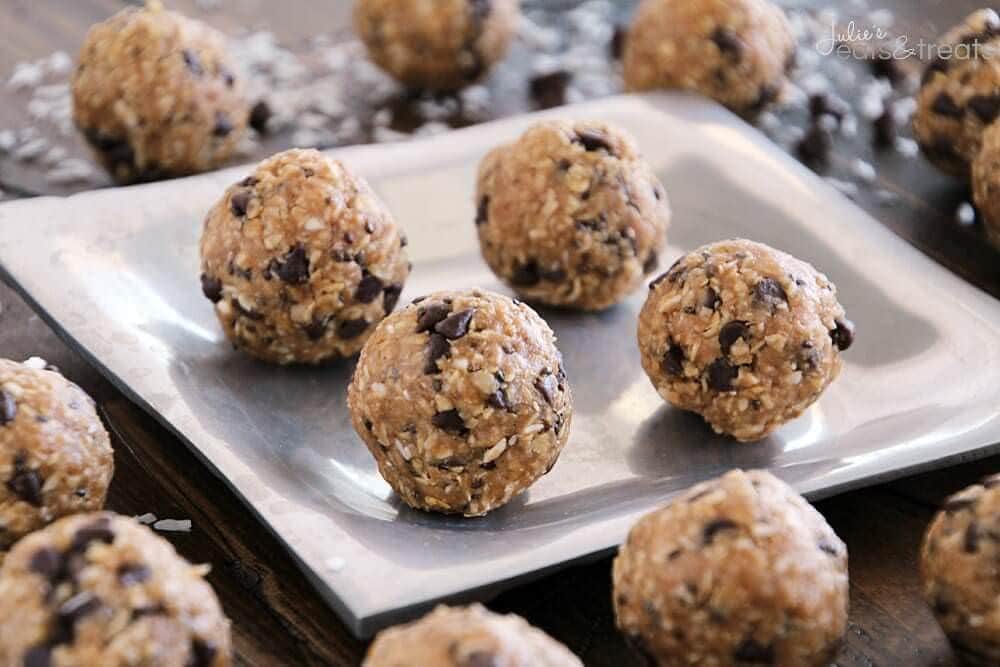 Energy Bites
Everything, for the most part, went off with out a hitch. In fact nothing major happened. Except about 50 extra people showed up at the wedding reception we think and people ended up sitting outside on picnic tables on the deck, but it was at a lake so it wasn't that rough!
The mother of the bride may have had to run to a store and get more forks and spoons because they ran out. You know every wedding has to have a few of those "moments" or there wouldn't be anything to remember!
The main thing is that they are married and get to start their lives together! Onto the rest of their lives and happily ever after. I loved that our Pastor told them to take off their rose colored glasses if they didn't think marriage wasn't hard because it is. So true and honest about it. It's work but it's worth it in my opinion. Especially after realizing I could never be  single mom after this weekend… haha! Love ya hubs!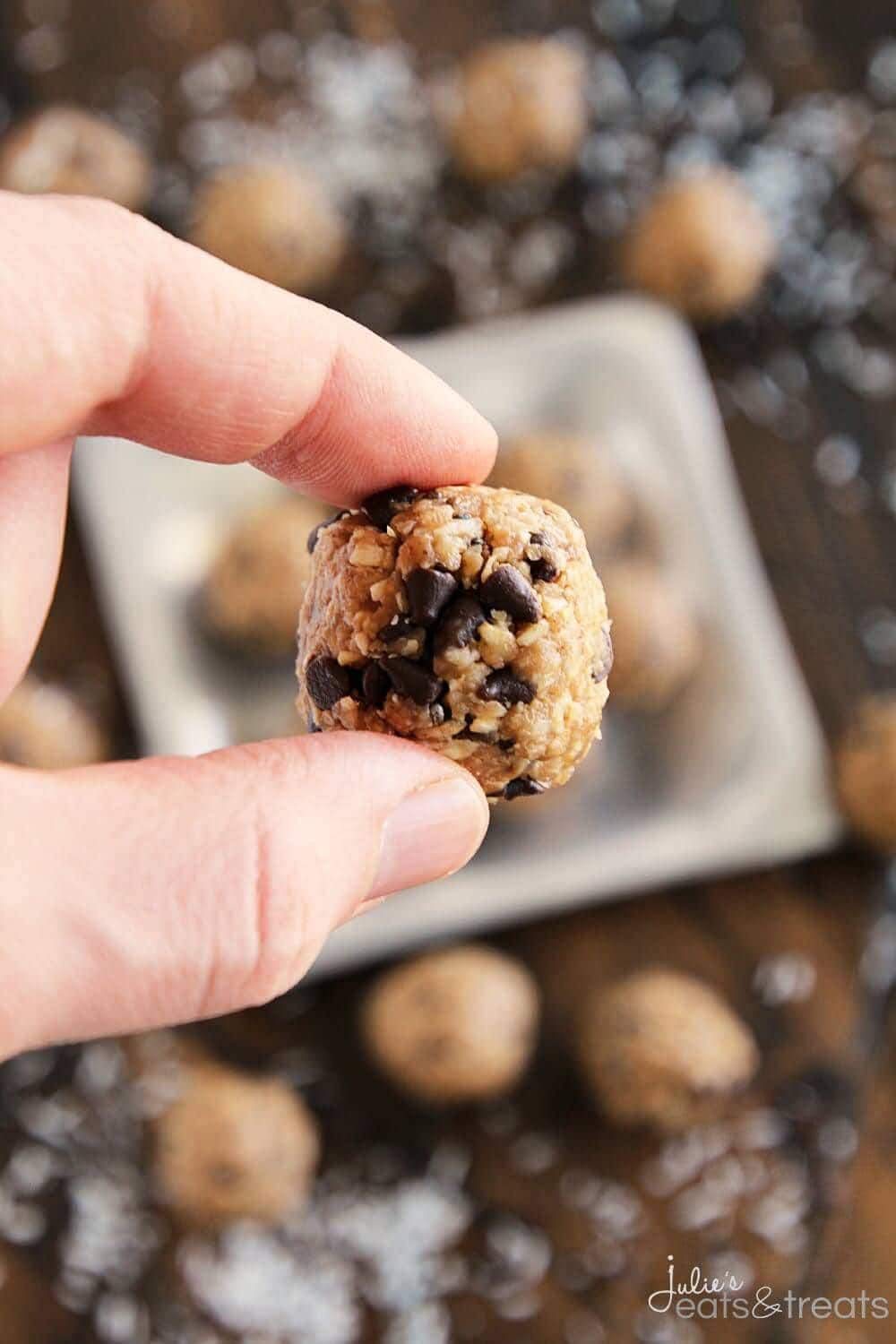 Can you believe it's August? I can't and you know what that means? The kiddos are going to be heading back to school soon. It's time to start picking out their school clothes, school supplies and get back into the schedule of school.
Where or where did summer go? I can't believe I'll be picking out preschool supplies for Miss K next year at this time. Don't mind me while I wipe away a tear. Eeekkkkkk. Part of school is trying to figure out brown bagged lunches, after school snacks and dinner once again. Trying to get it all jammed into a few hours in the evening.
Today I'm sharing these amazing No Bake Chocolate Chip Energy Bites which are awesome for schools lunches and after school snacks! I'm a total snack lover and these satisfy my sweet tooth while being back with oatmeal, coconut, flax seed and chia seed to be not only tasty but a healthier treat too!
If you don't like coconut don't get scared away from these. The hubs doesn't and he munched on these constantly!
Ingredients Needed to Make No Bake Chocolate Chip Energy Bites
Quick oats
Mini chocolate chips
Unsweetened coconut flakes
Peanut butter
Honey
Vanilla
Ground flaxseed
Chia seeds
Salt
How to Make No Bake Chocolate Chip Energy Bites
I don't even know if I need to explain these to you they are that easy!
Simply dump all the ingredients in a mixing bowl, mix until combined and then form into balls. The recipe calls to make 30 balls, but if you want to make them smaller you can and then you can have two of them and it makes you feel like you are eating more. At least it does for me!
More No Bake Energy Bite Recipes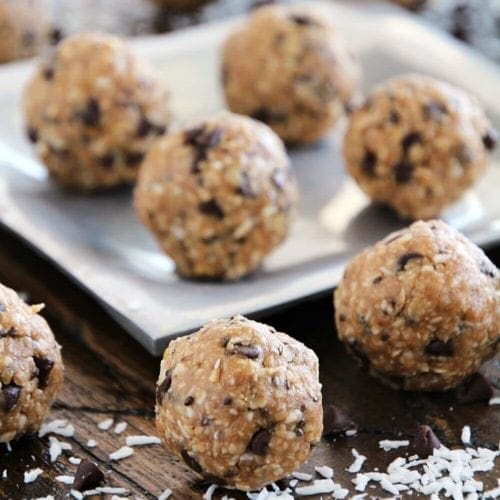 No Bake Chocolate Chip Energy Bites
These delicious No Bake Chocolate Chip Energy Bites are loaded with chocolate chips, coconut, oats, flaxseed and chia seeds! They are the perfect healthy snack recipe!
Print
Pin
Rate
Ingredients
2

c.

quick oats

1/2

c.

mini chocolate chips

2/3

c.

unsweetened coconut flakes

1/2

c.

peanut butter

1/2

c.

honey

1

tsp

vanilla

1

Tbsp

ground flaxseed

1

Tbsp

chia seeds

1/4

tsp

salt
Instructions
Mix all ingredients together in a mixing bowl. Refrigerate 1 hour.

Roll into 30 balls.

Refrigerate for up to one week or freeze.
Nutrition
Calories:
152
kcal
|
Carbohydrates:
18
g
|
Protein:
3
g
|
Fat:
7
g
|
Saturated Fat:
4
g
|
Sodium:
42
mg
|
Potassium:
117
mg
|
Fiber:
2
g
|
Sugar:
6
g
|
Vitamin A:
0.2
%
|
Vitamin C:
0.1
%
|
Calcium:
1.8
%
|
Iron:
6.1
%
LEAVE A COMMENT