One Pan Sausage & Veggies
One Pan Sausage & Veggies ~ Easy, One Pan Dinner Perfect for Weeknight Meals! Delicious Smashed Potatoes, Sausage and Asparagus!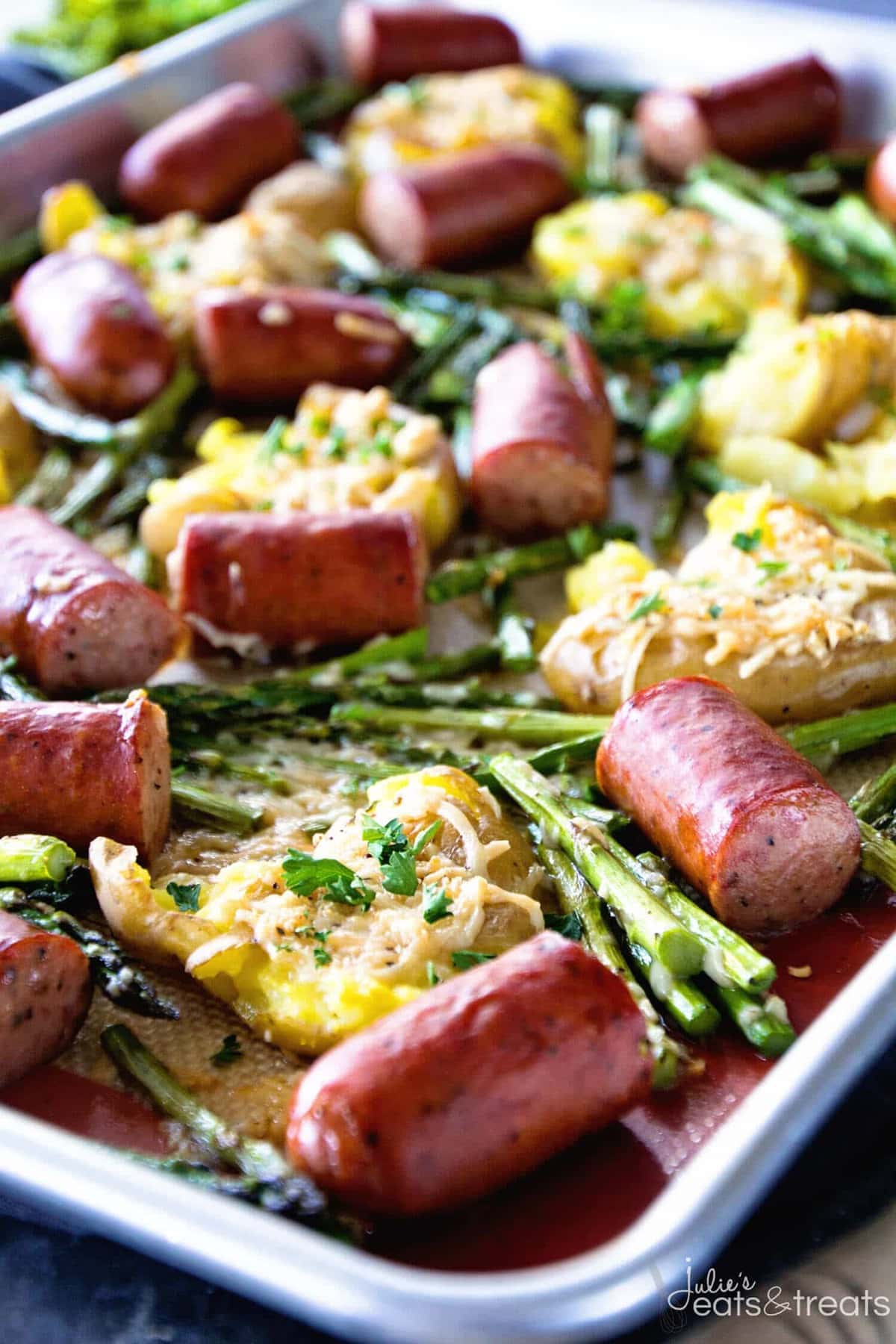 Pre-school and Sunday School seem to be Miss K's new favorites things in life. She keeps telling me that she wants to go to school EVERYDAY Mom. She's totally over daycare. I wish this would keep up all of her days! I know it will come to an end and I'll be pulling her out of the house to get her to school. Don't get me wrong, the phrase, "You're going to miss your buss Miss K!!!!" comes out of my mouth more times than I'd like to admit. That girl is on her own time.
Getting Miss K to even go to Sunday School took some talking. She didn't really know the other kids and it was out of her comfort zone. Once we got her there it became her new favorite thing! Her teacher looked at me yesterday and said, "I don't know why you think she's shy!" I can only imagine what she's been saying!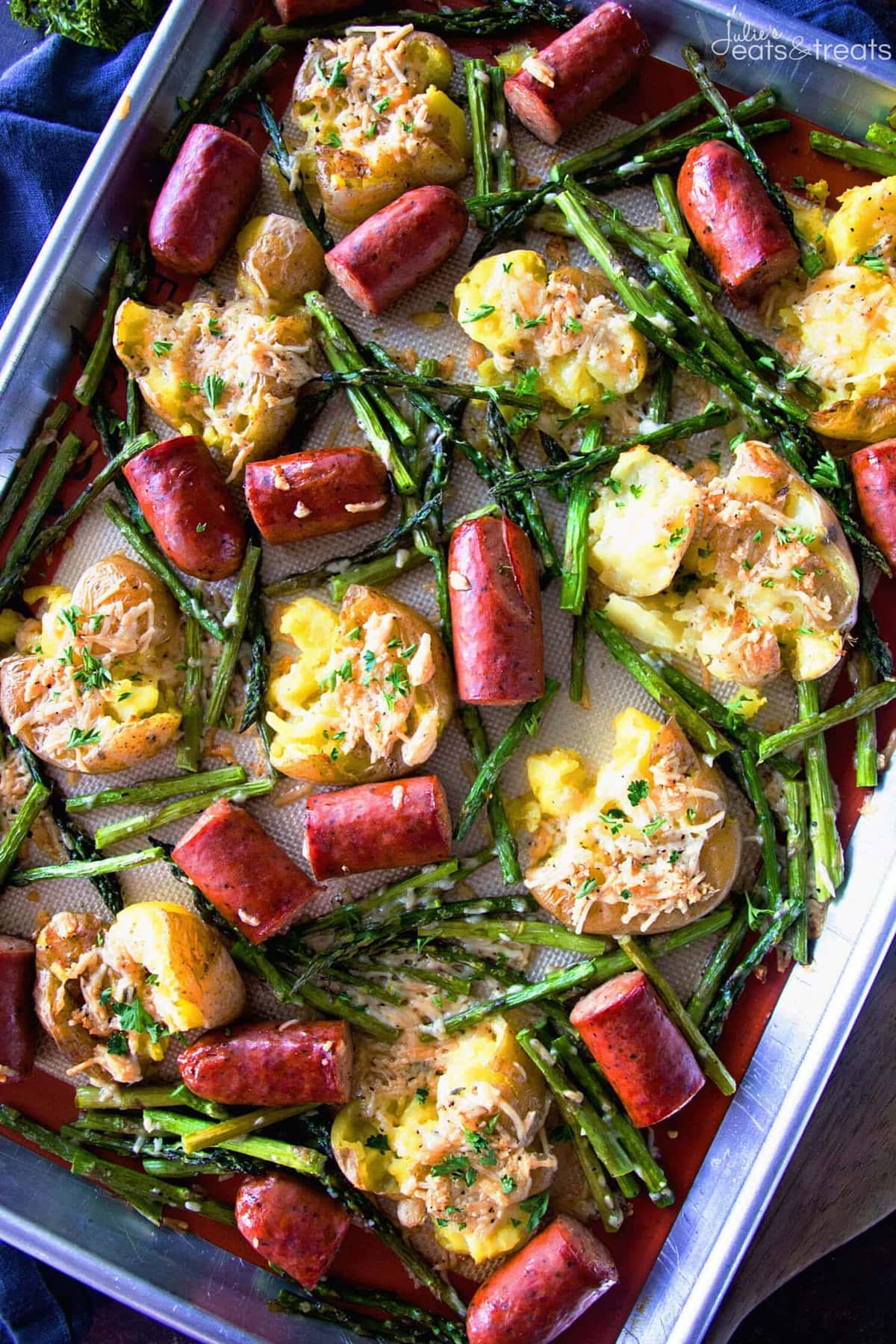 After church when Miss K runs off to Sunday School we are left to wrestling and contain RyRy until she is done with Sunday School. During this time I had a conversation with another Mom at church who has young children. She asked me if I was totally spent after church like she was. I started laughing and quickly said that yes, most of the time I am! I said it's really just about going into survival mode sometimes. You just try to make it through!
That brings to me to life in general with young kids. If I had a dollar every time someone told me not to wish these days away I'd be a rich woman who was able to retire young. Yet, I catch myself doing just that. Some days, some nights are just to much. You simply go into survival mode and focus on getting through it, after you get the kids to bed you start to wish those times away. I try not to do it because the good outweighs the bad by far. Like RyRy giggling so hard she snorts which is her new move. Or her newest phrase, "Thank you, Welcome!" every time someone helps her out. It's precious.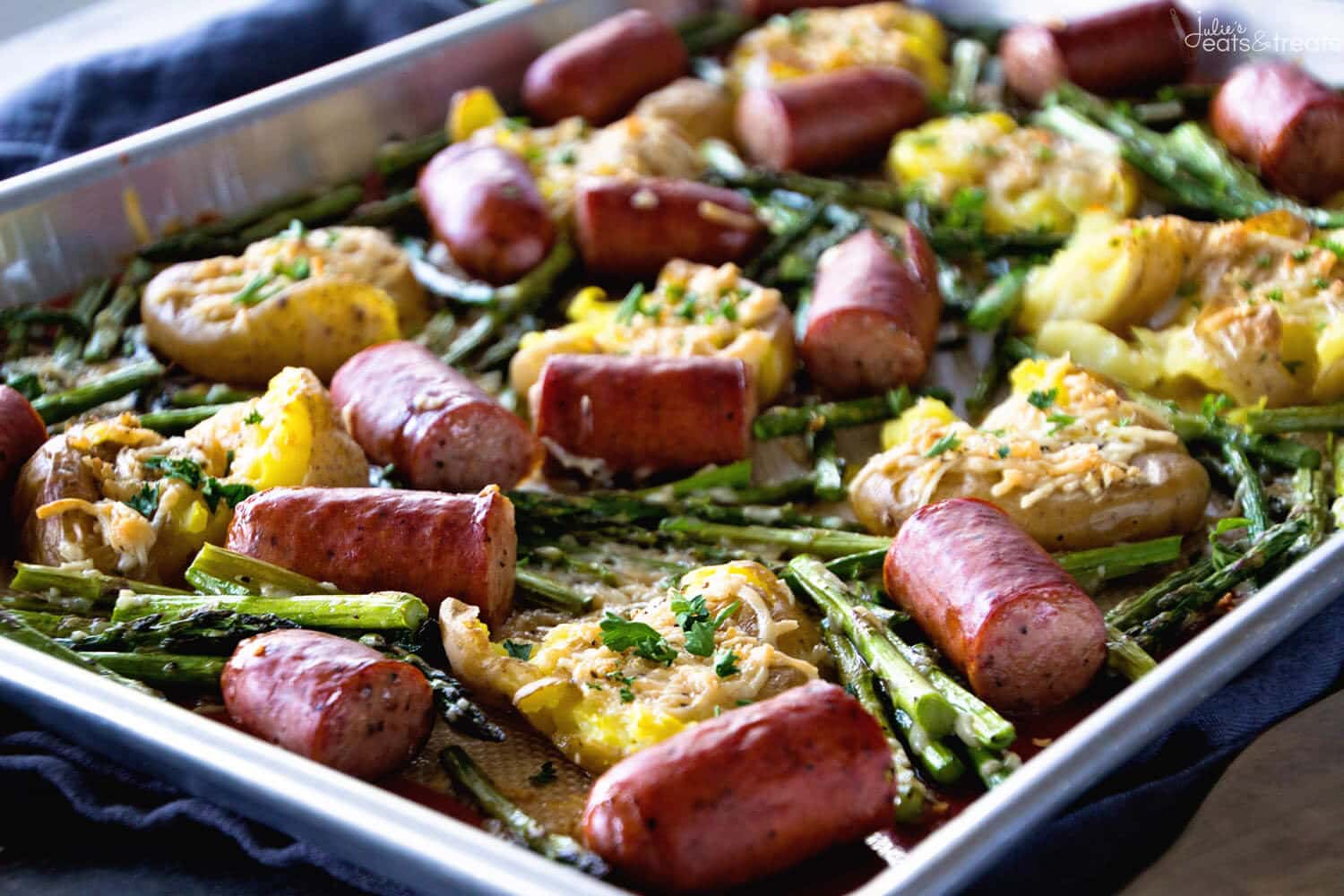 I'm often in survival mode during dinner. Having a game plan for the week is the best thing ever. Honestly. If I know I at least have five options to pick from throughout the week it gives me focus and helps me not dread making dinner after work. I hate not having a plan!
I love this meal because it's something a little different than pasta and yet it's one pan so it comes together quickly. Technically you have to boil the potatoes before you put them on the pan so I probably shouldn't have lead you astray by calling this "One Pan". I apologize. Forgive me? Don't write it off because of that though! It's delicious!
More Sheet Pan Recipes!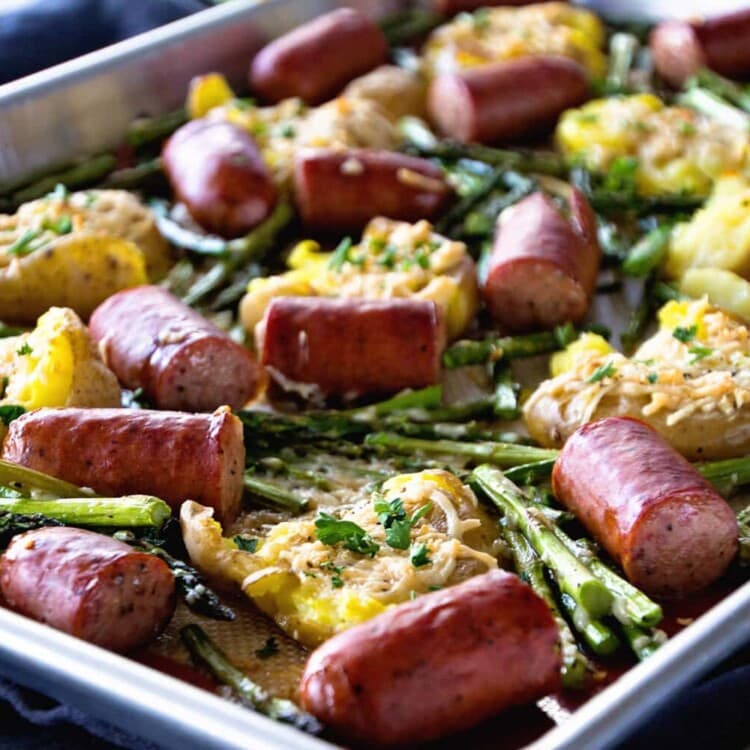 One Pan Sausage & Veggies
Easy, One Pan Dinner Perfect for Weeknight Meals! Delicious Smashed Potatoes, Sausage and Asparagus!
Ingredients
1

lb

baby Yukon gold potatoes

cleaned

5

cloves

minced garlic

2

Tbsp

olive oil

1/2

tsp

salt

1/2

tsp

black pepper

2/3

c.

shredded Parmesan cheese

1/2

lb

asparagus

1

14 oz package Grill Mates® Montreal Steak® Smoked Sausage
Instructions
Preheat oven to 450 degrees

Boil potatoes for 15 minutes. Drain. Transfer to sheet pan prepared with non-stick spray lined with baking mat. Smash with fork.

In a mixing boil combine garlic, olive oil, salt, pepper, and Parmesan. Sprinkle 2/3 of mixture on top of smashed potatoes.

Mix asparagus into remaining cheese mixture.

Lay sausage on baking sheet. Arrange asparagus on baking sheet.

Bake 15 minutes at 450 degrees.
Nutrition Information
Calories:
613
kcal
(31%)
,
Carbohydrates:
21
g
(7%)
,
Protein:
31
g
(62%)
,
Fat:
44
g
(68%)
,
Saturated Fat:
16
g
(100%)
,
Cholesterol:
105
mg
(35%)
,
Sodium:
1748
mg
(76%)
,
Potassium:
834
mg
(24%)
,
Fiber:
4
g
(17%)
,
Sugar:
1
g
(1%)
,
Vitamin A:
770
IU
(15%)
,
Vitamin C:
17.2
mg
(21%)
,
Calcium:
499
mg
(50%)
,
Iron:
6.3
mg
(35%)
More One Pan Meals!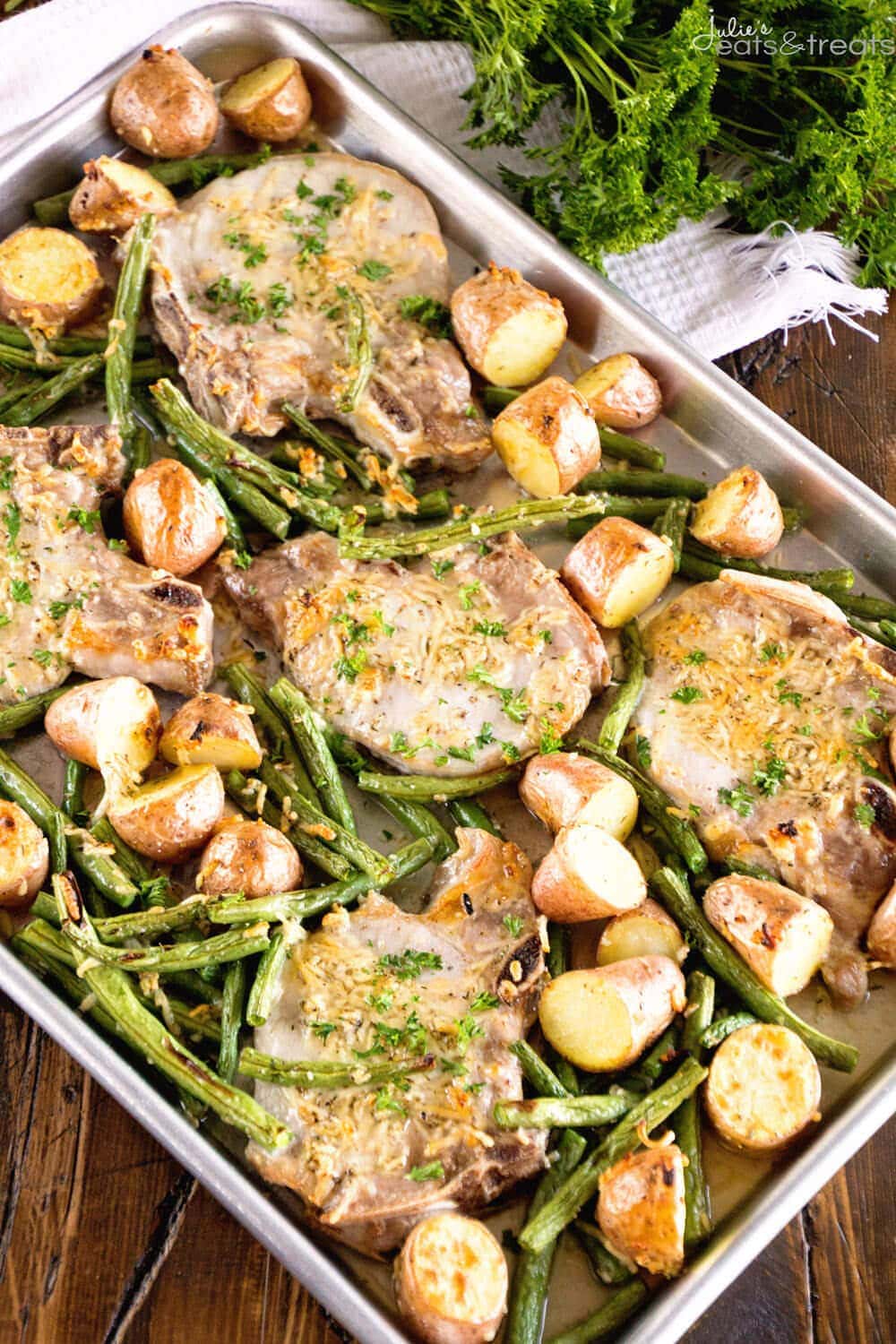 One Pan Parmesan Pork Chops and Veggies Recipe ~ Juicy Pork Chops Baked in the Oven with Potatoes and Veggies Seasoned with Garlic, Thyme and Parmesan! Quick, Healthy, Light Dinner ready in 30 Minutes!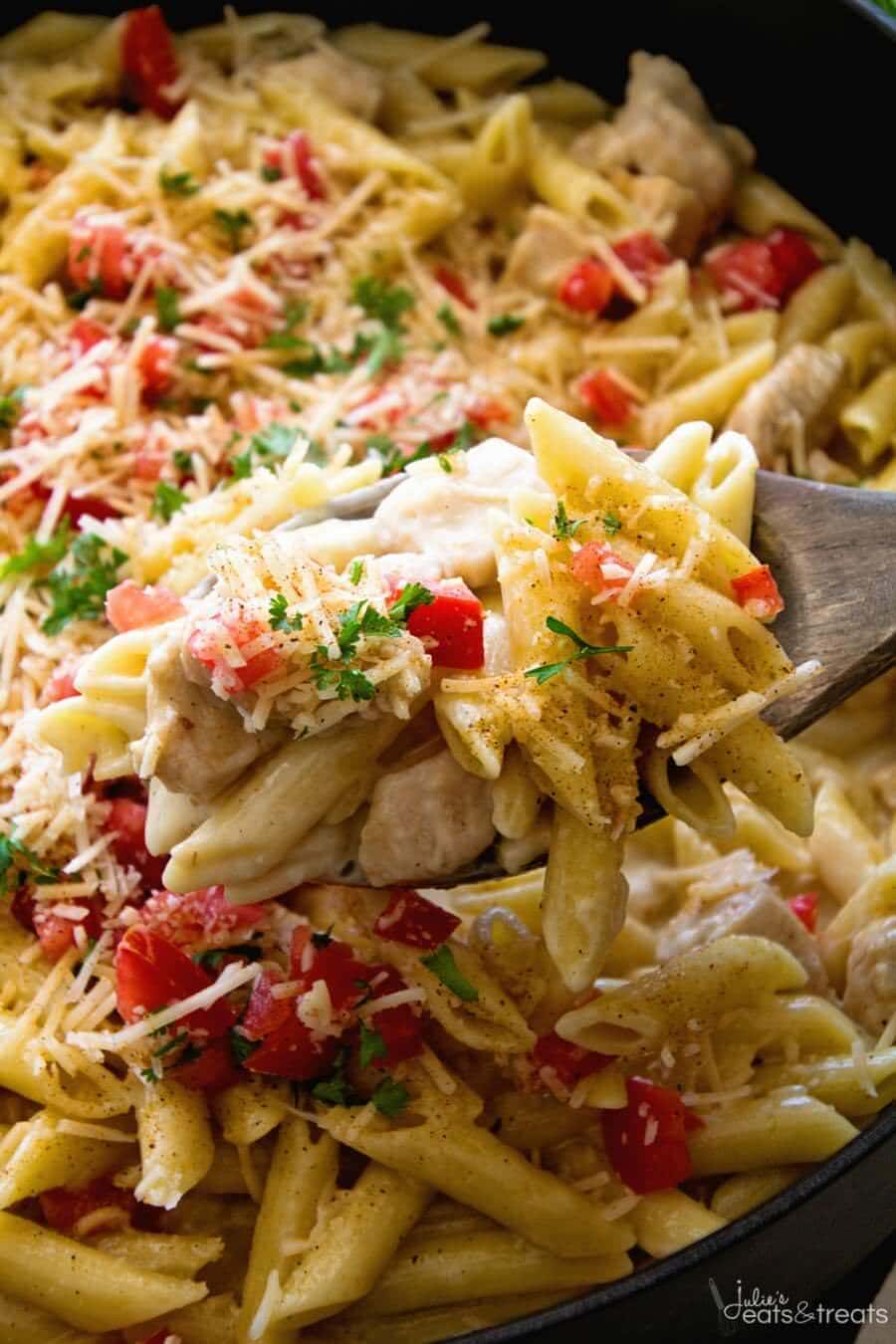 One Pot Cajun Chicken Pasta ~ Creamy Pasta Sauce with Chicken, Cheese and the Perfect Amount of Cajun Spice! Easy Dinner Recipe That's Better Than a Restaurant's!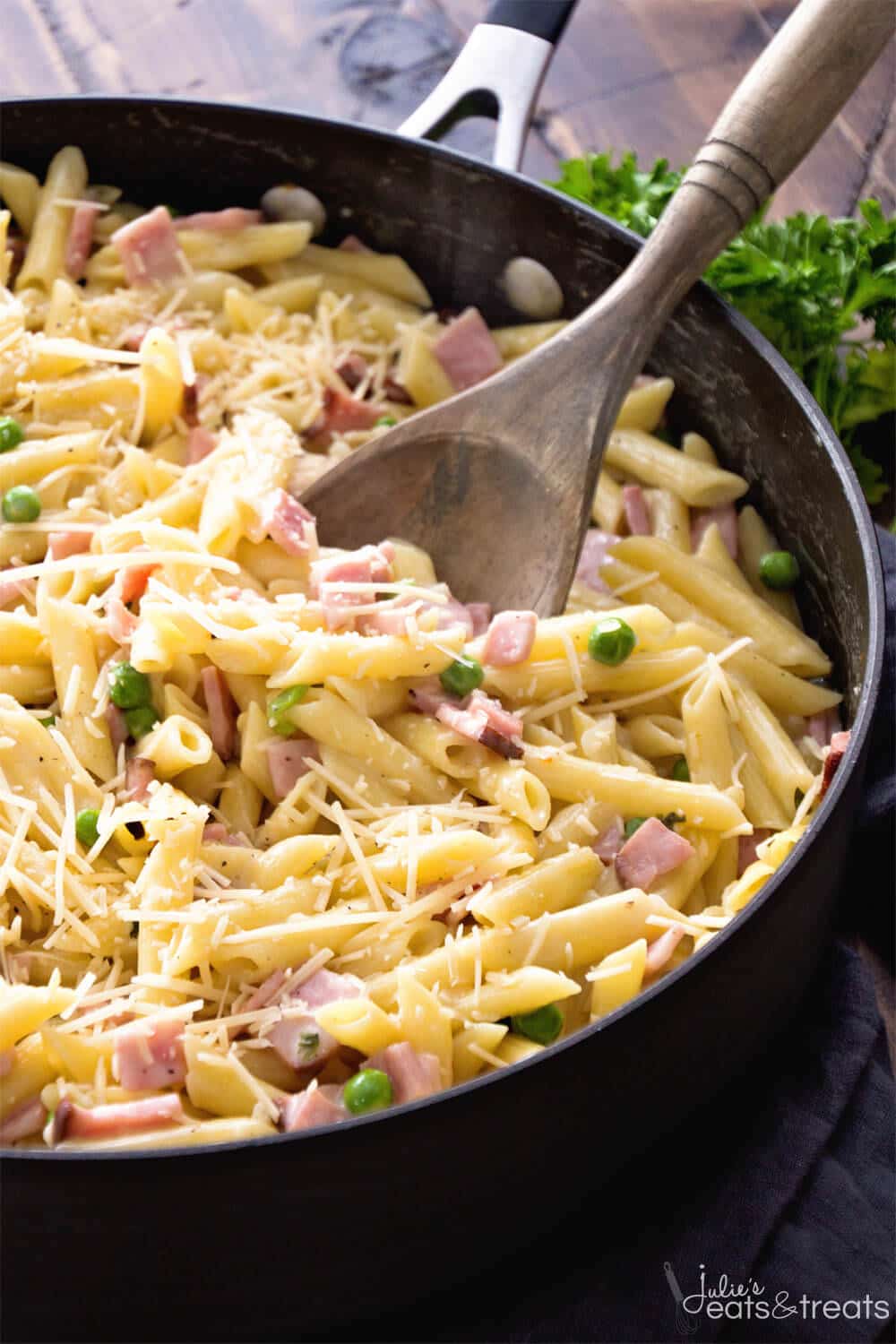 One Pot Ham & Penne Skillet Recipe ~ Delicious Pasta Perfect for a Quick Dinner! Loaded with Ham, Penne and Peas