One Pot Mexican Chicken & Rice
One Pot Mexican Chicken & Rice Recipe ~ Quick, Easy One Pot Dinner with a Southwestern Flair! Cheesy Chicken In a Bed of Southwestern Rice Makes the Perfect Quick Meal!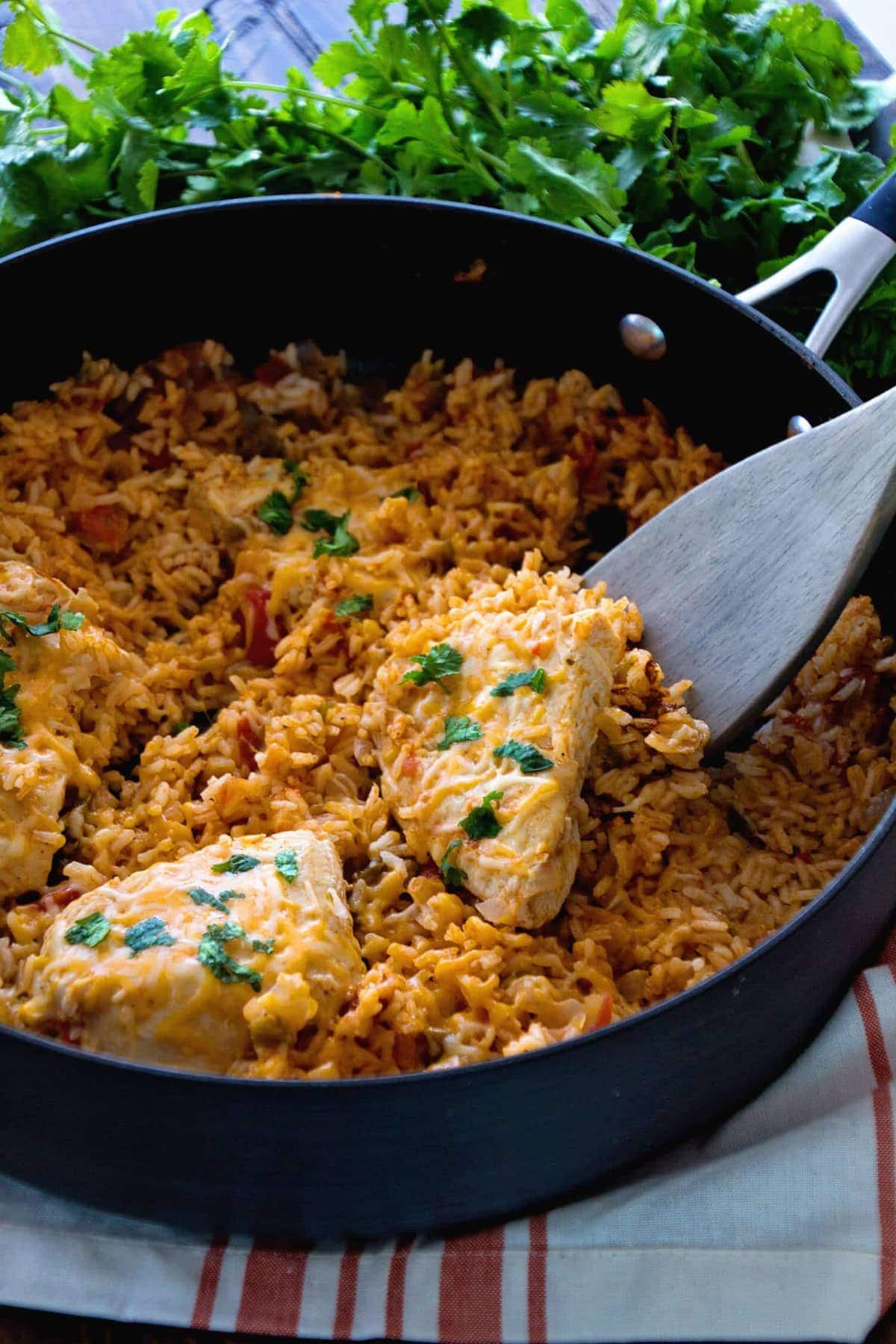 I'm BACK with another One Pot Meal! You love me. Admit it. You know it. I rock. I'm making dinner easier one recipe at a time! You guys have LOVED One Pot Taco Pasta, One Pot Ham & Penne Skillet, Light Italian One Pot Salmon & Orzo, One Pot Garlic Chicken Alfredo. Therefore I decided that you'd love another one especially if it has a Mexican theme because well that holiday called Cinco de Mayo is right around the corner and we will all want to be enjoying Margaritas and Mexican chow don't we?
I could use a Margarita or five about right now. My kids are running around wild as my husband tries to control them. I gave up. Seriously. Talk about a mess today! I may or may not have texted my Mom early to see if parenting got easier at some point. She said it might become less physically exhausting but never easier. Then I cried all the tears. Ha! Not really, but I thought about it then I had to go put out the next fire. My fire extinguisher is gone for the evening. Is it bedtime yet?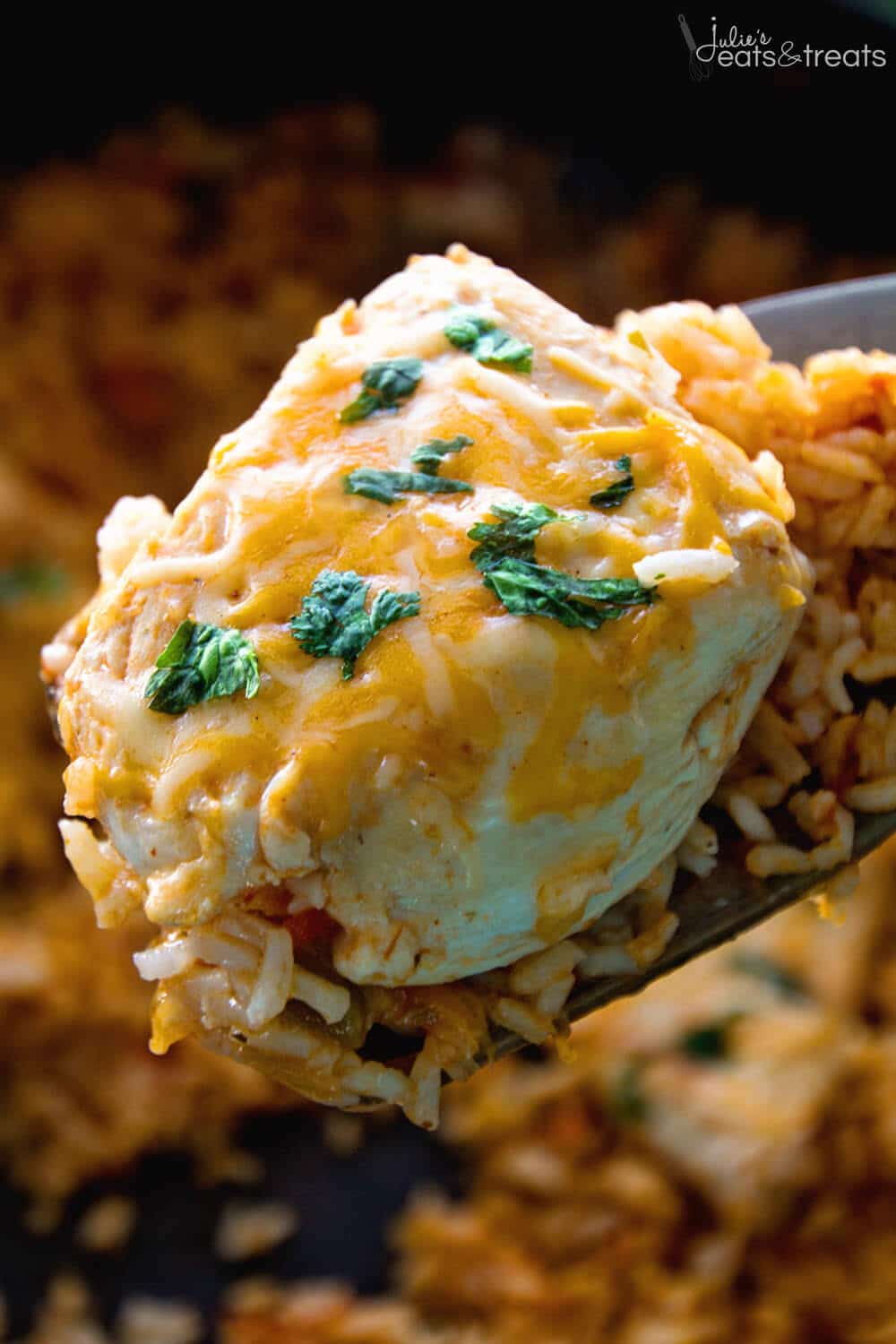 Thank goodness for Moms though. Can I get an Amen for that? I may have called to get some moral support about parenting and the fact that I was a "little" overwhelmed, but it ended with my parents bringing over pizza and having dinner with us and breaking up our night a little. You see, I have a little bit of a confession. On Sunday nights it's kind of a "thing" for my Dad to call me up and see if we want to go out to eat. It was a ritual from growing up. We almost always went out to eat on Sunday nights. Mom was totally over cooking by that time and needed a break and it was always something us kids got excited for. Usually it wasn't anything fancy but it was always something we looked forward to. If it was summer it was followed by "crop checking" which means we drove around to all the different fields and Dad got out and kicked the dirt and made sure everything was looking good!
Habits die hard. If Dad hasn't called by 4ish I'm usually calling them fishing for an invite without exactly saying that. No shame. I'm sure they've figured it out by now! Now, now, now it's not every single week but I'd say every other or every third it's a date. My hubs thinks it's absolutely halarious and may call me spoiled because of it.
I'm completely fine with that. I don't have to cook. End of story.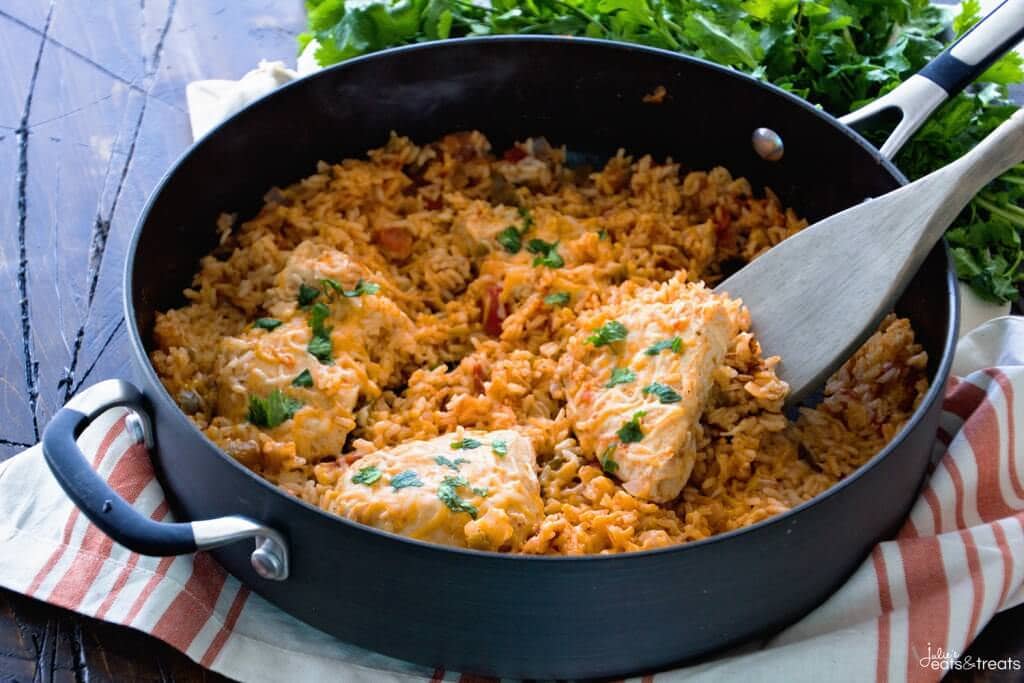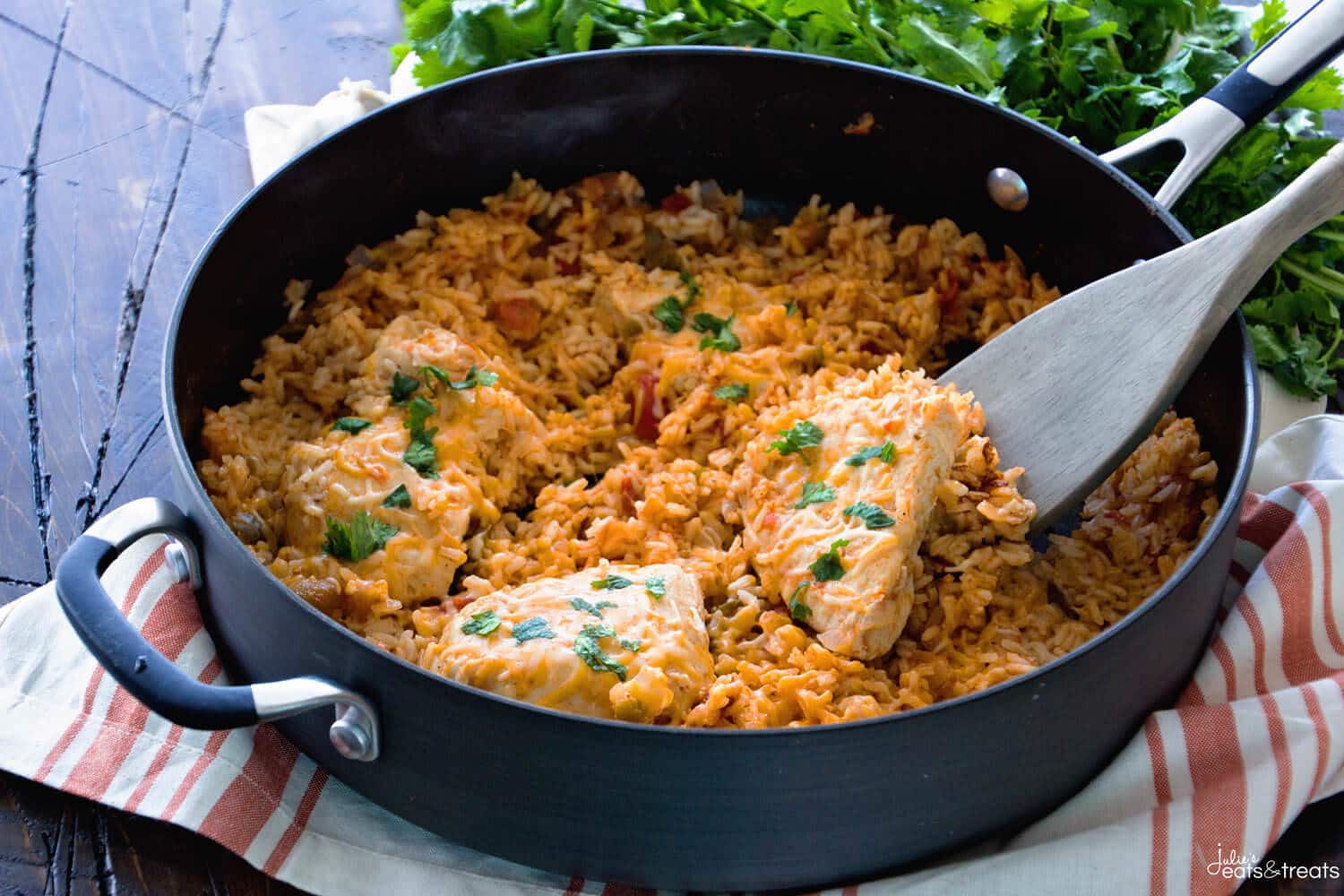 The rest of the week you can find me wishing that someone would bring me dinner but dealing with the fact that it ain't happening! Due to this fact I'm been whipping up a lot of one pot meals lately and I'm bringing you another delicious option!
This time we have a little Mexican flair because Cinco de Mayo is approaching! Since it's in the middle of the week I thought you'd love a simple dinner to get on the table fast! Enjoy!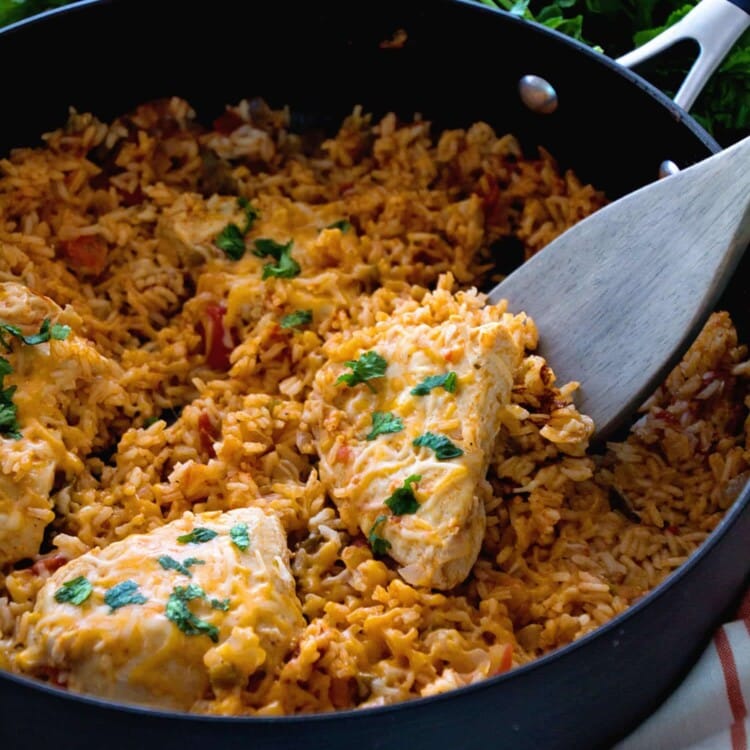 One Pot Mexican Chicken and Rice
Quick, Easy One Pot Dinner with a Southwestern Flair! Cheesy Chicken In a Bed of Southwestern Rice Makes the Perfect Quick Meal!
Ingredients
2

tsp.

butter

1/2

c.

chopped onion

2

minced garlic cloves

1 1/3

c.

chicken broth

1

c.

salsa

1/4

tsp

garlic powder

1

c.

uncooked long grain rice

1

lb

boneless skinless chicken breast halves

1/2

c.

shredded Mexican cheese

Chopped fresh cilantro

optional
Instructions
In a skillet heat butter over medium heat. Add onion and garlic. Cook and stir until tender and fragrant.

Add chicken broth, salsa and garlic powder. Bring to a boil. Stir in rice and return to a boil. Place chicken over rice. Reduce heat; cover and simmer for 20-25 minutes or until rice is tender and a thermometer inserted in chicken reads 165 degrees, turning chicken halfway through cooking.

Remove from heat. Sprinkle with cheese; cover and let stand until cheese is melted. Garnish with cilantro if desired.
Nutrition Information
Calories:
504
kcal
(25%)
,
Carbohydrates:
55
g
(18%)
,
Protein:
36
g
(72%)
,
Fat:
14
g
(22%)
,
Saturated Fat:
7
g
(44%)
,
Cholesterol:
105
mg
(35%)
,
Sodium:
1065
mg
(46%)
,
Potassium:
787
mg
(22%)
,
Fiber:
2
g
(8%)
,
Sugar:
4
g
(4%)
,
Vitamin A:
575
IU
(12%)
,
Vitamin C:
10.6
mg
(13%)
,
Calcium:
249
mg
(25%)
,
Iron:
1.5
mg
(8%)
Things You Might Need for this Recipe!
Craving More Dinner Recipes?
Follow my Quick Easy Dinner Recipes! Pinterest Board!
Follow Julie Evink | Julie's Eats & Treats's board Quick, Easy Dinner Recipes! on Pinterest.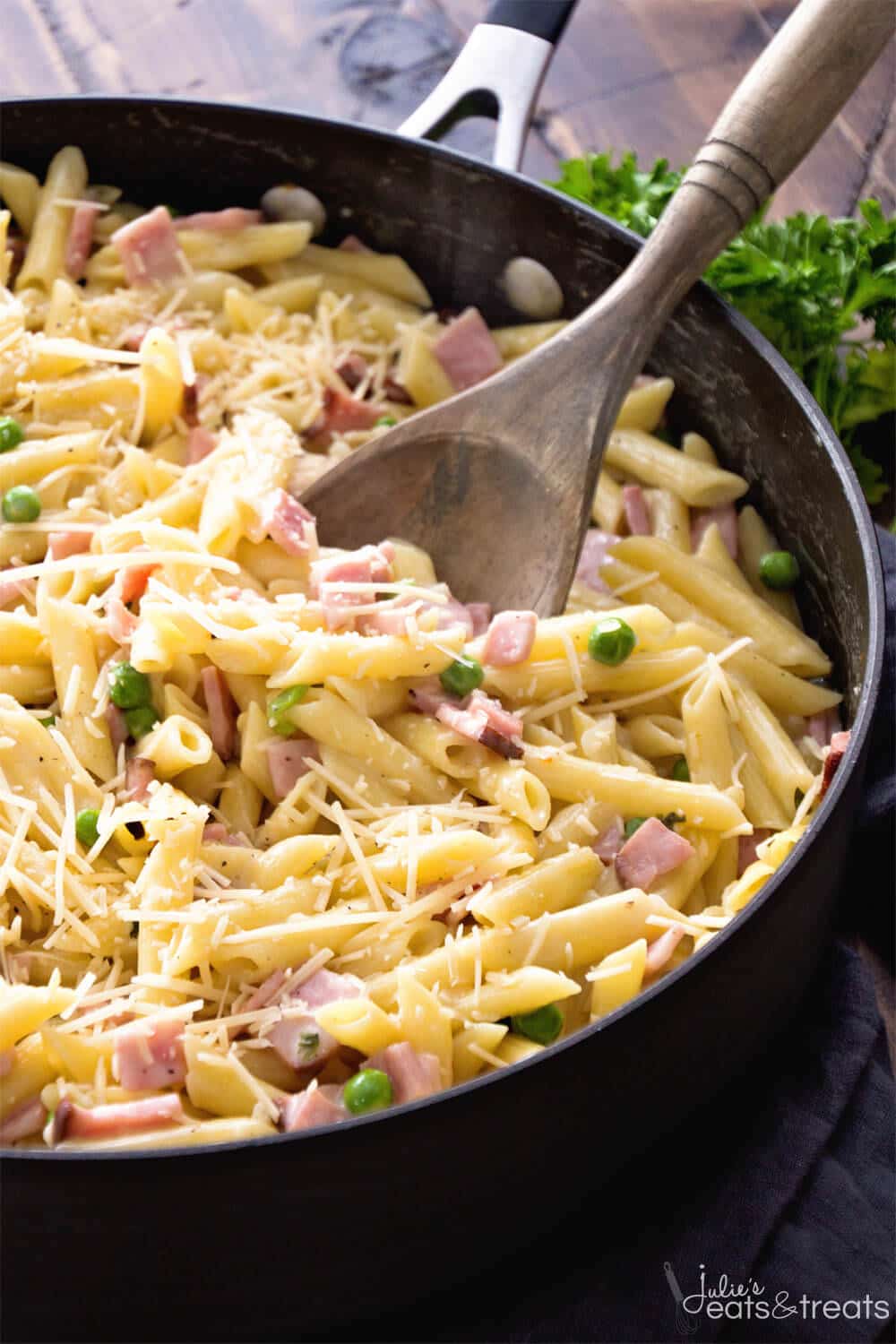 On Julie's Eats & Treats!
One Pot Ham & Penne Skillet Recipe ~ Delicious Pasta Perfect for a Quick Dinner! Loaded with Ham, Penne and Peas!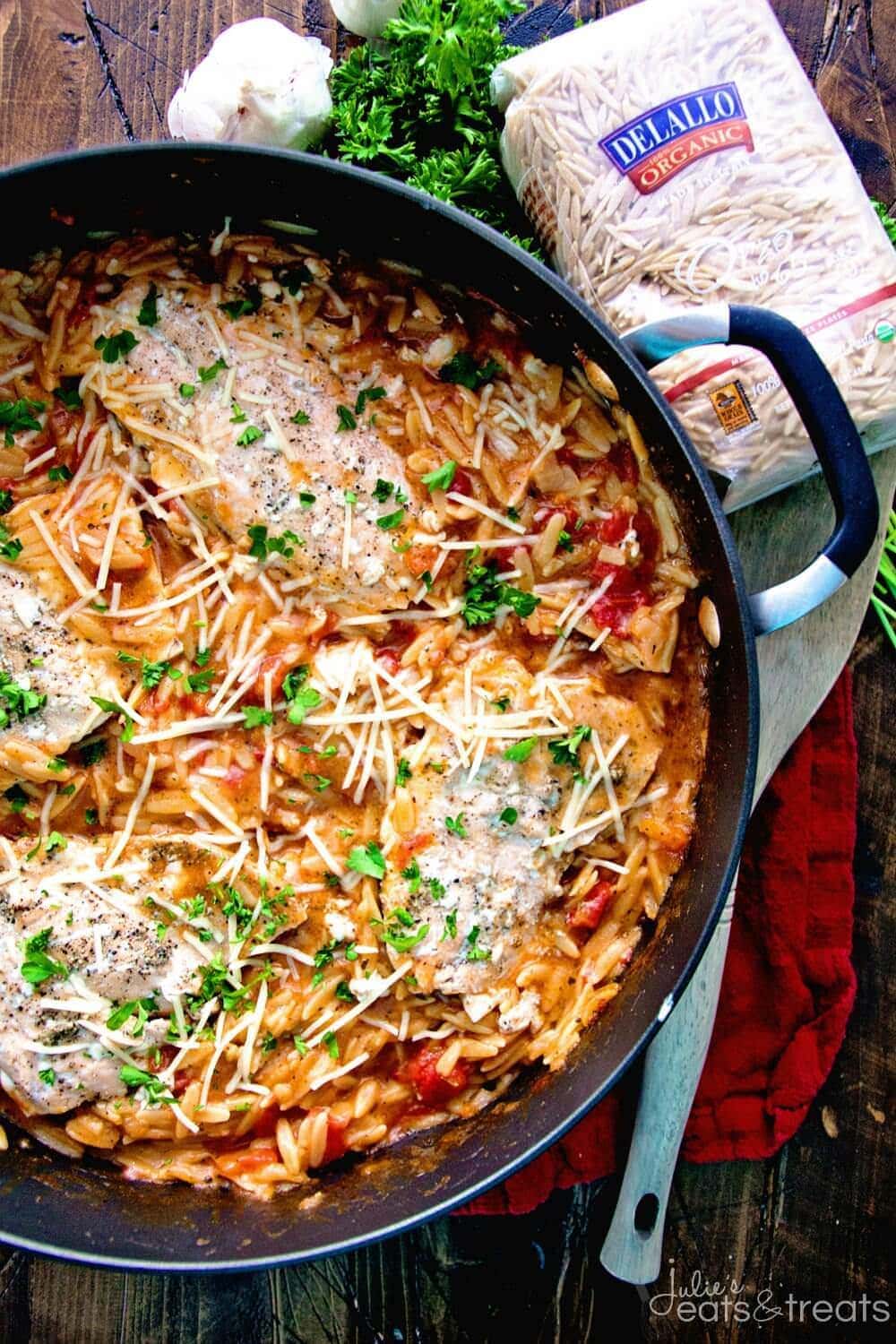 Light Italian One Pot Salmon & Orzo Recipe ~ Quick & Easy One Pot Pasta Dish That is Full of Flavor! Delicious Orzo Pasta, Flavorful Salmon Perfect for an Easy Dinner Recipe!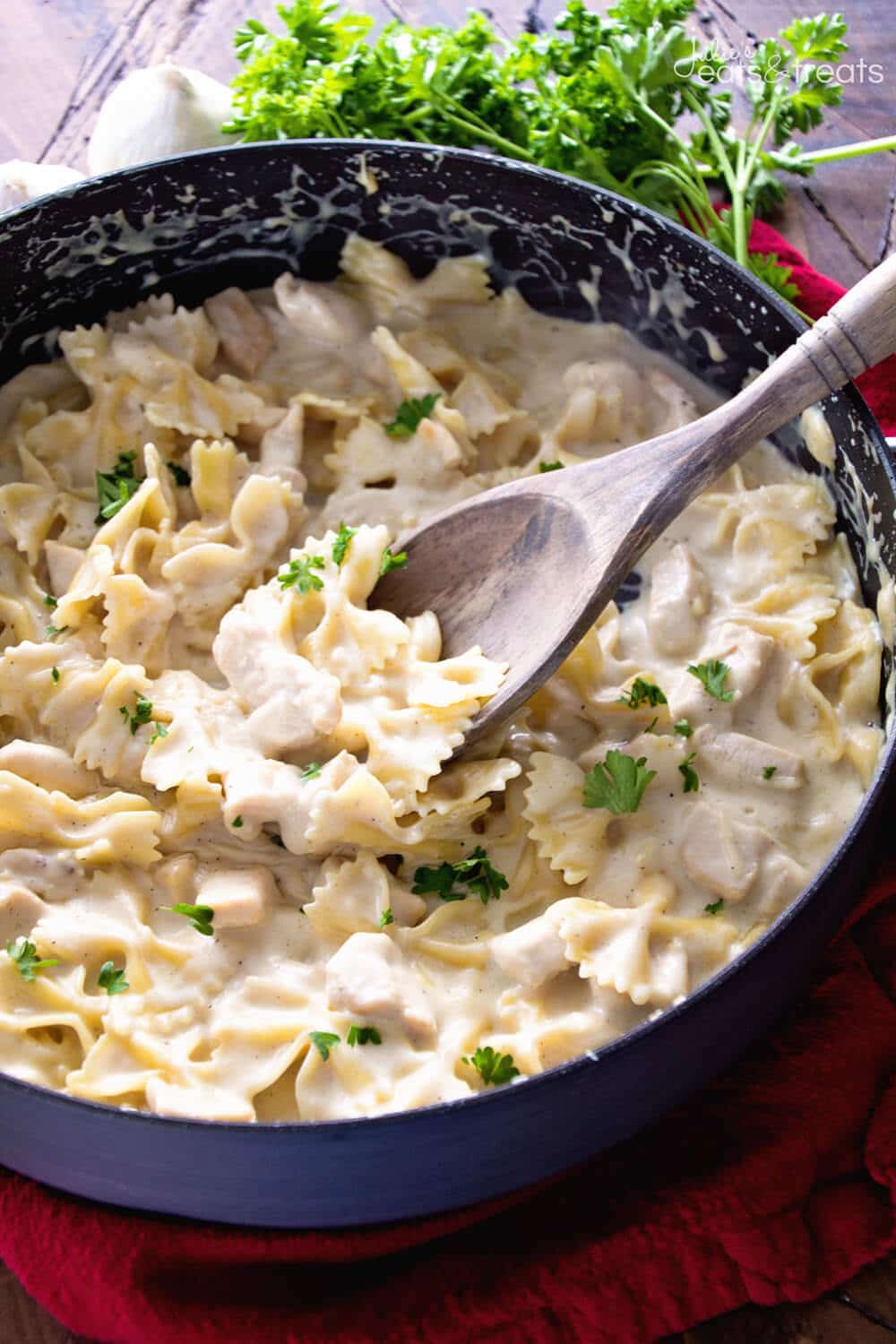 One Pot Garlic Chicken Alfredo Recipe ~ Quick and Easy Chicken Alfredo Recipe Loaded with Garlic and Even on the Lighter Side! Perfect Weeknight Dinner Recipe!
Give Mexican Sausage Balls a try – A quick and easy appetizer made with breakfast sausage you can make ahead of time and bake when you're ready!
Got Mexican Recipes on Your Mind? 25+ Mexican Main Dish Recipes Dig Into These Main Dishes! Everything from Soup, Enchiladas, Tacos, Bowls and More! Something for Everyone!
Easy Beef Enchiladas have soft tortillas filled with ground beef, cheese and green chiles that are covered with enchilada sauce and more cheese.