Shrimp & Asparagus Pasta ~ Perfect Summertime Pasta Dish Loaded with Cherry Tomatoes, Asparagus, Pasta and Parmesan Cheese!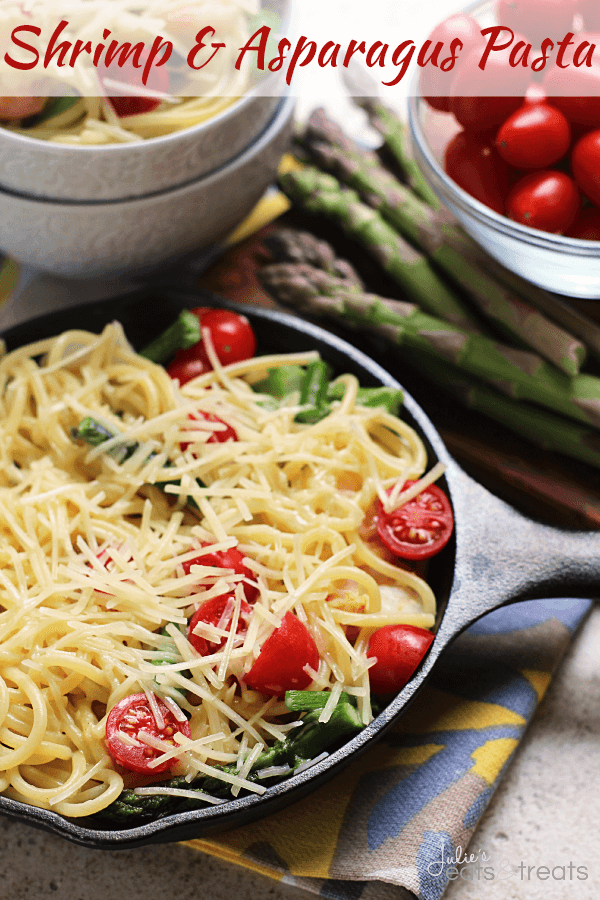 I'm a huge sucker for pasta as you all have already figured out I'm sure, but come summer it just doesn't always feel right making it. Usually the dishes involving pasta are loaded with cheese and a cream sauce. Now, don't get me wrong I adore those dishes, but usually I think of them more as a winter time comfort food. In the summer I try to make things a little lighter and not as heavy due to the heat. Anyone else have this feeling? Therefore pasta usually doesn't get made around my house quite as much.
Enter this dish. Shrimp & Asparagus Pasta. I'm in love. I adore it. I even got excited for leftovers! Yes, I'm not lying about that. I think I may have hid it in the back of the fridge so the hubs wouldn't find it and eat it before me. Of course he doesn't like any of the good stuff this is dish is loaded with. For example. He ate the shrimp and noodles and politely tossed all of the tomatoes and asparagus onto my plate. Thoughtful of him huh? Trust me, I was not complaining.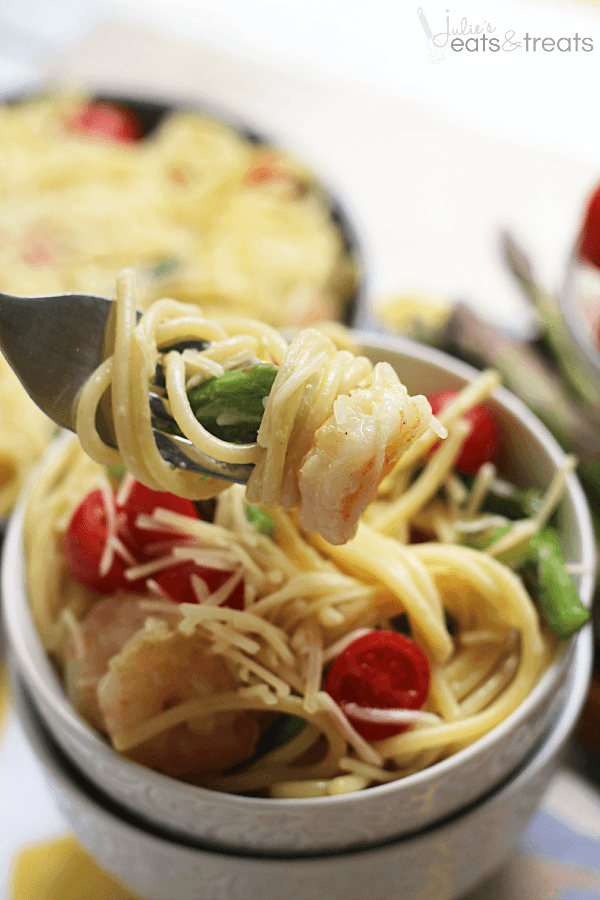 I have to admit that dear husband of mine really does take everything in stride when it comes to this blog. I try to cater to his needs, but let's get real. Sometimes I might look at him and inform him to suck it up and eat what I make. There are only so many alterations I will take into consideration to please his bland taste buds. He does eat shrimp though! The other day his step-mom looked at me and asked me if he really eats seafood when I make it. I kind of looked at her dumbfounded and said uhhhhh yup sure does.
Then she informs me his father doesn't even eat seafood! Now talk about a problem. I adore my shrimp. It seems boring taste buds run in the family huh? My favorite person to cook for in his family is his little brother. They lived together for a summer or two before we got married and I cooked for them quite frequently and he would always eat anything I put in front. He even fought me over my lettuce salads! If we need help doing something around the house you can bet that I bribe him out there with some food and always send him home with goodies!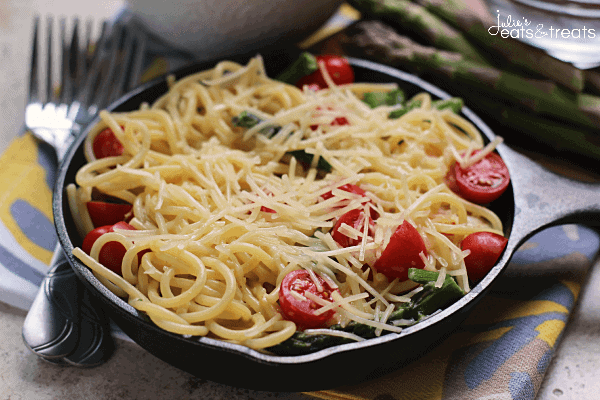 If you are craving pasta and want a fresh "summertime" version you have to try this Shrimp & Asparagus Pasta that is loaded with Shrimp, Pasta, Asparagus, Tomatoes, Parmesan Cheese and drizzled in a garlic and olive oil sauce. You'll be hiding the leftovers if there are any for yourself!
If you love this recipe you have to try my shrimp scampi and shrimp penne pasta, too!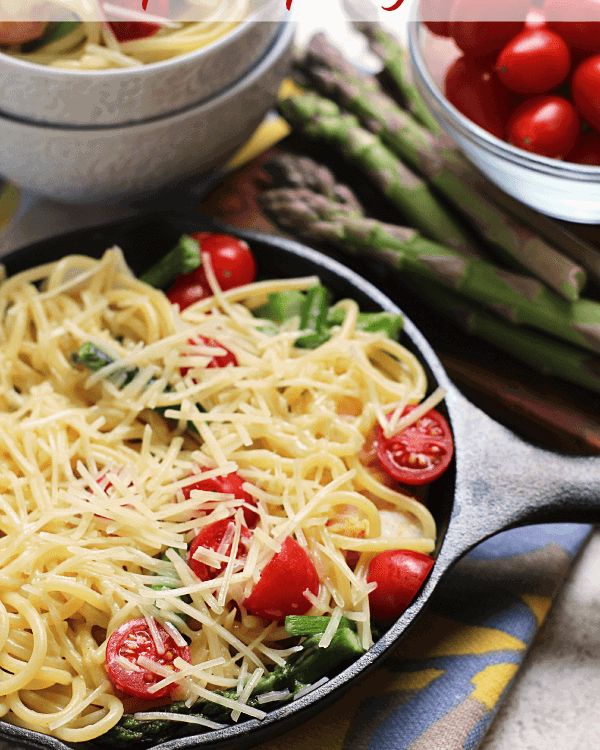 Shrimp & Asparagus Pasta
Shrimp & Asparagus Pasta ~ Perfect Summertime Pasta Dish Loaded with Cherry Tomatoes, Asparagus, Pasta and Parmesan Cheese!
Ingredients
16

oz

angel hair pasta

2

Tbsp

butter

1

Tbsp

Olive Oil

3

garlic cloves

minced

1

lb

shrimp

peeled and deveined

2

c.

diced asparagus

1

tsp

salt

1/2

tsp

white pepper

1

12 oz can evaporated milk

1

c.

halved cherry tomatoes

1

c.

shredded Parmesan Cheese
Instructions
Cook pasta according to package directions. In a large skillet melt butter; add oil, garlic, asparagus, salt and pepper. Saute 3 minutes. Add shrimp and saute an additional 3 minutes. Stir in evaporated milk. Boil and reduce heat. Simmer 3 minutes. Add tomatoes and pasta, stir then sprinkle with Parmesan cheese.
Nutrition Information
Serving:
1
,
Calories:
909
kcal
(45%)
,
Carbohydrates:
95
g
(32%)
,
Protein:
64
g
(128%)
,
Fat:
29
g
(45%)
,
Saturated Fat:
14
g
(88%)
,
Cholesterol:
353
mg
(118%)
,
Sodium:
2433
mg
(106%)
,
Potassium:
794
mg
(23%)
,
Fiber:
6
g
(25%)
,
Sugar:
7
g
(8%)
,
Vitamin A:
1875
IU
(38%)
,
Vitamin C:
25.5
mg
(31%)
,
Calcium:
883
mg
(88%)
,
Iron:
7.4
mg
(41%)