Shrimp Pasta with Grilled Tomatoes and Shrimp!
This Shrimp Pasta is a quick and easy dinner recipe that the entire family will love. There's so much flavor from the grilled shrimp, roasted cherry tomatoes and it's topped with Parmesan cheese. Plus, it's just like a dish you'd eat in a restaurant with hardly any work. Did I mention it's ready in 30 minutes?
Pair it with out favorite homemade bread sticks and a side salad for entire meal that's quick and easy. This easy shrimp pasta is also lighter with a light garlic butter sauce! It's one of our favorite shrimp recipes and soon it will be yours too!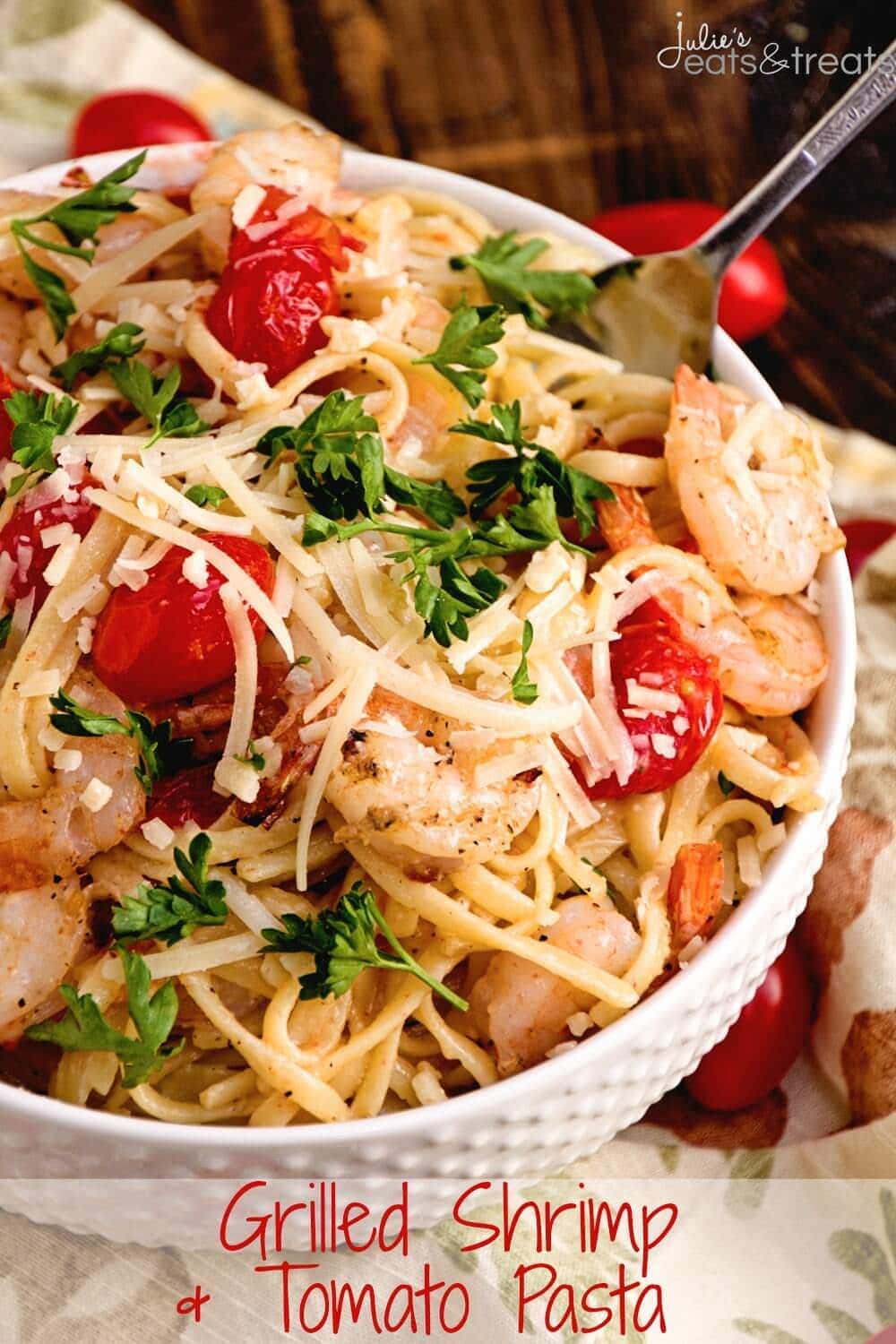 Amazing Shrimp Pasta!
I am all about the easy summer recipes and if I can use the grill it's even better! This Shrimp Pasta is one of my favorite summer recipes because in the time it takes to boil the pasta you can grill the shrimp and tomatoes and then just toss it all together with a super easy butter sauce. Dinner in 30 minutes! What's not to love?!
Plus, this easy shrimp dinner uses up all those summer tomatoes and fresh basil from the garden. Another great recipe for using up those delicious cherry tomatoes are these amazing Balsamic Steak Skewers!
The grilled cherry tomatoes and shrimp are an amazing combination! I could eat the shrimp and tomatoes straight from the grill, but adding some pasta and a simple sauce makes it a complete dinner. We can never have too many pasta recipes, right?
Nope. Never. Totally glad you agree here and I think you're going to love this pasta recipe! This Shrimp Pasta is light and flavorful with no heavy cream sauce but yet packs a punch with seasoned shrimp, grilled tomatoes and Parmesan cheese!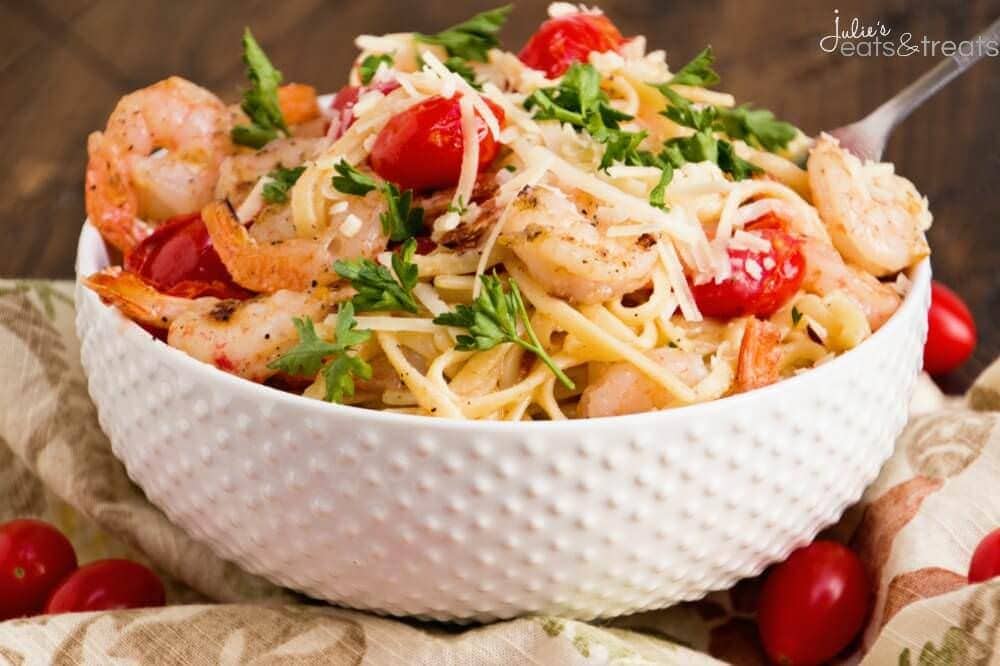 This is one of those dishes I love to make for my family and guests. It's easy enough for a weeknight, but it looks and tastes like a dish you might get in a restaurant! Even though it's a pasta dish it's so light and fresh thanks to all the tomatoes and seasoned shrimp. The butter sauce adds just a touch of richness without being over-powering.
It's like summer in a bowl! If you want to shake up your summer pasta game this recipe has your name all over it!
What do I need to make Shrimp Pasta with grilled shrimp and tomatoes?
If you'd rather skip my (very helpful, I think) tips and tricks, essential cooking info, and similar recipe ideas – and get straight to this delicious easy Shrimp Pasta recipe – simply scroll to the bottom of the page where you can find the printable recipe card.
linguini
cherry tomatoes
olive oil
large shrimp
salt and pepper
garlic powder
butter
Parmesan cheese
fresh basil
How do I make Shrimp Pasta?
You will need skewers for this recipe, so if you use wooden ones be sure to soak them in water for at least 30 minutes before you grill!
Prepare the pasta – boil the pasta according to the package directions.
Cook the shrimp and tomatoes – while the pasta boils, thread the tomatoes and shrimp onto skewers. Brush each with olive oil and then sprinkle the salt, pepper, and garlic over the shrimp. Grill the shrimp and tomatoes for 3 to 4 minutes, turning occasionally, until the shrimp are pink and opaque and the tomatoes have softened.
Make the sauce – melt the butter in a saucepan. Add the drained linguini plus 1/4 cup of the water that you boiled it in. Toss the pasta in the butter sauce to coat it evenly.
Bring it all together – remove the shrimp and tomatoes from the skewers and toss them with the pasta. Garnish the shrimp pasta with chopped fresh basil and grated Parmesan.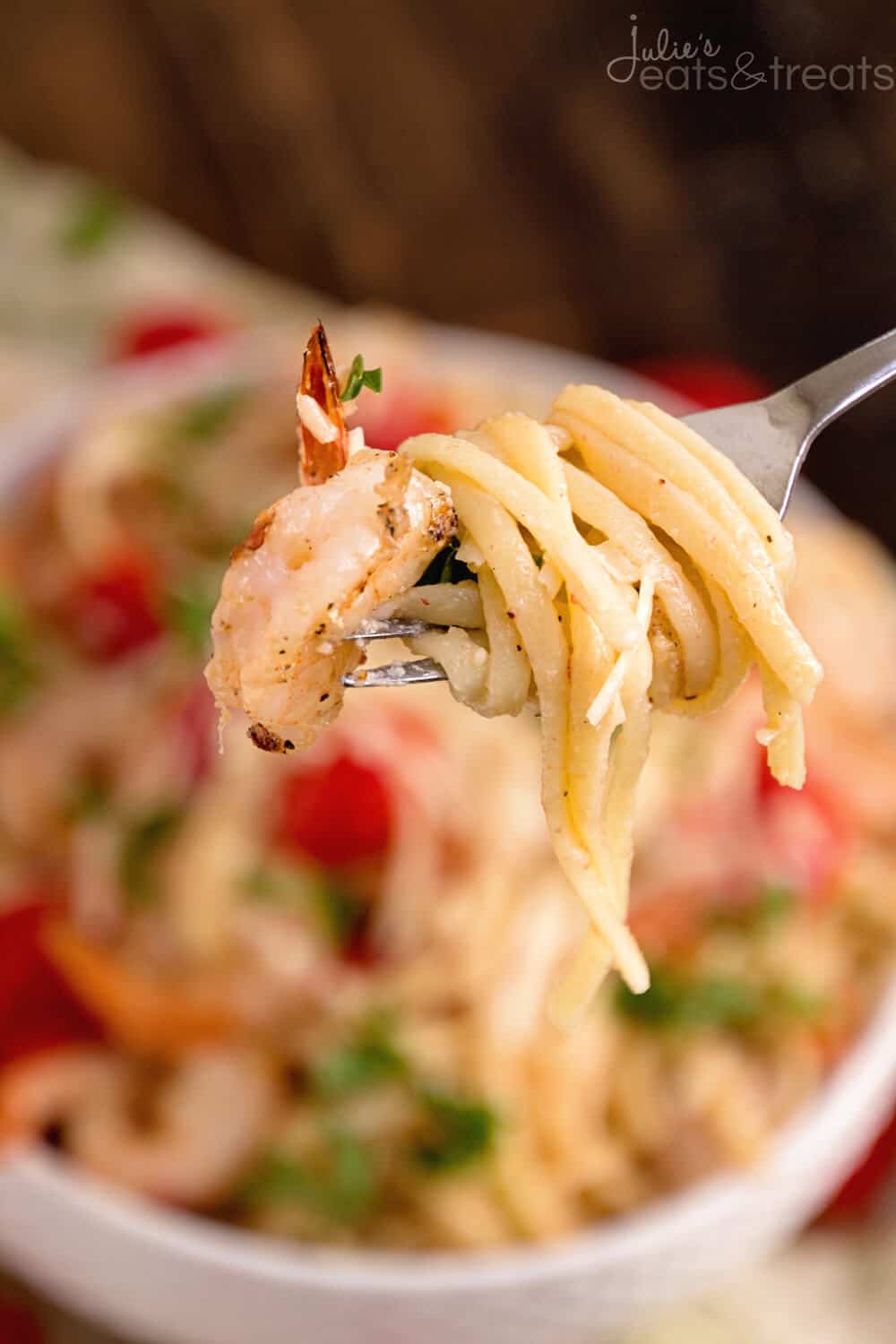 Grilled Shrimp & Tomato Pasta FAQs!
If you have any additional questions comment below and we will do our best to answer your questions!
Do I have to grill the shrimp and tomatoes?
No grill? No problem! You can cook the shrimp and tomatoes in a skillet on the stove instead. You can use a cast-iron skillet or regular skillet. Just heat it up and sautee them in the butter until the shrimp are pink and the tomatoes have softened. Add the pasta, reserved pasta water and toss to combine!
How long should you cook shrimp?
How long you cook the shrimp depends on how big your shrimp are, but generally shrimp cook in approximately 4 to 8 minutes. Medium-sized shrimp will be on the lower end of that scale and jumbo shrimp will be on the higher end. The best way to tell if shrimp are fully cooked is to look at them!  Shrimp that are fully cooked will be opaque and pink in color.
How do you not overcook shrimp?
The best way to avoid overcooking shrimp is to not leave them alone while they're cooking! While cooking them pay attention to the color of the shrimp. Once they turn pink and opaque (raw shrimp are gray and a bit translucent) they are done. If you are not planning to eat the shrimp right away you can submerge them in an ice bath to stop the cooking process so they don't overcook.
What is the difference between shrimp and prawns?
Shrimp and prawns are two different things! Prawns are larger than shrimp, have different bodies and anatomies, and are a fresh-water crustacean. Shrimp are smaller with a different shape and body and are salt-water crustaceans. If you substitute prawns for shrimp in this recipe the cooking time will be different since they are so much bigger.
What does shrimp size mean?
Have you been confused by the numbering on shrimp? Me, too! Once I figured it out it's made buying shrimp so much easier! Most shrimp are labeled with a "count" like 21/25 count or 51/60 count, among others.
This count number tells you approximately how many shrimp are in a pound. Higher count shrimp means they are smaller while larger count shrimp are bigger. So, 51/60 count shrimp means there are approximately 51 to 60 shrimp in a pound. This means they are smaller in size compared to 21/25 count shrimp. Understanding this count number will help you choose the right-sized shrimp for your recipes.
Ready for some serious summer eats? I know you're going to love this 30-Minute Shrimp Pasta! If you love shrimp be sure to browse some of my other favorite shrimp recipes or try one of our side dishes that pair perfectly with this Shrimp Pasta…
Pair your Shrimp Pasta with these easy sides!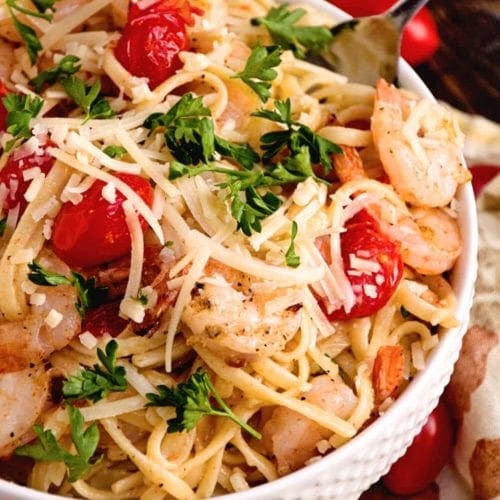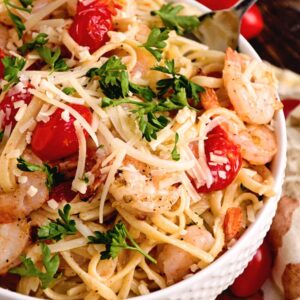 Shrimp Pasta Recipe
Quick and Delicious Pasta Recipe Loaded with Seasoned Shrimp, Cherry Tomatoes and Parmesan Cheese!
Ingredients
8

oz.

uncooked linguine

16

cherry tomatoes

2

Tbsp

olive oil

1

lb

uncooked large shrimp

peeled and deveined, tails on

1/2

tsp

pepper

1/4

tsp

salt

1/4

tsp

garlic powder

2

Tbsp

butter

1/4

c.

grated Parmesan cheese

2

Tbsp

chopped fresh basil
Instructions
Prepare linguine according to package directions

Meanwhile thread tomatoes onto skewers. Brush with olive oil. Thread shrimp onto skewers, brush with remaining olive oil. Mix seasonings together in small dish. Sprinkle over shrimp.

Grill shrimp and tomatoes, covered, over medium heat for 3-4 minutes on each side or until shrimp turn pink and tomatoes are slightly softened, turning occasionally.

Drain linguine, reserve 1/4 c. pasta water. In the same saucepan melt butter over medium heat. Add linguine, butter and reserved pasta water to saucepan. Toss to combine.

Remove shrimp and tomatoes from skewers. Toss with pasta. Sprinkle basil and Parmesan cheese on top of pasta and serve.
Notes
Make sure to soak wooden skewers a minimum of 30 minutes to prevent from burning on grill.
If you prefer not to grill your shrimp and tomatoes you can prepare them on a cast iron grill pan over medium heat on the stove top or simply throw them in a skillet and saute them. 
Nutrition
Calories:
514
kcal
Carbohydrates:
46
g
Protein:
37
g
Fat:
19
g
Saturated Fat:
7
g
Cholesterol:
314
mg
Sodium:
1314
mg
Potassium:
383
mg
Fiber:
2
g
Sugar:
3
g
Vitamin A:
710
IU
Vitamin C:
20.4
mg
Calcium:
348
mg
Iron:
3.7
mg
Recipe adapted from: Taste of Home