Skinny Vanilla Homemade Iced Coffee ~ Skip the Expensive Coffee Shop Iced Coffee and Make Your Own Cold Brewed Coffee at Home! Plus it's on the Lighter Side!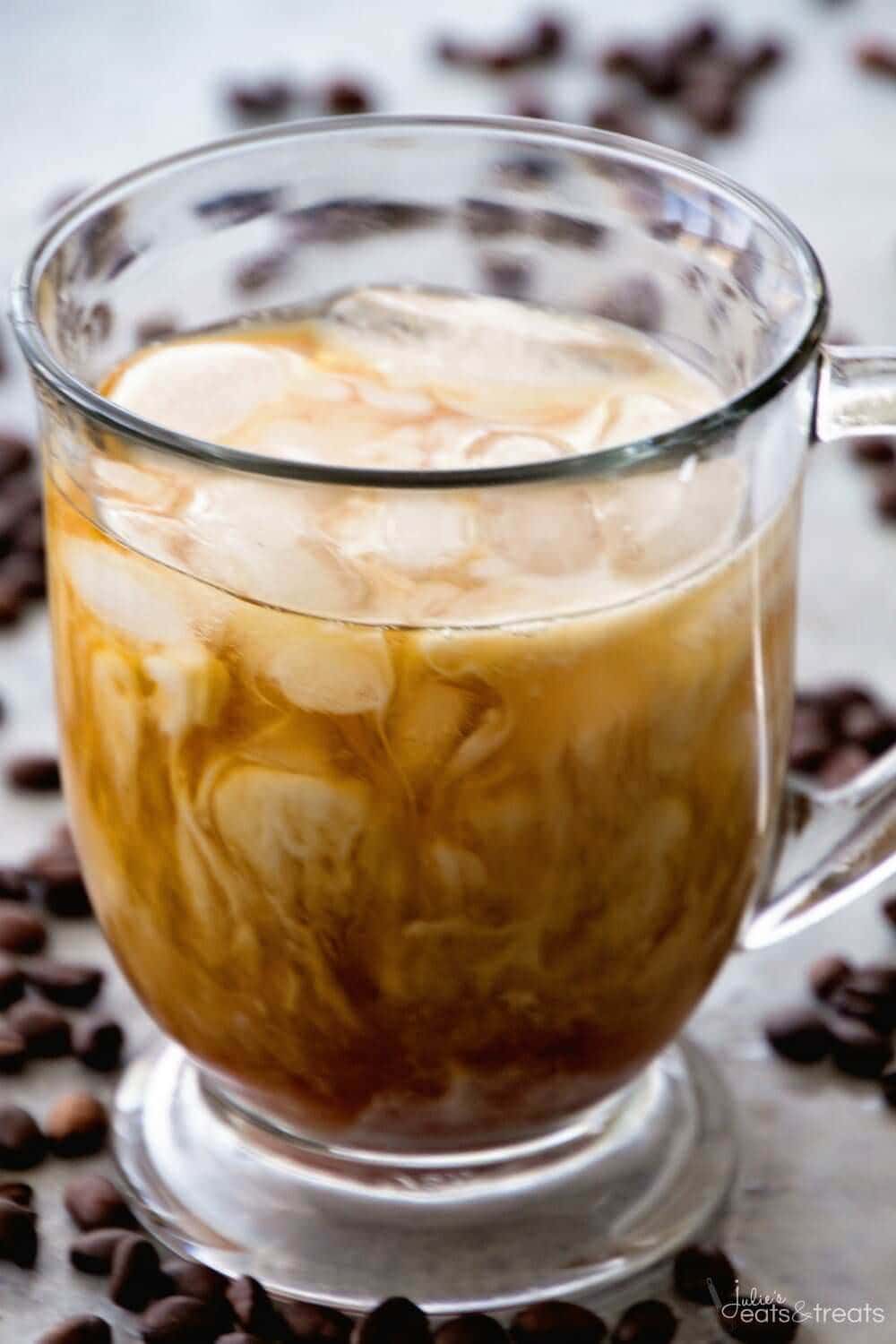 It seems that people have either a LOVE for coffee or a HATE for coffee. Me, I have a LOVE. I have a few delicious coffee concoctions on including White Chocolate Latte Recipe and RumChata Iced Coffee Slush! Today we are going to make our own cold brewed coffee drink just like you would have in a fancy restaurant but at a much better price and at home in your jammies!
If I want a pick me up in the afternoon I love to make this Vietnamese Iced Coffee!
It was my birthday yesterday and you can bet my day included one of these fancy drinks just to make me feel special. Not that I needed any help in that area. I had plenty of people to help make my day special. First of all can we talk birthdays on Facebook? I mean, you guys, you pretty much feel like a rock star after people you haven't heard from since your last birthday are wishing happy birthday! Facebook sure knows how to make your day awesome. Although, I have a guilt complex because all these people are wishing me happy birthday and I feel like I may have forgot to wish them a happy birthday. Anyone else feel like that? Please tell me no one pays attention to that!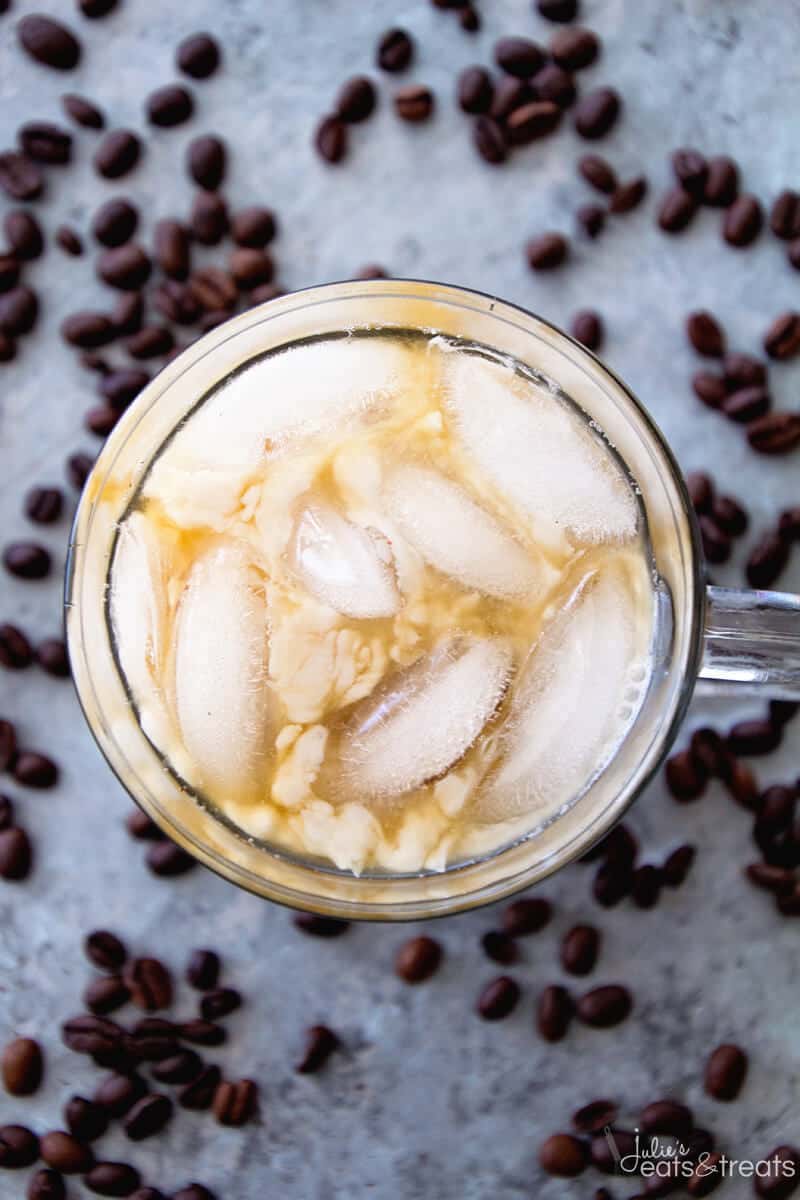 Since I had to work, insert booing here, I really think everyone should get their birthday off of work! The hubs treated me to lunch out even though I think I had no less than five other offers. Made me feel pretty popular. Needless to say, the rest of my week is booked for lunches too!
I got a random text message from my nephew in the afternoon wondering if I was at work, obviously he must agree with the whole you should get the day off on your birthday! I replied with a yes, then he brought me some DQ Ice Cream. What a guy! He may have made some MAJOR brownie points with that one. I'll never turn down a visit from him. I must be doing something right if my 18 year old nephew still thinks I'm cool enough to visit. I even snuck a hug out of him before he left. Shhhh…. I didn't tell anyone that!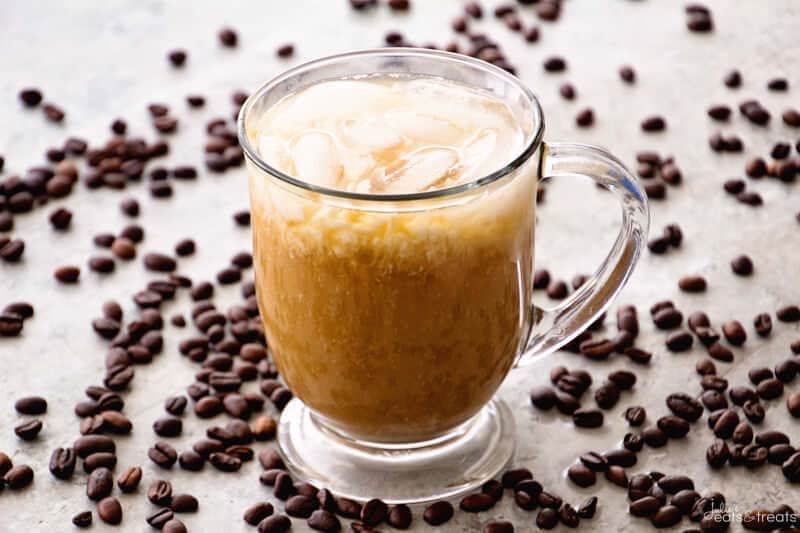 It's a REALLY good thing that calories don't count on your birthday because dinner was out with the family for pizza followed by homemade cupcakes from my Mom. Miss K and her wouldn't let me in the house. When they yelled for me they had lined up the cupcakes with candles that spelled out "Happy Birthday" and Miss K couldn't wait to help me blow out my candles! Kids seriously make a birthday so much more exciting don't they? The excitement they show over your special day makes you excited about it because, honestly, I'm a bit over the whole idea of getting older!
To make this Skinny Vanilla Homemade Iced Coffee a little bit lighter I used Truvía® Natural Sweetener. It's one of my favorite secret ingredients because it helps me reduce the calories in delicious recipes and not sacrifice the flavor. Truvia® sweetener is natural, great-tasting sweetness that was born from the leaves of the stevia plant. Skinny Vanilla Homemade Iced Coffee is the perfect way to start the day or perfect way to enjoy a pick me up in the afternoon!
*This post was compensated by Truvia. All opinions are my own as always.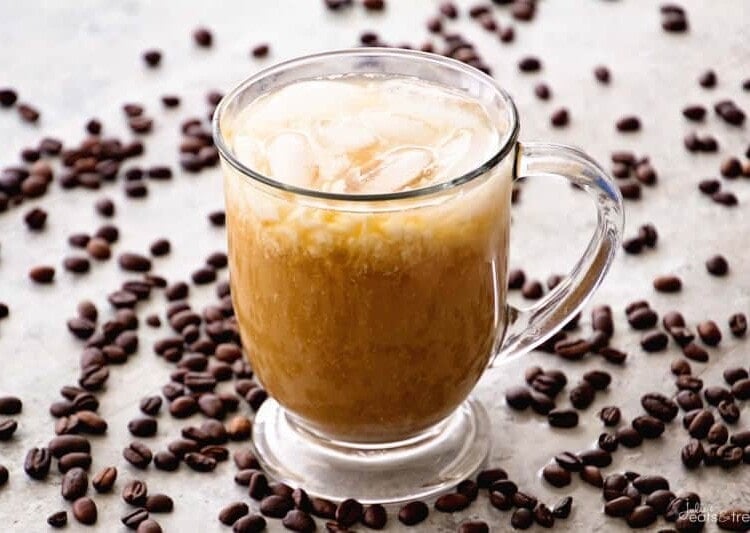 Skinny Vanilla Homemade Iced Coffee
Skinny Vanilla Homemade Iced Coffee ~ Skip the Expensive Coffee Shop Iced Coffee and Make Your Own Cold Brewed Coffee at Home! Plus it's on the Lighter Side!
Ingredients
1/2

c.

ice

8

fl oz strong brewed coffee

room temperature or refrigerated

1/2

c.

vanilla almond milk

1

Tbsp

pure vanilla extract

2

Tbsp

Truvía® Natural Sweetener

1

c.

water
Instructions
To make simple syrup combine Truvia and water in a medium saucepan over medium heat; stir until Truvia has dissolved. Let cool completely. Stir in vanilla extract; set aside to cool.

Pour coffee over ice. Mix in almond milk. Stir in simple syrup, to taste.
Nutrition Information
Serving:
1
,
Calories:
54
kcal
(3%)
,
Carbohydrates:
2
g
(1%)
,
Fat:
1
g
(2%)
,
Sodium:
172
mg
(7%)
,
Sugar:
1
g
(1%)
,
Calcium:
142
mg
(14%)
Looking for More Coffee Drinks?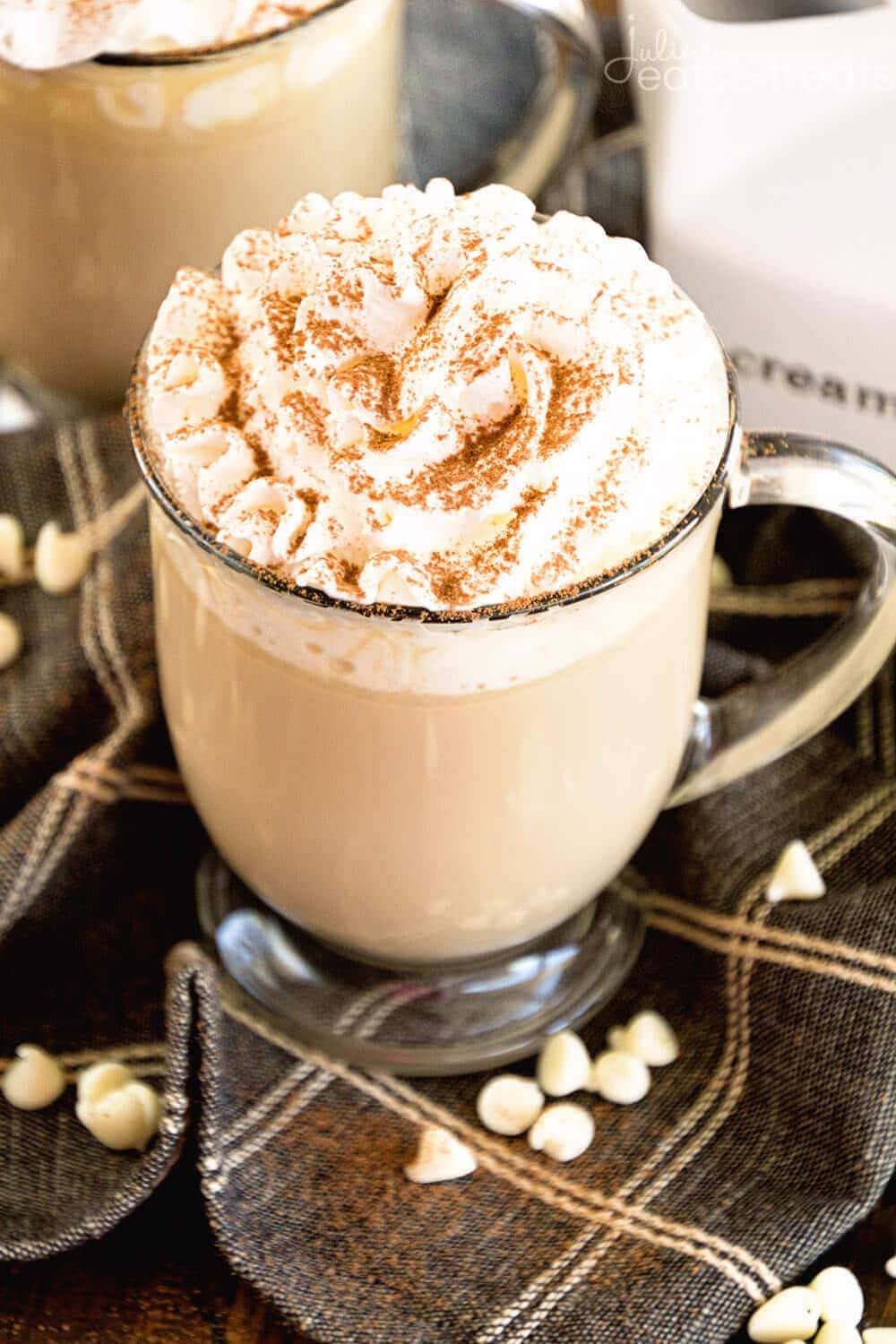 White Chocolate Latte Recipe ~ Delicious, Easy, Homemade White Chocolate Latte Recipe that Will Have You Sipping Lattes Whenever You Want!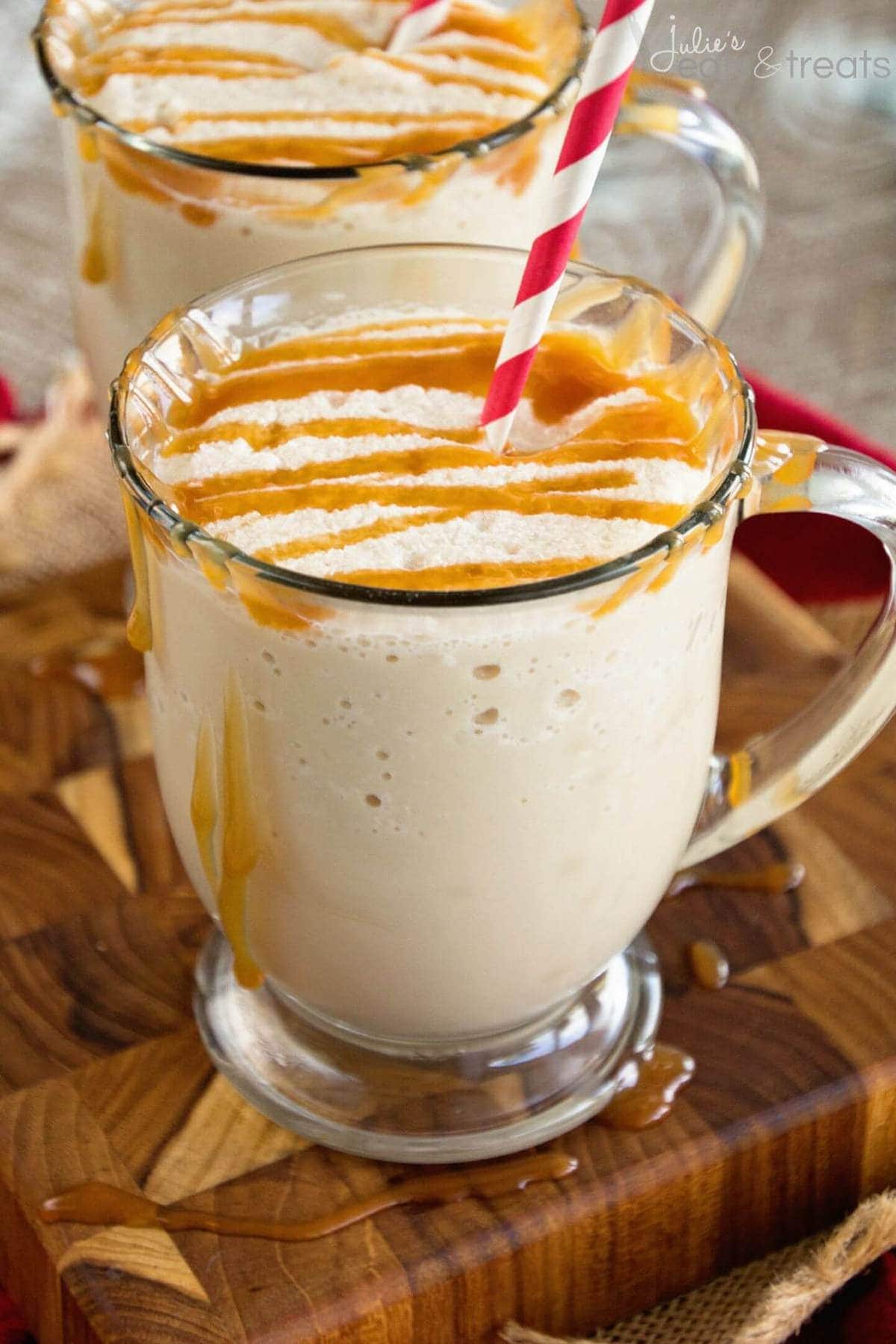 RumChata Iced Coffee Slush~ Your Favorite Ice Coffee Recipe Taken up a Notch with RumChata! Frozen to Perfection!