Thick Fluffy Homemade Waffles ~ Easy, Homemade Waffles That Are Perfectly Light and Fluffy Thanks to a Secret Ingredient!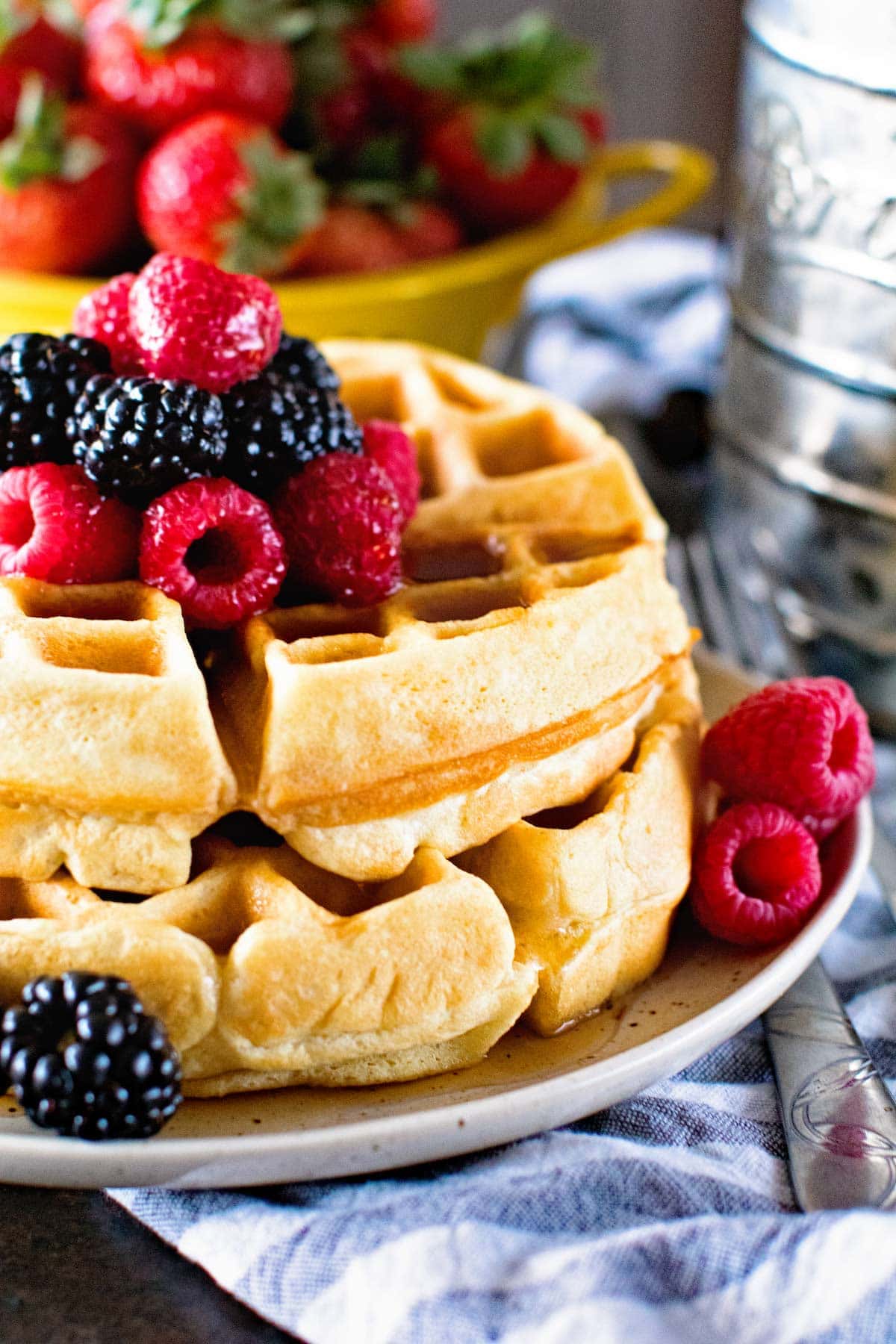 I love waffles. I adore them, but my waffles at home have always been lacking. They haven't been those super thick fluffy homemade waffles that you dream about. You know the ones that melt in your mouth! Mine were thin and soggy. No one wants thin, soggy waffles no matter how much syrup and butter you put on them. Easy Homemade Waffles that melt in your mouth while being light and fluffy is where it's at!

MY LATEST VIDEOS
Now, it could be because I was using boxed mix. GASP. Right, I know. I'm a food blogger who shouldn't use that stuff, but I'm also a busy mom and just plain lazy. Especially when I'm making breakfast. It was soooo easy to just grab the box, dump a few extra ingredients into the bowl and mix all while being half asleep.
And then I made these. I will never, ever go back.
It takes a few ingredients I'll admit, but you guys it's sooooo worth it. That little bit of extra work will leave your mouth satisfied. The only thing I didn't have on hand is club soda, so apparently now I'll be stocking that in my pantry!
Ingredients to Make the Perfect Thick Fluffy Homemade Waffles!
Eggs

All-purpose flour

Cornstarch

Baking powder

Baking soda

Salt

Milk

Vegetable oil

Vanilla extract

White vinegar

Sugar

Soda, chilled
See that ingredient list isn't so intimidating is it?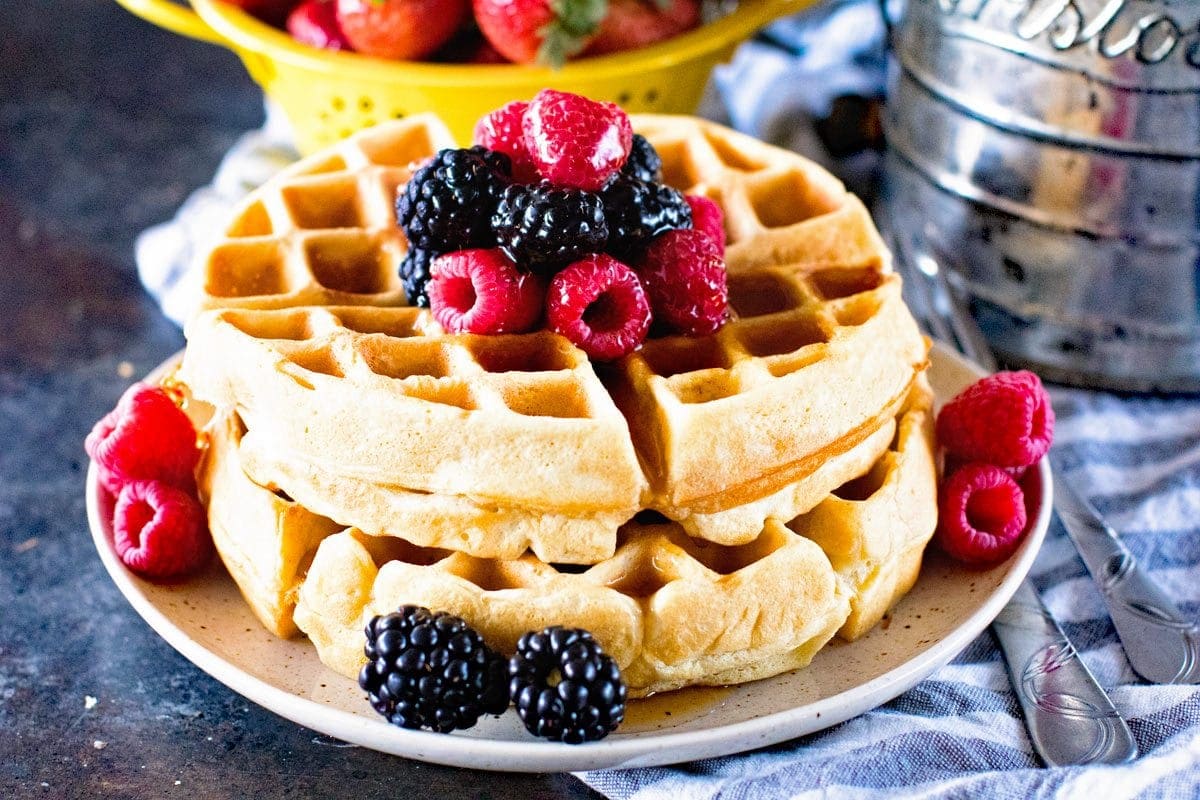 You know what else is essential to a good waffle? A good waffle maker!
I love this Oster Waffle Maker I have. It won't break the bank but it still provides a light, fluffy homemade waffle that is crisp on the outside and airy on the inside. I got this super cheap waffle maker for my wedding and I need to just throw it in the garbage, but for some reason I can't part with it. Apparently there's a hoarder in me.
These waffles are great on there own, but I love to make these Easy Oven Baked Scrambled Eggs. I can make them before the waffles, stick them in the oven and let them bake while I make the waffles!
If you are hosting these waffles are great for large crowds. You can place them on a baking sheet and in the oven at 200 degrees to keep them warm.
You could also pair these waffles with poached eggs and this delicious Sunshine Fruit Salad or Easy Fruit Salad and you have the perfect breakfast or brunch! Oh wait, you need these Mimosa Floats too! How could I forget those?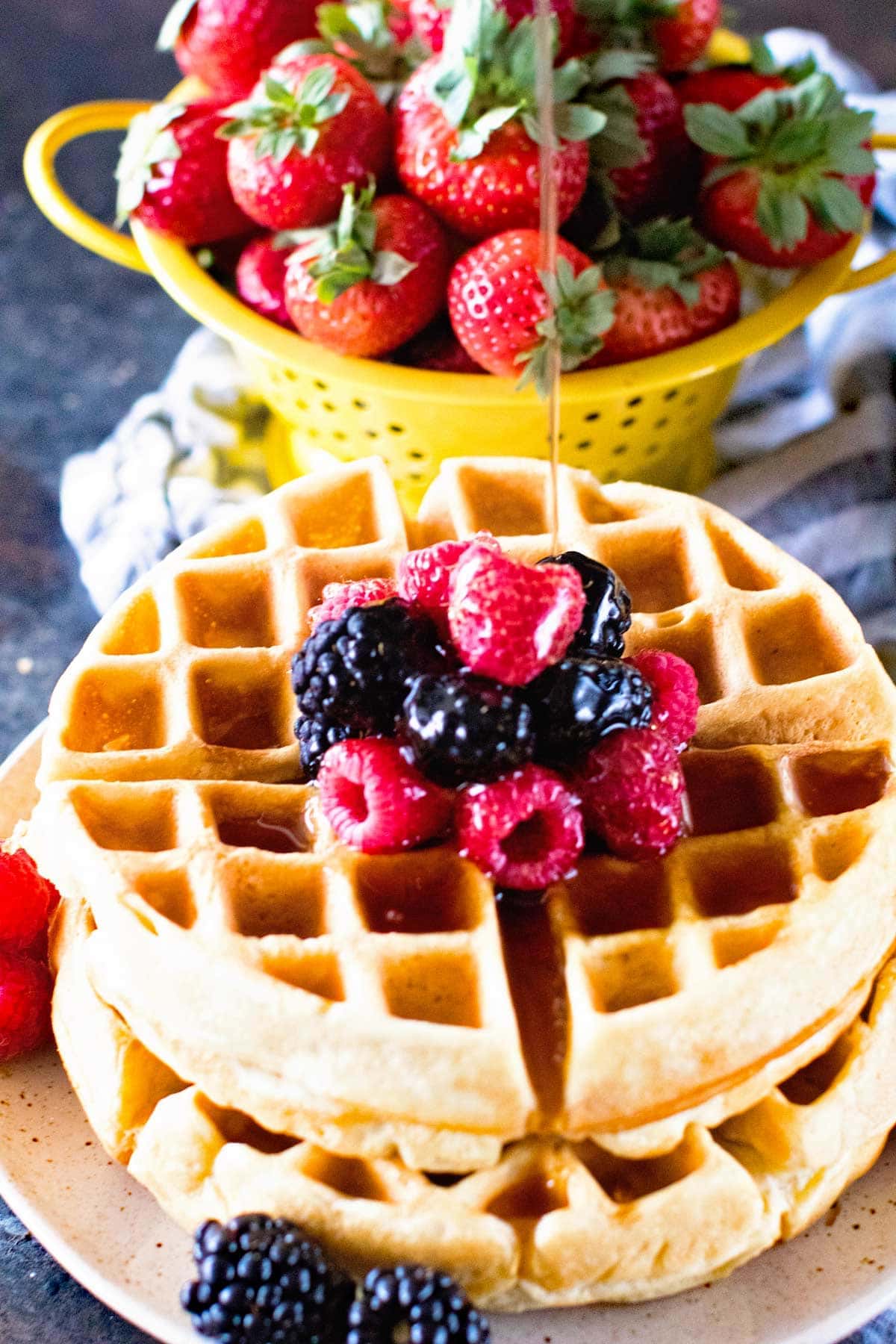 Speaking of forgetting things I totally should have brought those Mimosas to my in-laws for Christmas Brunch! We did a brunch this year and that would have been the perfect finshing touch.
We had told my hub's step-brother to bring Mimosas but he dropped the ball given it was last minute, as in the night before so I understood.
Next year I'm totally all over those Mimosas!
I'll also be bringing these delicious Thick Fluffy Homemade Waffles!
Quick Tips for Making Perfect Thick Fluffy Homemade Waffles!
Whisk Dry ingredients to distribute baking powder throughout the mixture so waffles rise evenly. An old fashioned flour sifter also works!
Cornstarch keeps them nice and crisp!
Don't skip beating the egg whites. This keeps them super light and we want that!
Gentle is key when folding in the egg whites. If you see a few traces of egg whites in the batter no worries!
Club Soda is also essential to keeping the waffles nice and fluffy.
Cooking for a crowd? Place cooked waffles in a single layer on a baking sheet inside a 200 degree oven. They stay warm and even crisp up a little more!
Freeze these by laying leftover waffles on a cookie sheet and placing in the freezer. Once frozen, stack waffles between sheets of waxed paper, place in a freezer bag and return to freezer. To reheat pop in the toaster for a few minutes or place in preheated oven at 325 degrees for five minutes!
If you like this recipe, you'll definitely want to try my Pumpkin Pancakes Recipe!
Plan your weekend breakfast now! It better include these delicious homemade waffles!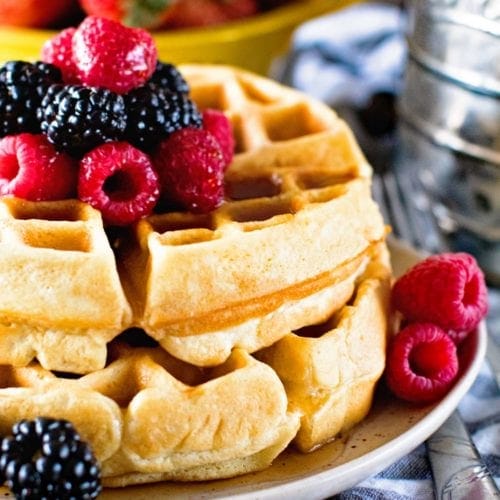 Light Fluffy Homemade Waffles
Easy, Homemade Waffles That Are Perfectly Light and Fluffy Thanks to a Secret Ingredient!

Print
Pin
Rate
Ingredients
2

eggs

1 1/2

c.

all-purpose flour

1/2

c.

cornstarch

1

tsp

baking powder

1/2

tsp

baking soda

1/2

tsp

salt

1/2

c.

2% milk

5

Tbsp

vegetable oil

2

tsp

vanilla extract

1

tsp

white vinegar

2

Tbsp

sugar

1/2

c.

club soda

chilled

Butter

Syrup and Berries for serving
Instructions
Separate eggs. Place egg whites in bowl and let stand for 30 minutes at room temperature.

In a large mixing bowl whisk together flour, cornstarch, baking powder, baking soda and salt until just combined.

In a different mixing bowl whisk egg yolks, milk, oil, vanilla and vinegar until combined.

Using a stand mixer or hand mixer beat egg whites until soft peaks form. Gradually add sugar to egg whites and continue beating until stiff peaks form.

Preheat waffle maker. Stir together flour mixture, egg mixture and club soda until just combined. Gently fold egg whites into batter.

Bake waffles according to the waffle maker manufacturer's directions until golden brown. Serve with syrup, butter and berries if desire.
Nutrition
Calories:
438
kcal
|
Carbohydrates:
68
g
|
Protein:
8
g
|
Fat:
13
g
|
Saturated Fat:
9
g
|
Cholesterol:
56
mg
|
Sodium:
336
mg
|
Potassium:
195
mg
|
Fiber:
1
g
|
Sugar:
5
g
|
Vitamin A:
2
%
|
Calcium:
7.7
%
|
Iron:
17.6
%
LEAVE A COMMENT
Recipe from: Taste of Home