Buttery, crunchy homemade toffee is the best ever! Layers of buttery, rich toffee, crunchy pecans and sweet milk chocolate on top that melts in your mouth and make the perfect candy at Christmas or a homemade gift.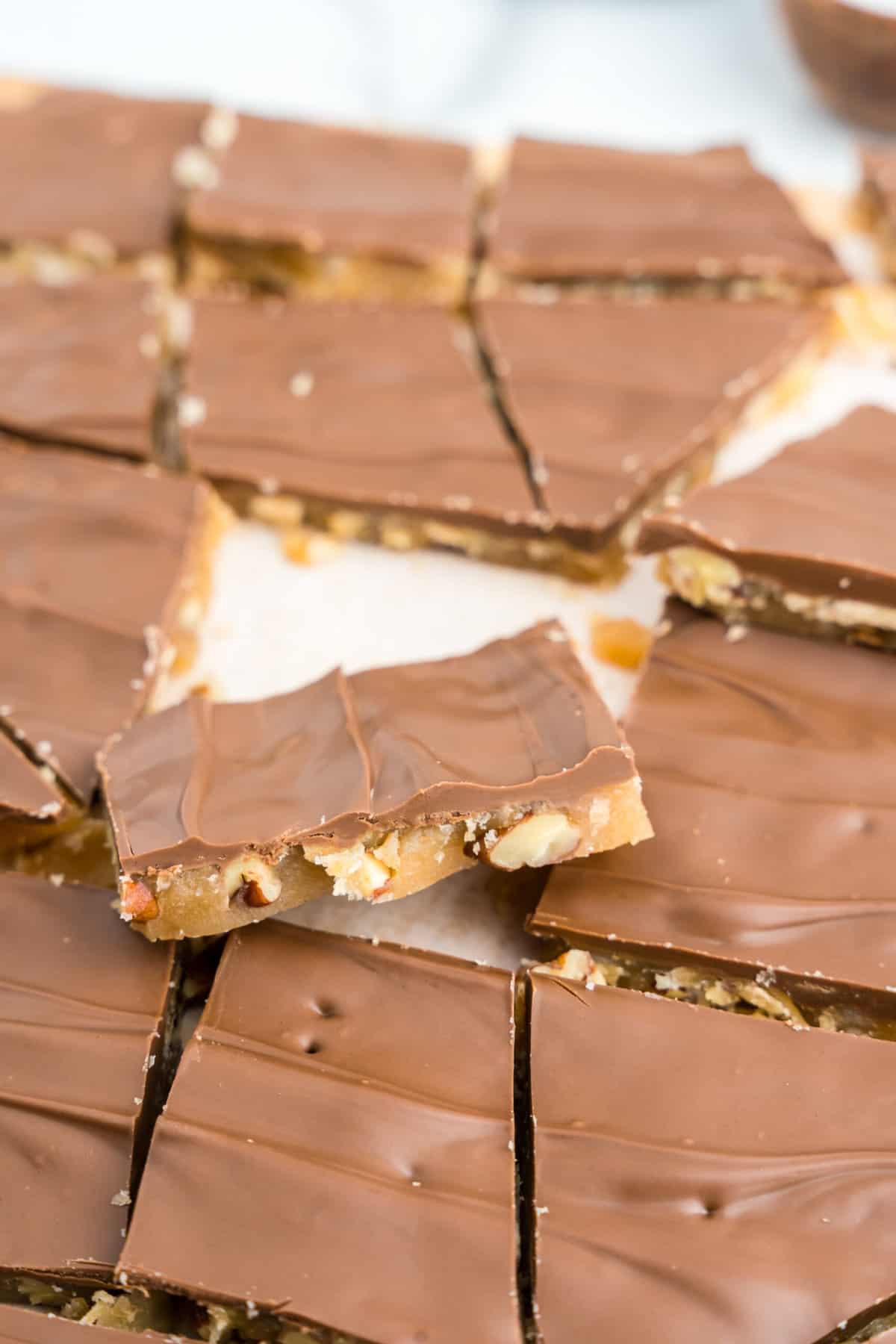 Homemade toffee is a holiday favorite that never gets old. While it may seem difficult to make your own candy, following an easy toffee recipe like this one is a piece of cake! The key to success is to just take it slow. Don't rush the process and follow the step by step instructions I provide and you'll end up with the perfect toffee.
Now, if you're a fan of salty sweet then you are going to want to try Christmas crack first. But don't rule out toffee entirely, because I've never met anyone who doesn't like this crunchy sweet treat. With just five ingredients, you can make a festive holiday candy…and this recipe makes tons of servings too! Perfect for parties and to munch on while you bake Christmas cookies.
Why You'll Love this Toffee Recipe
Homemade toffee is a great make-ahead recipe since it stores so well and has a long shelf life.
This sweet candy is a fabulous gift to give to friends and family for the holidays. Put it in some Christmas tins and tie a pretty bow around it!
You can toffee with staple ingredients that you likely already have in your kitchen. No need to buy anything fancy, just grab some butter, vanilla, pecans, chocolate and brown sugar and let's get started!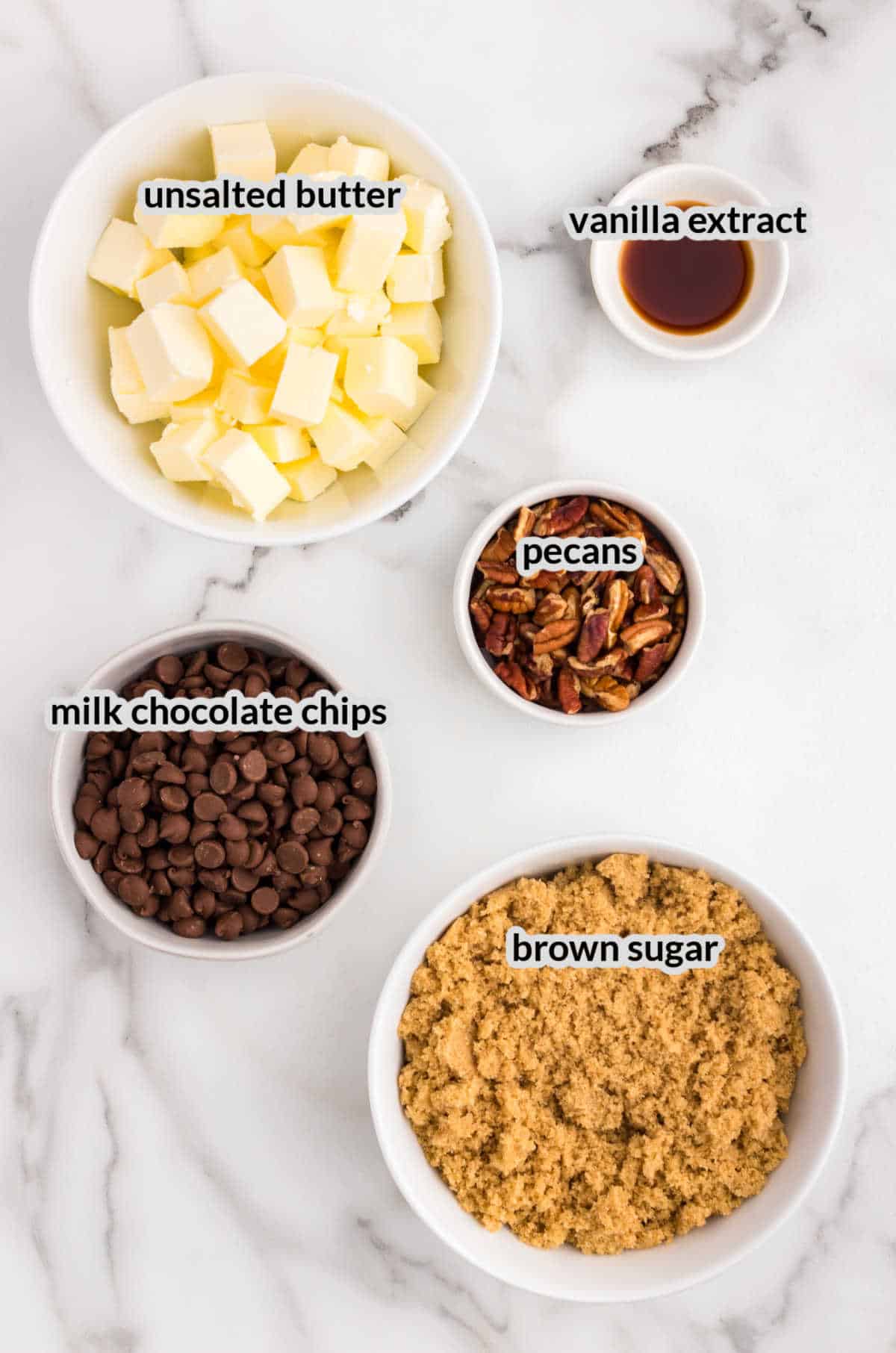 Ingredients for Toffee
Brown sugar – The dark and caramel-like sweetness of brown sugar makes it the perfect base for toffee candy.
Unsalted butter – You can use salted butter if you prefer, but I like the flavor of unsalted butter better.
Vanilla extract – A little dash of vanilla extract is the best flavoring for this yummy toffee recipe.
Milk chocolate chips – Feel free to use a different type of chocolate if you prefer. Semi-sweet chocolate and dark chocolate both work in place of milk chocolate chips.
Pecans – Chop up pecans or buy them already halved or in pieces.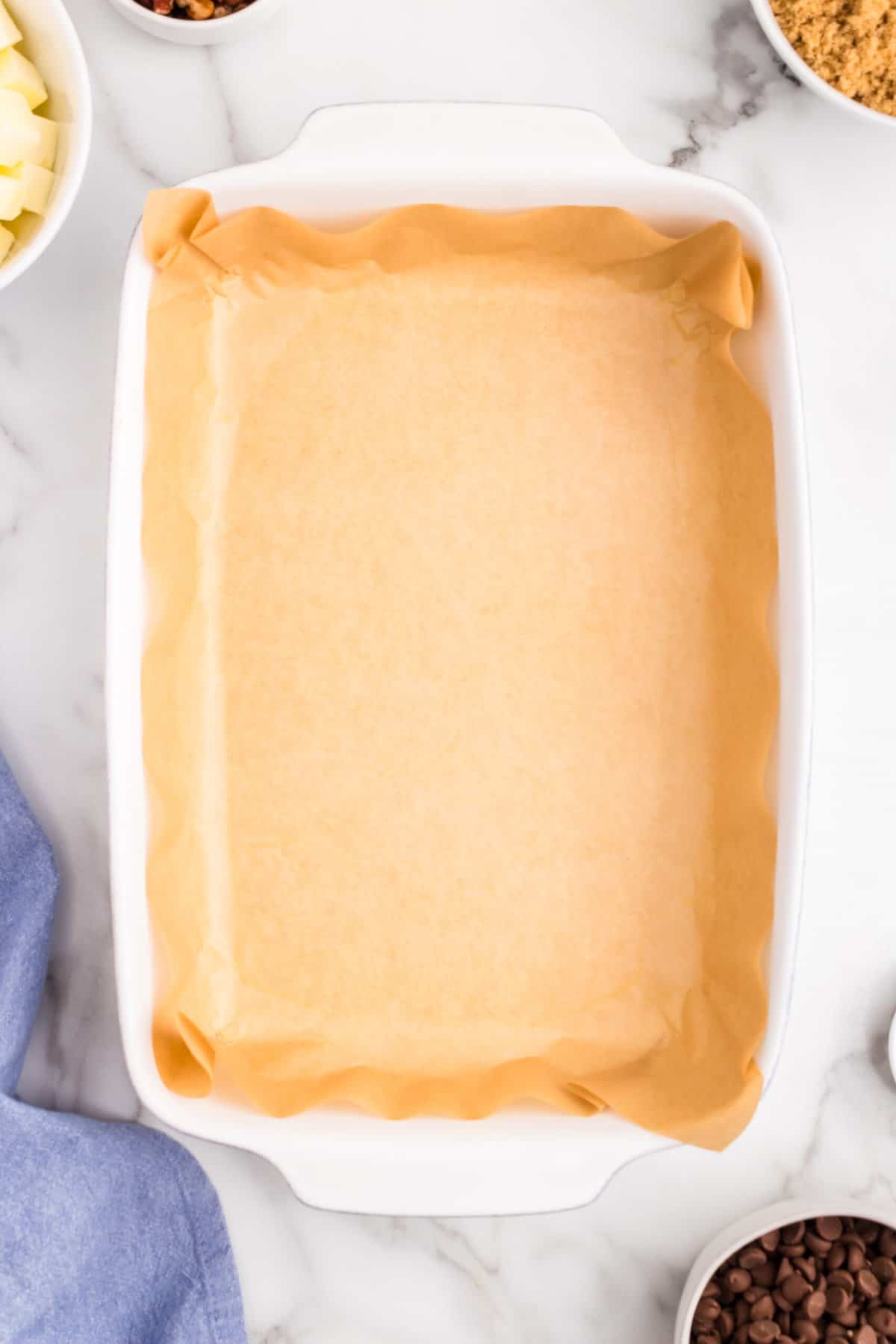 How to Make Toffee
Begin by spraying a 9×13 baking dish with cooking spray and then lining it with parchment paper.
Spread coarsely chopped pecans in a single layer on the parchment paper. Then set it to the side.
Add butter and brown sugar to a heavy bottomed 3 quart saucepan. Hook a candy thermometer to its side.
Bring the sugar and butter mixture to a boil over medium low heat, stirring frequently to dissolve the sugar.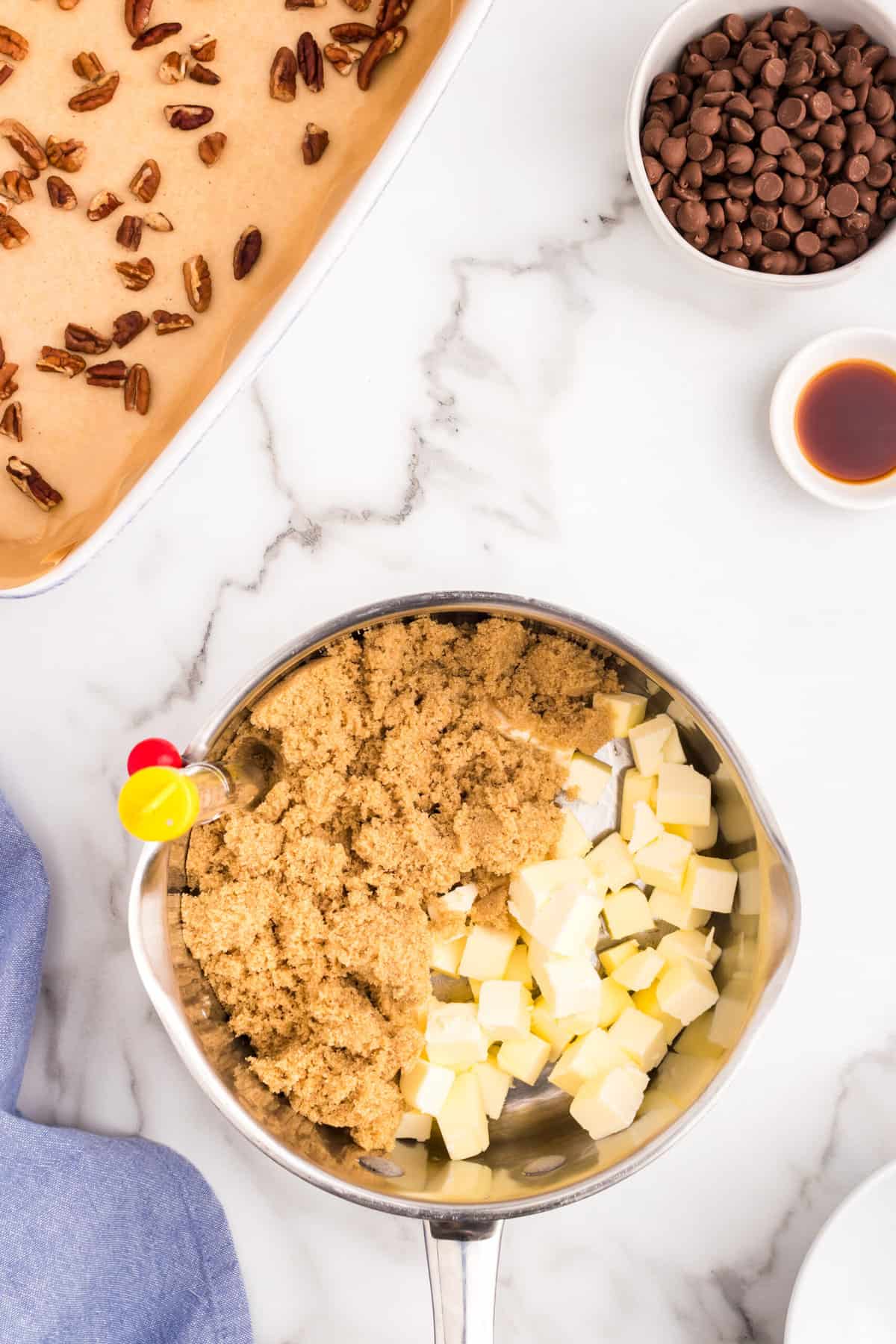 Once the mixture is boiling, continuously and slowly stir until the mixture reaches 290 degrees Fahrenheit or the hard crack stage on a candy thermometer.
Immediately remove the candy from the heat and stir in the vanilla extract. Then carefully pour the mixture over the chopped pecans in the 9×13 baking dish.
Let the candy sit undisturbed for a few minutes, then sprinkle the chocolate chips evenly over the toffee mixture.
Cover the pan with aluminum foil and then let it sit for 5 minutes to let the chocolate chips melt, or until the chocolate has softened. Remove the foil and use a silicone spatula to spread the chocolate into an even layer.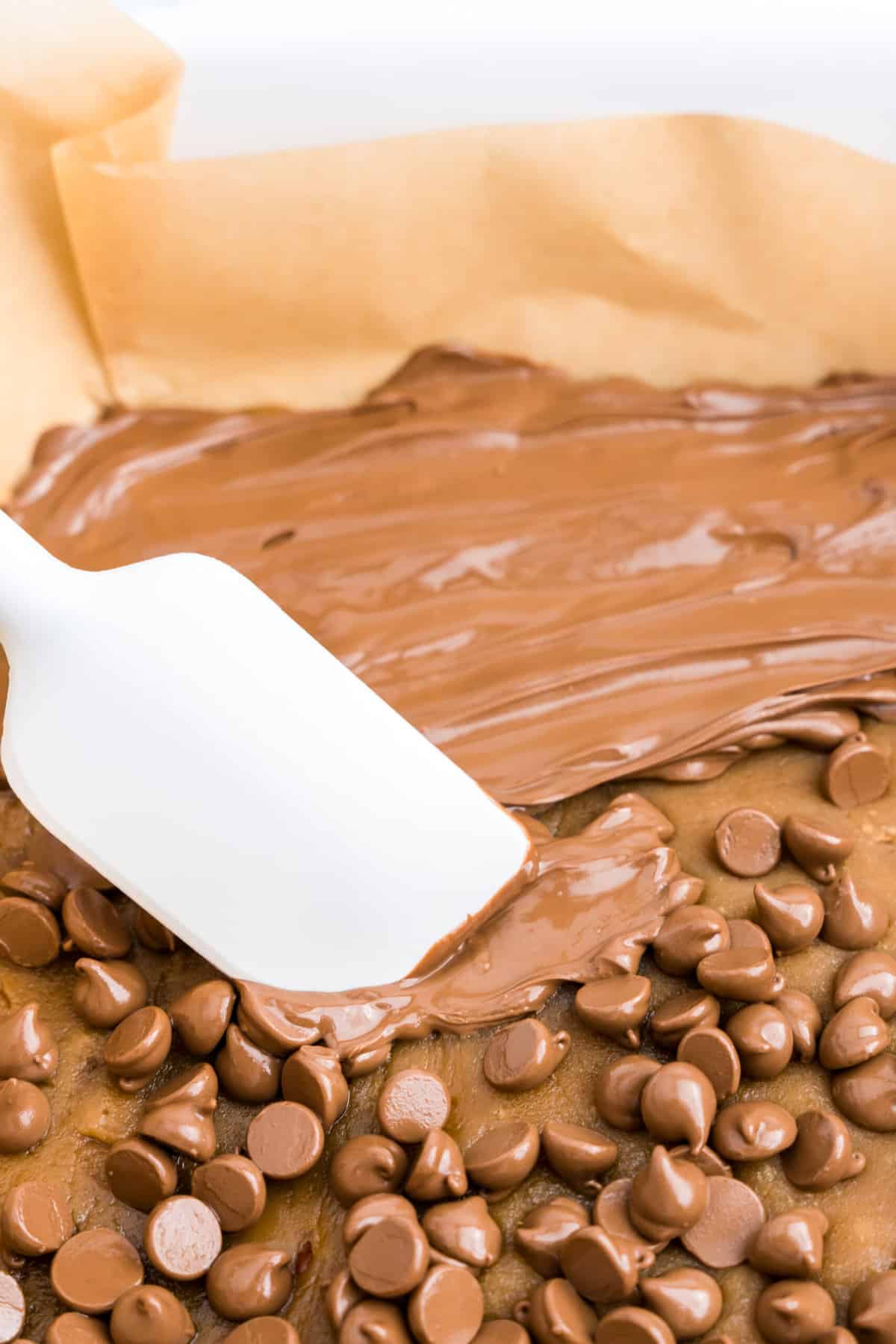 Place the completed toffee candy into the fridge and let it cool completely, this should take about 2 hours.
Gently lift the parchment paper out of the baking dish and place the toffee on a cutting board or flat surface.
Use a knife and cut the homemade toffee into smaller pieces.
Serve or store for later!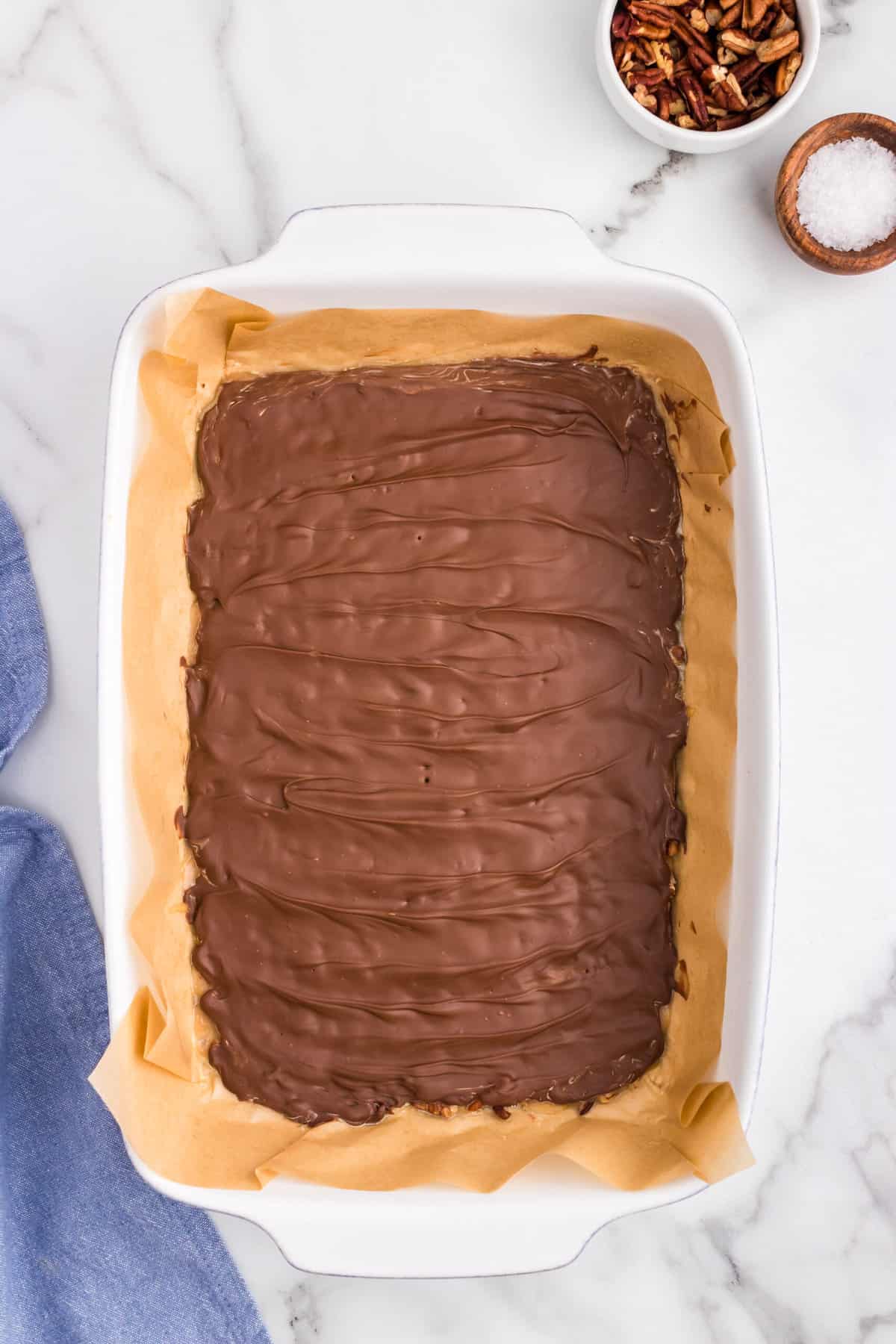 How to Store Leftover Toffee
Place leftover toffee into an airtight container with parchment paper in between layers if you have to stack it. Toffee will stay fresh at room temperature for about a week.
FRIDGE: To extend the life of your toffee, store it in the refrigerator! Toffee should last for about two weeks in the fridge.
FREEZER: You can also freeze toffee! Place the toffee onto a baking sheet and then freeze for a few hours. Then transfer the frozen toffee to freezer safe bags or airtight containers and freeze for up to 3 months. Thaw in the fridge before consuming.
What can I add to toffee?
Traditionally, toffee is just nuts, chocolate, and the crunchy candy made from butter and sugar. However, you can add a few different things to the top of the chocolate while it is still wet.
Some pretzel pieces would be a nice salty crunch, and you can add extra crushed nuts on top! Pecans, walnuts, and sliced almonds are most popular. If you like salt with your chocolate, flakey sea salt would also be a great topping for toffee.
To make this recipe festive for the holidays, add red and green M&Ms or some sprinkles.
Pro Tips for the Best Toffee Recipe
Don't overheat your toffee mixture or the texture of the finished candy may not come out right. The candy thermometer is important!
When you pour the sugar mixture into the baking dish, make sure to spread it in an even layer so that there aren't super thick or super thin pieces of toffee.
Be patient when cooking the sugar and butter together. Don't bump the temperature to make it go more quickly, low and slow is your best bet!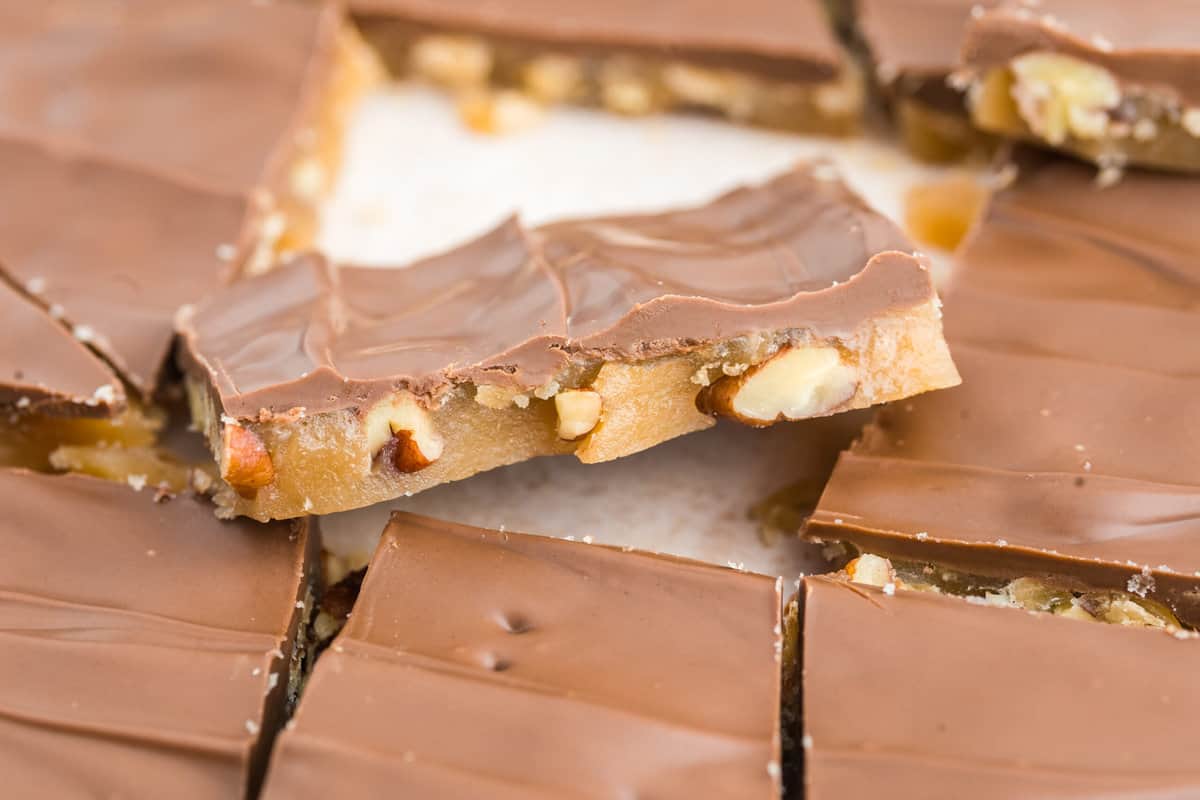 This homemade toffee recipe is one of my favorite things to make around the holiday season. I hope the simplicity of ingredients and instructions will help quench any fear you may have of making your own toffee! You can do it!
More Candy Recipes You'll Love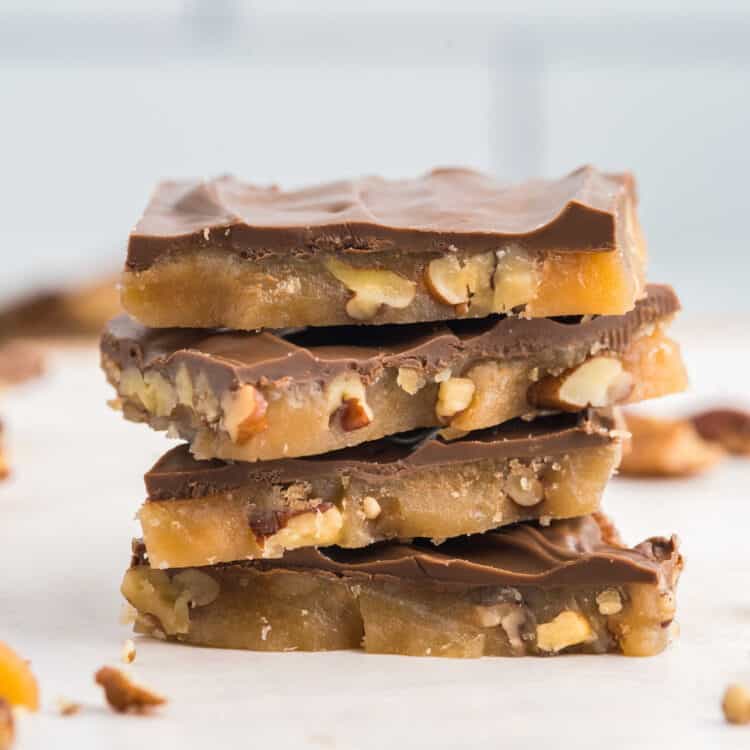 Toffee
Homemade Toffee with layers of chocolate, pecans and buttery toffee that melts in your mouth.
Ingredients
½

cup

coarsely chopped pecans

1

cup

unsalted butter

cut into pieces

1 ½

cup

brown sugar

packed

1

teaspoon

vanilla extract

1

cup

milk chocolate chips
Instructions
Spray a 9×13 inch pan with cooking spray and line with parchment paper.

Spread the chopped pecans in a single layer on top of the parchment paper.

Add butter and brown sugar to a 3 quart heavy bottomed pot. Hook a candy thermometer on the side of the pan.

Bring to a boil over medium low heat, stirring frequently to dissolve the sugar.

Once the candy is boiling, stir continuously slowly and evenly, until the candy has reached 290 degrees Fahrenheit to 300° degrees Fahrenheit, or "hard crack" on a candy thermometer.

Once the candy has reached 290 degrees Fahrenheit -300 degrees Fahrenheit, remove from heat and gently stir in the vanilla extract.

Carefully pour the mixture over the chopped pecans into the prepared 9×13 inch pan.

Let the candy sit for a few minutes, undisturbed, then sprinkle the chocolate chips evenly over the top of the candy.

Cover the pan with foil and let sit for 5 minutes or until the chocolate has softened.

Remove the foil and gently spread the softened chocolate into an even layer with a spatula.

Place the candy in the refrigerator and let cool completely for at least 2 hours.

Lift the parchment out of the baking dish and place the toffee on a cutting board or solid surface.

Use a knife to gently break it into smaller pieces. Store in an airtight container in a cool place