Unstuffed Chicken Alfredo Shells
Unstuffed Chicken Alfredo Shells ~ Creamy, Delicious Casserole with Layers of Garlic Alfredo Sauce, Pasta and Chicken! Save Yourself Time by Skipping the Stuffing of the Pasta! Perfect for a Weeknight Dinner!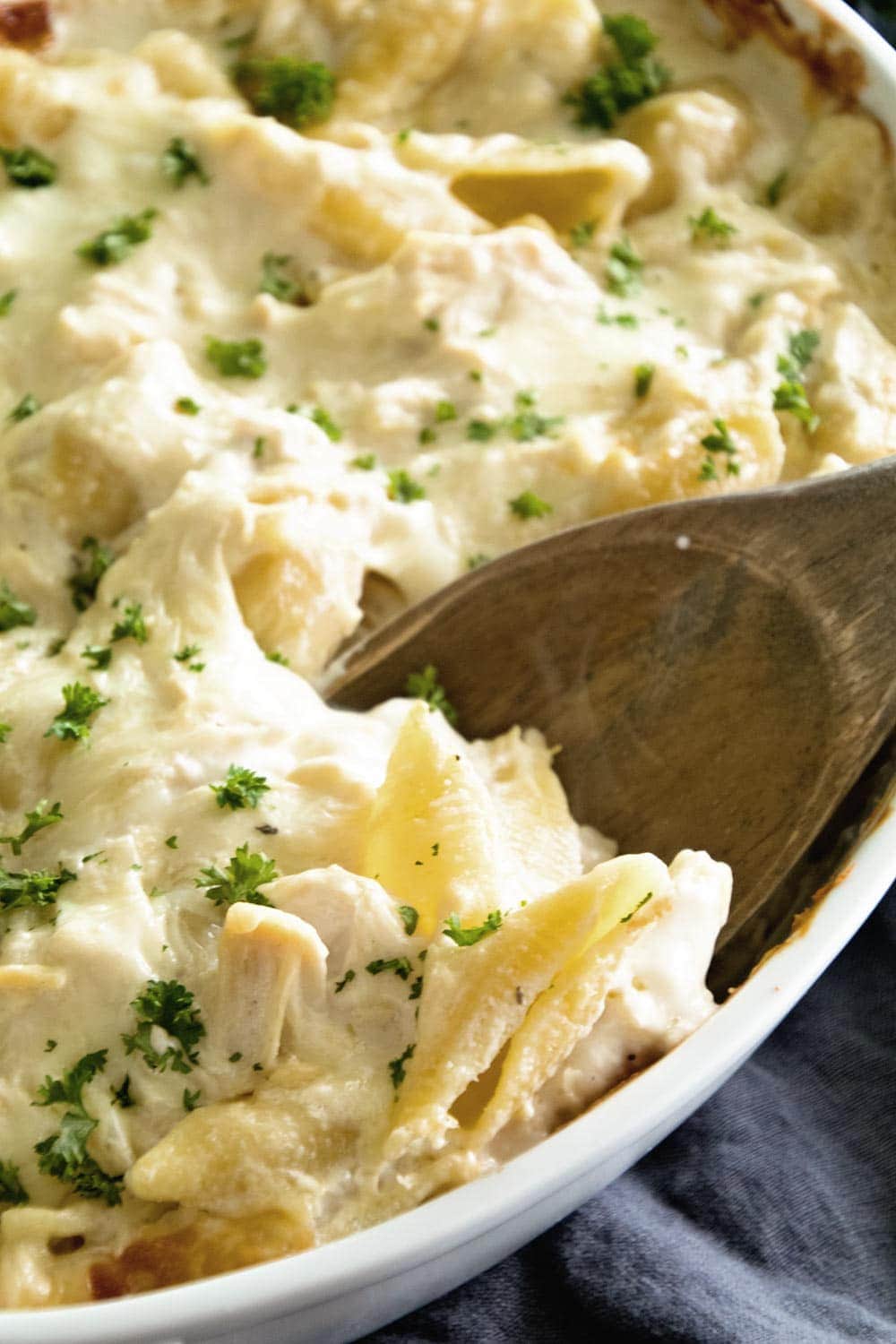 Disclosure: Palmolive® has compensated me for my time to create this recipe. Thank you for supporting the brands that make Julie's Eats & Treats possible. All thoughts are my own.
Sometimes I'm the type of person to totally take the easy way out. I look for short cuts and I embrace them in life. If there's a way to make something easier then I'm alllll over that! Especially when it comes to making my family meals. If I can get away with cutting out a step or two then SIGN ME UP!
So, when you guys all went CRAZY over this delicious Chicken Alfredo Stuffed Shells recipe, naturally, I looked for a way to make it easier. I mean it's pretty simple to start with, don't get me wrong, but I made it like fifteen times and I was totally over stuffing those shells if you know what I mean! Plus, the kids were always asking to help and it got to be painstaking.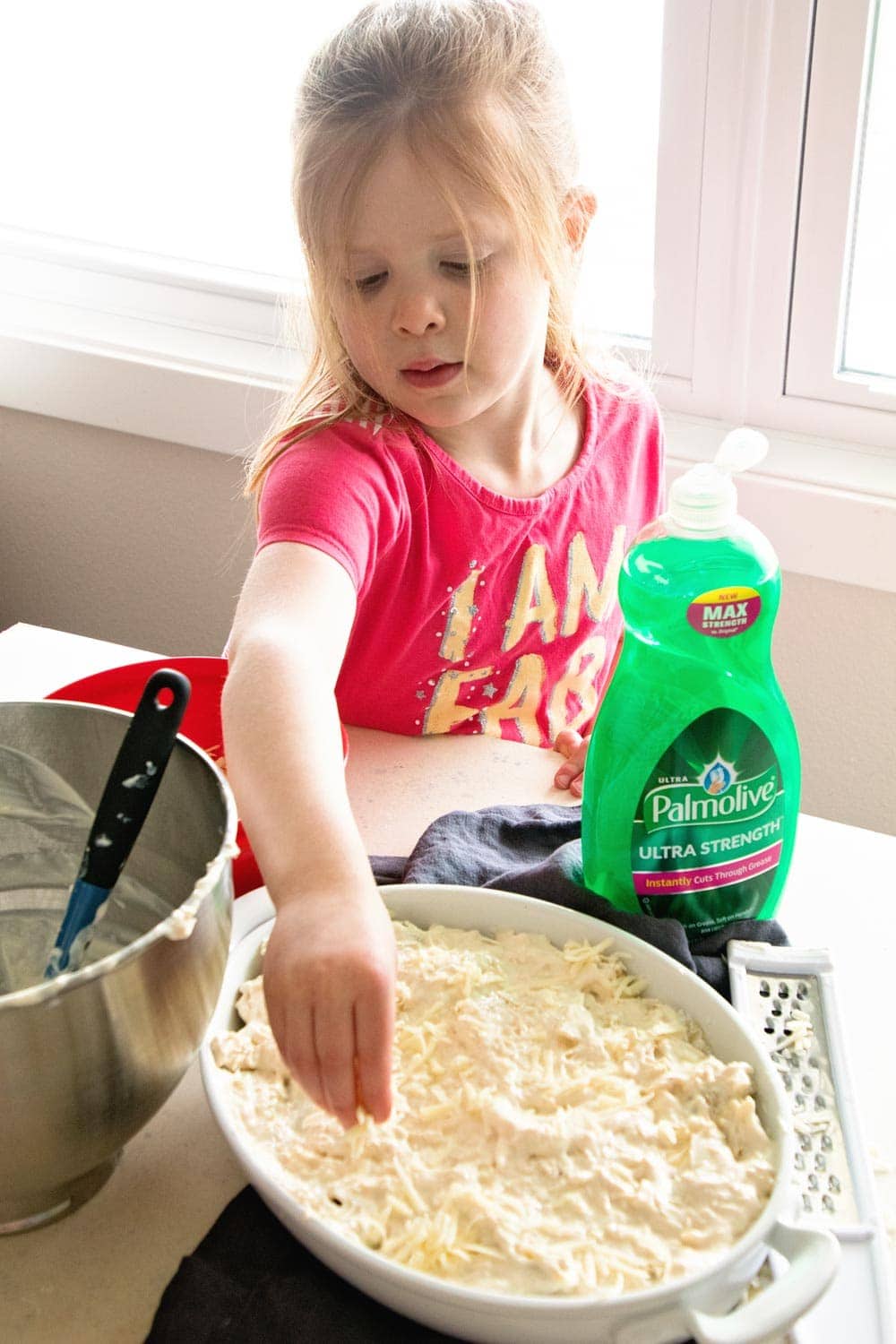 I LOVE it when they rush into the kitchen and get excited to help me, but easy is better I've decided when it comes to four extra little hands around my kitchen! Let's just say there are a lot of #Messipe Moments happening in my kitchen most of the time.
My daycare provider is always quick to comment how the girls love to help her in the kitchen when she's making lunch or snacks and she can really tell that they spend time there! Personally, I remember spending time with my Mom in the kitchen and it's some of the best memories I have! I also remember talking to her one on one while I was in the kitchen and it's amazing how those conversations flowed and turned into treasured memories.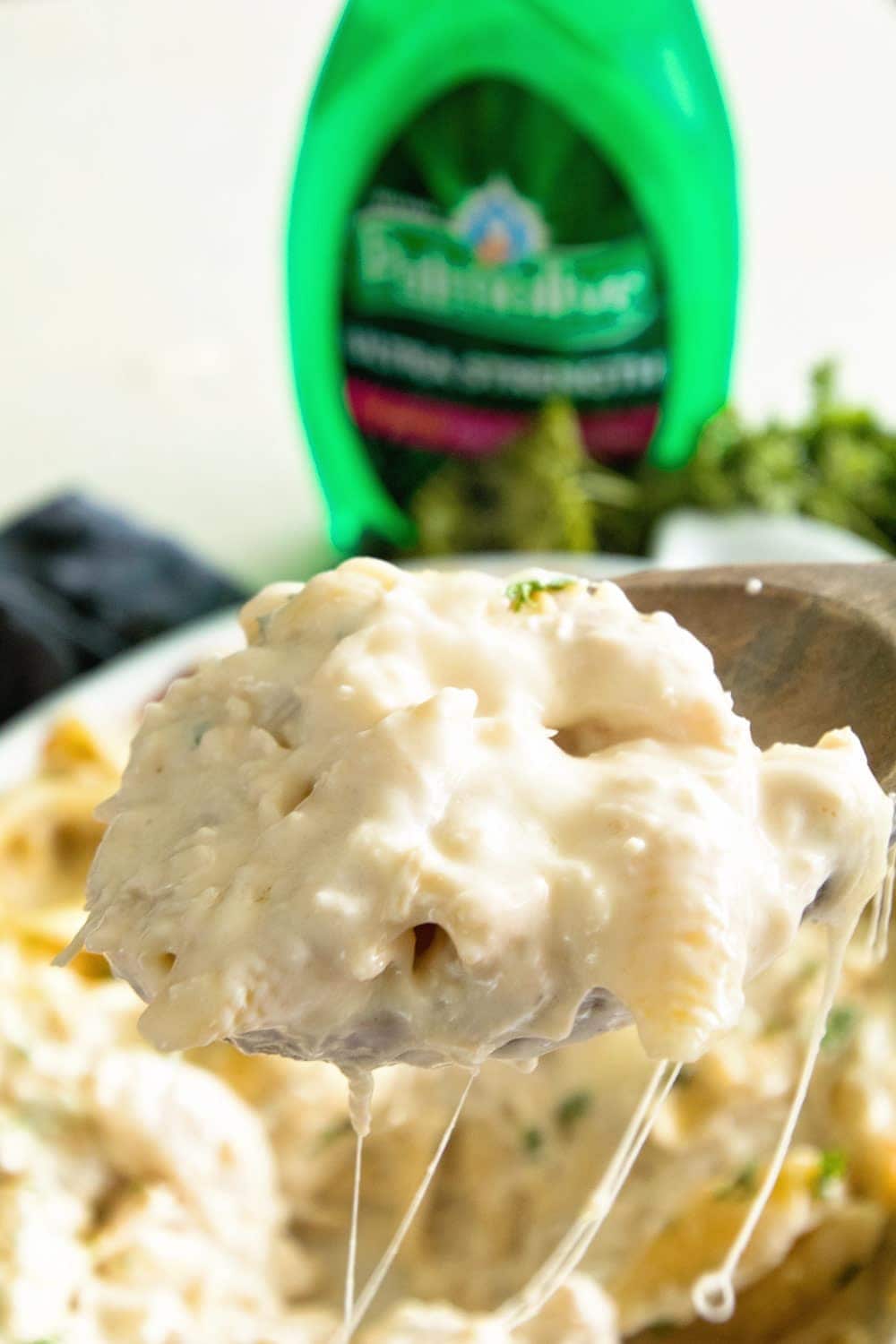 This is why I want my girls in the kitchen as much as possible now and forever. I know when those teen years come around that those conversations will be few and far between in typical teenage fashion and if I can help those along by making lasting connections over food I'm going to embrace it!
Both of my girls love Chicken Alfredo Shells as much as me. In fact, when I'm making it they are often stealing the pasta out of the bowl before I can get it dressed up in the casserole dish! They are always begging for more of those "big noodles". So when I went to make this version Miss K's eyes lit up and she was bound determined to assist me for the meal. There may have been a few noodles lost to her quick fingers!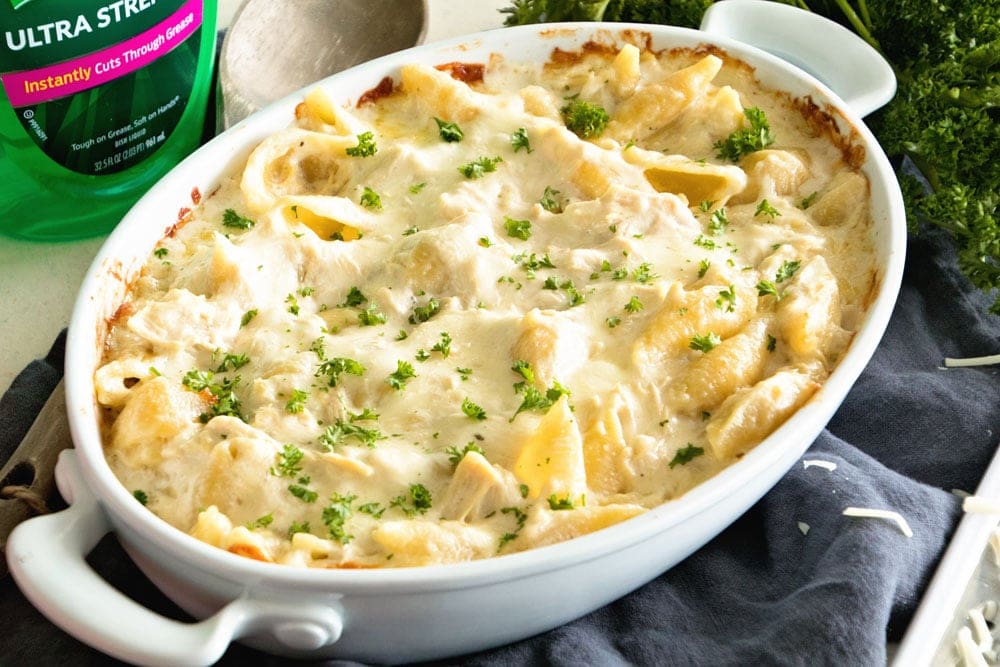 One of Miss K's favorite things to do is to help pour and stir. Luckily this casserole has a lot of that going on! It's so quick and easy that she did most of it by herself with Mom just holding the bowls for her.
First she spread that Alfredo sauce on the bottom of the casserole dish making sure to lick anything she may have spilled on her fingers. Obviously the best part! Next, she whipped together the "stuffing" ingredients in a bowl, then stirred in the pasta. MUCH better than stuffing them when you are in a hurry! I helped her layer that across the Alfredo Sauce then topped it with a nice amount of cheese. She "accidentally" spilled some of the cheese, which may not have been such an accident judging by the gleam in her eye. Miss K was sure to snatch that up as a snack so no loss there!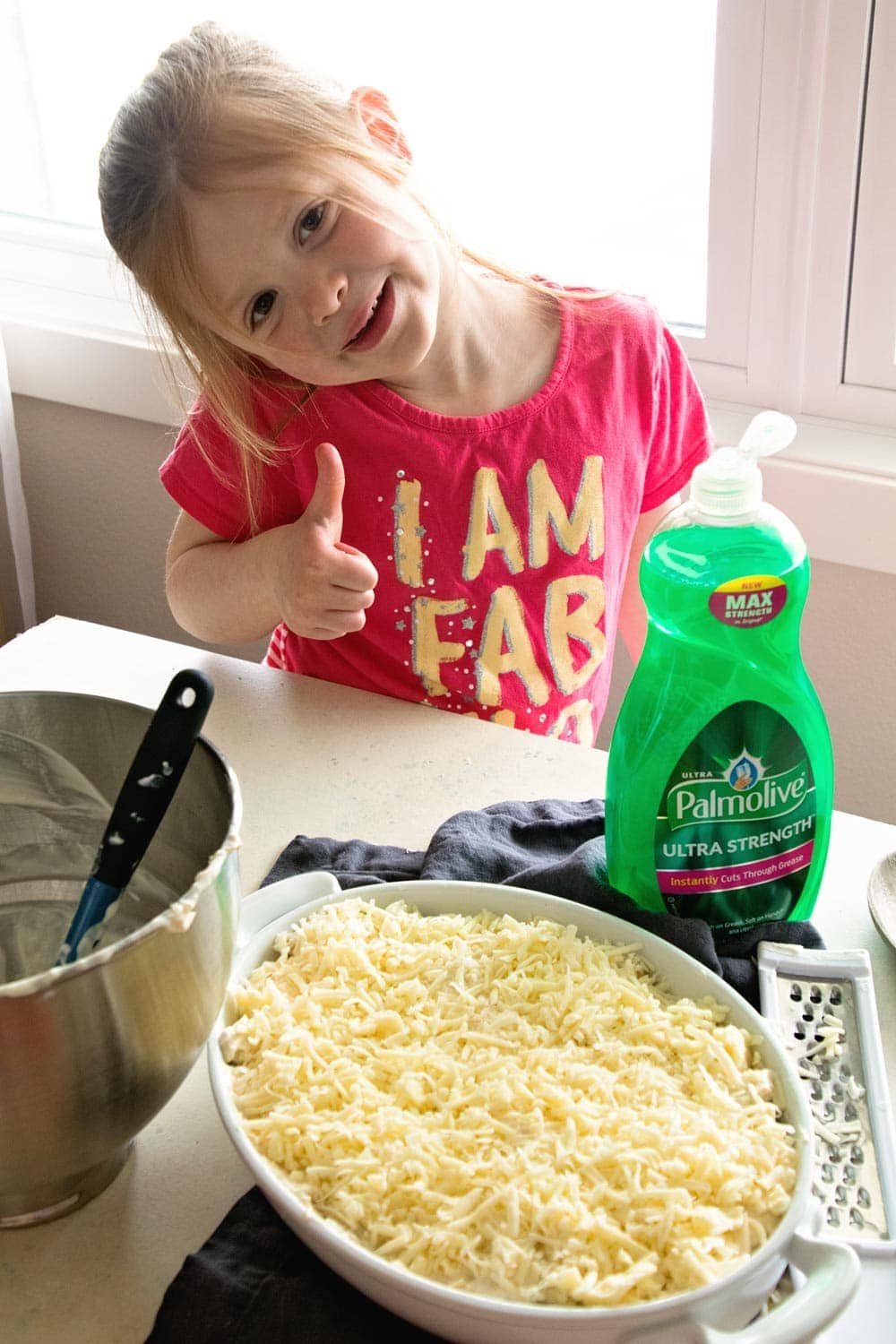 After a quick thumbs up when we were done we stuck it in the oven and soon had a delicious dinner to enjoy as a family!
One Clean-Up Tip my Mom taught me when I was in the kitchen with her was that you clean up as you go and it's not such a daunting task after dinner because no one wants to clean up then! So while it was baking Miss K and I got to work. She grabbed the Palmolive® Ultra Strength™ and added a few drops to the water I was putting in the sink. Miss K adores washing dishes. I want to bottle that up for when she's thirteen! I have a feeling it's going to change by then!
Soon dishes were caught up and we were sitting down to an amazing meal. After dinner we scraped the casserole dish and let it soak in a fresh bath of hot sudsy water with Palmolive® Ultra Strength™ while we cleared the rest of dishes off the table and finished putting away everything. The baked on cheese slid right off our casserole dish and we were done in a jiff! Then it was off to read some books before bedtime of course!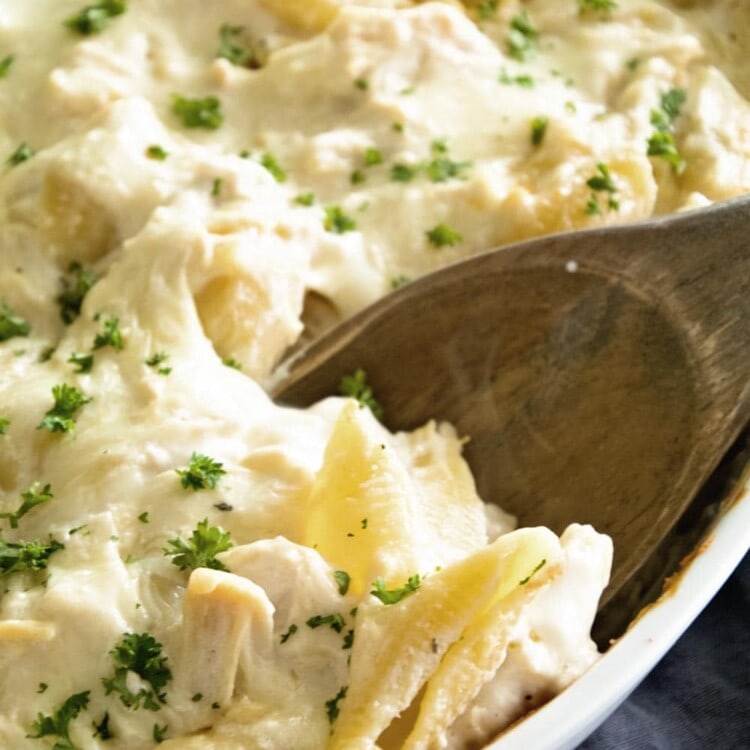 Unstuffed Chicken Alfredo Shells
Creamy, Delicious Casserole with Layers of Garlic Alfredo Sauce, Pasta and Chicken! Save Yourself Time by Skipping the Stuffing of the Pasta! Perfect for a Weeknight Dinner!
Ingredients
4

c.

large pasta shells

uncooked

1

lb

cooked and shredded chicken

1

15 oz. jar Garlic Alfredo Sauce

1

8 oz tub cream cheese spread

1/2

tsp

dried basil

1/4

c.

grated Parmesan cheese

1/2

tsp

garlic powder

1 1/2

c.

shredded Mozzarella cheese

divided
Instructions
Cook pasta as directed on package, omitting salt. Drain water and set aside. Make sure to watch out for little fingers snitching pasta from bowl!

Spray 2 quart casserole dish or 9x13 inch pan with non-stick spray. Spread 1/2 c. Alfredo Sauce on the bottom of pan. If you get any on your fingers make sure to lick off, of course washing your hands after this.

In a large mixing bowl cream together cream cheese spread, basil, Parmesan, remaining Alfredo sauce and garlic powder. Stir in chicken, pasta, and 1 c. Mozzarella cheese. Mix until well combined.

Layer pasta mixture over Alfredo sauce in pan. Top with remaining cheese and cover with aluminum foil. At this point feel free to lick any spoons you may have used!

Heat oven to 375ºF. Bake casserole, covered, 40 to 45 min. or until heated through, uncovering after 30 min.

Clean-up Tip: After you scrape out the last of the pasta, have the kids help fill the sink with warm water, and add a few drops of Palmolive® Ultra Strength™ and let soak to help remove the baked on residue.
Tips
*This can be made ahead of time and refrigerated for up to 24 hours. Add an additional 15 minutes to the bake time. You can also freeze this for up to a month. If you freeze it thaw and bake when desired.
Nutrition Information
Calories:
892
kcal
(45%)
,
Carbohydrates:
93
g
(31%)
,
Protein:
42
g
(84%)
,
Fat:
37
g
(57%)
,
Saturated Fat:
18
g
(113%)
,
Cholesterol:
136
mg
(45%)
,
Sodium:
926
mg
(40%)
,
Potassium:
413
mg
(12%)
,
Fiber:
3
g
(13%)
,
Sugar:
5
g
(6%)
,
Vitamin A:
715
IU
(14%)
,
Vitamin C:
0.9
mg
(1%)
,
Calcium:
371
mg
(37%)
,
Iron:
2.4
mg
(13%)