Windows, Windows, Windows!
We made a ton of progress this week! Hopefully more weeks will be ahead like this so we can get into this house on time.
This past Saturday we pretty much rocked it. WE had ever intention of getting a few of the windows in so we could have some light in the living area. We had reframed the windows in there and then just boarded them up until the windows arrived. Well those intentions were good ones and we surpassed our goal and got all ELEVEN windows in plus the patio door thanks to the hub's Dad and little brother. While they were slaving away on those I was painting the Master Bath with the hub's step-mom. That is all finished up too. Downstairs my Dad and nephew were rocking and got all the carpet tore out. We could have never dreamed of getting all this stuff done. Have I mentioned we are truly blessed with helpful people in our lives! We appreciate it more than words can say. After a hard days work we went to get Miss K at my mom's and were treated to homemade lasagna. Life does not get better!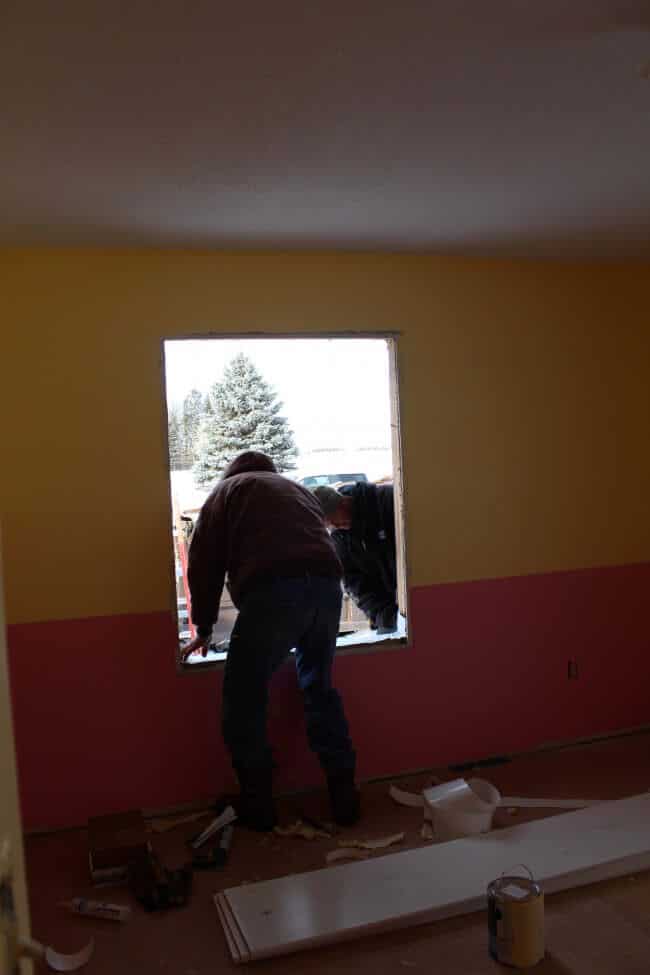 Out with the old!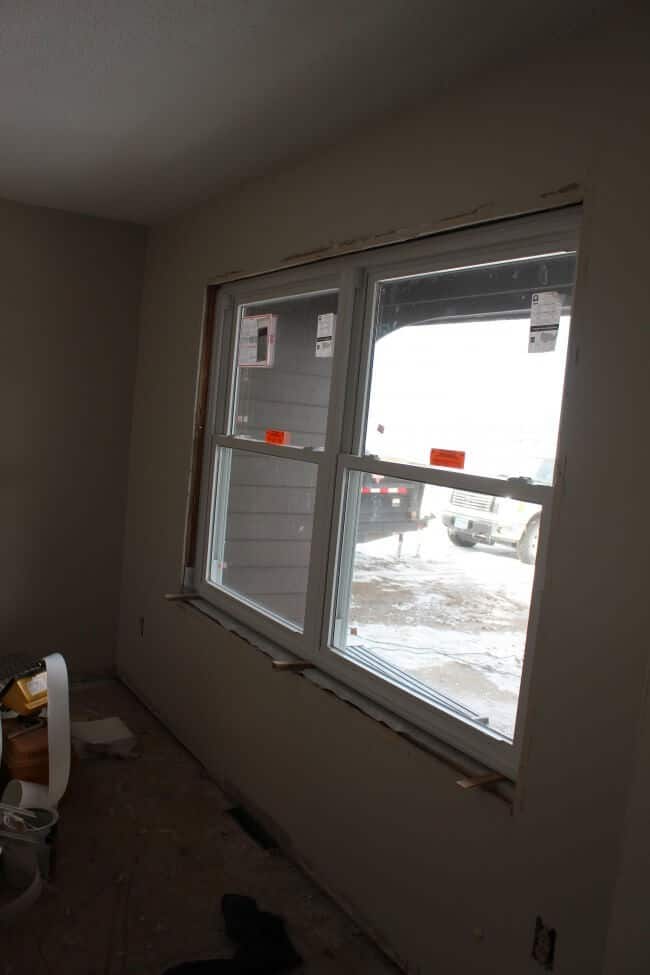 In with the new!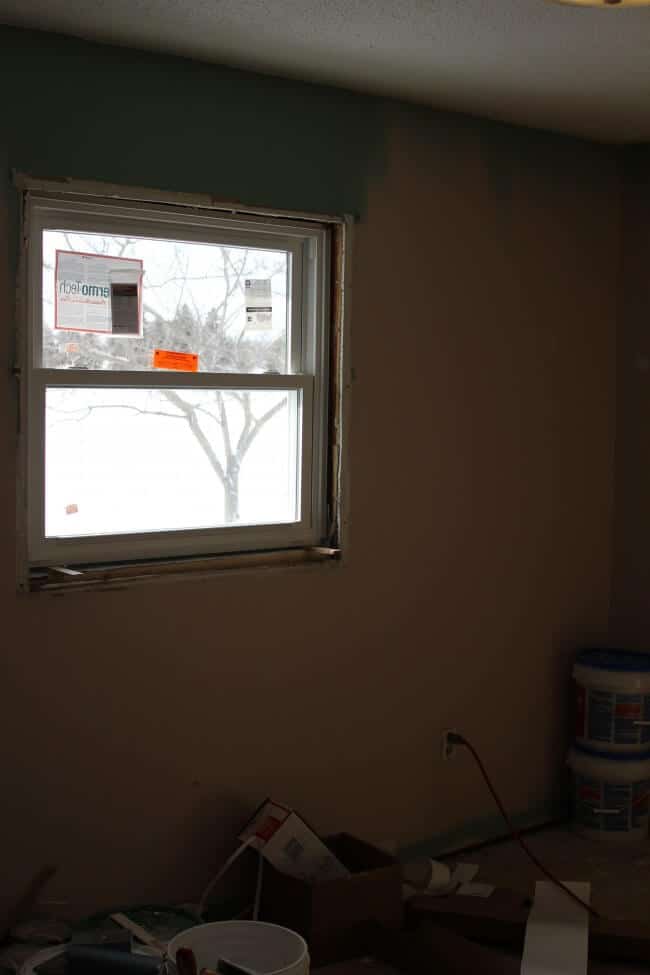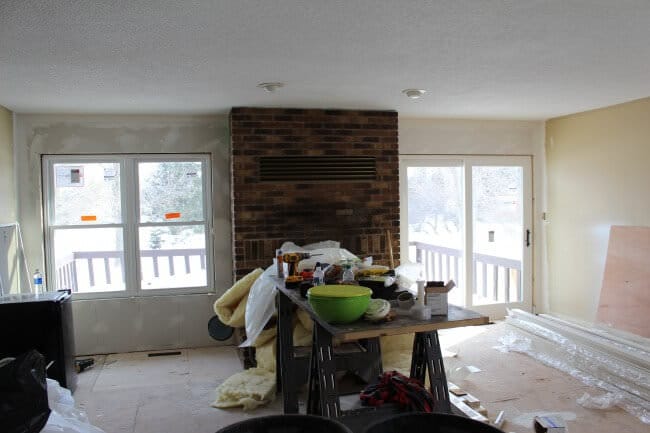 Have I mentioned how excited I am for all this wonderful natural light and taking blog photos?!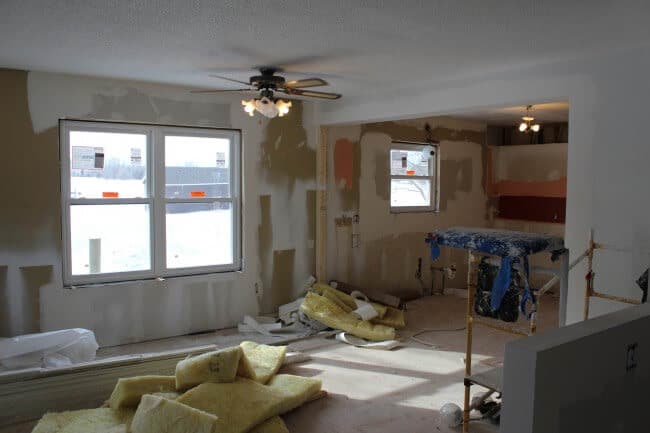 We made the dining room window bigger! YAY!
Next on the list is the bathtubs that should be getting refinished today, painting the main bath, living area and laundry room, then we start installing doors, trim and all that exciting stuff. Still aiming for a move in date of middle of May. The hubs is getting a little anxious but I'm not going to let him tell me otherwise. I'm on a mission peeps!
List – Updated
1. Gut Upstairs
2. Side entire house
3. Trim out house (ORDERED! ARRIVED!)
4. Jack up floor or ceiling
5. Fix Bathtubs (Scheduled for March 21st!)
6. Frame windows and patio doors
5. Sheet rock in kitchen
6.Mud & Tape Upstairs
7. Paint, Paint, & Paint (3 Bedrooms, Office and Master Bath Done!)
8. Re-do wiring in kitchen
9. Install new windows
10. Install Kitchen Cabinets (ORDERED!)
11. Install Flooring (ORDERED!)
12. Install Appliances (ORDERED!)
13. Install Vanities, toilets etc. in bathroom (Vanities & Tops bought)
P.S. Remember when I said that I felt like I was hemorrhaging money and I didn't think it could get worse? It just did…the hubs had his transmission in his truck go out. Sigh.