Bacon Caesar Pasta Salad is an easy side dish (or main!) that is perfect for cookouts, potlucks, and summer BBQ's! Pasta, bacon, tomatoes, and crisp romaine are tossed in a homemade Caesar dressing that comes together with a few simple pantry items.
Be sure to subscribe to my newsletter HERE so you never miss a new recipe!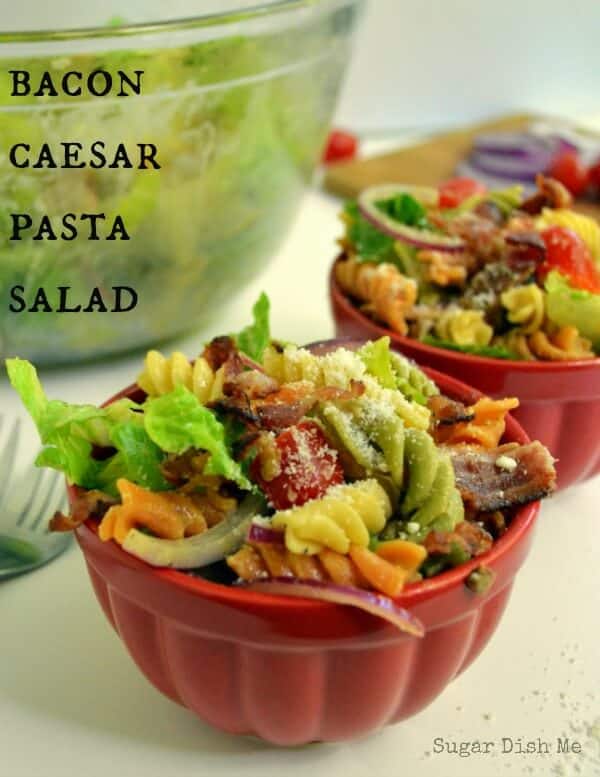 So that pretty much looks like a bowl of stuff I wanna eat. Who's with me?
I should probably clarify the 'me' part though, before we go sharing bowls of pasta-bacon things.
I'm Heather and I write the blog Sugar Dish Me where I attempt to fill up 2 bottomless-pit boys while sharing recipes that are fast, fresh, and easy. Also I like dessert. And cheese. And I should probably not be taken very seriously about most things… except THE FOOD. That's serious business!

MY OTHER RECIPES
Anyhoo — I am thrilled to be here contributing for Julie today. She is super! And I'm guessing that makes all of you pretty super by proxy. No pressure or anything.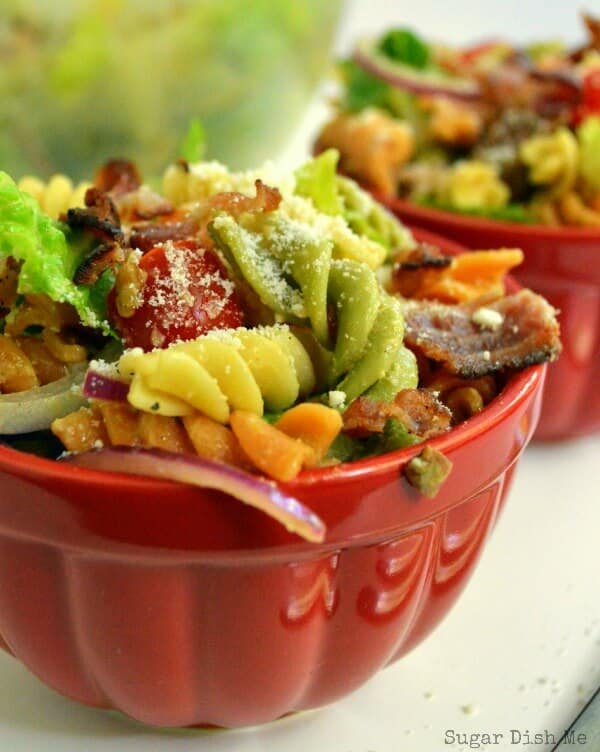 Speaking of super things though, let's talk about this dressing.
I get stuck in these salad dressing ruts, especially with pasta salad, where I just make the same thing over and over. Do you do that? My regular dressing is good, great even. But since I always make it the same way I feel like it's gotten boring.
—>>>> Enter this Caesar dressing!!!!!!!!!!!!!
It comes together with just a few pantry staples – things like spicy mustard, lemon juice, red wine vinegar, and Worcestershire sauce – and it is everything I ever wanted a Caesar dressing to be. Tangy and kinda creamy with a hint of black pepper, and it coats the lettuce and pasta perfectly.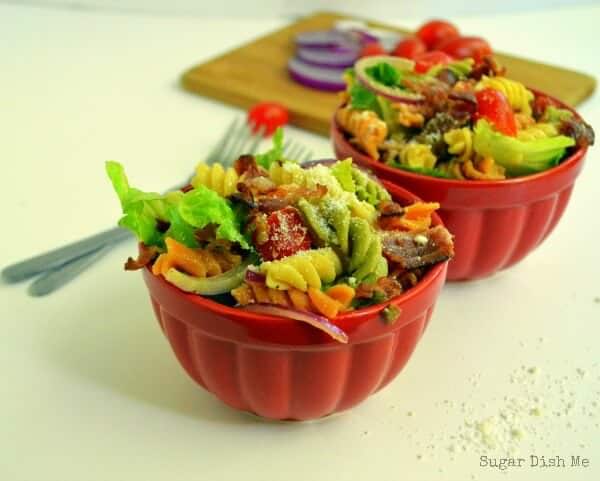 I added really fresh, crisp romaine lettuce to this salad right before serving. You can make the pasta and dressing ahead of time – the day before, even – toss them together, and refrigerate. Right before you break out the salad for serving you can throw in your torn lettuce, sliced cherry tomatoes, and crumbled bacon. This keeps the bacon crisp, the lettuce from wilting, and the tomatoes from needing refrigeration (raise your hand if you are ready for summer garden tomatoes!!!).
Bring this awesome easy salad to your next cookout, BBQ or potluck supper, OR you could work it out like my other half and just hug the bowl while shoveling it in with a fork. Either way.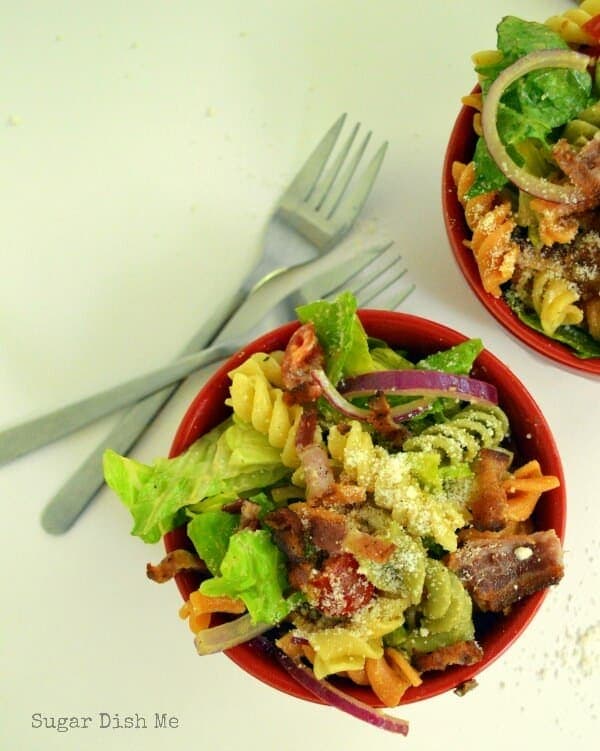 Bacon Caesar Pasta Salad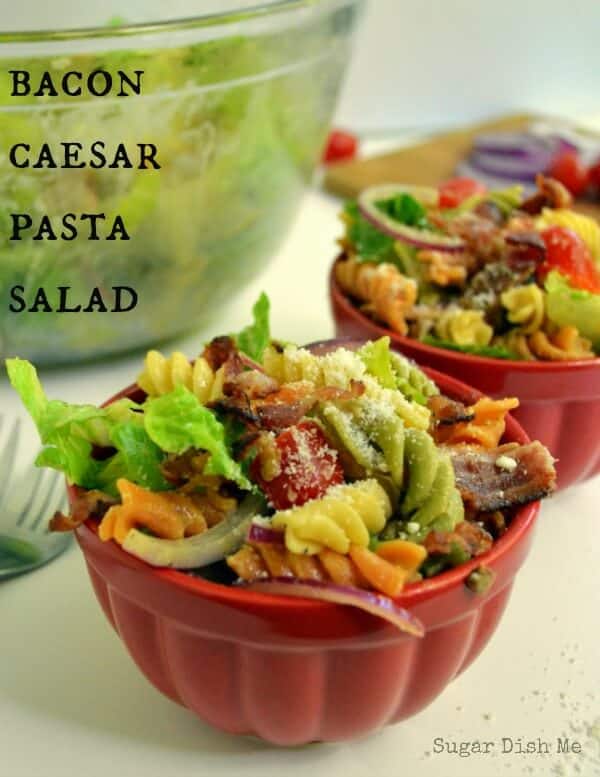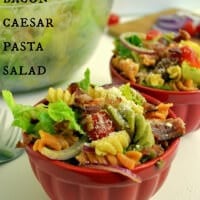 Instructions
To make the dressing, stir together the cooked egg yolk, red wine vinegar, lemon juice, mayonnaise, spicy mustard, Worcestershire sauce, minced garlic, and black pepper. Slowly drizzle in the olive oil, whisking as you pour, until everything is evenly combined.
Pour 2/3 of the dressing over the cooked, rinsed, and cooled pasta. Add the onions and toss everything to coat. If you are making this ahead of time, stop here, cover everything, and refrigerate until you are ready to serve.
Add the tomatoes and bacon. Toss to coat. Add the romaine lettuce and the remaining 1/3 Caesar dressing. Toss everything again, until the lettuce is coated. Sprinkle with the Parmesan cheese and a few more bacon crumbles and serve.
Thanks so so so much for letting me share here today! Happy cooking!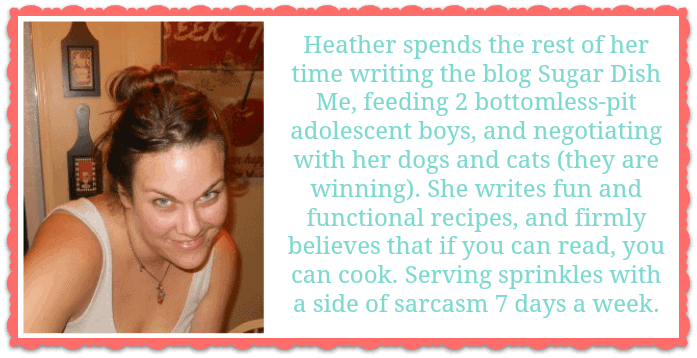 More Salad Recipes You Might Like…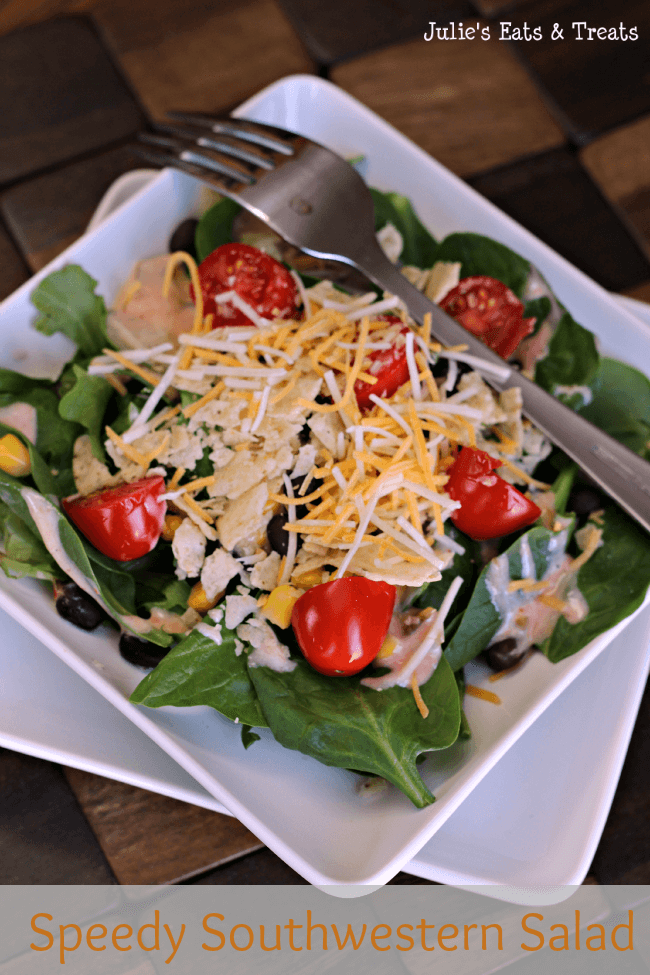 Speedy Southwestern Salad ~ Quick and easy salad with a southwestern twist!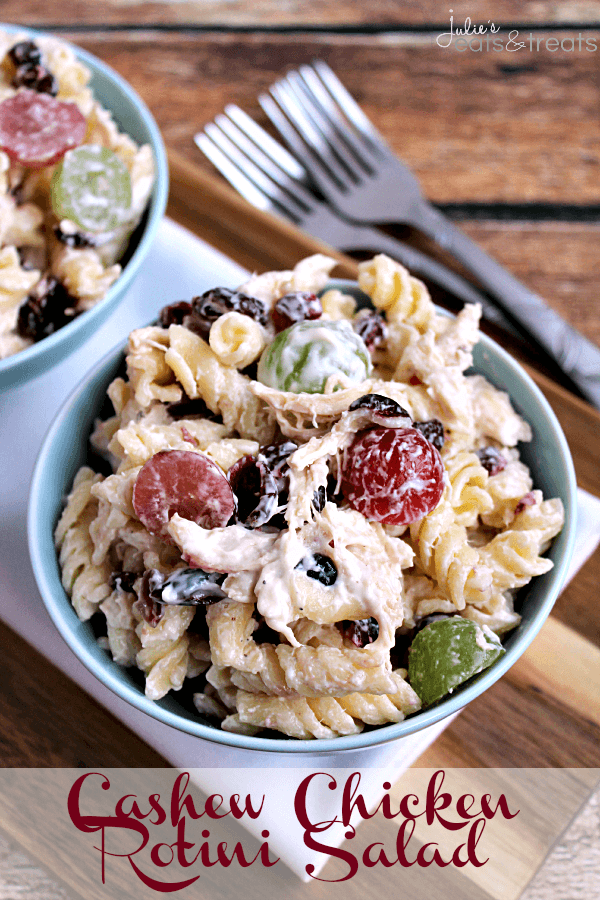 Cashew Chicken Rotini Salad ~ Loaded with Cashews, Grapes, Chicken, Pasta and Dried Cranberries!