Bruschetta Pasta Salad ~ Two of You Favorites Come Together In this Delicious Pasta Salad Loaded with Tomatoes, Red Onions, Fresh Mozzarella in a Tangy Balsamic Dressing! Perfect Side Dish for Grilling and Summer Cook Outs!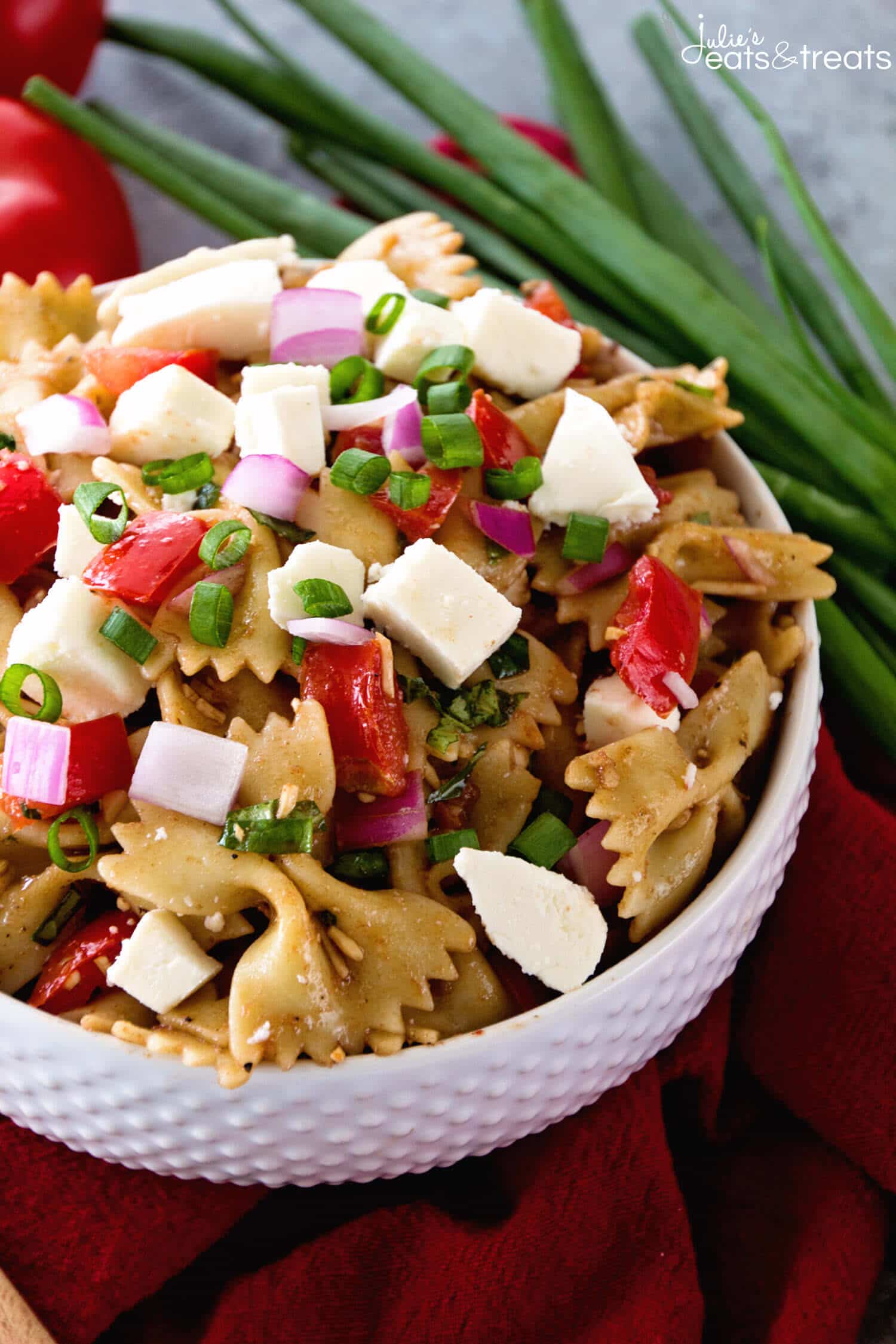 Summer, Summer, Summer! It's here! It's time to party like it's 1999! Anyone remember thinking that was like NOW and not totally a decade and a half ago? Yikes. Old age here. I love summer. It's my favorite time of the year. We grill out at the cabin all summer and therefore we go through a lot of pasta salads! I need a pasta salad when grilling, don't you? I also need to mix it up so I figured it was high time I added another one to our arsenal here. A few of my favorites are Bacon Ranch Pasta Salad, Cashew Chicken Rotini Salad and Crab Pasta Salad!
Let's go back to that whole, "Let's Party like it's 1999" thing. Do you remember saying that?
Now I look back and hello it's 2016. That means that moment in time was a decade and a half ago. I'll admit it. I'm in denial that it could be that long ago. I was still a young pup in high school, not a care in the world, my whole future ahead of me. Oh, and I had it ALL figured out. What I was going to do with my life, my timeline. You name it. I had an answer. Now I laugh at the fact I "thought" I had it all figured out. Heck, I don't know what tomorrow will bring let along next year or in five years. That I have figured out in life!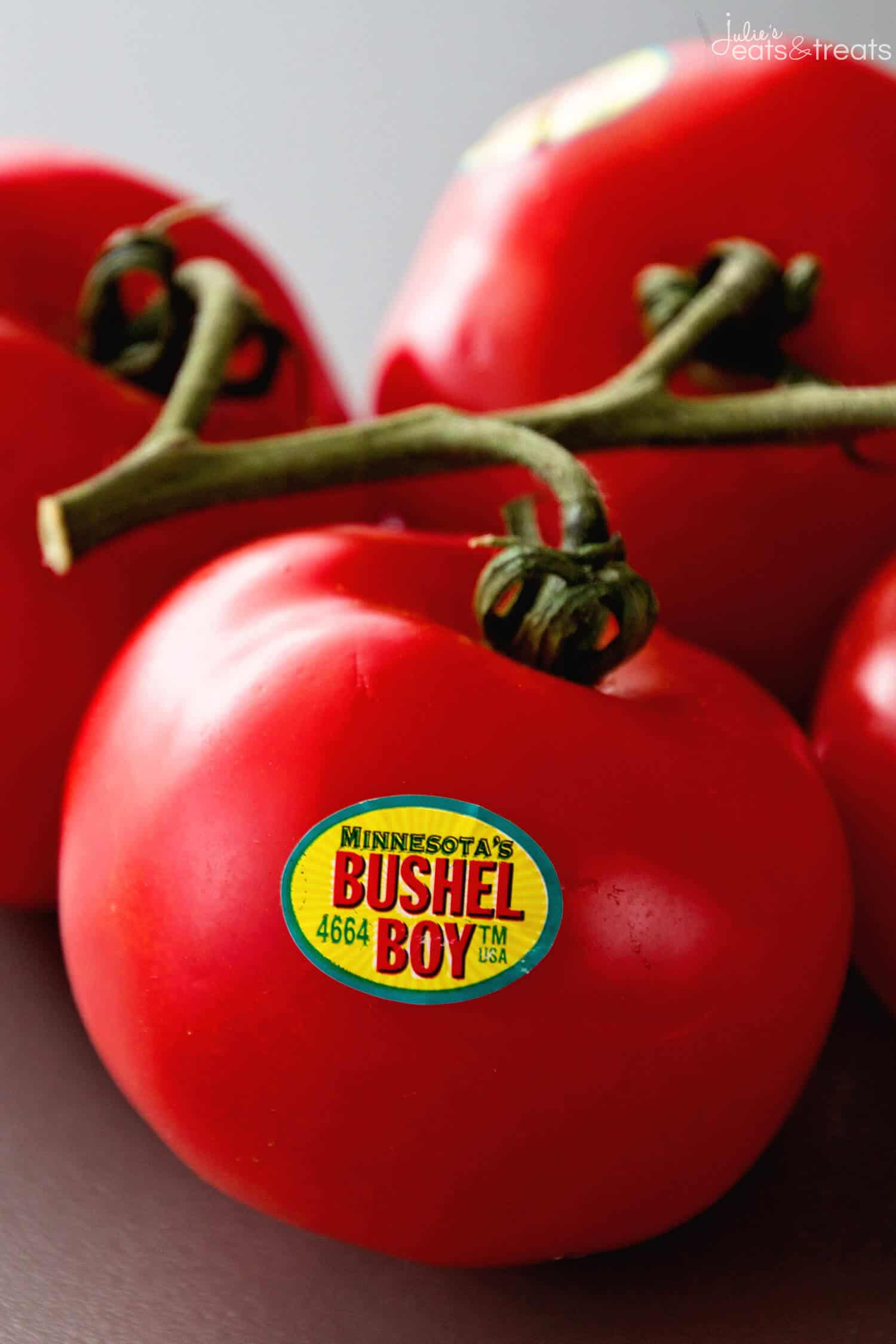 My plans for the future included attending college for a degree in Hotel/Restaurant Management, moving to New York City to manage a ginormous hotel, marrying a successful man at that age of 25, driving matching black BMW's, having our first child when we were 27 etc.
My reality is that attended college for a degree in Hotel/Restaurant Management, graduated, promptly dumped my boyfriend and moved a hour away from home, eventually managed a hotel for a little over a year, moved home to farm country, got married (this actually happened when I was 25!), and had my first child right on time at 27. No New York City. No matching BMW's. No hotel to manage anymore.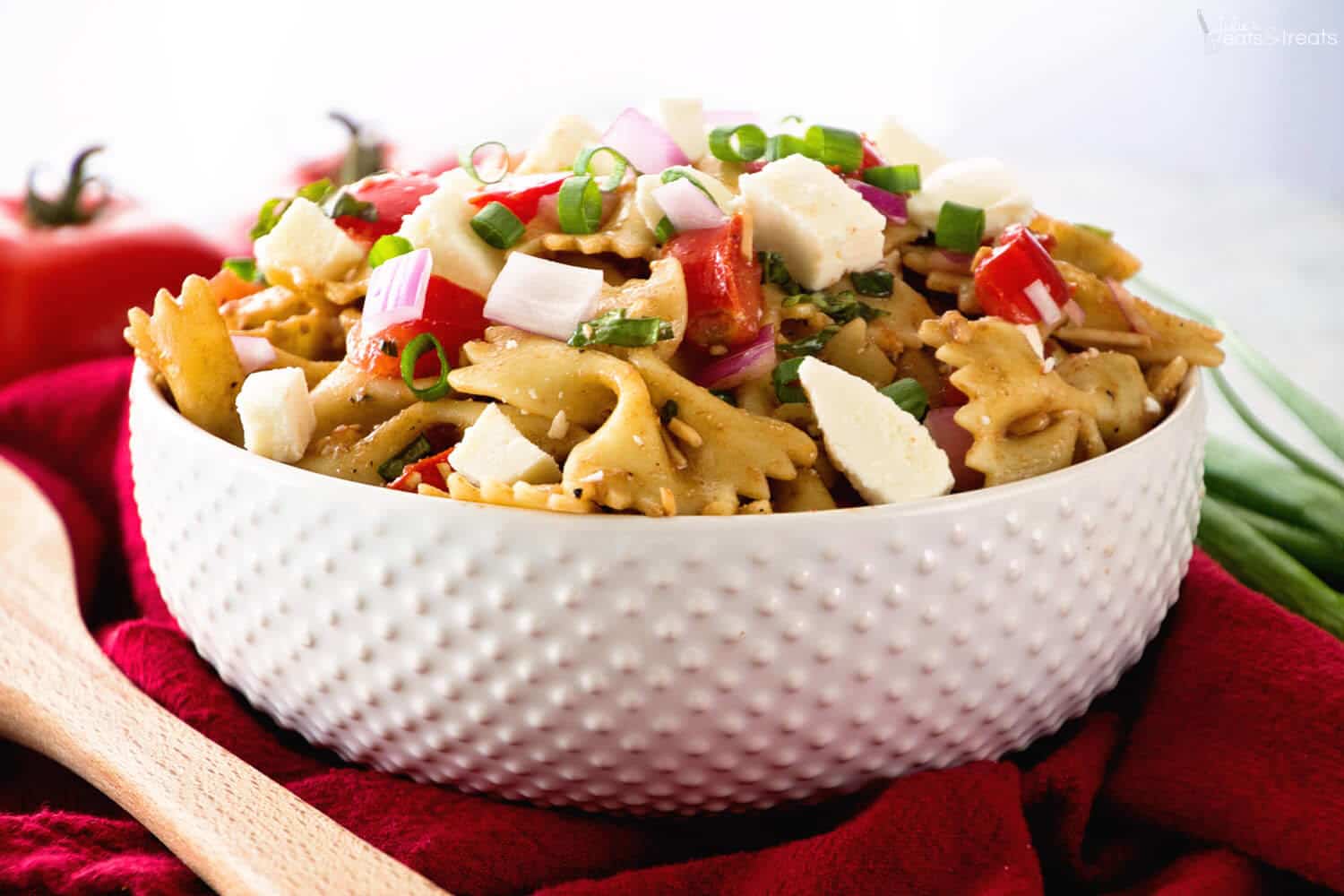 I'm totally OK with the no hotel thing. There's nothing worst than being on call 365 days a year 24 hours a day. Trust me. Instead I have you guys! YAY! I found my passion in life elsewhere. Who isn't passionate about awesome food? If you aren't passionate about amazing food then you guys… you came to the wrong spot. Move on. Just kidding! Happy to have you here anyways!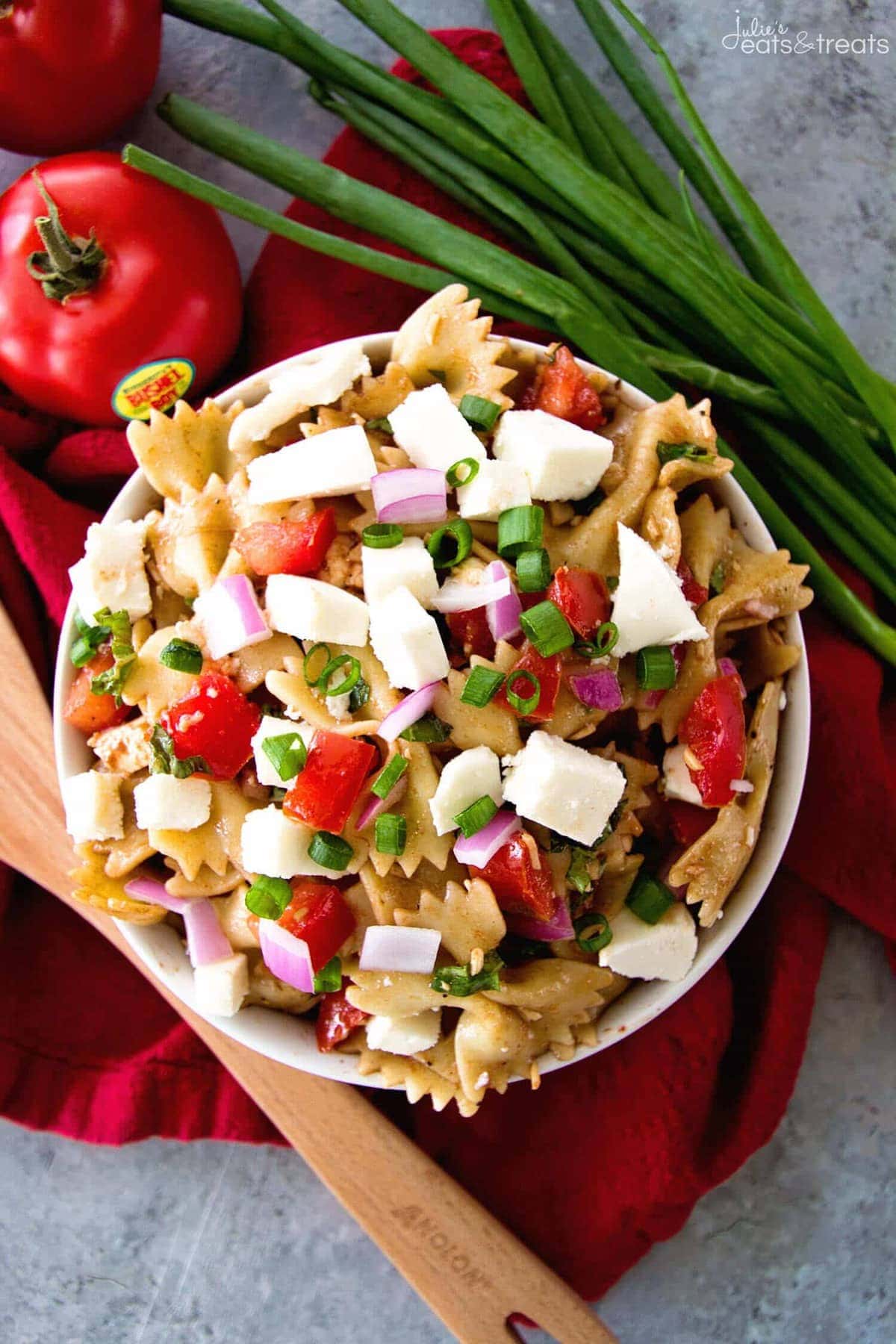 Food, it's awesome. Grilling, it's awesome. Summer, it's awesome. Pasta Salad, it's awesome. Cabin Life, it's awesome.
Lets put all of that together into a fabulous grill out featuring your favorite skewers on the grill, accompanied by this amazing Bruschetta Pasta Salad and invite your friends over because it's SUMMER! Heck ya!
I'm so glad my dream never became reality. If they did I'd be in NYC and not able to enjoy the lake, cabin and the deck on a beautiful night while I inhale this salad!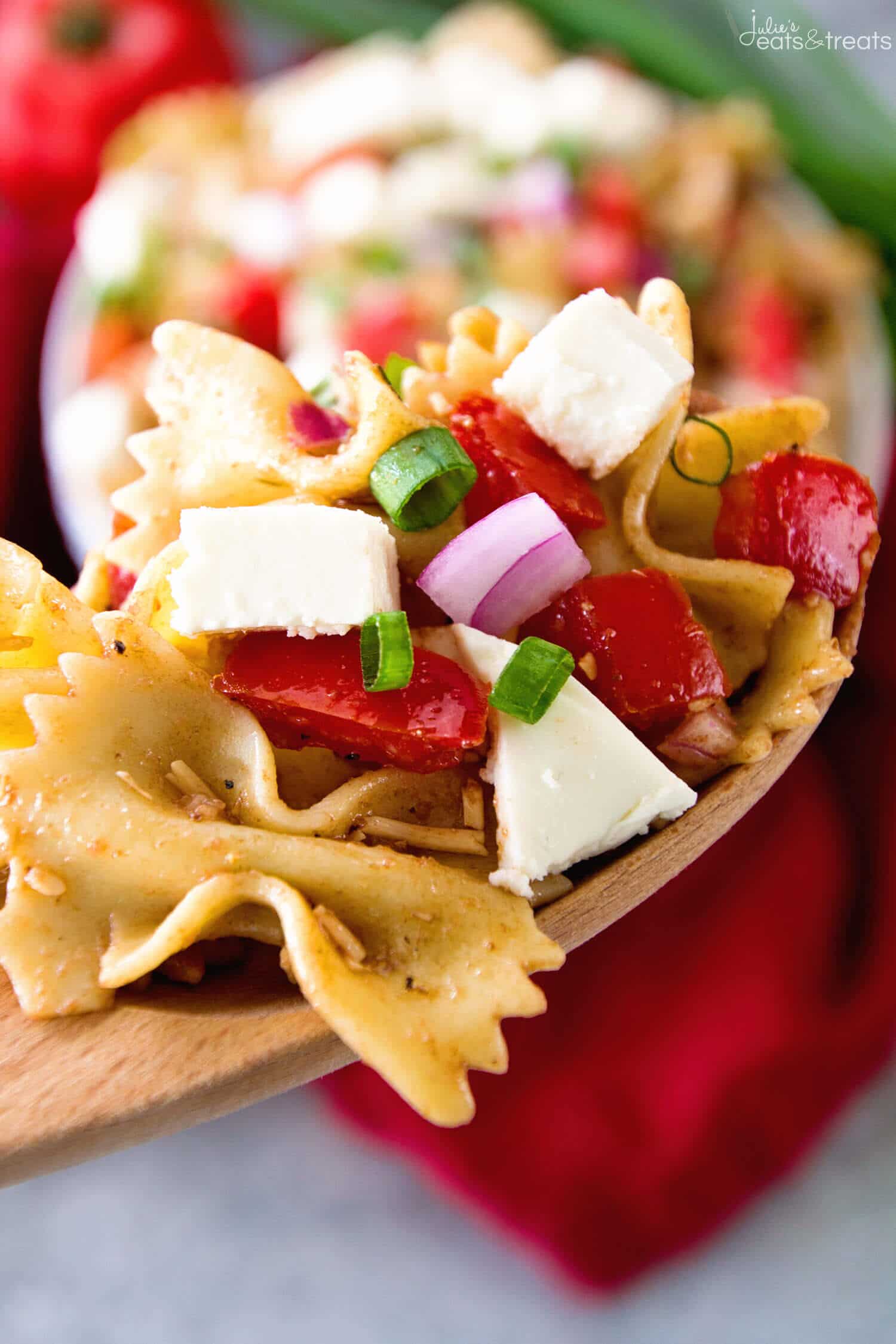 This Bruschetta Caprese Pasta Salad features plump, juicy Bushel Boy™ Tomatoes! These tomatoes are grown right here in my home state of Minnesota since 1990. I adore the fact that I can get fresh, vine-ripened tomatoes year-round. Bushel Boy grows their tomatoes in greenhouses with limited pesticides and no herbicides. As soon as they are red, ripe and juicy they harvest the tomatoes which means they are perfect for eating!
Connect with Bushel Boy Tomatoes!
Looking for Bushel Boy Tomatoes? Check out their Vendor List!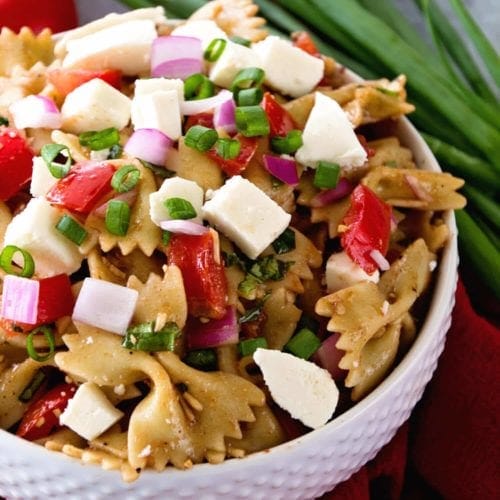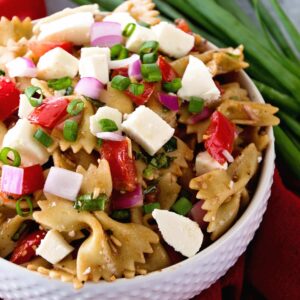 Bruschetta Caprese Pasta Salad Recipe
Two of You Favorites Come Together In this Delicious Pasta Salad Loaded with Tomatoes, Red Onions, Fresh Mozzarella in a Tangy Balsamic Dressing! Perfect Side Dish for Grilling and Summer Cook Outs!
Ingredients
1

16 oz box dry bowtie pasta

5 to

matoes

seeded and chopped

2

green onions

chopped

2

tbsp

red onion

chopped finely

2

cloves

garlic

minced

1

bunch basil

chopped

2

tbsp

olive oil

2

Tbsp

balsamic vinegar

to your taste

1/2

tsp

ground black pepper

1/2

tsp

salt

1/3

cup

shredded parmesan cheese

8

oz

fresh Mozzarella

diced into chunks
Instructions
Prepare pasta according to package directions. Drain and rinse with cold water.

In a bowl, whisk the olive oil, balsamic, salt and pepper dressing together. Stir in tomatoes, onions, garlic, chopped basil, Parmesan cheese and Mozzarella cheese. Fold in cooked pasta.

Chill for 1 hour and serve.
Notes
This pasta will soak up the balsamic dressing. If leaving it sit for longer than hour you may need to add a little olive and balsamic dressing and stir when ready to serve.
Nutrition
Calories:
237
kcal
Carbohydrates:
30
g
Protein:
10
g
Fat:
7
g
Saturated Fat:
3
g
Cholesterol:
17
mg
Sodium:
262
mg
Potassium:
159
mg
Fiber:
1
g
Sugar:
2
g
Vitamin A:
340
IU
Vitamin C:
3.5
mg
Calcium:
139
mg
Iron:
0.7
mg
Things You Might Need for This Recipe!
This is a sponsored conversation written by me on behalf of Bushel Boy Tomatoes. The opinions and text are all mine.