BLT Caesar Pasta Salad ~ Loaded with Romaine, Pasta, Bacon and Tomatoes! Best of Pasta and Lettuce Salads Coming Together!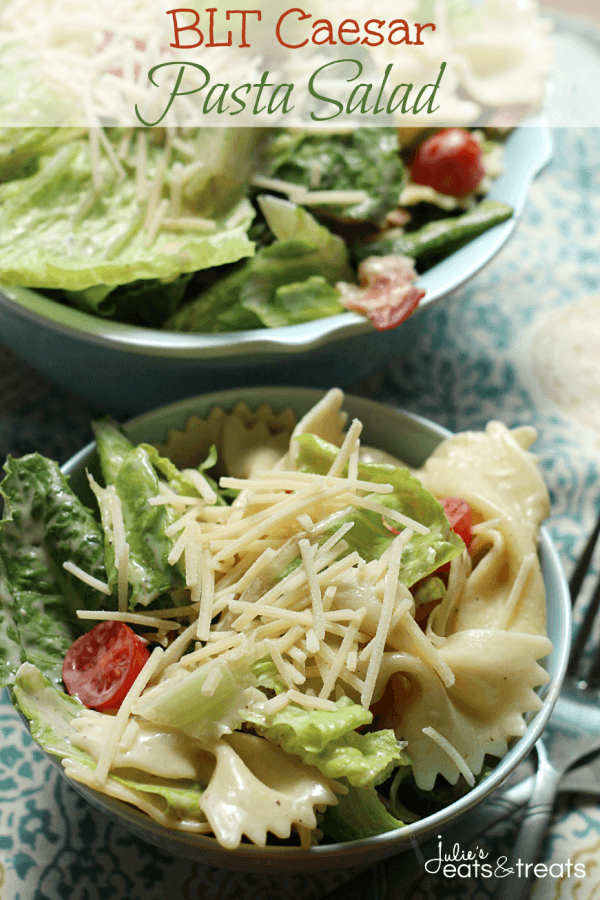 During the winter months it seems I'm all about pasta and crock pots. I focus on them and love up on them. They are my pride and joy on this blog. Now don't get me wrong I love a yummy summertime pasta dish for dinner like this Shrimp & Asparagus Pasta. Also, there is nothing wrong with enjoying crock pot meals during the summer. Actually I think they are neglected during the summer months when we really should be embracing them just as much as the wintertime. Obviously they make dinner so much easier and I'm all about that, but they don't heat up your house in the dead of summer. It seems like we think Crock Pot equals winter. When you actually think about it that's like super wrong!
Anyways, I'll get off my Crock Pot tangent since now you all want one of those recipes and I totally did not bring that in my bag of tricks today. Instead I brought a salad because it's summer and it's obviously time for salads right?
When I'm asked to bring a "salad" somewhere I always ask if they prefer a pasta, lettuce or jell-o salad. Yes Jell-O is a type of salad if you are from the Midwest. Don't ask questions. Mmmmk?
And then sometimes when I'm trying to choose if I have free reign over the salad I can't quite come to a decision between pasta and lettuce because I love them both. Enter this amazing BLT Caesar Pasta Salad. No need to choose anymore! Crisis adverted. Aren't you glad you came to visit me today? I'm solving your biggest problems with this salad! I rock. I know.
Now, if only most problems in life were that simple to solve right? That would be great and life would be grand! If I could solve all your problems with a simple recipe I'd be able to quit my day job! Unfortunately I can't do that so I better keep plugging away at that job huh?
If you have some leftover chicken I highly recommend adding it to this yummy salad and you'll have a complete meal perfect for those hot summer days when your craving a salad!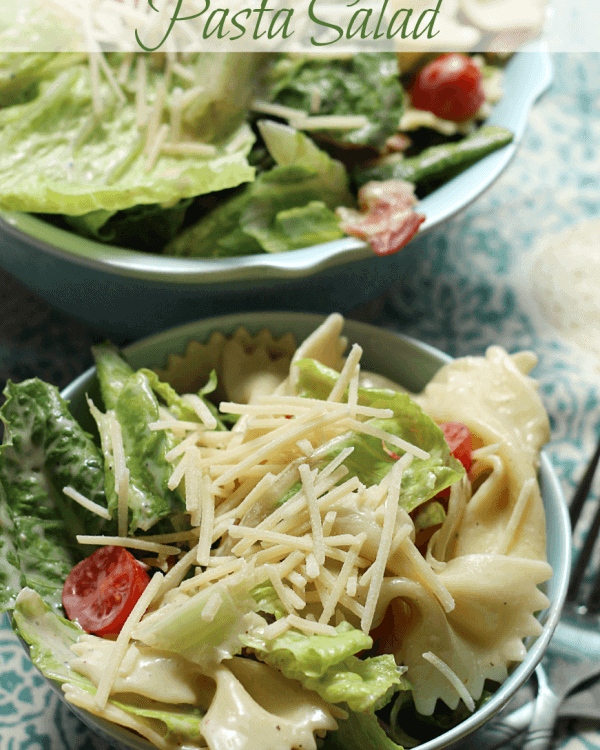 BLT Caesar Pasta Salad
BLT Caesar Pasta Salad ~ Loaded with Romaine, Pasta, Bacon and Tomatoes! Best of Pasta and Lettuce Salads Coming Together!
Ingredients
8

oz

uncooked rotini pasta

6

cups

torn romaine lettuce

1 ½

cups

cubed grilled chicken breast

½

cups

shredded Parmesan cheese

¾

cups

Caesar salad dressing

½

cup

croutons
Instructions
Cook pasta to al dente according to package directions. Drain pasta and rinse under cold water.

In a large serving bowl combine romaine, chicken, and pasta. Pour dressing over salad and mix until combined. Garnish with Parmesan cheese and croutons. Serve immediately.

If you are not serving it immediately toss salad ingredients together except dressing. When you are ready to serve the salad toss salad with dressing and garnish with Parmesan cheese and croutons to avoid the salad from turning soggy.
Nutrition Information
Serving:
1
,
Calories:
754
kcal
(38%)
,
Carbohydrates:
78
g
(26%)
,
Protein:
36
g
(72%)
,
Fat:
31
g
(48%)
,
Saturated Fat:
8
g
(50%)
,
Cholesterol:
76
mg
(25%)
,
Sodium:
838
mg
(36%)
,
Potassium:
702
mg
(20%)
,
Fiber:
4
g
(17%)
,
Sugar:
5
g
(6%)
,
Vitamin A:
4485
IU
(90%)
,
Vitamin C:
11.6
mg
(14%)
,
Calcium:
276
mg
(28%)
,
Iron:
2.8
mg
(16%)