If you have overripe bananas this easy Banana Bread Recipe is a must make recipe! It's moist, easy to make and delicious. Plus, you probably have all the ingredients in the pantry that you need to make this. Honestly, there's nothing better than a big warm slice of banana bread with butter for a treat.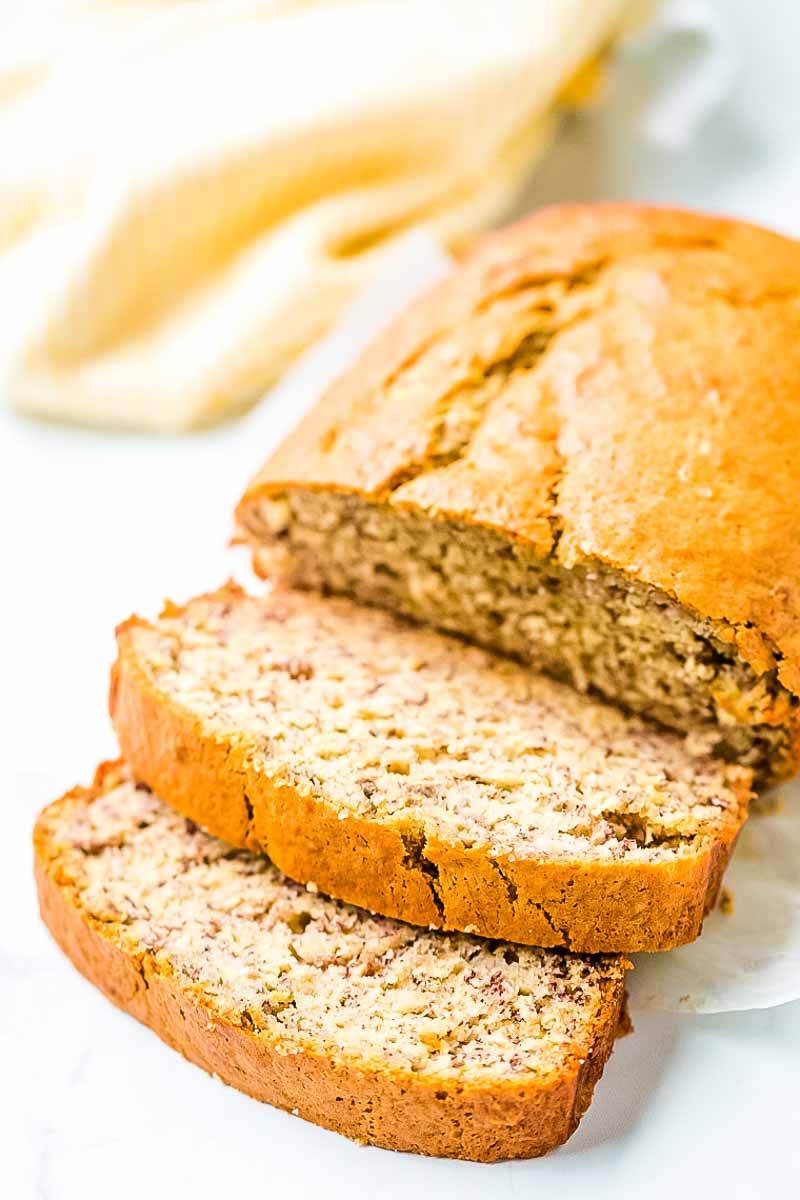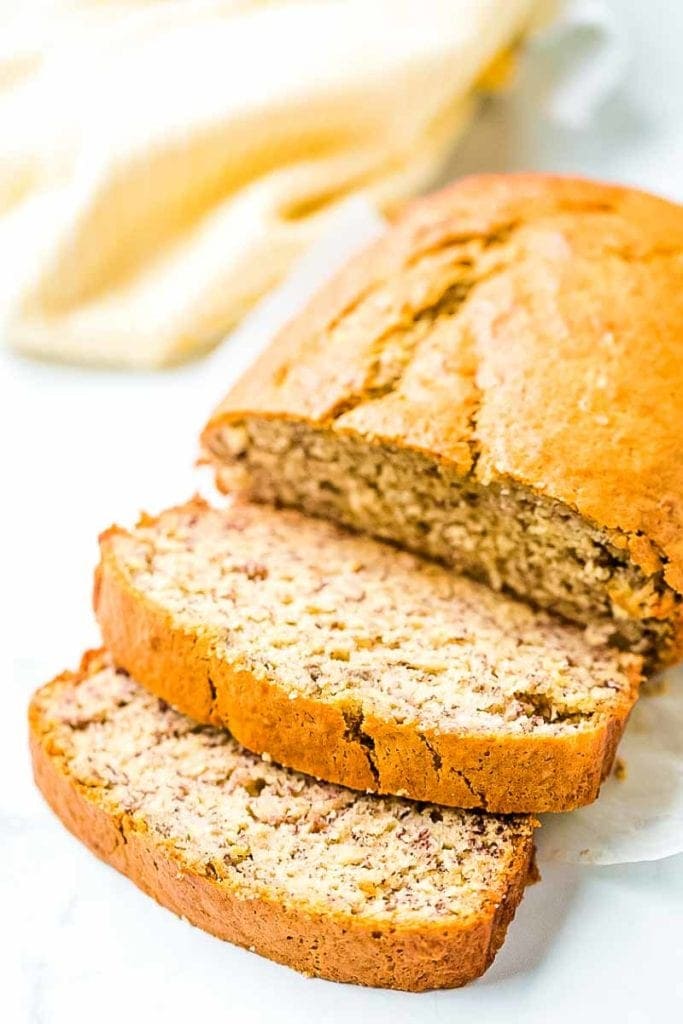 Banana Bread
My three day weekend is coming to an end and I'm trying to deal with the fact that right around the corner is another workday.
As usually, I was busy busy!… My wonderful husband thought of the fact I would have all this extra time on Friday and made sure to get a bunch of woodwork to stain for the basement. I'm glad to say it really wasn't all that much and it's done! He varnished it so it really wasn't that much for me to do. I added a bunch of cleaning and laundry around the house and had a full day.
Saturday we went to Alex in the morning to meet a guy that was buying Jason's snowplow for a 4-wheeler. Of course we also went to Menards since we can't really go to Alex and not go there! Proud to say that all the money we got for the plow was spent at Menards. Honestly, that place is worse than Target!!!!
I did a little baking, Soft Sugar Cookies, S'mores Cookies (everyone loves these!) and Double Chocolate Banana Bread Recipe – delicious!
Someday I hope we don't have a "project" at home 🙂 I've also been dealing with a serious case of cabin fever this week. I'm not sure why it's so bad but I'm about ready to ditch this state and go somewhere but my baking kept me on track! I know…I'm not that exciting and wouldn't think of randomly going somewhere without a lot of "pre-planning" so that will just wait…and I'll dream of summer vacation.
I'm thinking of camping somewhere? So if anyone has any ideas and a wonderful place to do this at let me know!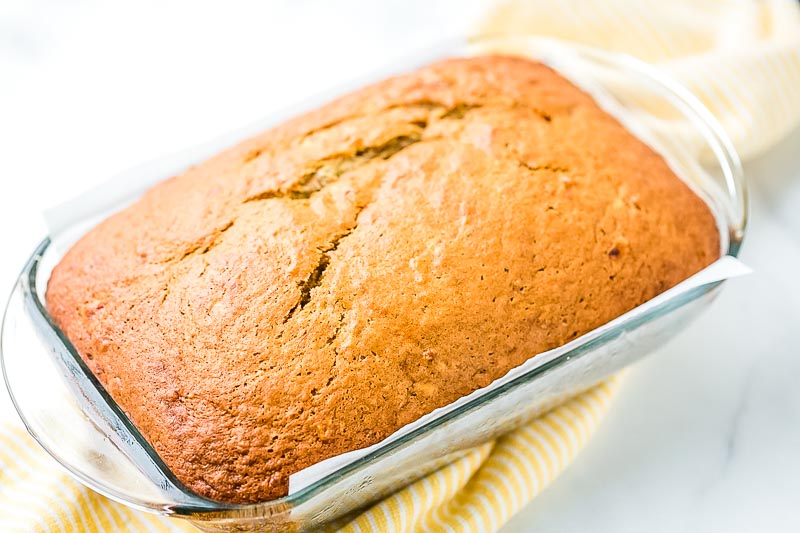 Banana Bread FAQs!
Here are a few tips and tricks to make this the best banana bread you will ever have!
If you have any other questions leave me a comment below and I'll try to give you an answer!
How do you keep banana bread moist?
If you wrap the bread in plastic wrap when it's still barely warm, it will hold in a bit of moisture. This will keep the bread moist like it just came out of the oven!
What do you eat banana bread with?
Well the short answer would be everything… right? Because it's that good! Of course, you can spread it with Nutella, because there's not much better than chocolate and bananas! You can also top it with Strawberry Rhubarb Jam – THAT is an amazing combination! Frankly hot out of the oven with a slab of butter? Life does get much better than that!
How long is this homemade banana bread good for?
Stored at room temperature it will only stay fresh for a day or two. Your best bet is to wrap it well in plastic when it's still slightly warm and refrigerate it. Stored well it will keep in the refrigerator for up to a week!
Wrapped well – in plastic and again in foil, it will keep in the freezer for up to two months!
How long do you let the banana bread cool before removing from the pan?
After you remove it from the oven, allow it to cool at least 15 minutes before removing it from the pan. Using a knife trace around the edges being sure the bread isn't sticking to the sides. Flip it upside down and remove the pan. Flip it upright and allow it to cool on a cooling rack until it's ready to be stored.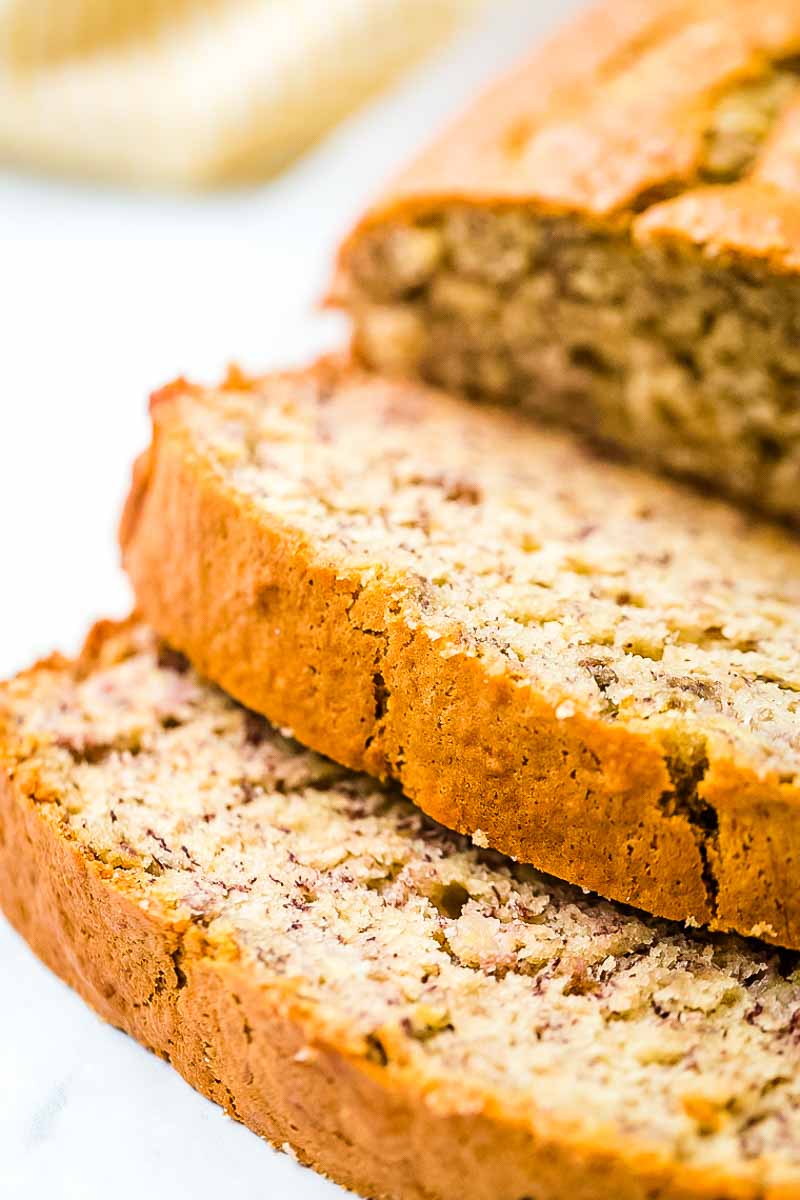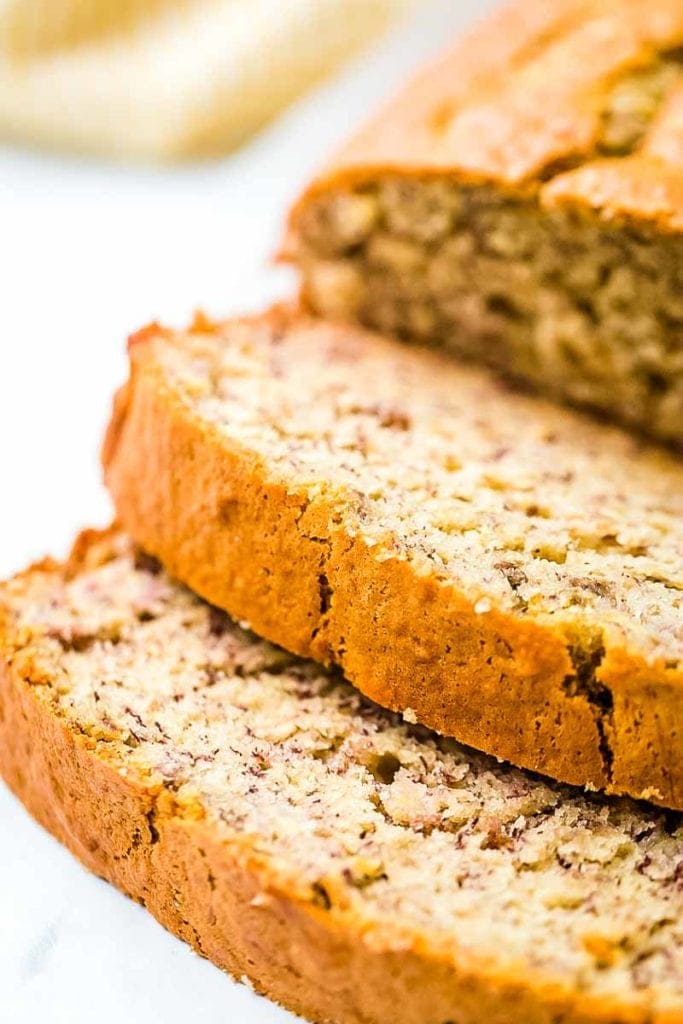 How to make Banana Bread
I love this banana bread recipe because it's so quick and easy. Literally dump it in a bowl and mix it together!
Plus, it's the BEST banana bread out there of course!
Ingredients for Banana Bread Recipe
Sugar

Butter

Eggs

Bananas

Flour

Baking Soda

Salt
This bread is so easy to make! Really it's one of our favorites because you usually have all of the ingredients on hand!
How to Make Banana Bread
Preheat the oven to 350 degrees
Grease the loaf pan, mash the bananas
Cream together sugar and butter
Add eggs and bananas
Add the remaining ingredients
Pour into the greased loaf pan
Bake at 350 for 1 hour or until a toothpick inserted into the center of the bread comes out clean.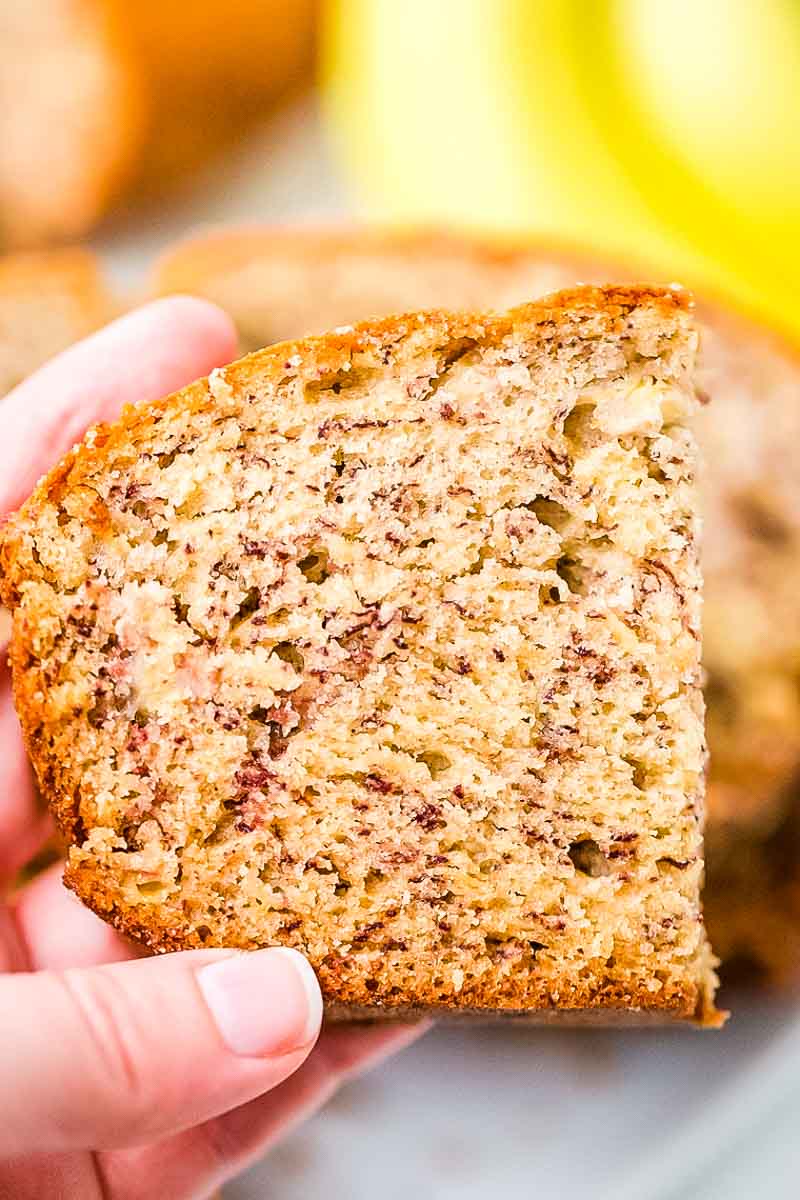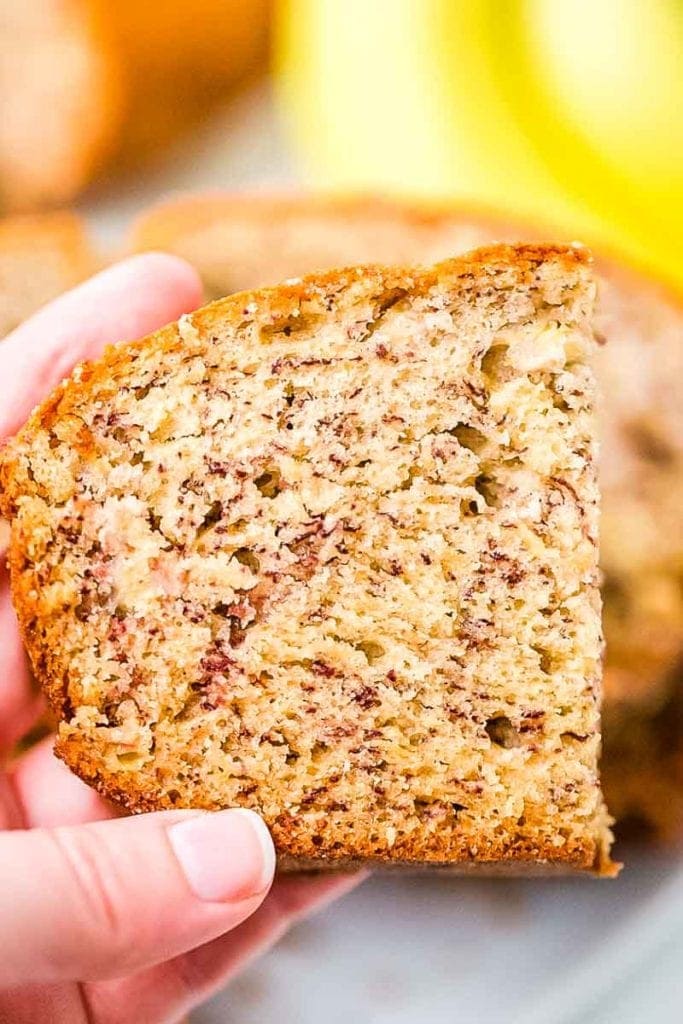 Tools Needed to Make Banana Bread!
On to this recipe. I know that many of you already have a banana bread recipe as it seems to be a staple but if you haven't found "THE" banana bread recipe then try this one…it's AMAZING…and it's from my mom and moms always make wonderful, yummy things!
Before it was gone Jason was already asking me if I could make it again. Of course, I said yes…but I haven't yet! Try it…you won't be disappointed. Oh, and it's super duper easy which I mean is even more wonderful!
Other quick bread recipes are:
Have you made this? YAY!! Be sure to comment below with a 5 star rating, I definitely want to hear from you!!!
And if you're like me and snap photos be sure to tag me on Instagram @julieseatsandtreats or #julieseatsandtreats that way I'm sure to see your pictures, enjoy!!!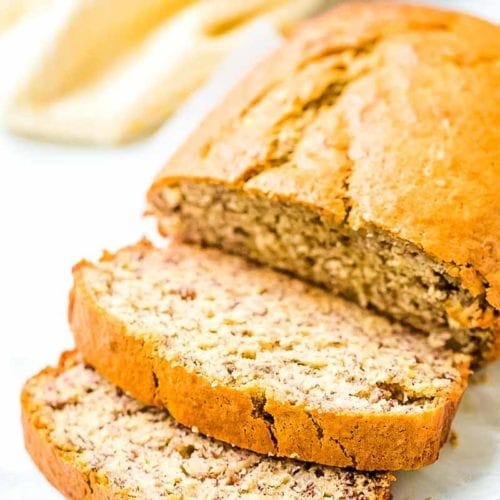 Banana Bread Recipe
Easy, Traditional Banana Bread recipe Stuffed with Bananas and Deliciously Perfect!
Print
Pin
Rate
Total Time:
1
hour
15
minutes
Ingredients
1

C.

Sugar

1/2

c.

Butter

2

Eggs

4

Bananas

2

C.

Flour

1

tsp

Baking Soda

1/4

tsp

Salt
Instructions
Cream sugar and butter

Add eggs and bananas

Add the rest of the ingredients

Pour into a greased loaf pan

Bake at 350 for 1 hour or until the bread tests done
Nutrition
Serving:
1
g
|
Calories:
504
kcal
|
Carbohydrates:
88
g
|
Protein:
8
g
|
Fat:
13
g
|
Saturated Fat:
8
g
|
Cholesterol:
72
mg
|
Sodium:
353
mg
|
Potassium:
289
mg
|
Fiber:
3
g
|
Sugar:
36
g
|
Vitamin A:
465
IU
|
Vitamin C:
5.1
mg
|
Calcium:
22
mg
|
Iron:
3.1
mg
LEAVE A COMMENT