Easy Banana Bread Recipe is a must make recipe if you have overripe bananas! It's moist, easy to make and delicious. Plus, you probably have all the ingredients in the pantry that you need to make this. Honestly, there's nothing better than a big warm slice of banana bread with butter for a treat.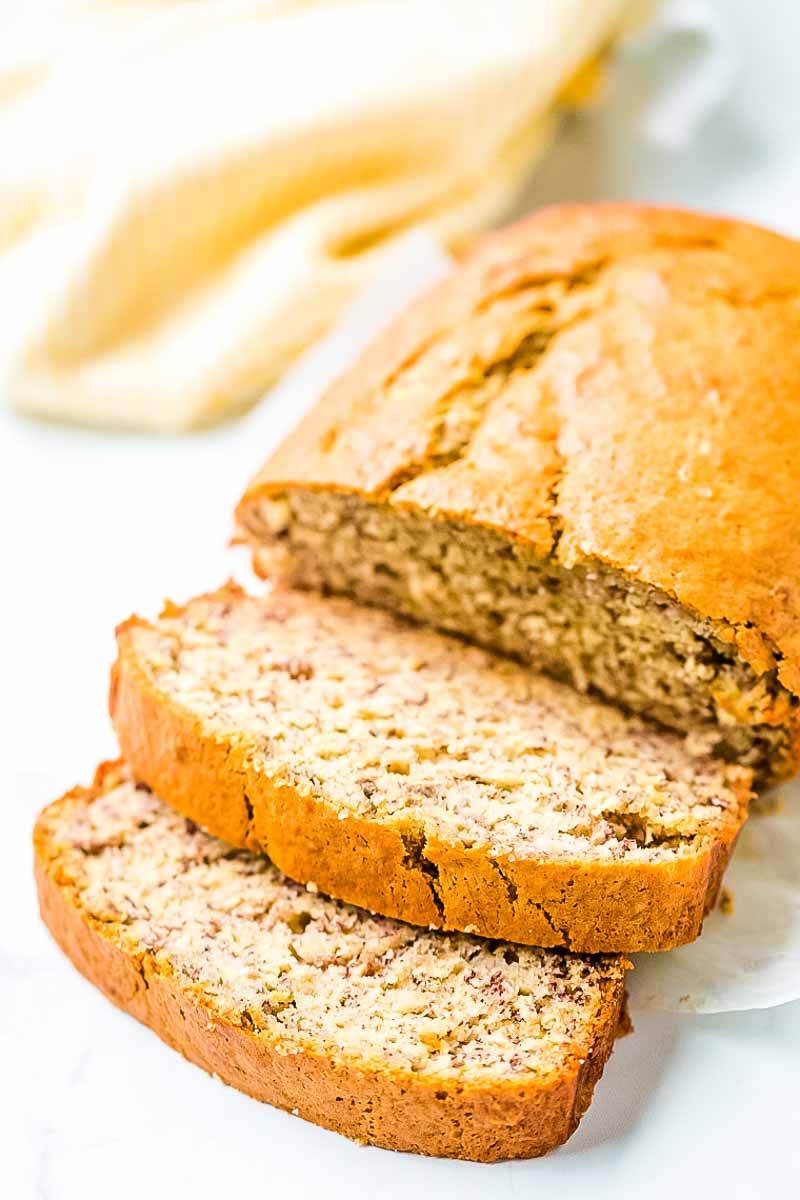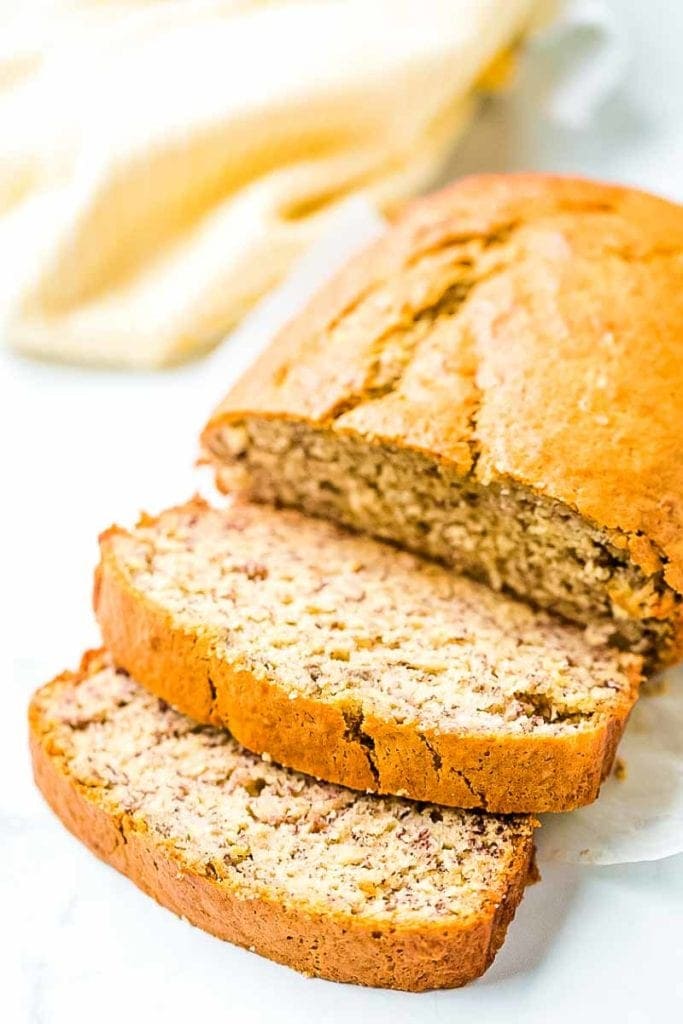 The BEST Banana Bread Ever!
This banana bread is the best ever because it's literally a dump and go recipe! It doesn't get much easier than mixing all the ingredients in a bowl, pouring at pan and then baking it.
Why be complicated when you can make a delicious banana bread with minimal steps?
Nothing beats hot banana bread straight from the oven with a big slap of butter on it in my opinion! Well, Chocolate Chip Banana Bread or Double Chocolate Banana Bread Recipe ranks right up there if you are a chocolate lover like me!
I made this banana bread along with some other treats to store in the freezer for back up this weekend! I made Banana Coffee Cake, Soft Sugar Cookies and S'mores Cookies (everyone loves these!).  My family had a hard time keeping their fingers off of them!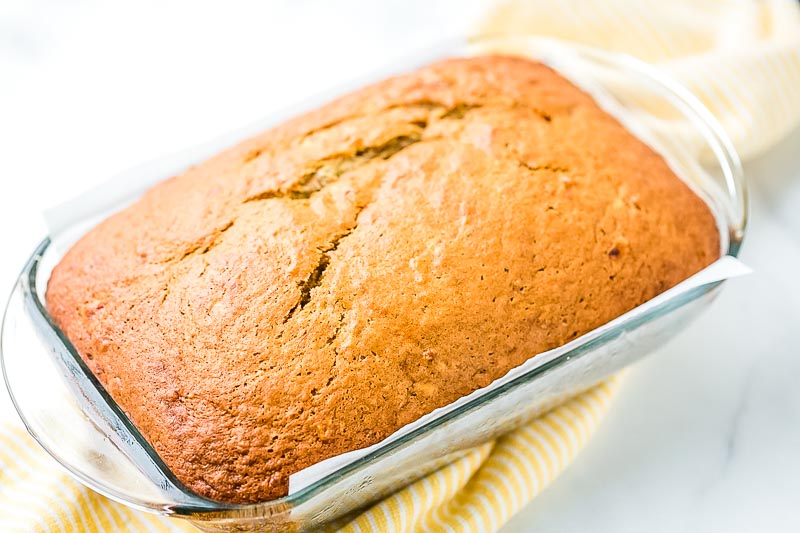 Quick Tips and Tricks for Making Banana Bread!
Here are some simple tricks to making the best banana bread ever. If you have more questions please leave a comment below and we will do our best to answer them!
How do you keep Banana Bread moist?
Keep your bread wrapped in plastic wrap, tin foil, or store in an airtight container to keep it from drying out. This can also extend the life of your banana bread. Another quick tip is to store it in the fridge to make it last up to a week.
Why is my Banana Bread Dry?
Make sure you use butter instead of oil in you banana bread! If you use oil it emulsifies and coats the flour which prevents it from absorbing to much water which results in dry banana bread.
How do you know when Banana Bread is done?
You want to begin testing your banana bread about 10 minutes before you think it will be done. Insert a cake tester or toothpick near the center of the loaf; if the tester comes out clean, then the center of the loaf is done.
How long do you let the banana bread cool before removing from the pan?
After you remove it from the oven, allow it to cool at least 15 minutes before removing it from the pan. Using a knife trace around the edges being sure the bread isn't sticking to the sides. Flip it upside down and remove the pan. Flip it upright and allow it to cool on a cooling rack until it's ready to be stored.
What do you eat banana bread with?
Well the short answer would be everything… right? Because it's that good! Of course, you can spread it with Nutella, because there's not much better than chocolate and bananas! You can also top it with Strawberry Rhubarb Jam – THAT is an amazing combination! Frankly hot out of the oven with a slab of butter? Life does get much better than that!
How long is this homemade banana bread good for?
Stored at room temperature it will only stay fresh for a day or two. Your best bet is to wrap it well in plastic when it's still slightly warm and refrigerate it. Stored well it will keep in the refrigerator for up to a week!
How to Freeze Banana Bread!
wrap cooled loaf in plastic and again in foil and then place in the freezer for up to two months!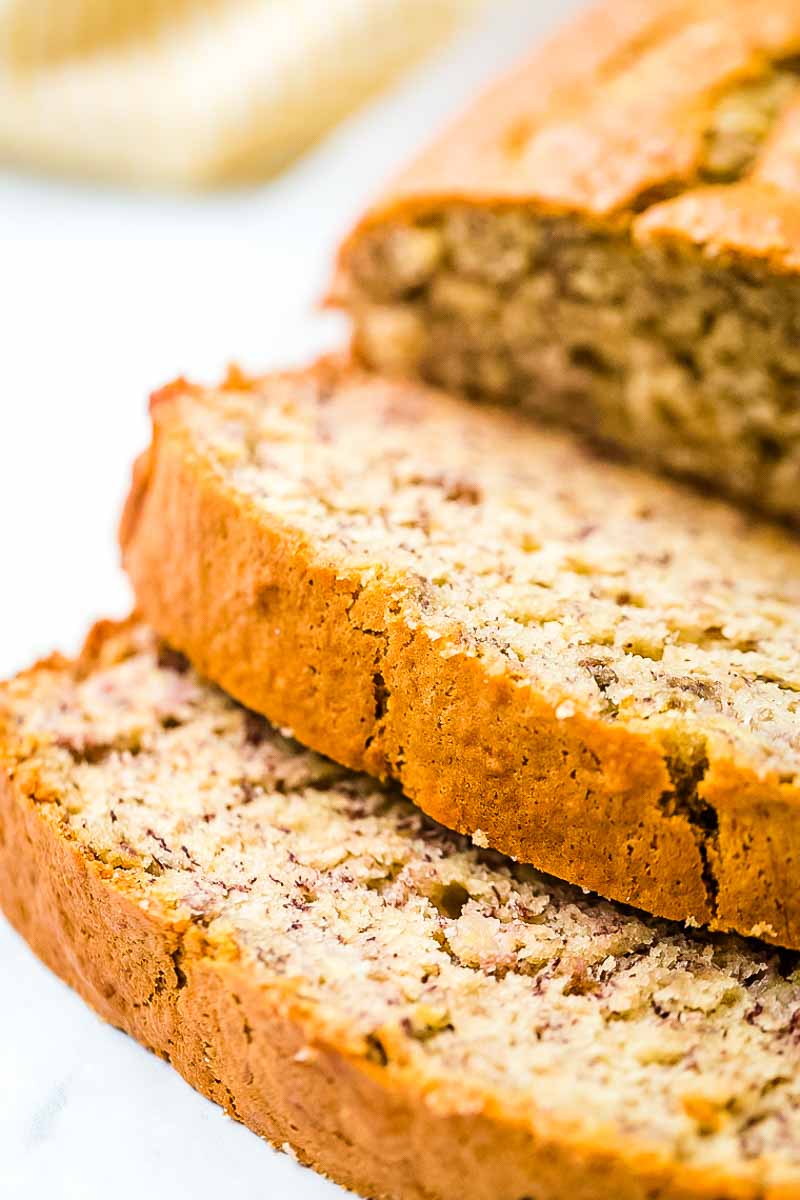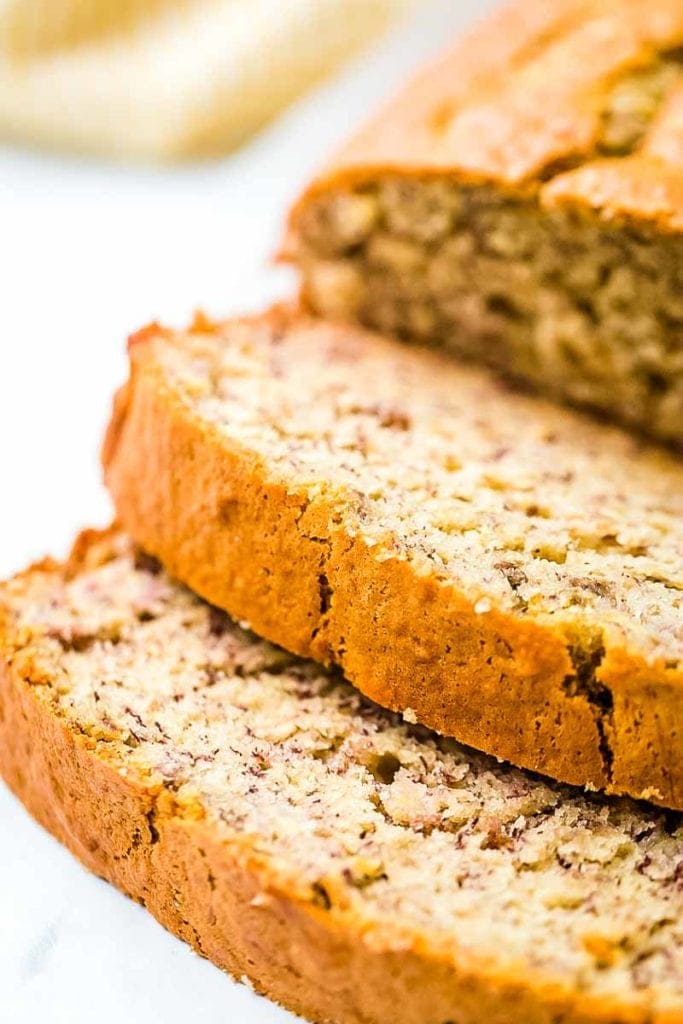 How to make Banana Bread
I love this banana bread recipe because it's so quick and easy. Literally dump it in a bowl and mix it together!
Plus, it's the BEST banana bread out there of course!
Ingredients for Banana Bread Recipe
Sugar

Butter

Eggs

Bananas

Flour

Baking Soda

Salt
This bread is so easy to make! Really it's one of our favorites because you usually have all of the ingredients on hand!
How to Make Banana Bread
Preheat the oven to 350 degrees
Grease the loaf pan, mash the bananas
Cream together sugar and butter
Add eggs and bananas
Add the remaining ingredients
Pour into the greased loaf pan
Bake at 350 for 1 hour or until a toothpick inserted into the center of the bread comes out clean.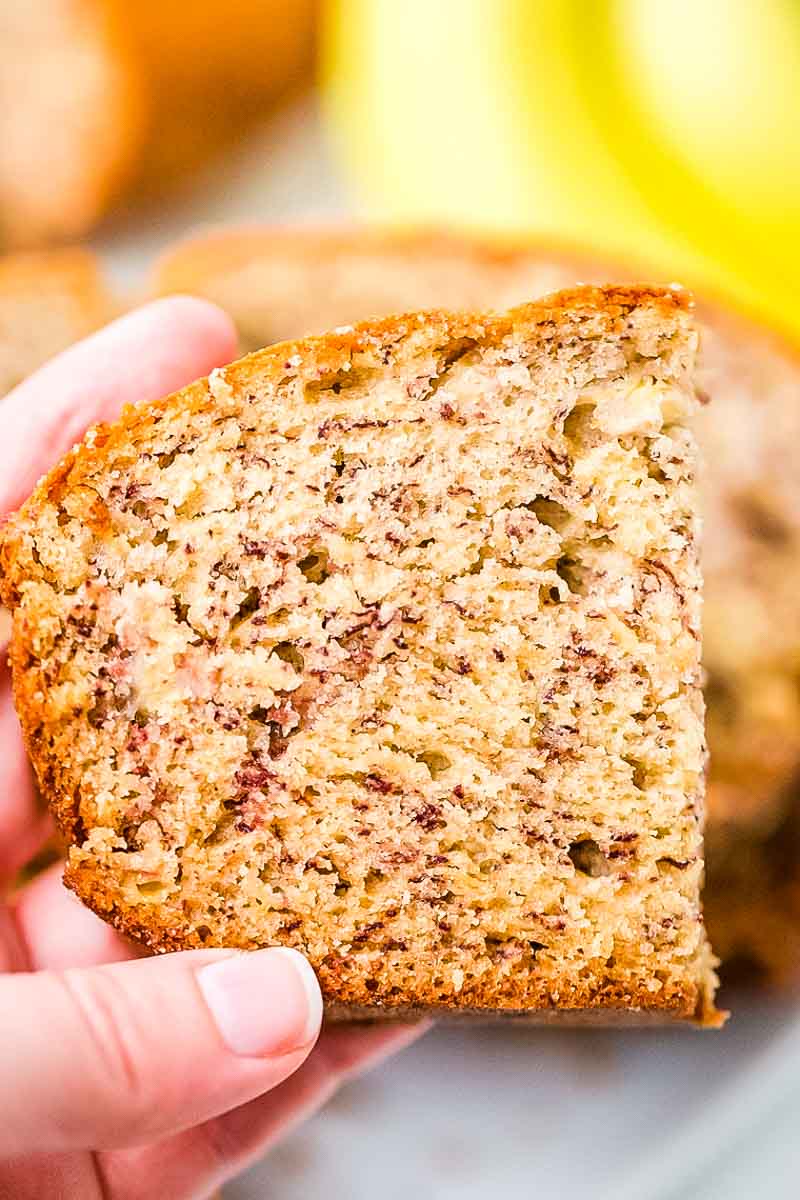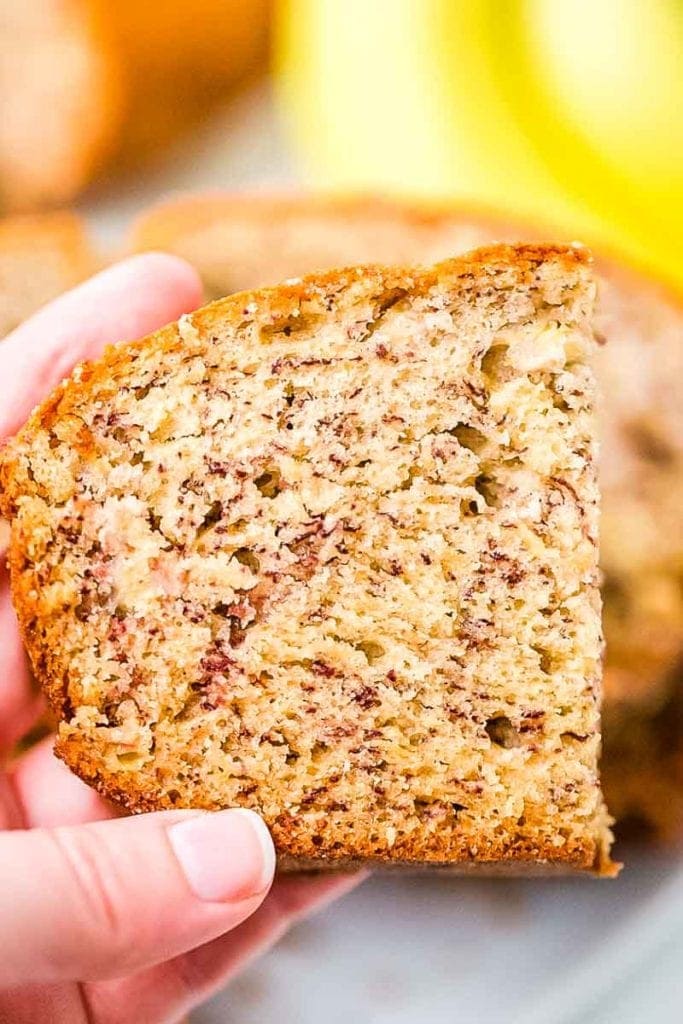 Tools Needed to Make Banana Bread!
On to this recipe. I know that many of you already have a banana bread recipe as it seems to be a staple but if you haven't found "THE" banana bread recipe then try this one…it's AMAZING…and it's from my mom and moms always make wonderful, yummy things!
Before it was gone Jason was already asking me if I could make it again. Of course, I said yes…but I haven't yet! Try it…you won't be disappointed. Oh, and it's super duper easy which I mean is even more wonderful!
Have you made this? YAY!! Be sure to comment below with a 5 star rating, I definitely want to hear from you!!!
And if you're like me and snap photos be sure to tag me on Instagram @julieseatsandtreats or #julieseatsandtreats that way I'm sure to see your pictures, enjoy!!!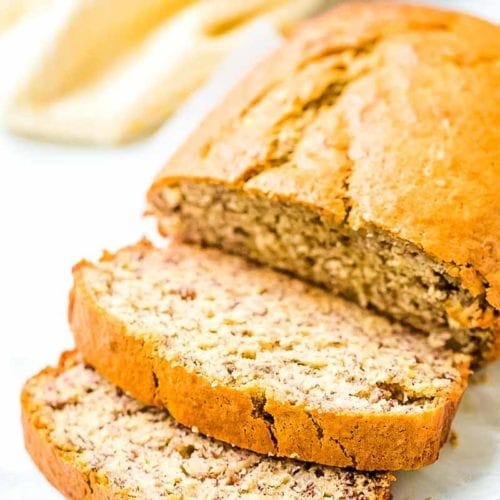 Banana Bread Recipe
Easy, Traditional Banana Bread recipe Stuffed with Bananas and Deliciously Perfect!
Ingredients
1

C.

Sugar

1/2

c.

Butter

2

Eggs

4

Bananas

2

C.

Flour

1

tsp

Baking Soda

1/4

tsp

Salt
Instructions
Cream sugar and butter

Add eggs and bananas

Add the rest of the ingredients

Pour into a greased loaf pan

Bake at 350 for 1 hour or until the bread tests done
Notes
Keeping your Banana Bread Moist - Wrap in plastic wrap, aluminium foil and store in an air tight container. You can also store it in the refrigerator and it will last up to a week. How to Freezer Banana Bread - Wrap in plastic wrap and then in aluminum foil and store in your freezer for up to two months. Testing Banana Bread for Doneness - Begin testing it about 10 minutes before you think it will be done. Simply insert a toothpick in the center of the loaf and if it comes out clean it's done! If it doesn't come out clean bake in additional increments 5-10 minutes until toothpick comes out clean. Removing from pan - Let the banana bread cool at least 15 minutes before removing from pan. Simply use a knife to trace around the edges of the pan to loosen it. Flip the pan upside down and remove from the pan. Place loaf upright and allow it to cool on a cooling rack.
Nutrition
Serving:
1
g
Calories:
504
kcal
Carbohydrates:
88
g
Protein:
8
g
Fat:
13
g
Saturated Fat:
8
g
Cholesterol:
72
mg
Sodium:
353
mg
Potassium:
289
mg
Fiber:
3
g
Sugar:
36
g
Vitamin A:
465
IU
Vitamin C:
5.1
mg
Calcium:
22
mg
Iron:
3.1
mg