Cheerios Snack Mix ~ Easy, Sweet & Delicious Snack Mix Stuffed with Cheerios, Peanuts, Raisins & M&M's!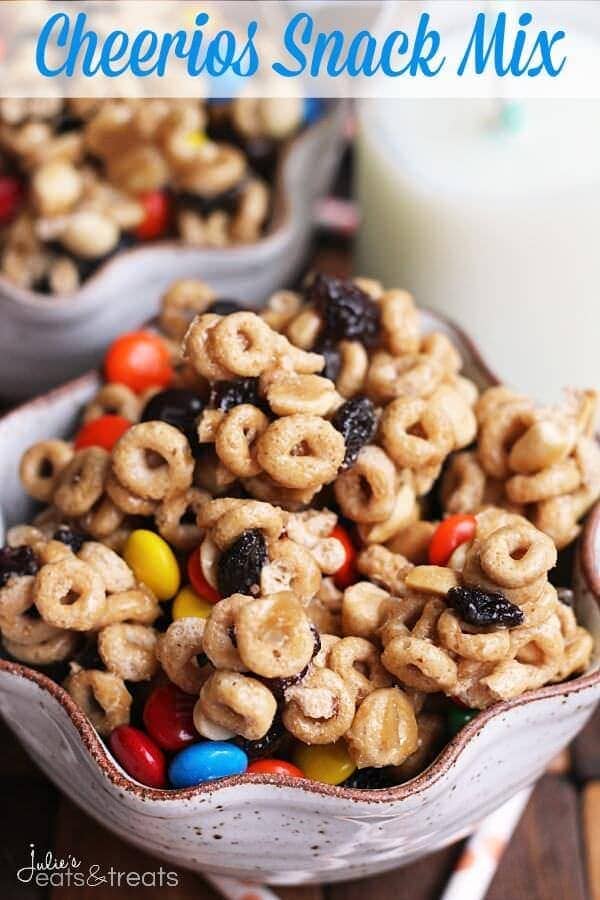 Sick kids suck I've decided. Well I mean I know that, but I was reminded of this when Miss K fell sick to a mysterious illness that I'm sure the doctors would define as a "virus". I swear I never knew there were so many "viruses" on the face of this earth until I had a kid. Everytime you bring a kid in they diagnose her with some mystery virus and charge $$$. I'll spare you all the details of course since I'm trying to promote a delicious recipe here, but it wasn't pretty and included us spending two week days and the weekend stuck inside.
The worse is when they are still running a slight fever yet feel good enough to run around and want to go outside. There are only so many ways to distract a child with toys indoors when they LOVE being outside and the sun is shining! That kid would LIVE outside if you let her. Dad informed her it was raining before she went down for a nap and they couldn't go outside which worked because it was cloudy. She woke up to the sun shining and innocently informed him, "Daddy, it's done raining. We go outside!!" and then he had to break her heart and say no. Poor little girl!
This morning she had a slight fever so I kept her home again and she was so heartbroken because she wanted to go bye bye and to daycare Mommy! We go in your car? Please Mommy? I'm not sure how to feel that my child loves to leave me that much, but let's face it we are grateful for a daycare as wonderful as it is and I'm boring compared to 10 other kids to play with! Mom just isn't that cool… so it begins!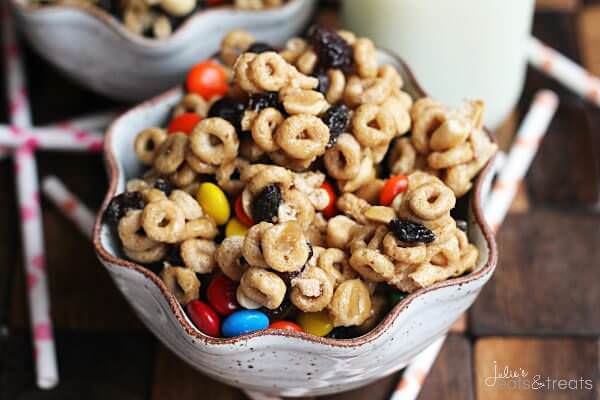 I adore snack mixes. They are quick and easy and always seem to go over great with any crowd. No matter where I bring them it seems people can't keep their hands off them and they disappear in a blink! This Cheerios Snack Mix is loaded with Cheerios, Raisins, Peanuts and M&Ms then smothered is a sweet caramel coating.
I'm mean really, can you go wrong with that combo?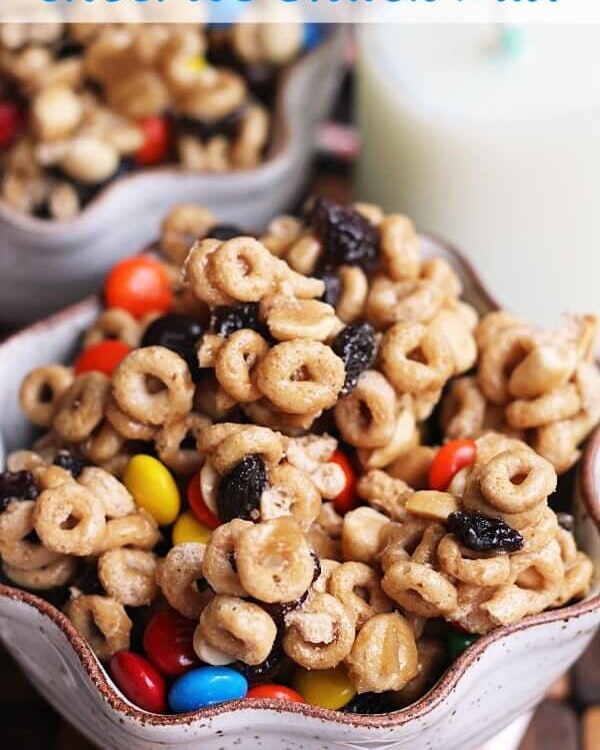 Cheerios Snack Mix
Cheerios Snack Mix ~ Easy, Sweet & Delicious Snack Mix Stuffed with Cheerios, Peanuts, Raisins & M&M's!
Ingredients
6

c.

Cheerios

2

c.

peanuts

1

c.

raisins

1/2

c.

butter

1

c.

packed brown sugar

1/2

tsp

salt

1/4

c.

light corn syrup

1/2

tsp

baking soda

1

tsp

vanilla

1 1/2

c.

M&M's
Instructions
In a large bowl, mix together Cheerios, peanuts and raisins. In a small sauce pan combine butter, sugar, salt & Syrup. Bring to a boil and boil for 2 minute, stirring.

Remove from heat and stir in baking soda and vanilla. Pour over Cheerio mixture and stir until combined. Spread onto greased or lined jelly roll pan and baked at 250 degrees for 15 minutes. Cool and break apart.

Add M&M's to mixture and stir in airtight container.
Nutrition Information
Serving:
1
,
Calories:
1237
kcal
(62%)
,
Carbohydrates:
182
g
(61%)
,
Protein:
31
g
(62%)
,
Fat:
51
g
(78%)
,
Saturated Fat:
16
g
(100%)
,
Cholesterol:
30
mg
(10%)
,
Sodium:
1132
mg
(49%)
,
Potassium:
1488
mg
(43%)
,
Fiber:
20
g
(83%)
,
Sugar:
55
g
(61%)
,
Vitamin A:
5060
IU
(101%)
,
Vitamin C:
32.2
mg
(39%)
,
Calcium:
690
mg
(69%)
,
Iron:
50.1
mg
(278%)
Looking for more Easy Snack Mixes?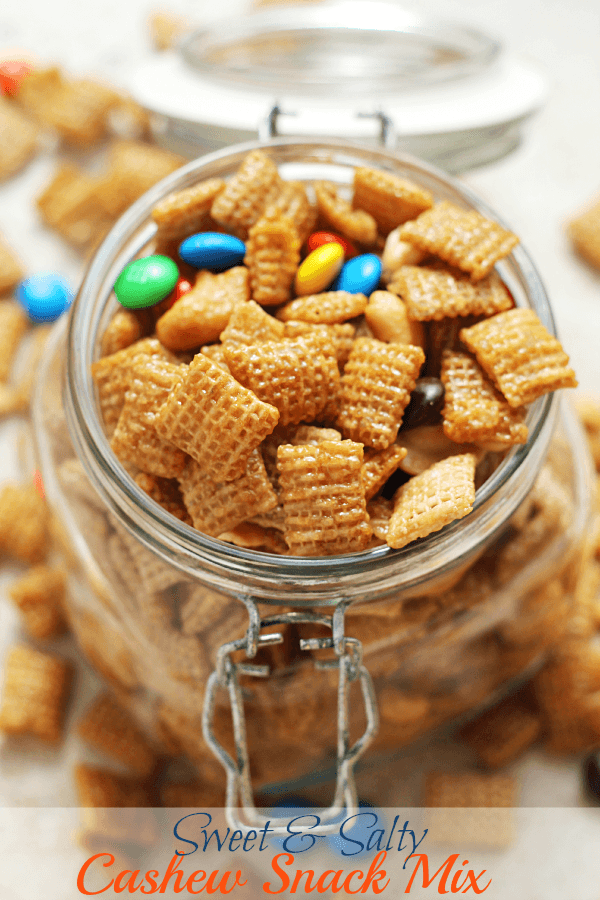 Sweet & Salty Cashew Chex Mix ~ Easy Snack Mix Loaded with Cashews, Chex, M&Ms & Cashews and Smothered in Caramel!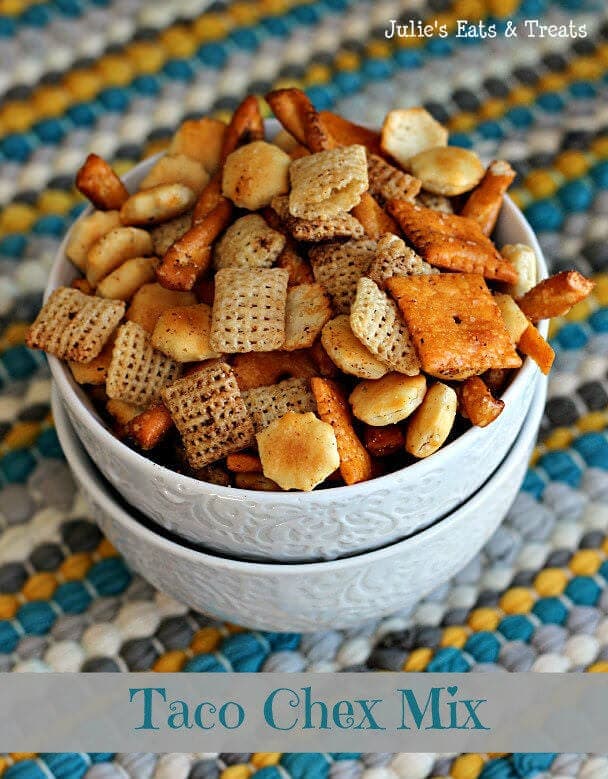 Taco Chex Mix ~ Spice up your favorite snack mix!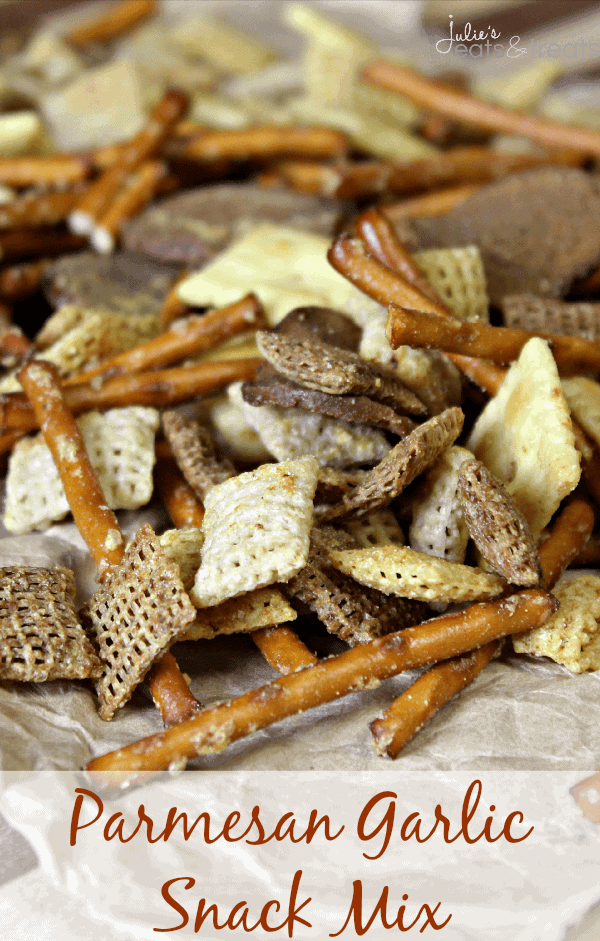 Parmesan Garlic Snack Mix ~ Loaded with Chex, Pretzels, White Cheddar Cheez Its, Rye Chips and topped with Parmesan & Garlic seasoning!