Cheesy Bacon and Broccoli Tortellini Pasta
Cheesy Bacon and Broccoli Tortellini Pasta ~ Quick Dish is Perfect for Busy Weeknight Dinners! 5 ingredients, Easy Prep and Ready on Your Table in 20 Minutes!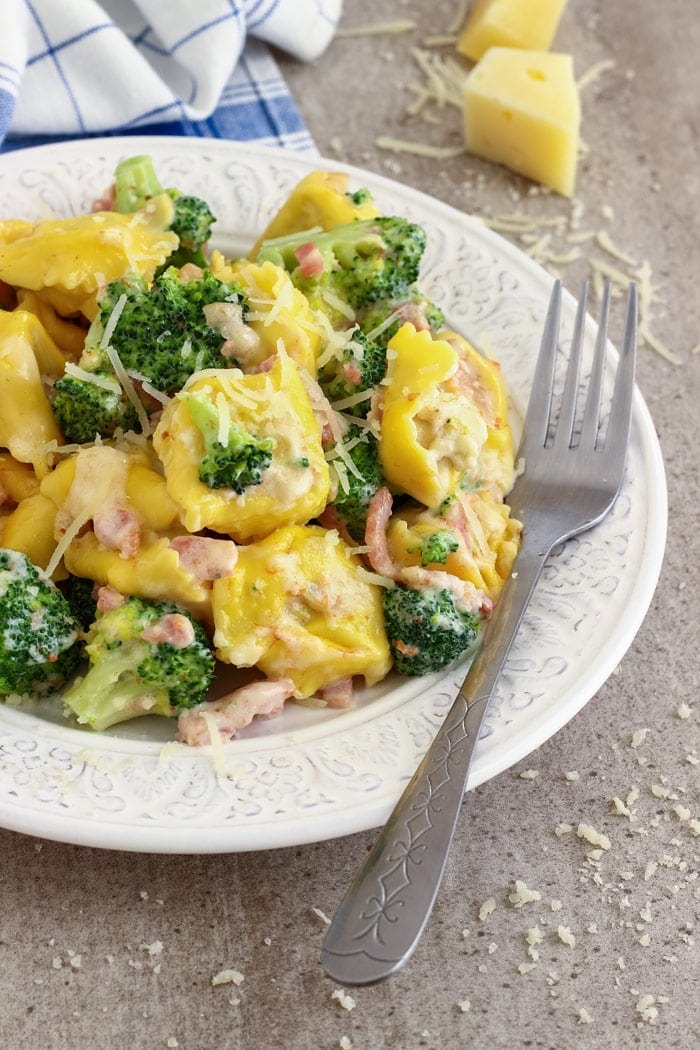 I don't know about you guys, but I usually buy tortellini pasta when I know I won't have much time to cook or I don't feel like spending hours in the kitchen after a long day.
That was exactly what happened when I made these cheesy bacon and broccoli tortellini pasta recipe. I was stuck for time and also had no intention of spending more than 30 minutes of my time cooking.
So tortellini pasta came to the rescue. One of the best things about them is their quick preparation. Cooking fresh tortellini only takes a few minutes which means that making them is quicker than cooking many pasta shapes. But simple boiled tortellini for dinner wouldn't excite me much and I bet they would not excite you either! We need to add something that turns them into a delicious meal. Think dressing, sauce, veggies, vinaigrette…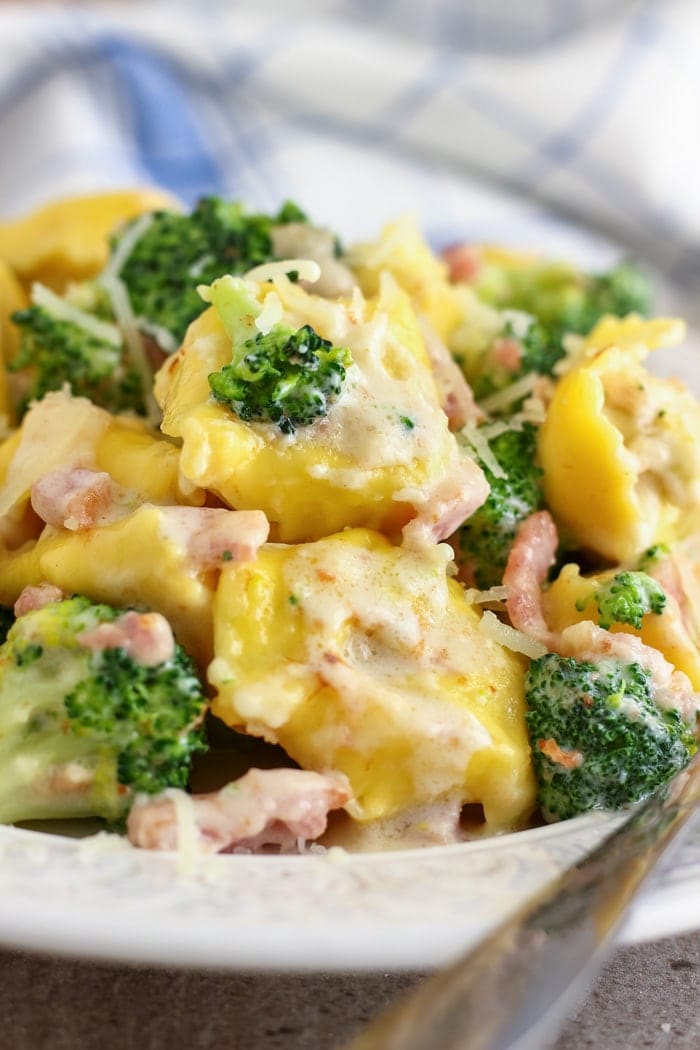 I love ham and cheese tortellini, but this time I opted for creamy sauce and some extras that helped me create these easy cheesy bacon and broccoli tortellini. It may be a simple dish but it's full of your favorite flavors! By the way, if you don't like the broccoli, you can omit it. However, I highly recommend adding this green veg in as well. It works really well here.
It's a delicious recipe for busy families. If you are looking for more quick weeknight dinner ideas, check these easy meals out: spicy shrimp spaghetti, 10-minute baked bean pasta sauce or creamy mushroom and sun-dried tomato spaghetti. Or a few more favorites are Unstuffed Chicken Alfredo Shells or Skillet Lasagna.
Now to make this cheesy and broccoli tortellini, start off with boiling tortellini and broccoli together. Boiling fresh tortellini takes about 5 minutes so I add broccoli in as well. This way I save time and an extra pot (Note: I buy fresh tortellini and they take 4-5 minutes. Frozen or dried tortellini will take longer to cook so I suggest you add broccoli a bit later).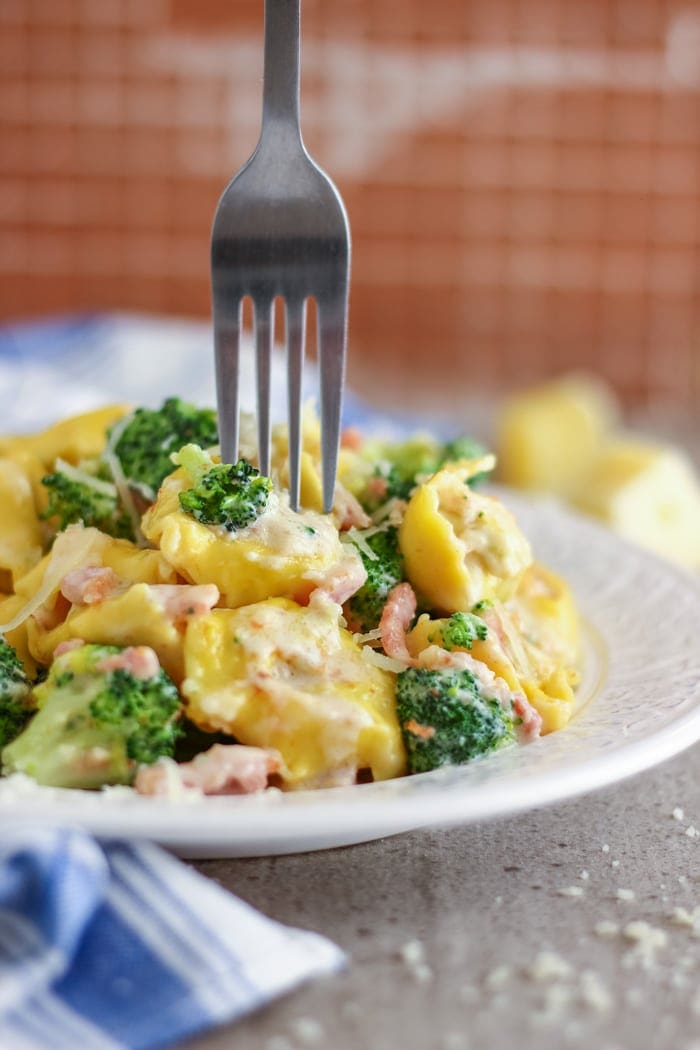 Meanwhile make the cheesy sauce. First start off with frying the bacon. I buy bacon cubes or pancetta pieces. There is no need to add oil to your pan as bacon will release some of it. Make sure the bacon is cooked through before pouring fresh cream in. Cook for about a minute. The sauce should thicken pretty quickly so reduce the temperature to low and stir in grated cheese. Once the cheese has melted, turn off the heat completely.
Mix the cheesy bacon sauce with tortellini and broccoli. You want all the tortellini covered with the sauce. Now I noticed that the tortellini and broccoli suck in quite a lot of the sauce but that's ok. However, if you think you need more sauce, simply increase the amount of cream and cheese.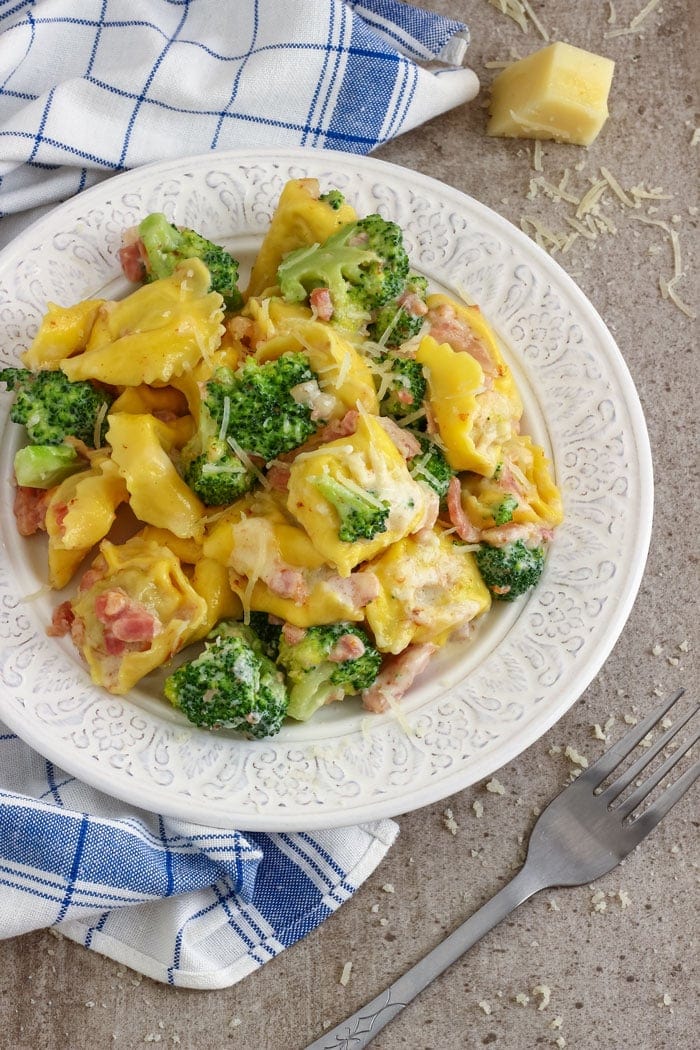 Note: This recipe takes even less than 20 minutes as the prep for the sauce can be done while waiting for the tortellini & broccoli to cook!
What do I need for Tortellini Pasta
Cream

Grated Cheddar Cheese

Broccoli Florets 

Bacon Slices

Fresh Tortellini of your choice
You might have noticed that I did not use any seasoning at all here. This was due to the fact that the bacon and cheese I used were salty enough to flavor the whole dish. I suggest tasting the cheesy sauce before pouring it over the tortellini to see if you are ok with its taste. If you feel it needs salt and some pepper, go ahead and use them.
Guys, I hope you will love this bacon and broccoli tortellini meal as much as we do! Let me know if you give this recipe a try!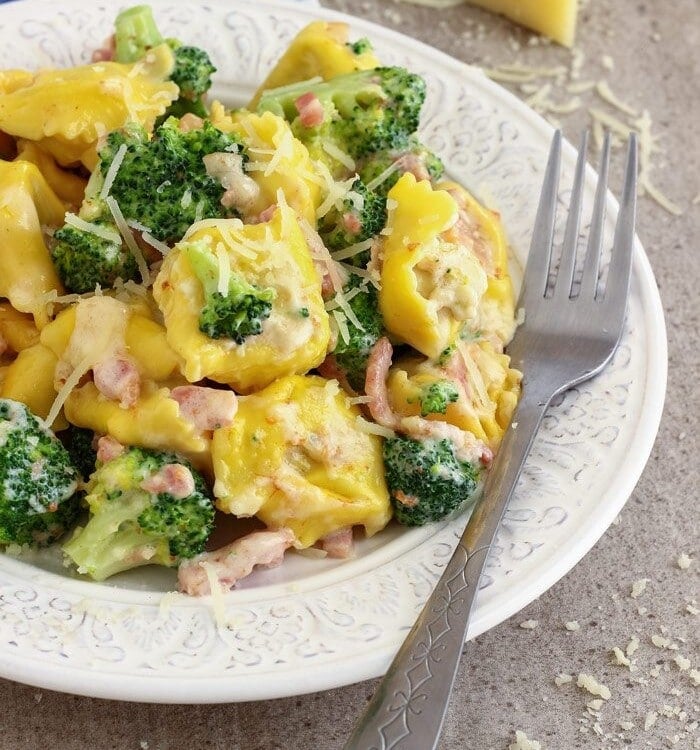 Cheesy Bacon and Broccoli Tortellini Pasta
Quick Dish is Perfect for Busy Weeknight Dinners! 5 ingredients, Easy Prep and Ready on Your Table in 20 Minutes!

Ingredients
1

Cup

Cream

2

Cups

Grated Cheddar Cheese or Similar

140 g

2

Cups

Broccoli Florets

100 g

2

Cups

Bacon Slices

200 g

16

oz

1.1 lb Fresh Tortellini of your choice (500 g)
Instructions
Bring a large pot of water to a boil. Throw in tortellini and broccoli and cook until ready (this should take about 5 minutes unless the tortellini's package instructions state otherwise).

Meanwhile: Fry the bacon. Pour in cream and stir. When the sauce has thickened, reduce the heat and stir in grated cheese. Turn off the heat.

Drain tortellini and broccoli. Pour the cheesy bacon sauce over and mix well.

Serve warm with some more cheese (optional).
Tips
Note: you can use frozen or dried tortellini as well. If you do, bear in mind that the cooking time will be longer. Check for package instructions and add broccoli in at a later stage.
Nutrition Information
Calories:
859
kcal
(43%)
,
Carbohydrates:
54
g
(18%)
,
Protein:
35
g
(70%)
,
Fat:
56
g
(86%)
,
Saturated Fat:
30
g
(188%)
,
Cholesterol:
193
mg
(64%)
,
Sodium:
973
mg
(42%)
,
Potassium:
271
mg
(8%)
,
Fiber:
5
g
(21%)
,
Sugar:
4
g
(4%)
,
Vitamin A:
1725
IU
(35%)
,
Vitamin C:
40.9
mg
(50%)
,
Calcium:
628
mg
(63%)
,
Iron:
3.7
mg
(21%)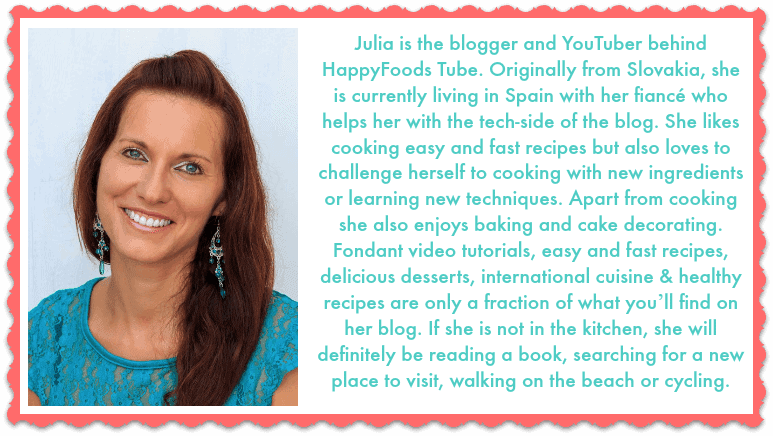 Connect with Julia Here!
Facebook | Twitter | Pinterest | Instagram
Creamy Mushroom & Sun-Dried Tomato Spaghetti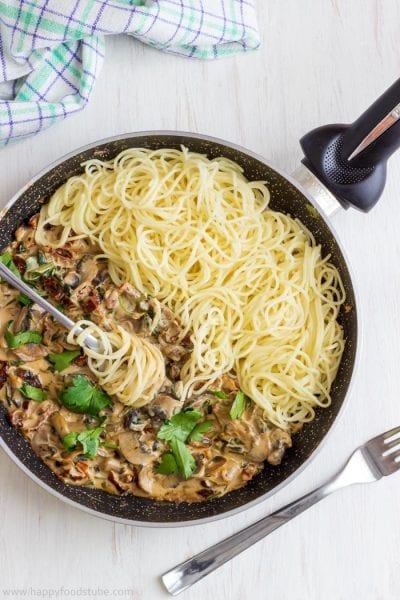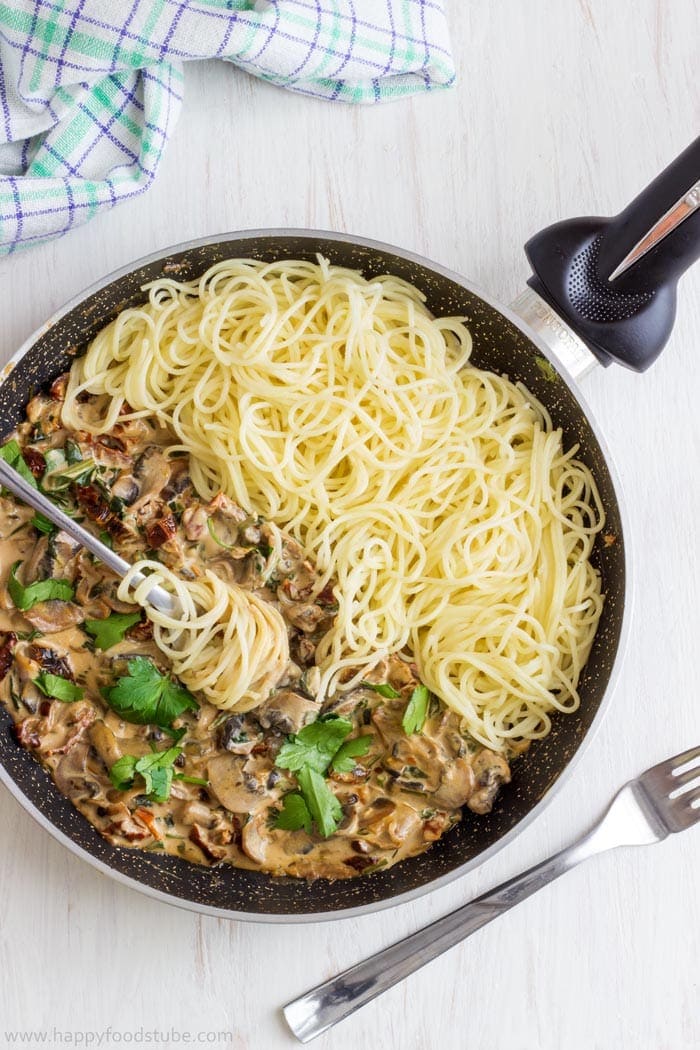 10-Minute Baked Bean Pasta Sauce